Serpent introduce a gear differential for their Spyder SRX-2 line of vehicles including the mid and rear motor buggy as well as the upcoming short course truck. The diff features a compact composite material housing and it is of a multi-piece design with a separate diff gear and two side plates that are held in place using small screws and metal backplates for improved fitment and leak-free mounting. The internal gears are made from sintered metal while the crosspins are made from lightweight aluminium. In combination with the lightweight spring steel outdrives the differential weights in at only 28.9g without oil. The diff is usable instead of the standard ball diff and comes in handy especially on high grip surfaces.
Source: Serpent [serpent.com]
Thursday, April 17, 2014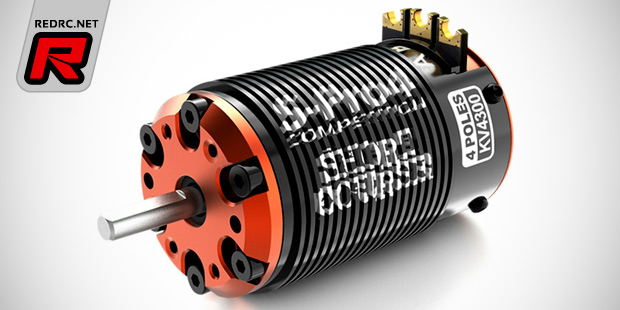 Following yesterday's announcement of the 2-pole S-Pro2 brushless short course motor SkyRC now also introduce a 4-pole variant. Built around a T6 billet aluminium heatsink can the motor is of a 4-pole/12-slot design and features neodymium magnets, a sensored design, high RPM oversized bearings and high-purity copper windings. The motor is compatible with sensored and sensorless motors alike, it measures 38×63.5mm and comes in five kv variants from 4300kv down to 1850kv.
Source: SkyRC [skyrc.com]
Wednesday, April 16, 2014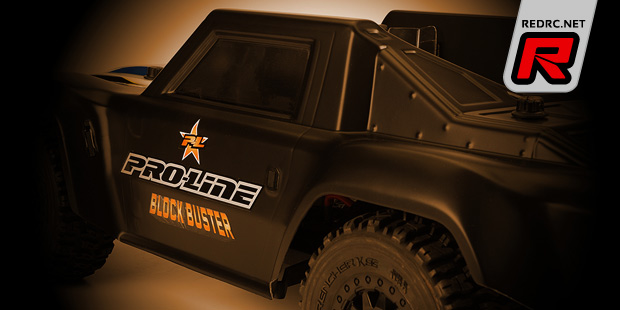 Pro-Line Racing have released this preview image of their forthcoming Blockbuster bodyshell for 1/10th short course trucks. The body in questions appears to sport several "full scale" details such as door handles and quick release fasteners along rivets and other gizmos that make the body stand out. Overall the Blockbuster looks to be of quite an "edgy" design comparable to the gnarly Desert Militia bodyshell. Full information will become available very soon.
Source: Pro-Line [prolineracing.com]
Wednesday, April 16, 2014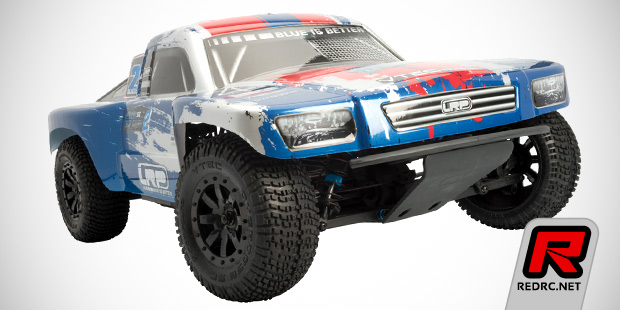 LRP introduce the upgraded S10 Blast SC 2 ready-to-run short course truck. The 4WD vehicle underwent a revision and now features a revamped drivetrain featuring a new slipper assembly and new gears for added durability and reliability. Many of the composite materials also received a reinforcement, again in order to add rigidity while upgraded shock absorbers with a membrane volume compensator lead to a more agile handling. Also included in the set are waterproof electronics for all-weather usability. The truck comes factory assembled with a brushed motor, AI Runner 2 digital speed controller and 2.4GHz radio system.
Click here to view a photo of the chassis
Tuesday, April 15, 2014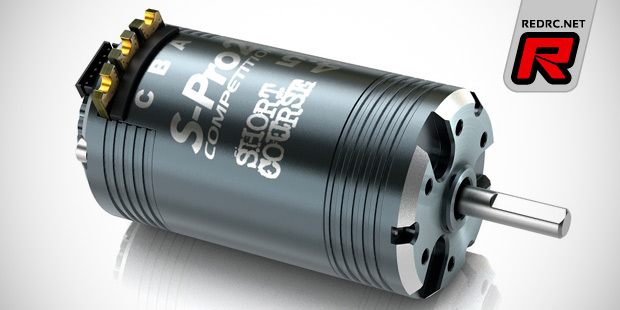 SkyRC introduce the Ares S-Pro2 competition brushless motor for 4WD short course trucks. The motor is designed around a CNC-machined T6 billet aluminium heatsink can and features a 2-pole/3-slots setup, 5mm pinion shaft, adjustable timing and heavy-duty solder tabs. It is available in four different specifications as 4.5T/4800kv, 5.5T/4000kv, 6.5T/3400kv and 7.5T/3000kv variant for high-speed down to technical tracks and usable with sensorless and sensored controllers alike.
Source: SkyRC [skyrc.com]
Tuesday, April 15, 2014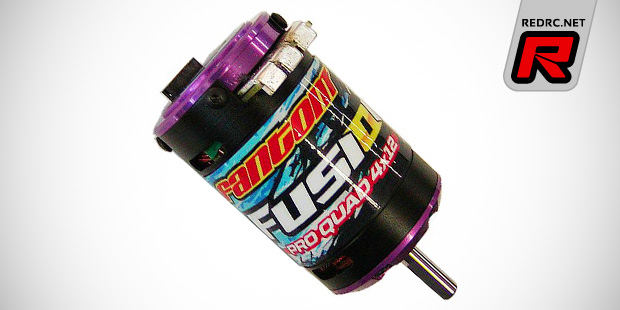 Fantom have new electric brushless motors for 4WD short course trucks available. They are of a new 545-size design with a slightly longer can than standard 540-class motors. The 545′s are shorter than class-typical 550-size short course motors for a better power/weight ratio with the 57.4mm long can with aluminium front and back plates offering the same diameter and mounting pattern than normal 540 motors making the motors usable in virtually every 4WD SC truck. Other features include a 5mm shaft, a 4-pole rotor and 12-pole stator design, dual ball bearings and the motor is available as 3200kv, 4000kv and 4850kv variant.
Source: Fantom [fantomracing.com]
Monday, April 14, 2014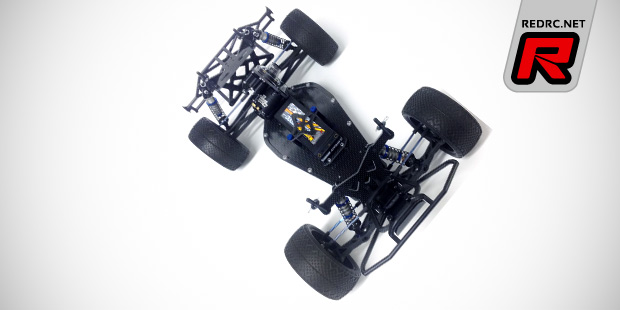 U.S. company Murfdogg introduce the Physco SC truck kit. Especially designed for the use on high-bite tracks such as sugared clay and astro turf, the truck features a mid motor layout with a 4-gear transmission and a centre biased weight distribution. The kit is made from 3mm and 3.5mm quasi-isometric carbon fibre sheets including the chassis plate, chassis stiffeners, front shock tower, rear shock tower, battery locators, battery hold down strap, transmission brace/camber plate, an rear body mount brace. Other parts include silicone nitride diff balls, VTS slipper assembly, full ceramic ball bearings, Pro-Line and DE Racing wheels as well as a Pro-Line Evo racing body.
Click here to view the features and more photos
Saturday, April 12, 2014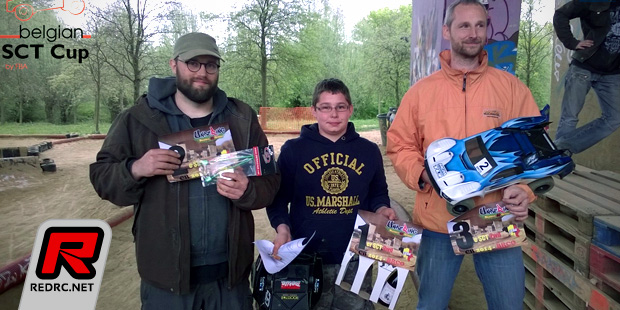 First round of this year's Belgian SCT Cup was held at the new urban UndeRing track in Brussels. The track is nicely located under the highway bridge within a public park with an interesting layout slippery surface. This race marked the first ever meeting organised by the club and after all it went pretty smooth and without problems. In the 2WD Pro2 class Philippe Hautecoeur (Associated SC10) ran a pretty weird but effective tyre setup, with astroturf tyres allowing him to run fast and consistent laps in order to take the TQ in front of Julian André (Associated SC10) and Martin Viérin (Associated SC10). In Pro4 Thierry Matthieu (Tekno SCT410) showed a great pace and took TQ in front on Nicolas Evens (TLR Ten-SCTE).
Click here to continue reading the report
Wednesday, April 9, 2014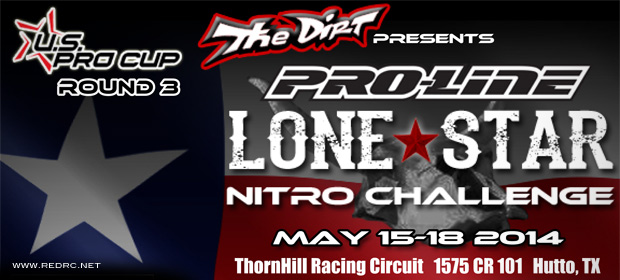 The 2014 Pro-Line LoneStar Challenge will take place from the 15th to 18th of May at the Thornhill Racing Circuit. The race doubles as the warm-up for this year's ROAR Gas Nationals and is also the third stop of the 2014 USPro Cup tour and already attracted all of the industry's big names. The event will see Pro, Open and Sportsman classes for Nitro Buggy, Nitro Truggy and E-Buggy as well as 40+ Nitro Buggy, Truggy and E-Buggy and also Pro and Sport Pro4 SC classes. Full details on the event are available here and registration for the race can be made using PayPal (thedirtracing@aol.com – include your entry info in the "Note" field).
Saturday, April 5, 2014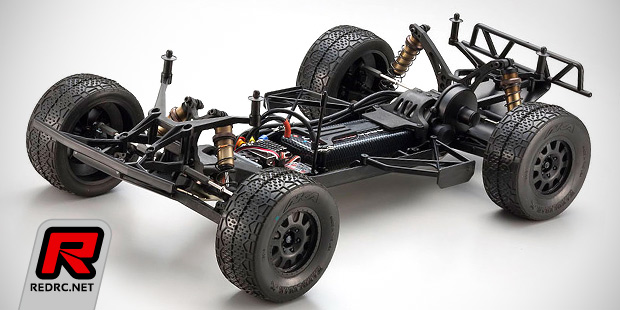 Kyosho introduce the Ultima SC6 1/10th scale 2WD short course truck kit. Building on the IFMAR World Championship winning RB6 buggy, the truck features a long wheelbase aluminium chassis, long suspension arms and a convertible transmission design that allows to run the truck with a 3-gear rear motor or a 4-gear mid motor gearbox. The chassis sports adjustable battery mounts for the use of stick, shorty and saddle pack batteries, it features lightweight side dams to absorb side impacts and the truck comes with an array of aluminium parts such as the coated shock absorbers, the steering bellcranks and steering link, as well as the motor plate. Not included are the electronics, wheels, tyres and bodyshell.
Click here to view more photos
Friday, April 4, 2014