The 30th instalment of the famous Pro-Line Cactus Classic will be held from March 7th to 13th at Hobbytown/SRS in Phoenix, Arizona. The event will see the usual mixture of Modified, 13.5T Superstock and 17.5T Stock classes and sign-up starts today, December 1st at rcsignup.com. More information about the event can be found here.
Tuesday, December 1, 2015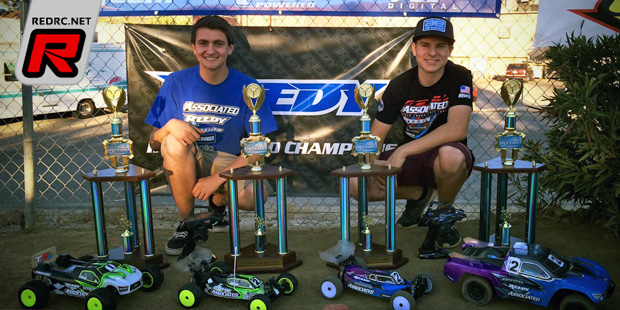 The inaugural Reedy Outdoor Off-Road Championships was hosted by Hot Rod Hobbies in Saugus, California. Replacing the Reedy Truck Race, this new event featured watered track conditions, spiked tires and roost throwing vehicles of all categories. With short days and breaks in the program for watering, the 150 entries enjoyed a smooth race event that allowed for consistent track conditions for all participants. As practice got underway smiles and laughter filled the pits. Racers commented on how fun it was to drive on a watered surface with some fluff and slightly rough track conditions.
Thursday, November 26, 2015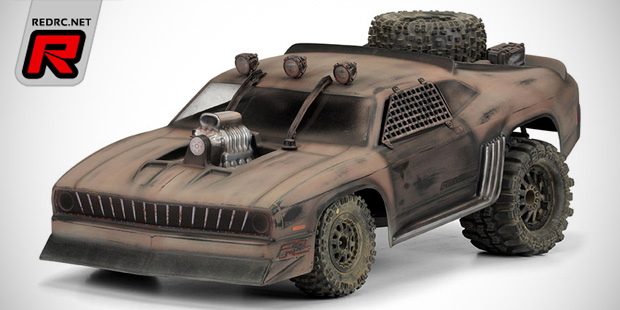 Pro-Line have introduced the gnarly looking Desert Eagle bodyshell for the use with 1/10th scale short course trucks. Resembling a fire-breathing, road-crushing 1970's muscle car the body offers details like a supercharged V8 rising out of the hood, zoomie side pipes and twin roof and deck spoilers. The body can be mounted in several ways, one of which is a desert grunge style, a post-apocalyptic war machine like Max Rockatansky's Ford Falcon in the famous Mad Max movies. This setup is best used with 2.2″/3.0″ front and 2.8″ rear tyres. On the other hand the body allows to create a nice street rod style muscle car when using the appropriate 2.8″ tyres. More information about the additional parts needed to fit the body can be found here.
Wednesday, November 25, 2015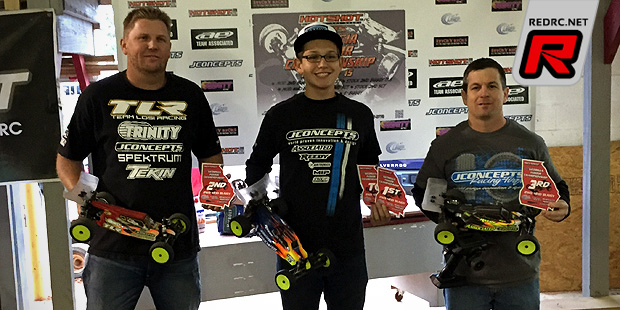 The 2nd Annual Georgia Indoor Championships was once again hosted by HotshotRC Raceway in Marietta, GA. The track was beautifully manicured, hard packed, pure Georgia red clay. With 175 entries, race director Lance MacDonald made the decision to let the track go dry as it would take too much time to keep it wet. Qualifying got underway Saturday morning and in 2WD Mod Buggy and Mod Truck it was young Daimon Borkowicz who took the overall TQs while veteran racer JR Mitch came out fastest in 4WD Mod Buggy.
Continue reading the report here
Thursday, November 19, 2015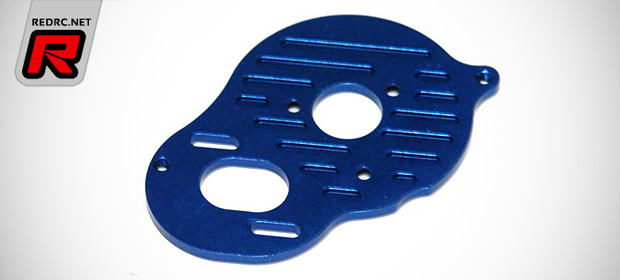 New from STRC comes the 3-gear aluminium motor plate for Team Associated fifth generation vehicles that use this specific gearbox setup. The CNC-machined motor plate features milled heat-sink fins to help dissipate heat from the motor and also elongated motor screw hole slots to allow for larger pinion gear to be installed without having to change out a spur gear, making it great for 17.5T stock racing. The motor plate is available in anodised blue, stealth black, gun metal and natural silver.
View the other available colours here
Wednesday, November 18, 2015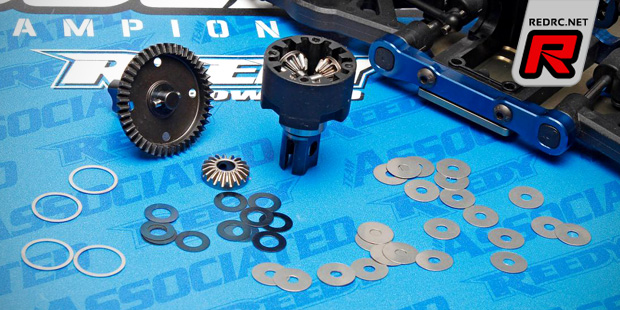 Team Associated have released a 40-piece diff shim kit for their range of 1/8th scale vehicles. It contains an assortment of S3 shims as well as washers for the sun and planet gears and it is usable on the RC8, RC8T and SC8 series vehicles to adjust gear backlash inside the diff as well as inside the gearbox.
Source: Team Associated [teamassociated.com]
Tuesday, November 17, 2015
Team Associated have introduced the V2 CVA upgrade kit for the ProSC 4×4 short course truck. The kit gives all the parts needed to switch to the new CVAs for greater strength. The parts, that are also available separately, are not interchangeable with the stock items and they also fit the ProLite and ProRally.
Source: Team Associated [teamassociated.com]
Friday, November 13, 2015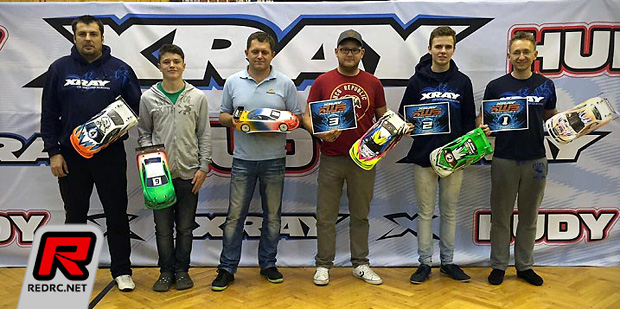 The opening round of the Czech Xray Winter Series was held in Kolin in several electric on-road and off-road classes. In Touring Modified Xray's own Martin Hudy laid down a flawless performance with his biggest rivals being Jiri Vysin and Jiri Janousek and at the end this would also be the top 3 order. Karel and Martin Kratochvil rounded out the top 5 result.
Thursday, November 12, 2015