Alain Sarafyan wins Buggyburn race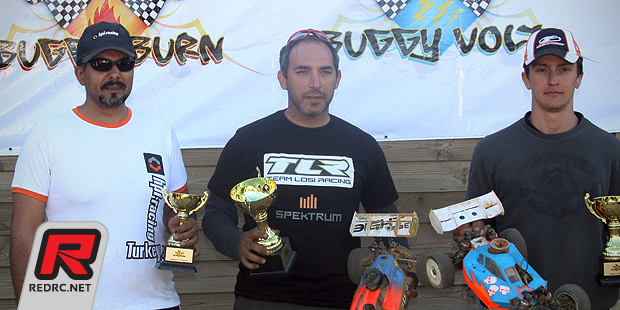 Team Losi Turkey Driver Alain Sarafyan has won the first Buggyburn race 2012. Turkish RC car enthusiasts met at the Snappy Raceway in Istanbul for the first Buggyburn race. The meeting was organised by Ciddi Amator and attracted both team drivers of Serpent, HPI Racing and Losi as well as a number of non-sponsored drivers. The race day started with free and later on controlled practice rounds. After three qualifying heats Alain Sarafyan took TQ followed by Mustafa Alp and Cengiz Gökbulut. Before the final A main, the B final was held which was won by Serhat Yalman with Hüseyin Erkuş in second and Suat Bayrakal in third place. The following A final was won by Team Losi Turkey Driver Alain Sarafyan with Mustafa Alp from Serpent Turkey in second position and Cengiz Gokbulut in third place.
Top 10 result
1. Alain Sarafyan
2. Mustafa Alp
3. Cengiz Gökbulut
4. Bora Deniz Aksüt
5. Serdar Aytemiz
6. Tolga Yılmaz
7. Kartal Kama
8. Orkun Bagatur
9. Ahmet Tekelioğlu
10. Berkay Besler
The next race o the series is called Buggyvolt and will be held at Snappy Raceway, Istanbul on 20th May 2012 using 1/8th electric buggies.
Source: Ciddi Amator [ciddiamator.com]