Tironi & Agostinelli win Trofeo Novarossi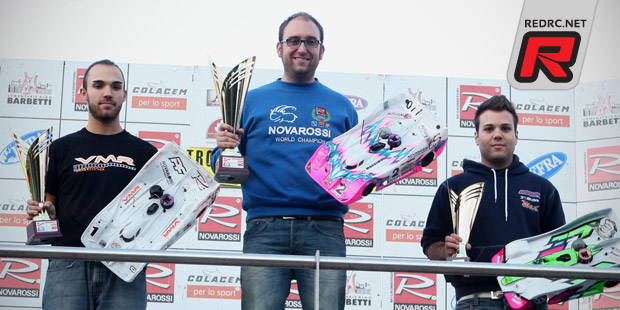 The 8th running of the Trofeo Novarossi took place at the track of the Club Automodellistico Gubbio in Italy and saw the entrance of talented drivers like Francesco Tironi and Lamberto Collari. In the 1/8th scale class it was Capricorn's Francesco Tironi who took the race win some three laps from Mattia Rinaldi and Alessandro Bracci. Lamberto Collari faced tyre problems during the final and finished in fourth position.
Result 1/8th
1. Francesco Tironi
2. Mattia Rinaldi
3. Alessandro Bracci
4. Lamberto Collari
5. Alessio Ursicino
6. Michele Barbieri
7. Alessio Coniglio
8. Marco Vanni
9. Stefano De Rossi
10. Jonatan Marchetti
11. Jonathan Gandin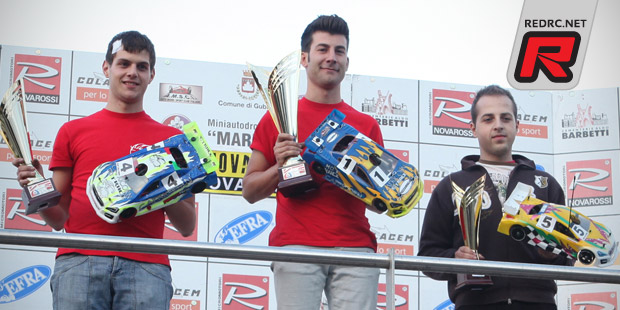 In the 1/10th 200mm class four drivers battled for the lead. From the start Daniele Agostinelli lead with Matteo Menichetti in second position. Later Alessio Agostinelli was able to put his Capricorn in front but a mechanical problem stopped him and also Michele Scaglioni had bad luck retiring only 90 seconds later. At this time Francesco Pierella was up in front but a great drive from Daniele Agostinelli saw him taking the win after the 30 minutes final four laps ahead of Matteo Menichetti and Francesco Pierella.
Result 1/10th 200mm
1. Daniele Agostinelli
2. Matteo Menichetti
3. Francesco Pierella
4. Mirko Fuganti
5. Stefano Fusari
6. Vladimiro Massimi
7. Fausto Isidori
8. Michele Scaglioni
9. Alessio Agostinelli
10. Alex Rinati
Source: Capricorn [capricornrc.com]