January 30, 2014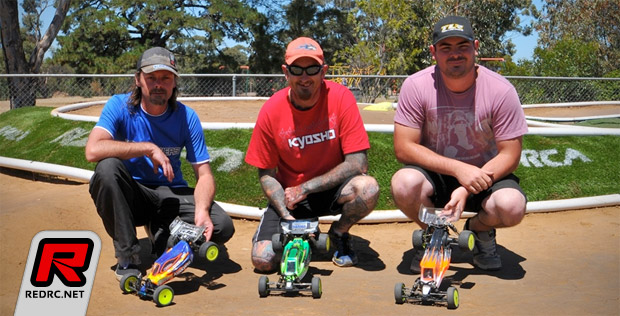 Every January for the past 5 years, the Keilor club in Melbourne have hosted the 'Stock Shootout', an event exclusively for 17.5T buggies and 10.5T trucks.  66 entries were received for this unique event, which was held on a brand new track layout the club members had worked hard to complete over the New Year break. The layout had fast sweepers, technical infield, big elevation changes and a challenging jump rhythm section to test man and machine. With no practice before the event, there was no home club advantage and with strong competition in all classes it was an intense weekend of racing.
After a tough weekend of racing, the winners were Andrew Crowe (2wd, Kyosho), Mick Salis (4wd, Team Powers / AE) and Ashley Peeler doing the truck double with his Kyosho / JConcepts / Savox vehicles.
2wd: Andrew 'Scoobs' Crowe (Kyosho) has been on form lately, coming very close to winning the 2013 stock nationals.  He TQ'd from Team Durango new signing Leigh Cheeseman with Mick 'The Doctor' Salis with his Team Powers B4.2.  Kyle Sanders (Losi 22) and Dave Wilson (Kyosho RB5) would line up 4th and 5th. The finals were a very tough affair with Salis, Crowe and Sanders all taking a win each and the results going to countback.  Crowe was awarded the win from Sanders and Salis, with Cheeseman 4th.  Notable entries in the finals were Cameron Zammit and Adrian Spinazzola, 2 local youngsters who managed to beat many more experienced drivers into the top 10.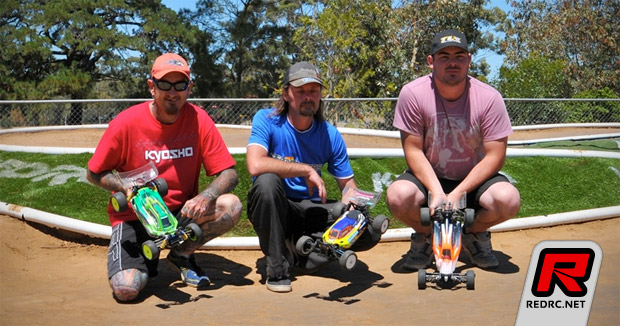 4wd:  Crowe took the TQ double with Salis and Sanders (debuting the Losi 22-4) close behind.  However the finals were a different story with Salis taking out A1 and Sanders A2, setting up a showdown in A3.  Salis got by Crowe for the lead on lap 1 and never looked back, taking out the 2014 title in style with Sanders and Crowe tied for 2nd, Sanders taking it on countback.  Dave Wilson and Mildura's Nigel Spokes rounded out the top 5. Crowe was unlucky in the finals but will take strong form into the 2014 season. Notable mention to 10 year old Lachlan Salvatore – after servo problems in his brand new 22-4 in qualifying kept him at the back of the B final, he went on to win the B final convincingly and is one to watch out for through the year.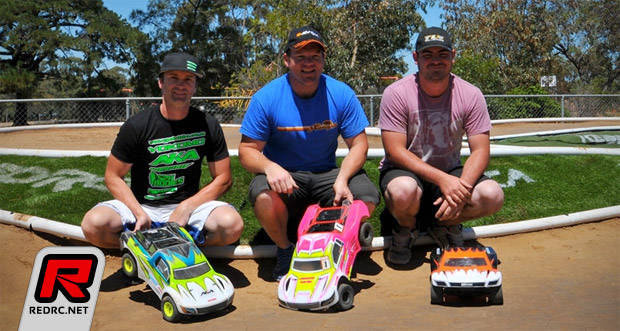 2wd SCT: Ashley Peeler is the reigning SCT national champ in both 2wd and 4wd and was odds on for the win.  But no one told Scott Rawlings and Kyle Sanders that, as they qualified 1st and 2nd, relegating Ash to 3rd place.  Young guns Zammit and Spinazzola qualified 4th and 6th, sandwhiching a happy Ant Salvatore. The A finals were incredibly close with Rawlings winning A1, Sanders A2 and Peeler A3.  All 3 drivers had a 1st, a 2nd and a 3rd with the tiebreak coming down to fastest finals times.  Peelers A3 time was the fastest so he took the win from an unlucky Sanders (3 2nd places over the weekend!) and Rawlings, Zammit a fantastic 4th and Salvatore 5th.
Truck:  Ash Peeler dominated this class from start to end.  Period.  Unbeaten in all qualifiers and the first 2 finals, he reminded everyone why he is the master of truck racing in Australia.  Paul Kealley made the long trip form Mildura and kept Ash honest, but had to settle for second place in the end from a surprised Richard Dyer.  Richard is from the UK and this was one of his first experiences on dirt, running a mid motor 22T.
Thanks to Pro-Line for sponsoring the event and the club for working hard to build a new track! Credit to Hercules Sports Photography for the podium pictures.
Thanks to Ray Munday for the report.
---