January 25, 2014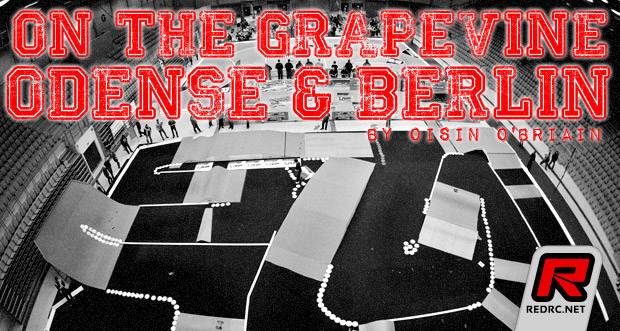 After a bit of time off so as to facilitate the visit of a certain Mr. Claus to my two daughters and to spend some quality time with family & friends the dawn of the New Year brought with it the busiest start to a season yet. Traveling to the west of Ireland to celebrate bringing in the New Year with a long time friend & his family, during our stay the question came up as to what date I would be free so as to attend the Christening of his new born son for whom I have been asked to stand as God Father. Looking up my calendar it was only then I actually realised just how many weekends, some extended, are going to be spent at various rc events around the world – over 9 weeks there are 8 events to be reported on. Kicking off that run of events was a race that in many ways is responsible for the continued growth of Red RC event coverage calendar – the DHI Cup.

Having started off the live event coverage side of the website reporting on onroad nitro, it was a request from the founder of the DHI Cup Kim Kim Bendiksen to attend the event the famous Danish event which introduced us to the world of electric racing and the world's best drivers namely Atsushi Hara and Marc Rheinard. Probably a more significant first encounter made at that 2008 event was with two non racers. With Kim locating us up in time keeping/announcers area it was there that the start of our working relationship and subsequent great friendship was started with a certain Scotty Ernst and Uwe Rheinard. Somehow impressed by our coverage of the event (I like to think we have improved since then) Uwe would approach us about becoming involved in a new idea they had for an electric touring car series himself & Scotty were starting and which they were planning to call the Euro Touring Series. As they say the rest is history. Having built the ETS in to the world famous championship it is today and since establishing the equally successful Euro Offroad Series, 2014 will see the addition of the Euro Nitro Series with the 3 championships combined accounting for the booking up of 14 weekends in my calendar. Uwe and Scotty are often referred to by my partner as my second family!!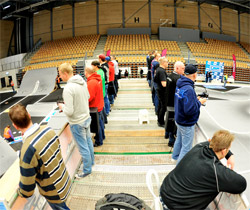 Having not attended the DHI Cup since 2010, on arrival at Stadium Arena Fyn albeit still somewhat in shock at the price of the train ticket from Copenhagen to Odense, entering the hall I was again just as impressed as I was the first time. I have seen many impressive indoor tracks since but never two carpet tracks of this scale. Having introduced Offroad to the schedule of the event that has run continuously for that last 14 years another first for me was trying to report on two events that ran concurrently, onroad drivers standing back to back with the Offroad drivers! To say it made for a busy weekend would be an understatement.
******
Making my rounds through the combined pit area on Friday morning, while the event has lost a little of its international draw, the atmosphere & anticipation of the weekend ahead was really good. Everyone seemed recharged after their short Christmas break and excited about the 2014 season which added to the good vibes of the event. Talking to Bosse Hagberg, father of Swedish ace Alexander, I learned that this is the only international event the Xray team leader can drive to and since doing his first DHI Cup in 2004 it is also the only race that he and his father have always attended & completed the 9-hour drive together. A familiar figure around the pits at most of the big touring car races it looks like Bosse might now try his hand at a bit of r/c racing himself. Having raced 1:1 scale Formula 3 cars in years past but never R/C, he was pretty excited when informing me that he has got himself a 1:10 Formula 1 car which appears to have resulted in him being bitten by the bug of a class that is enjoying great growth. For the upcoming second round of the ETS some 70 entries have been received for Formula 1. I was impressed by how quick Bosse grasped racing, making excuses already joking that had he started racing 20-years ago he would definitely be able to win a few races!!
******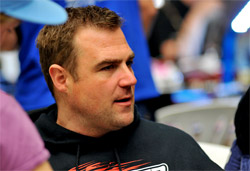 While the busy schedule left little time for making general chat between filing our reports, Team Associated's Craig Drescher dropped up to say hello and as always that lead to some interesting conversation about the world of R/C and in particular the topic of how to spread the word of our sport and actually being able to see the sale of a car through to getting its purchaser to become and stay an active racer. Yokomo team manager Robert Itoh also dropped by for what have now become almost daily chats at races we both attend. They usual start out with either one of us asking the other have we found any good local coffee shops yet (we both have a slightly higher than usual interest in good coffee!). At the DHI the topic was of their new signing Lee Martin, by far the most significant news of what was a pretty crazy silly season, came up. An 'expensive' signing for Yokomo and obviously made mostly on the grounds of the British ace's driving abilities it was interesting to hear how Lee's own personal media work such as his blog and social media outlets played a part in them justifying the costs not just of paying the driver a salary but also sending him around the world to races. Having done a deal last year with 1:8 Offroad World Champion Robert Batlle assisting him to go electric Offroad it would appear Yokomo were a little surprised and impressed by the Spaniard's commitment to such a programme and 2014 will see him complete a much busier programme for them. As if he wasn't already in for a busy enough season with this being a 1:8 Offroad World Championship year Batlle will try his hand at electric touring cars contesting next months Round 2 of the Euro Touring Series in Germany. Batlle told me at the EOS in Berlin that already he has 40 races booked in to his calendar.
******
As myself and Ricky Acciari finished up our reports at the DHI Cup on Sunday evening it was impressive to see a club at its best. While all the racers were either on their way home or retired to their hotel looking back on whether it had been a good or bad start to 2014, in the Arena an army of club volunteers undid all the good work they had completed just three days earlier. I know this work goes on at clubs all across Europe every single weekend as we have very few permanent indoor tracks but to clear away two huge tracks so quickly and efficiently was impressive to witness. Not many r/c events have an articulated 40ft truck pull up on a Sunday evening that needs loading up with bits of track.
******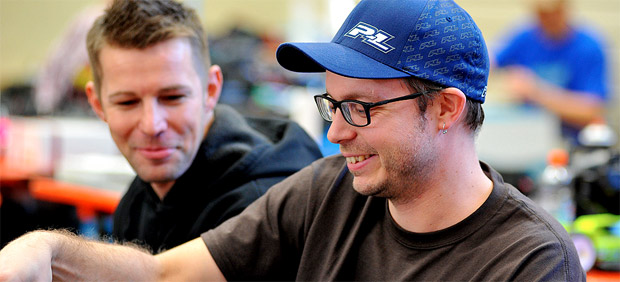 After Denmark and a quick visit home to refresh the supplies in my suitcase it was on to Germany for by far the most competitive weekend of the Euro Offroad Series. Arriving at the hall on Friday morning it was hard to believe that season #3 nearly didn't happen as the atmosphere was if you can excuse the pun 'electric'. One of the people, who was an original instigator of the EOS, and whose 'WTF' reaction to us considering canning the series resulted in it been saved, Hupo Honigl was probably adding the largest amount of voltage to that electric atmosphere in Berlin. They say a change is as good as a rest and there is no better evidence of that than the totally rejuvenated Hupo. Sure his win at EOS Round 1 with Team Durango injected new life into the Austrian but since signing with Team C he is a new man. In 2WD he was a contender for 2 wins in a row right until the very last lap of the third A-Main. Talking to him about his Team C deal, he said they are 'so good to work with' and already they are taking on board feedback regarding how to improve and develop the cars. Describing the company as' really ambitious' he said it also helps that company owner Stephen Shih is a 'super nice guy'. Although they were set-up at opposite ends of pits it rather funny that every time I went to Joern Neumann's table after a run that is where I was able to find Hupo too.
******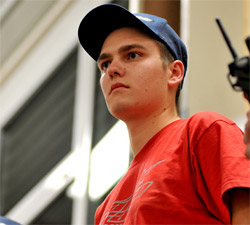 Talking of Joern, of all the sponsor changes made over the silly season it was one of his that intrigued me most. Enjoying a strong relationship with JConcepts for the last few seasons he has switched to Proline for 2014. The main reason behind this is that Team Durango now insist that he runs the manufacturer's own bodyshell bringing an end to his deal with JConcepts for whom bodyshells are a large part of their business. Also switching from Picco to FX Engines, a big coup for Juraj Hudy's new venture, Joern told me that he had the opportunity to do some testing ahead of the deal. A driver I find very honest to deal with when asking him about his equipment he gave the new power plants a very positive thumbs up.
******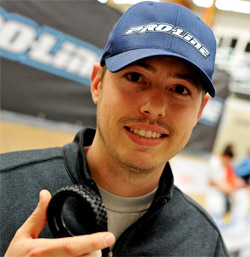 Having over the years received a few tongue lashings from manufacturers for reporting the facts as to why a particular driver failed to turn-up for a race, finish a final, or struggle to find their normal winning form, I have always found it frustrating that companies don't put up their hands, explain their problem and be proactive about rectifying it rather than trying to cover up the facts that are plain for all to see in many cases. I bring up this point because in Berlin I was super impressed by results of the response of the Euro Offroad Series' new tyre supplier Pro-Line. Debuting their all new carpet tyre at the opening round of the EOS in Poland in October, carpet off road racing being rather unique to Europe, the front tyre for 2WD had some issues with drivers struggling with understeer and high wear. With drivers' feedback brought to their attention, Pro-Line were immediately on to fixing the problem rather than making excuses. Building a carpet track inside their factory to start an intensive testing programme they changed the front tyre design as well as the compound for both front & rear. To over see the introduction of the new tyre, which was an instant hit with drivers, they also flew over Product Development Engineer Matt Wallace from California. Such a commitment to give racers a quality tyre is a credit to everyone involved.
Have an opinion on the topics discussed? Leave them in the comments below.
Oisin O'Briain is Red RC's Event Editor. Traveling the world reporting on some of the biggest races in the sport he regularly chats with top drivers and key industry figures and in his new column 'On the Grapevine' he will try to bring readers an insight into the latest talk that is doing the rounds in the paddock along with the odd bit of trivia information that comes to light.
The views and opinions expressed in this column are those of the author.
---