February 27, 2017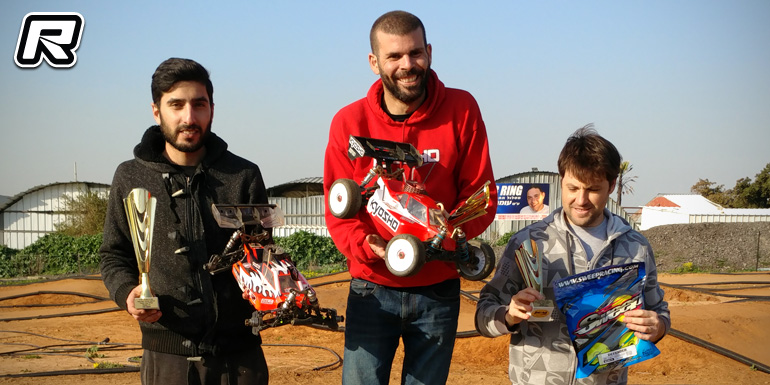 Round six of the Israeli League was held at the Ein-Vered racing track in good weather conditions after weeks of rain. The day started with a wet track but over time it even became blue grooved with high traction. After four rounds of qualifying Yaniv Sivan took the overall TQ and after a clean start into the final he swiftly opened a gap while Ido Carmon held the second spot from Ofer Avitan, Gil Harush, who came from the 9th spot on the grid, and Aviv Maymon, who all battled for third. Around half time Ofir managed to get into third place, starting to chase on Ido Carmon. A few minutes before the end, Ido made a few mistakes which promoted Ofir into second while up front Yaniv brought home a win from Ofir and Ido.
Final results:
1. Yaniv Sivan – Kyosho/Reds Racing
2. Ofir Avitan – TLR/Bullett
3. Ido Carmon – Kyosho/RCConcept
4. Tal Siles – TLR/Maxima
5. Aviv Maymon – Kyosho/Reds Racing
6. Gil Harush – Kyosho/Reds Racing
7. Or Rozentsvaig – HB Racing/Team Orion
8. Paul Price – HB Racing/HB Racing
9. Asi Bitton – Xray/Bullett
10.Or Balulu – Agama/O.S.
Thanks to Yaniv Sivan for the report.
---