March 20, 2017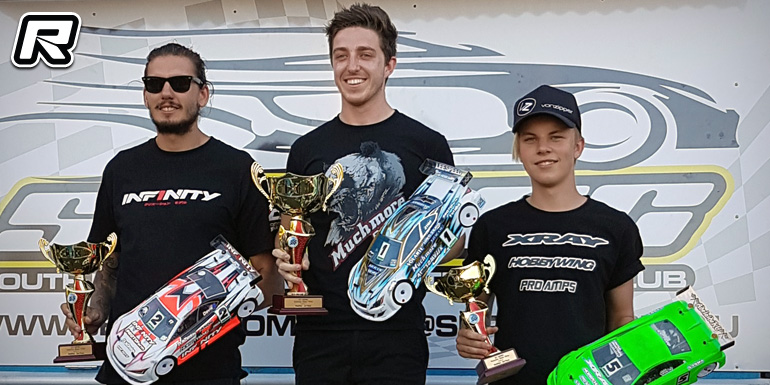 The 2017 Association of Australian Radio Controlled Model Car Clubs State Titles for Victoria was held by the South Eastern Radio Controlled Car Club SERCCC at its new facility located on the Mornington Peninsula of Victoria, Australia, this past weekend. The event attracted racers from all over Australia to compete in eight different classes. With over 120 entries the racing for the top positions looked like it would be well contested and the racing that resulted proved this was the case. The premier class for the event was the Modified Open Class. With multiple Australian National title holders and State title holders in attendance the drive for TQ and the top spots was well contested. After five rounds of qualifying it would be Ryan Maker (Awesomatix) who would take the TQ position.

Ryan took the first final leg from Jesse Davis (Infinity) with Jack McMillan (Xray) moving up a few spots from qualifying to take third. Final 2 was where the action started to heat up. Jesse Davis was to apply intense pressure on Ryan Maker for first place but some small mistakes would see Jesse pull out of the race leaving Ryan to take the win. With final 1 and 2 locked away Ryan chose to sit out final leg 3 leaving second place open to multiple competitors. It would be Jesse who would take the early lead but towards the back end of the race Jack would make his move but just unable to complete a pass in the last few corners would see Jesse Davis take second place and Jack McMillan in third.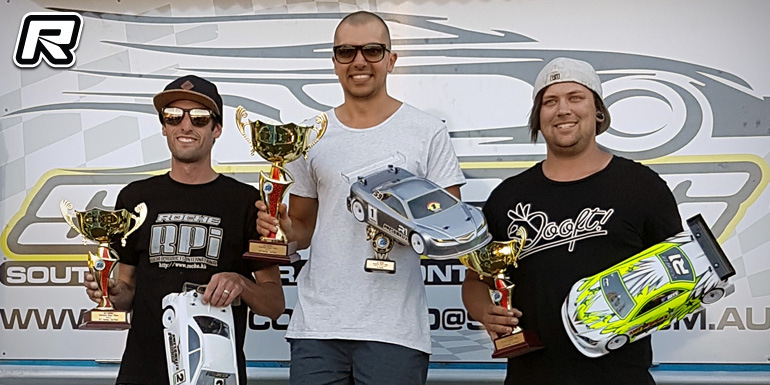 Stock 13.5 class TQ went to Tom De Nardis (Awesomatix) and with a dominant final leg 1 and 2 would also take the win. Second place went to Nick Sanfilippo (Awesomatix) with second place in both final 1 and 2 and a win in final 3. Third place went to Rhys Marshall (Awesomatix).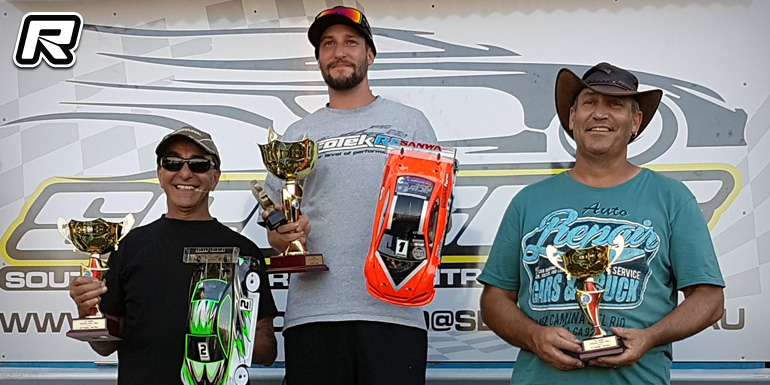 The Sportsman 21.5 class TQ went to Bret Romanis (Xray) who, like Tom in 13.5, dominated the field all weekend and was able to sit out the 5th qualifier and the third final. Second place went Frank Spiteri (Awesomatix) who had a faultless drive in final 3. Third place went to Dave Wilson (Awesomatix). The highlights of the weekend for Sportsman was watching 10 year old Megan Young from South Australia and local gun youngster Nick Krilis battle the field to make the B mains. Megan would secure 12th overall with a final 1 win and a third in final 3. Nick would place 5th in Final 1 and achieved 18th overall. These two are definitely racers to watch having both won Junior Sportsman titles previously and again proving they are strong competitors.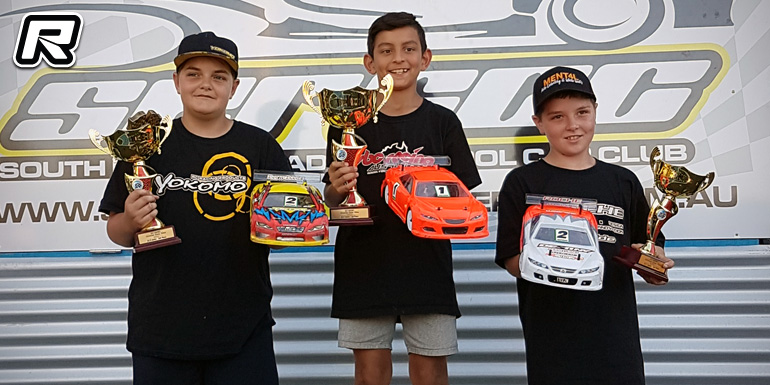 21.5 Junior Sportsman proved to be a close affair. Being a controlled motor and gearing class it was driving skill that would take the win each round. Overall TQ went to Lachlan Voss however with a slight mistake in warm up for final 1 resulting in car damage it would be Jake Koutsoheras who would take the final 1 win. Final 2 went to Lachlan Voss setting up a winner takes all final 3. It would be Jake Koutsoheras who would take the final 3 win and the overall win for the event.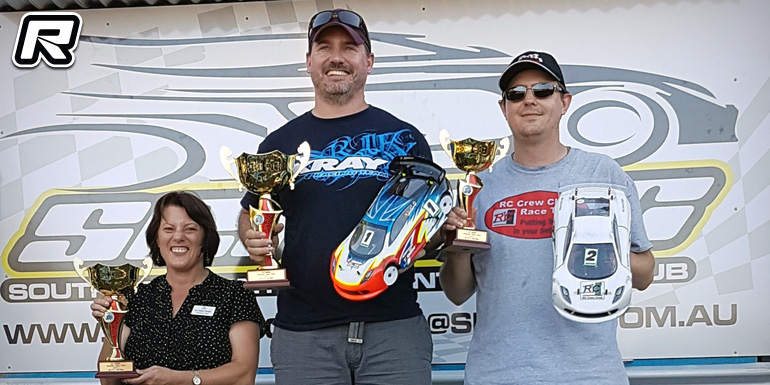 17.5 GT would be TQ'd and won by Ed Clark followed by Terry Norman and Damian Ware.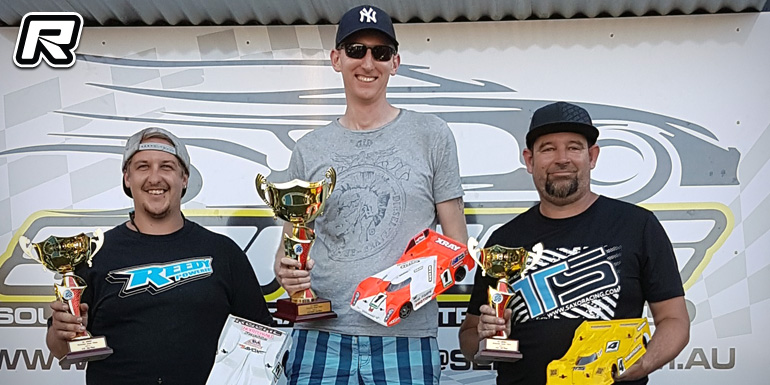 1/12th Scale had Andy Cooke taking the TQ and win from Scott Callaghan second and Paul Sims third.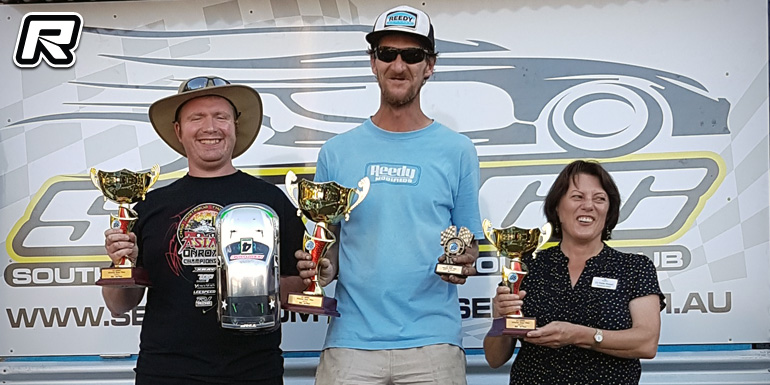 The Mini TQ went to Wayne Edwards and he would also take the overall from Declan McQuay second and Tim Keiller third.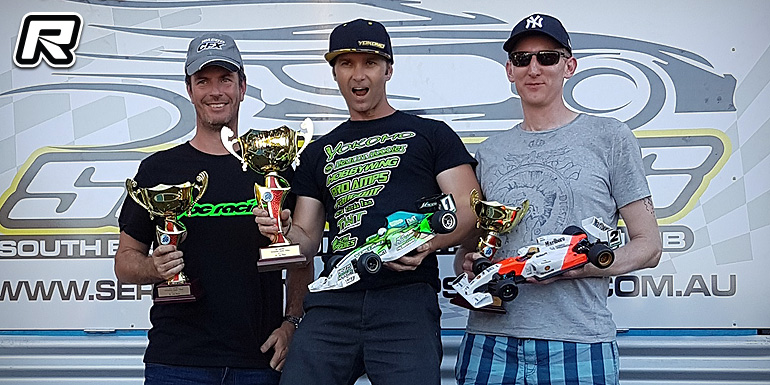 Finally in the Formula class TQ Scott Rawlings would bring home the win from 2nd placed Jordan Cullis and Andy Cooke third.
Source: South Eastern Radio Controlled Car Club
---