October 8, 2018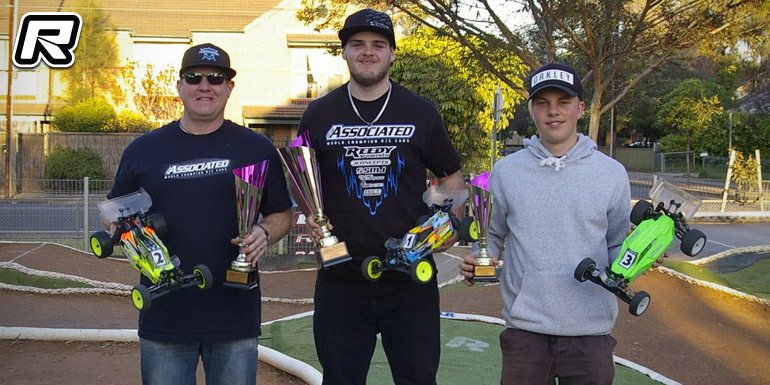 The 2018 Australian Nationals was held at the Adelaide Raceway in South Australia, with over 150 entries racing on the beautifully prepared outdoor clay track in perfect sunny weather conditions. Racers came from all around the country to the first national title in Adelaide for over 20 years. Seven official classes were offered including 2WD and 4WD Modified, 2WD and 4WD 17.5, 2WD Junior 17.5, Stadium Truck and SCT. For 2018 a demo class of 13.5T 4WD was run, which will replace 4WD 17.5 in 2019. In 2WD Modified Chris Sturdy was the defending champ and he was too good for the rest of the field, taking out all four qualifiers for TQ and then winning A1 and A2 with his AE buggy to take his 6th National Title. Ray Munday (Team Associated) qualified 2nd and took A3 for 2nd overall, with Adelaide privateer (Team Associated) Jack McMillan driving impressively for 3rd overall after pushing Sturdy very hard in A1 and A2. Notably in this final, three drivers under 14 years old made the A-main – Lachlan Donnelly, Lachlan Munday and Jordan Isergin – with Donnelly finishing 4th, showing the junior racer program in Australia is paying dividends.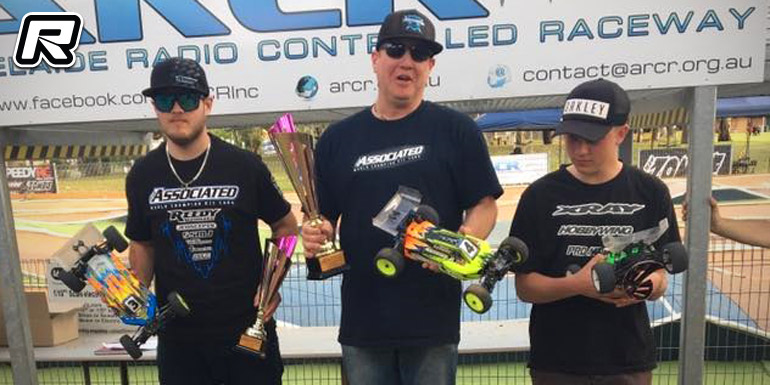 In 4WD Modified the big surprise of the event was junior racer Lachlan Munday taking TQ with his AE buggy after winning Q3 and Q4, with McMillan (Xray) 2nd ahead of Sturdy and old man Munday. The triple A-finals were very intense on the track, with the experience of Sturdy and Ray Munday coming through. Sturdy took A1 from Ray, and was unfortunate not to win A2 after a late collision. Ray snuck past to take A2 and then won A3 to seal the title, ten years after his last nationals win. Sturdy finished 2nd overall with McMillan again on the podium after an impressive weekend, Antoni Caretti 4th and Lachlan Munday 5th. Juniors again featured strongly with Damon Davis Perry and Brayden Johnston joining Munday and Isergin in the A-main.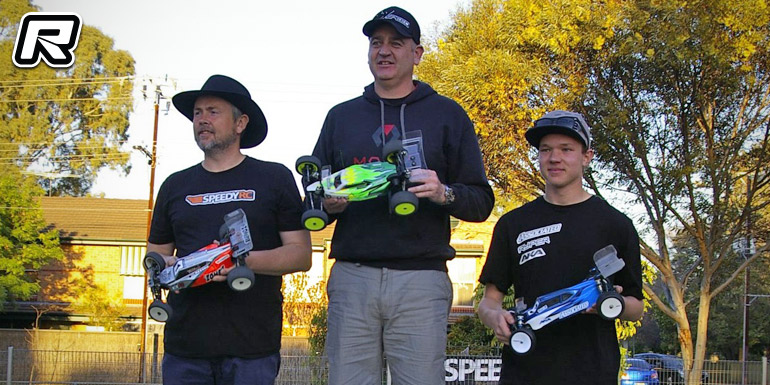 In the hyper competitive 2WD 17.5 class Ben Howard (Team Associated) and Leigh Cheeseman (TLR) battled it out in qualifying, Howard taking TQ from Cheese with Perth's Marcu Vermeulen 3rd. A1 was an epic battle between these three, Cheeseman taking 1st blood from Marcu and Ben, the three separated by less than 0.5s as they crossed the line. At the start of A2 Ben stretched out a lead which he held for 4 minutes until a minor mistake let Cheeseman through. Ben battled back but lost by the narrowest of margins, less than 0.1s, allowing Cheeseman to take his first 2WD title. Ben took out A3 easily to secure 2nd overall, Vermeulen an impressive 3rd.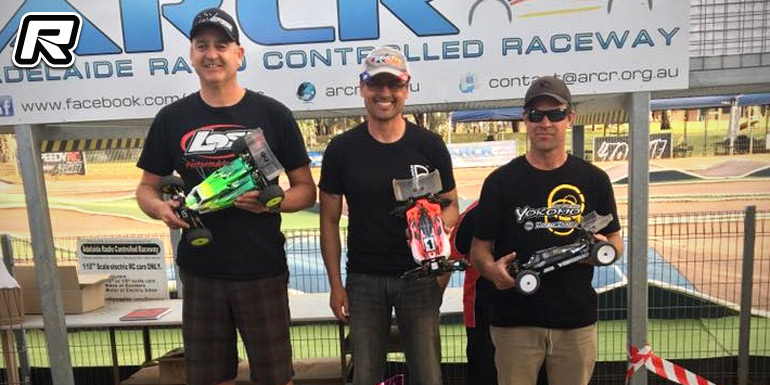 In 4WD 17.5 Howard was determined to make amends for his loss in 2WD 17.5, but had terrible luck again as he TQ'd two rounds but was DQ'd in one for a minor issue. Local Mark Ruta (HB Racing) finished off strongly to take TQ after very close racing, with the top 4 separated by around 1s in each round. Sean Perry (Yokomo) lined up 2nd from Cheeseman (TLR), Vermeulen (Team Associated) 4th and Howard with it all to do from 8th. Come the finals and Ruta didn't put a foot wrong, leading A1 and A2 from start to finish to take the title. Cheeseman took out A3 for 2nd overall to complete a successful weekend, with Sean Perry 3rd and Vermeulen 4th.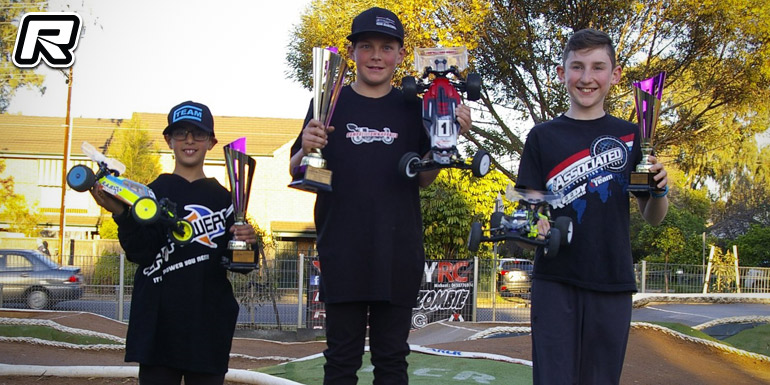 The Junior class has proven to be popular and with four of the racers in this years modified A-mains recent graduates of the junior class, it is proving to be a successful stepping stone. Eleven juniors lined up for a crack at this event, with local 12-yo Jayden Edmunds taking out three qualifiers for TQ from Melbourne's Camden Camilleri and Sydney's Cameron Couper. In A1 and A2 Edmunds got off to a great start and cleared out to take the title, Cameron Couper and Claude Camilleri following him in each final. In A3 Camden Camilleri put in FTD to seal 2nd overall from Couper, brother Claude in 4th with Ethan Kelland rounding out the top 5 followed by Brooklyn Bisset, Angus Brown, Shelby 'the floss queen' Bloss, Lincoln Isergin, Daniel McMechan and Amelia Facciol completing the field.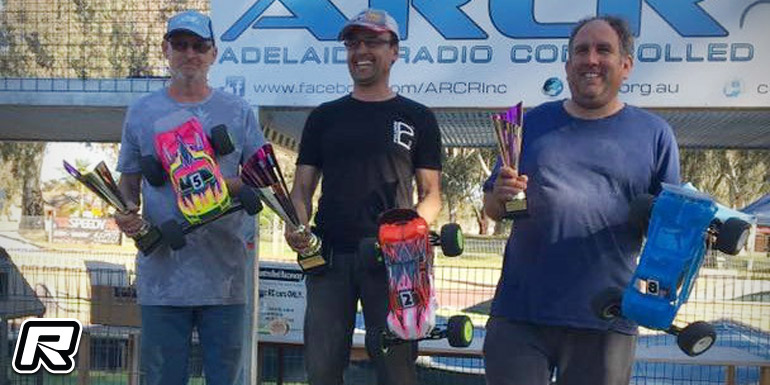 In the Truck class Mark King took TQ but couldn't convert in the finals, Mark Ruta backing up his 4WD 17.5 win to take a second title for the weekend with his TLR from Phillip Neville and Damien O'Dea.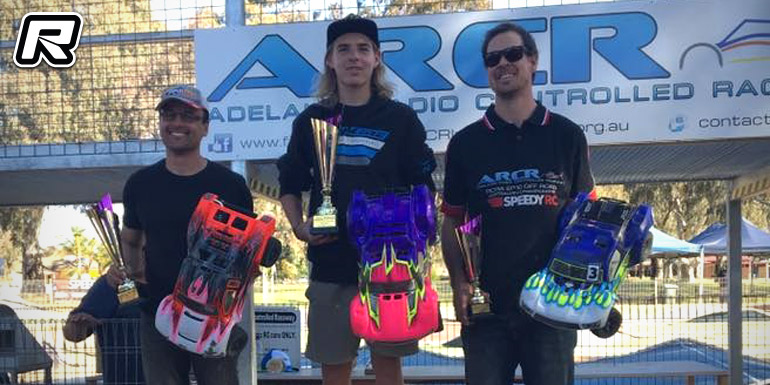 In SCT Mark Ruta TQd but this time couldn't take the win, as Queensland young gun Troy Milton (14, AE) taking A1 and A2 for the win from Ruta, with Nick Cavender coming in 3rd.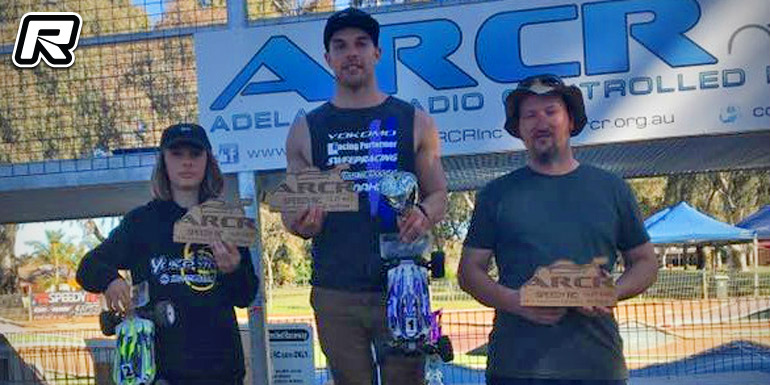 The 4WD 13.5 class will replace 4WD 17.5 in 2019, and was offered as an unofficial demo class for this year. Antoni Caretti, top touring car racer and 4th place-getter in 4WD Mod took TQ, followed by young gun Damon Davis Perry and Martin Grantham. The top 3 stayed the same after the finals, Caretti taking A1 and A2 and Davis Perry A3.
Thanks to Ray Munday for the report.
---