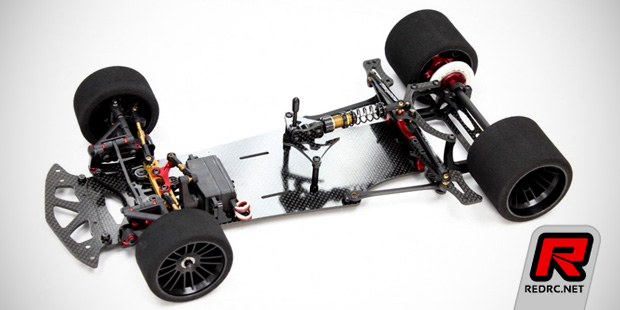 Roche have introduced the Rapide P10 1/10th scale 200mm pan car for World GT and narrow Pro10 classes. The car is based on a 2.5mm high-quality carbon fibre chassis and it features a widely adjustable front suspension, made by Xenon Racing, that allows for an adjustable wheelbase using the front lower suspension block and the graphite front plate. The reactive castor is adjustable as are the usual suspects such as toe, castor and camber. Unique with the P10, which is based off of the smaller P12 1/12th scale car, is a ball-raced rail-type steering system that makes for a more proportional and smooth steering feeling while offering quick steering Ackermann adjustments. The backbone of the chassis is a red anodised aluminium rear chassis brace as well as the battery and shock mount for the micro centre shock. In the rear the P10 features aluminium pod parts as well as aluminium mounting brackets for the rear axle that is height adjustable using spacers. The rear axle itself is made from high-quality graphite and it features a thrust race equipped ball differential and a 16-ball Xenon 64dp 93T spur gear. The kit is available for pre-order now and should hit stores very soon with a 235mm version being planned for the near future.
View the features and more photos here
Tuesday, September 1, 2015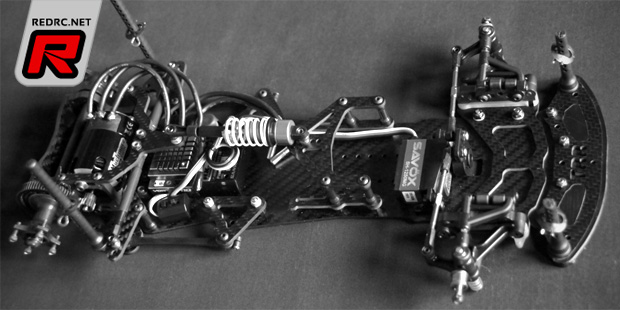 Following TRR-Racestuff's 235mm conversion kit for the Team Associated 10R5.1 the German company now also have a narrow chassis conversion available that retains the standard 200mm width and is compatible with the kit's standard parts. The conversion includes a slim 2.5mm carbon fibre main chassis plate, new 2.5mm sidelink wings, a front LiPo rail for 1S and 2S shorty LiPo packs, hexagonal chassis standoffs and the needed shims. The chassis allows to three different sidelink configurations; a hanging layout with parallel links, angled chassis-mounted links that open toward the power pod and a third variant using an optional lower power pod plate that allows to run angled links that close towards the power pod. The kit greatly increases the setup potential of Team Associated's World GT car and the conversion becomes available by end of January.
Click here to view more photos
Monday, January 26, 2015
VBC Racing introduce the 235mm version of the Lightning10 1/10th scale pan car chassis. The Lightning10-235 marks the revival of the 1990's Pro10 class and the kit is constructed using high grade carbon fibre materials, lightweight 7075 aluminium alloy, and high strength composite materials. The kit features ultra short 7075 aluminium drive hubs, a big bore centre shocks, multi location side springs, optional brass balance weight with multiple mounting locations, an optional fan mount, and a highly adjustable adjustable front suspension that allows to fine-tune track width, caster, active caster, camber and ride height. The oversized rear motor pod is designed to keep the wheel hubs as narrow as possible while allowing the use of brass balance weights for weight distribution fine-tuning. The kit will become available early January 2015.
Click here to view the features and more photos
Saturday, December 13, 2014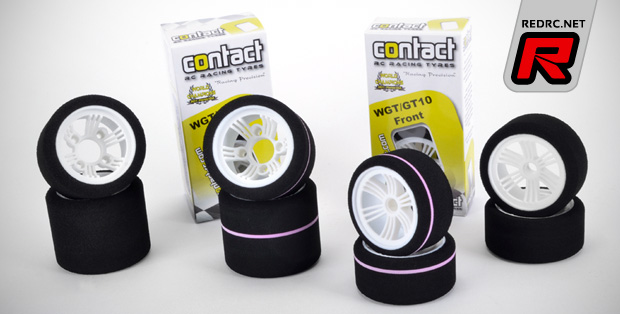 Contact RC bring to the market a new range of WGT/GT10 tyres for 200mm and 235mm pan and oval cars. The WGT/GT10 range includes a host of popular compounds to suit running on tarmac and carpet, including special 38 shore tyres with lilac stripe for control tyre events. All front tyres are trued to 63mm and rears 64mm and they become available by November.
Source: Schumacher [racing-cars.com]
Friday, October 10, 2014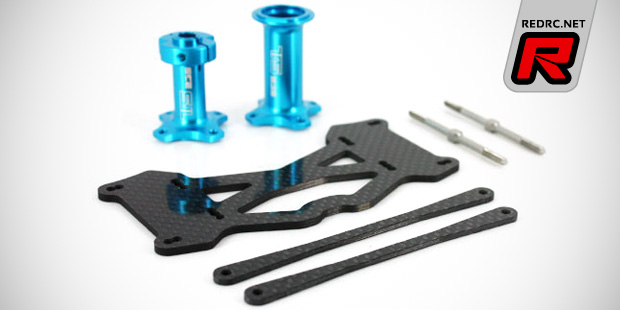 Made for the GT-500W pan car is this 235mm conversion kit from Teamsaxo. The set contains a new front suspension plate, long and short front links as well as longer turnbuckles and new rear wheel hubs. The parts make for a wider front and rear end to bring the 200mm World GT car to proper Pro10 dimensions. The kit will become available by the end of September.
Source: Teamsaxo [saxoracing.com]
Friday, September 12, 2014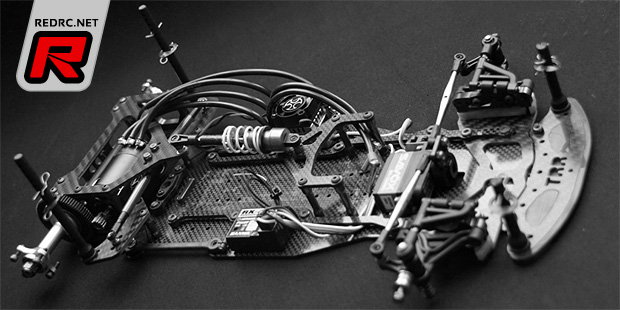 German company TRR-Racestuff soon have a 235mm conversion kit for the Team Associated 10R5.1 World GT car available. The kit will extend the overall width to 214mm in the front and 235mm in the rear and it features several improvements compared to the standard kit. First up is a reinforced power pod with additional alloy blocks to allow the use of 2S LiPo packs. Also new are mounting positions for side shock absorbers or the standard damper tubes. Additional body mount positions round out the conversion kit. Included in the set are new upper and lower power pod plates, a motor mount brace, power pod height adjustment shims, side wings and a front suspension plate with all parts being made from high quality 2.5mm carbon fibre. Also included are 5mm aluminium rear power pod supports. The conversion kit will become available by the end of August with an Extended Version including a redesigned main chassis, a lower pod plate and VIP VLink kit being planned also.
Click here to view more photos
Tuesday, August 26, 2014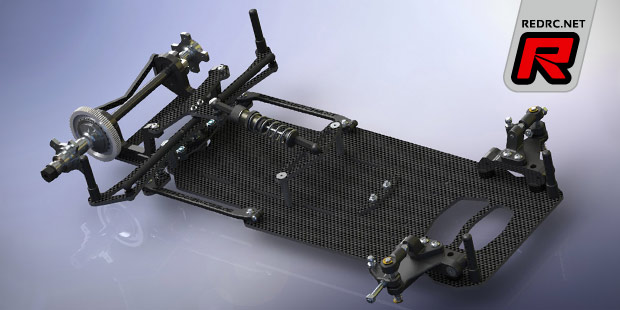 SpeedMerchant have released first images of the World GT4 200mm pan car kit. The vehicle is based off the forthcoming RoadKill 10 235mm kit and offers a slim carbon fibre main chassis that can take 2S standard, 2S shorty or 1S LiPo battery packs. A new-style easy-to-adjust front suspension is also part of the package as is a class-standard link-type rear suspension with dual roll dampers. The side springs act on the lower power pod plate rather than on the sidelinks for improved precision and better adjustability while a lightweight motor pod makes for a good balance between low weight and rigidity. We bring you more details on the kit as soon as they become available.
Click here to view another photo
Monday, July 28, 2014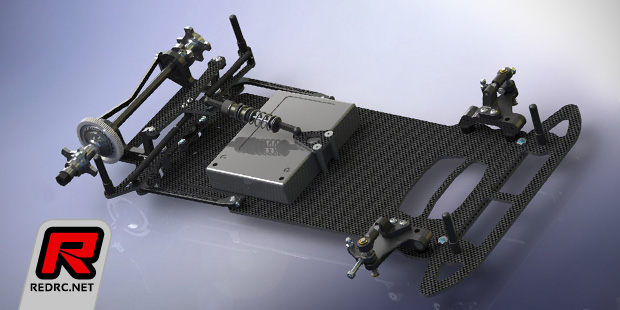 Available soon from SpeedMerchant is the RoadKill 10 235mm pan car kit. The car underwent a slight redesign after its initial introduction some weeks ago and it will now come with slightly narrower power pod to allow the use of Jaco tyres as well as the wider and very poplar BSR wheels. The kit is based on a wide carbon fibre chassis that allows to use standard as well as shorty and square LiPo battery packs. Up front the kit features a new-style suspension assembly with a simplified upper A-arm arrangement while in the rear a tried and tested link-type suspension comes to the fore. Dual roll dampers and a lightweight centre shock complete the suspension setup. The first batch of the RoadKill 10 kits will come without a rear axle but all standard 235mm axles should fit as do the famous IRS axles that are now being made by R.C. Hobbies/Hyperdrive/MSA. From the second batch on the kits will include the IRS2135 235mm axle.
Click here to view more photos
Monday, July 21, 2014