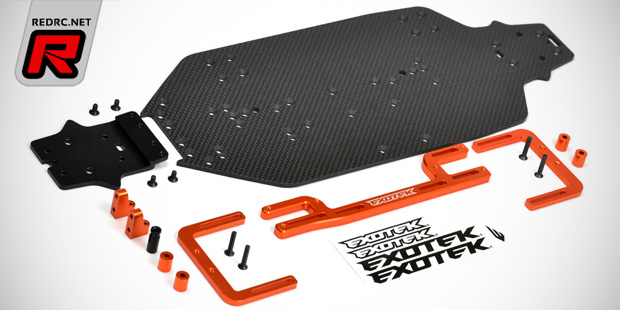 New from Exotek and made for the HPI WR8 line of cars are the Speed Chassis conversion and the Speed Towers. Starting with the chassis, the carbon fibre conversion kit is made for the electric-powered WR8 Flux and it removes all extra weight and hardware for a super streamlined, race bred, speed run chassis. Rigid but light of weight the chassis is mated to a reinforced alloy nose plate for durability. Optimised weight balance is achieved via extra mounting holes that allow the motor and battery to be mounted at the rear of the chassis for improved rear traction and jumping balance and part of the package are also alloy battery cups for 2S or 3S hardcase batteries. The chassis is topped off with an alloy centre chassis brace and alloy servo mounts to also improve on lowering the overall centre of gravity.
Monday, November 30, 2015
Exotek have introduced the Flite titanium front axle set for the TLR 22T series racing truck. Precision machined, the axles weight in at only 3.6g per piece and they help to reduce the rotational mass as well as unsprung weight. The corrosion resistant titanium material is ideal for racing on damp track conditions and the axles are usable both on the original 22T and the newer 2.0 kits. Included is suitable inner mounting hardware.
Tuesday, November 17, 2015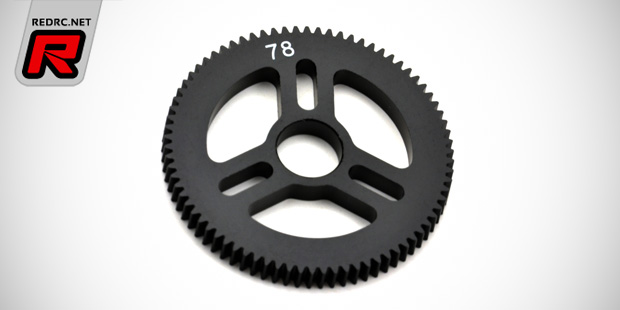 Coming from Exotek and made for their slipper eliminator hubs are the Flite 48dp spur gears. Machined from high-quality POM material to ensure true roundness the extra interior machining does away with unnecessary weight for reduced rotating mass. The gears are meant to be much stiffer and truer than moulded nylon spur gears, they are available as 66T, 69T, 75T and 78T and they weigh between 2.5g and 4.6g each.
Wednesday, November 4, 2015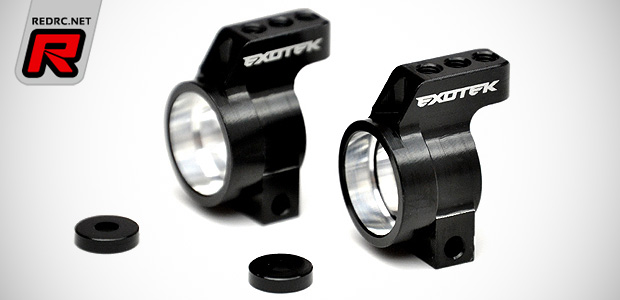 Exotek Racing have new aluminium option parts for Yokomo's YZ line of 1/10th off-road vehicles available. First up are zero degree rear hubs for the YZ-2 and YZ4. They are machined from 7075 aluminium and sport a vertical ball stud mounting position for easy roll centre adjustments. Extra machining makes the parts light of weight without sacrificing durability and they are utilising an extra hole for using a 3mm set screw on the hinge pin for improved fit. The parts are anodised in factory black and they sport etched Exotek logos.
Thursday, October 29, 2015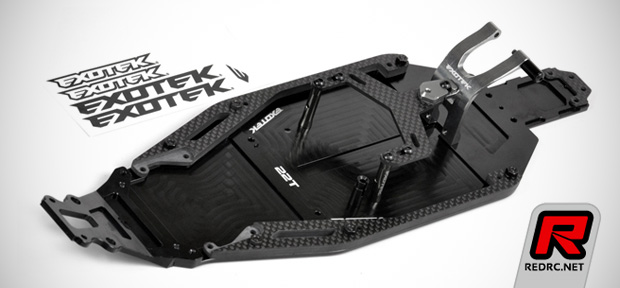 Exotek have introduced the Exo22T mid motor chassis conversion kit for the TLR 22T and mid motor converted 22T 2.0 stadium trucks. With its simple and efficient layout, the Exo22T offers improved rearward weight positioning of the battery and electronics to better suit a variety of track conditions. The chassis allows standard inline shorty battery positioning or the easy to drive side ways mounted shorty battery installation. Included in the set is a black anodised 2.5mm 7075 alloy chassis with 5mm carbon side rails for proper stiffness and strength. Pocket milling in the chassis lowers the battery and speed controller for a lower overall centre of gravity while the included carbon LiPo strap also acts as a top plate. The LiPo strap is fastened to the rear alloy brace and two alloys posts and part of the package is also a machined 7075 alloy nose plate that is used for durability while allowing for inexpensive chassis swaps.
View the features and more photos here
Friday, October 16, 2015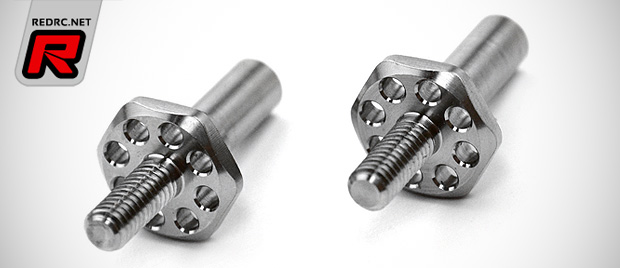 Exotek have new option parts for the Team Associated 5th generation 1/10th off-road buggies and trucks available in the form of titanium front axles for the SC5M as well as aluminium shock parts for the 12mm big bore shocks. Starting with the wheel axles, the "Flite titanium front axles for Team Associated's latest short course truck are precision machined, almost as strong as steel and they weigh in at only 5 grams per pair, compared to the 9.7 grams of the standard steel shafts. The axles reduce rotational mass as well as unsprung weight and they also add some visual impact when the wheels are off.
Friday, October 2, 2015
Exotek have introduced new heavy-duty aluminium servo horns for all Team Associated 1/10th scale vehicles. Machined from 7975 aluminium and sporting a clamp-style design the horn matches the dimensions of the stock AE servo arms and they are available in blue and black anodising and for servos with 23T and 25T spline.
Friday, September 25, 2015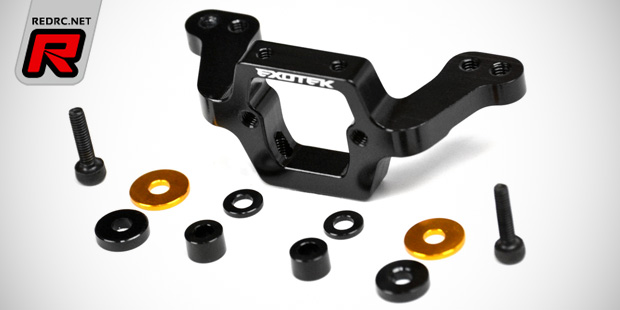 Exotek Racing have new aluminium option parts for the Team Durango 210-series 2WD vehicles in mid motor configuration available. First up is a rear bulkhead conversion made of high-strength 7075 aluminium and machined down to minimise weight. The part provides standard width but lowered inner camber link mounting points for improved high roll centre options. Also gear box access and removal is much easier as the suspension stays fully in place when the gear box is removed. The stronger inner ball end mounting makes for more durable camber link mounting and the design also reinforces the gear box mounting. The part, that fits all versions of the DEX210, DESC210 and DEST210, uses stock Team Durango type 2 or Exotek type 2 rear suspension hangers and included come spacers and hardware. The conversion is recommended for experienced modellers as it requires hand-cutting of the original gear box.
Monday, September 21, 2015