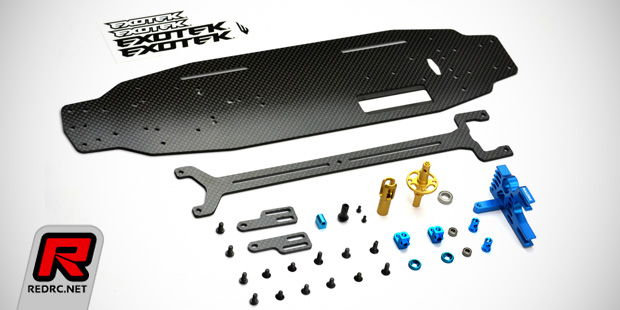 Made for Tamiya's Evo6 shaft-driven touring car is Exotek's latest Evo-Six chassis conversion kit. Targeting stock and VTA racers the kit offers a new inline motor mount plate that eliminates one of the three Evo6 gearboxes for improved top speed, motor efficiency and reduced weight. The motor plate with a centrally mounted and triangulated base insures solid motor mounting and superb gear mesh while being independent of the top plate to reduce tweak and to provide better top plate flex traits. Furthermore the 2.25mm quasi weave chassis is stiffer than the stock chassis for improved handling in higher grip track conditions. With a left side motor position also torque steer is eliminated while a motor position further back helps with high-speed steering and low-speed stability. The included one piece, hard anodised spur mount/input shaft eliminates the play and vibration of the stock unit and a new LiPo cradle system with adjustable sliding holders allows to adjust the weight balance to your liking. The conversion is compatible with the Evo6 kit and also the TB04 v1 and v2 when combined with the new Exo-Six to TB04 parts pack.
Click here to continue reading
Friday, August 28, 2015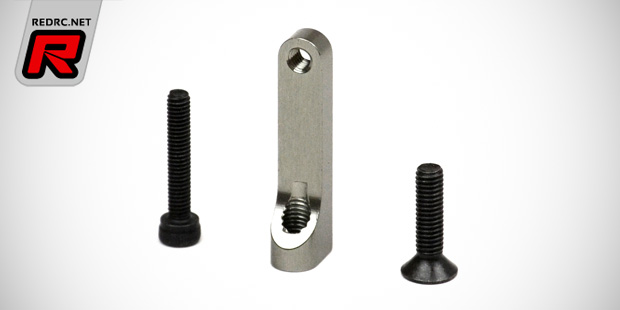 Exotek have a fan mount set for the Exo22 conversion kit available. Machined from gun metal anodised high-quality aluminium the mounting bracket bolts right into place while making for a low centre of gravity setup. The set is designed for 30mm fans that are no thicker than 11mm and it includes mounting hardware but no fan.
Click here to view another photo
Tuesday, August 25, 2015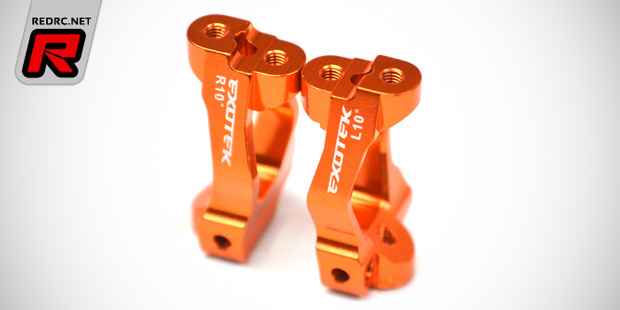 New from Exotek and made for the HB D413 1/10th scale 4WD off-road buggy are 10 degree C-hubs, 12mm front locking alloy hexes and high tolerance flanged bushings. Starting with the castor hubs, the heavy duty 7075 aluminium and precision machined parts weigh it at only 5.5 grams per piece and they are much stronger and stiffer than the stock plastic hubs, for optimum suspension action and reduced play. They come polished and anodised in factory orange. The hubs match the stock geometry and accommodate a, not included, set screw for the hinge pin.
Click here to continue reading
Thursday, August 20, 2015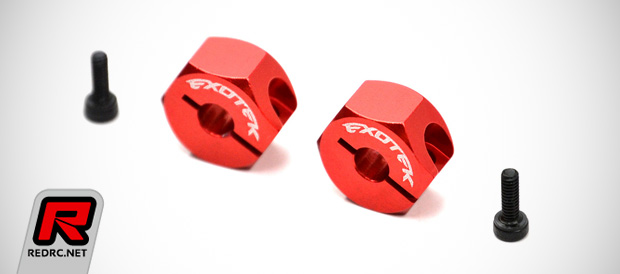 New from Exotek comes a clamping alloy hex set for the Losi Mini 8igh-T Truggy. The heavy duty machined alloy 12mm hexes come anodized red and they match the stock geometry. Included are 2x6mm screws.
Click here to view another photo
Wednesday, August 5, 2015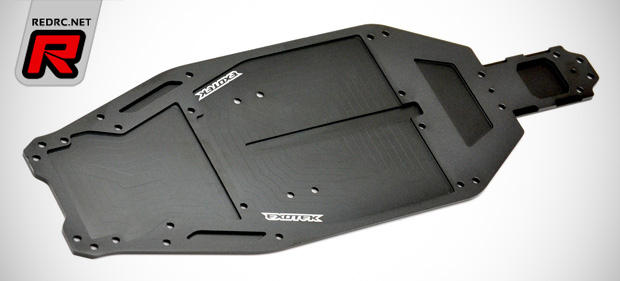 Coming for Exotek's recently introduced Exo22 chassis conversion kits are two replacement bottom plates. Made from either dark anodised 3mm 7075 aluminium or 2.5mm carbon fibre the plates not only are a direct replacement but they also act as a tuning aid as both are interchangeable and offer different characteristics. Using the carbon plate in a former aluminium car makes the buggy lighter and more responsive while the alloy chassis maximises stability and traction beside offering a lower centre of gravity.
Click here to view the carbon fibre chassis
Tuesday, August 4, 2015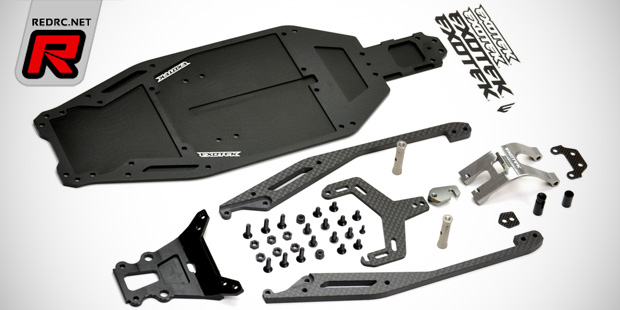 Coming from Exotek and made for the TLR 22 and 22 2.0 are two new mid motor chassis sets. Available in an aluminium and a carbon fibre variant the chassis allows for a range of battery layouts including the standard inline and a new lateral shorty position with the latter making the car easy to drive fast. The 3mm 7075 aluminium chassis variant will offer the most stability, traction and the lowest centre of gravity while the carbon fibre variant is very light of weight and very responsive. Both sets make use of new 5mm carbon side rails, they utilise a special easy access carbon fibre LiPo battery mount and the alloy gearbox brace is positioned further back to allow improved rearward battery positioning. The included, machined 7075 alloy nose plate is used for durability reasons and allows inexpensive chassis swaps between alloy and carbon fibre. Due to the larger footprint chassis the conversion requires a Kyosho RB6 compatible bodyshell for better battery clearance.
Click here to view more photos
Tuesday, July 28, 2015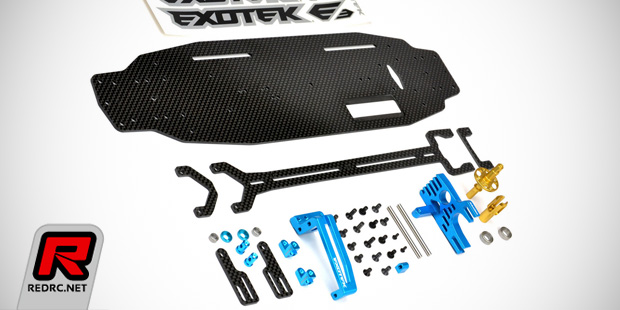 Exotek have introduced the Exo-Five chassis conversion kit for the Tamiya Evo5 and Evo5MS. Although a bit outdated the Evo5 is still a desirable platform for Stock and VTA racers and with the help of the Exotek conversion the car will be 2015 ready. This chassis set is designed for stock type motors and has the opening in the top plate to work correctly with the smaller spur gears and large pinions used in 13.5T to 21.5T type blinky classes and because of this, the largest spur gear that can be used must be 34mm diameter or smaller. The conversion utilises key features such as a stiffer and ultra narrow 2.25mm chassis, a redesigned motor mount that sits on the left side of the chassis to counter torque steering, and the new one piece, hard anodised spur mount/input shaft eliminates the play and vibration of the stock unit. The new hard anodised centre shaft drive cup uses a Tamiya CVD puck for reduced wear and a quieter drive line. Also included is a new 1-piece servo mount and a trick battery mounting system that accepts standard or shorty 2S LiPo battery pack. The limited edition kit is available for pre-order now.
Click here to view the full features list and more photos
Monday, July 6, 2015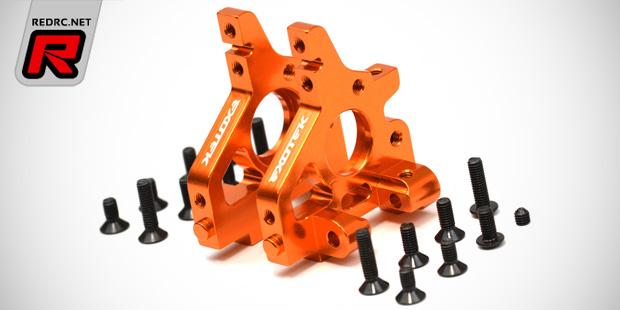 Exotek have a new super trick alloy performance bulkhead for the HPI Sprint 2 4WD touring car available. It is of a heavy duty design that gives the car the precision and strength needed for high power brushless motor speeds. Machined to keep weight at a minimum and then polished and anodised in factory orange the bulkhead not only help to raise the cars performance but also its looks. On top of that the alloy construction adds heat dissipation for the motor plate for cooler running. The set includes quality machined hex M3 hardware and the bulkhead utilises a set screw to hold the hinge pins instead of the stock e-clips. Usable on the front or rear of the car and designed to work with the stock or Exotek chassis as well as the stock shock or Exotek shock towers.
Click here to view more photos
Wednesday, June 24, 2015