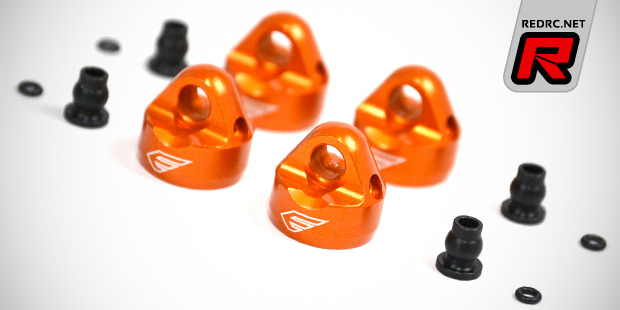 Exotek introduce new optional parts for Xray's successful XB4 line of buggies in the form of aluminium shock caps, shock collars and spring cups. Starting with the shock caps, the parts are CNC-machined from high-quality aluminium and of a heavy duty design. They come in orange or black colour, include snap-in POM bushings and high density rubber O-rings for the bleeder screw. They are usable on all XB4 shocks but require the use of XB4'14 inner O-ring seals.
Click here to continue reading
Monday, March 10, 2014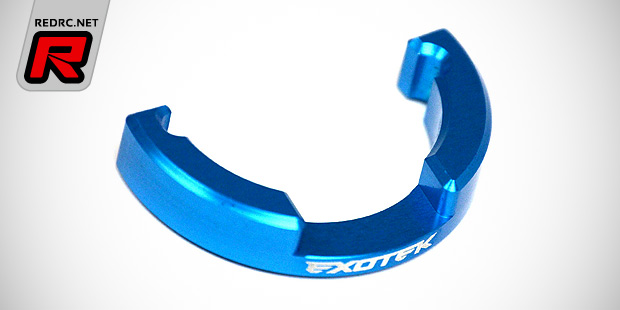 Made for Tamiya's TB-04 chassis is this aluminium stock motor adapter. The C-shaped 6061 alloy part allows to use up to 52T 64dp and 37T 48dp pinions without further modification, making it ideal for all high-turn stock motors and "blinky" spec racing. The polished and anodised part is of a vented design for improved cooling and is also TCS North America series legal.
Click here to view more photos
Thursday, February 27, 2014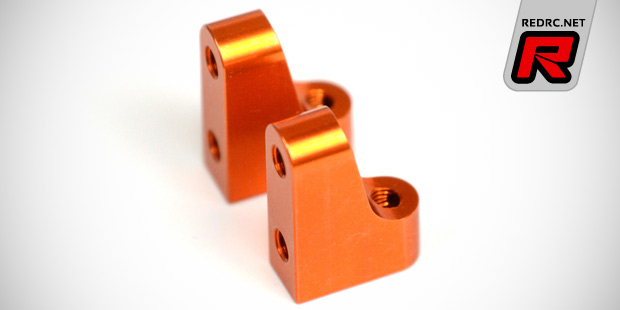 Exotek have first option parts for the Serpent SRX-2 buggy available in the form of aluminium servo mounts and a carbon fibre battery strap. First up are the servo mounting brackets, machined from high quality aluminium the parts come in Serpent orange or glossy gun metal finish and replace the stock plastic mounts with a more rigid and cooler looking alternative. Also new is the Flite LiPo battery strap for the rear motor SRX-2. Weighting in at only 4.8g the carbon fibre part is not only over 5g lighter than the stock part but it also gives added clearance allowing to run the battery in a more forward position while mounting the speedo behind the battery for improved balance. The brace is usable with stock or aftermarket thumb screws.
Click here to view more photos
Friday, February 21, 2014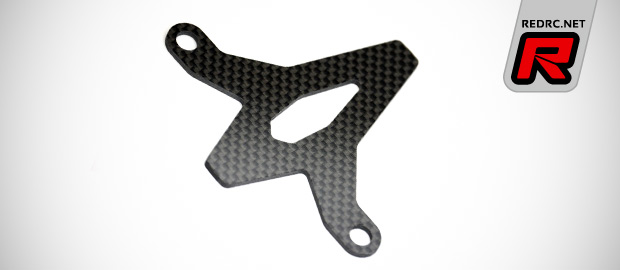 Exotek now have this carbon fibre mounting strap for the Team Associated B5 buggy available. The "Flite" weighs in at only 6.5g and is therefore almost 4g lighter than the stock part. Added rigidity makes for a secure battery mounting while the design and material used underline the cool factory look.
Click here to view the mounted part
Sunday, February 16, 2014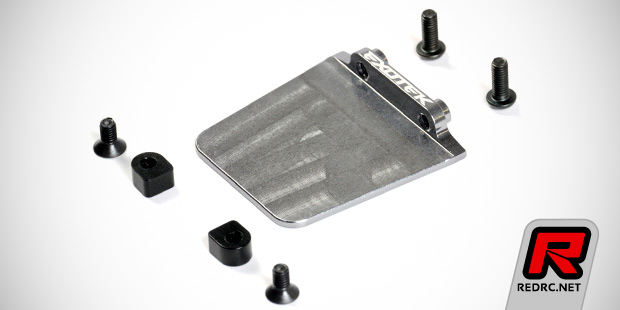 New from Exotek comes this aluminium speed controller tray for the TLR 22 2.0 buggy. The slim, polished alloy tray helps to mount the speedo as low as possible and it also allows to place the controller a few millimetre more towards the motor for added rear wheel load. The part is fully compatible with the 22 2.0 rear motor battery tray and strap for extra secure and convenient battery placement and it comes with a set of alloy rear battery stoppers and hardware.
Click here to view more photos
Friday, February 14, 2014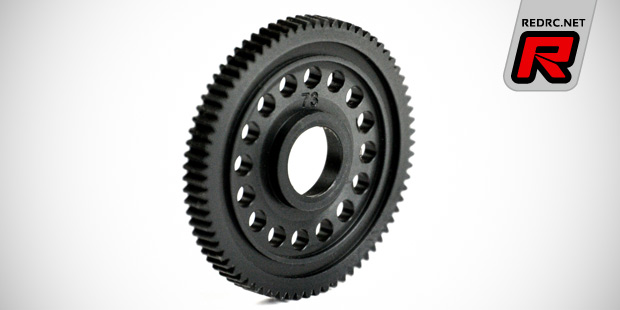 New from Exotek Racing come machined spur gears for Tamiya F1 cars. The gears are made to fit the F103 and F104 range of cars and they are made from 100 percent machined POM to insure true roundness, they use the stock bearing for ultra smooth diff action, and sport raised lips to help shield the diff balls from road debris. They also accept up to 16 3mm balls for ultra smooth operation. The gears are available in a 48 pitch variant with 70 and 73 teeth as well as a 64 fine pitch 93T and 97T variant.
Click here to view more photos
Monday, February 3, 2014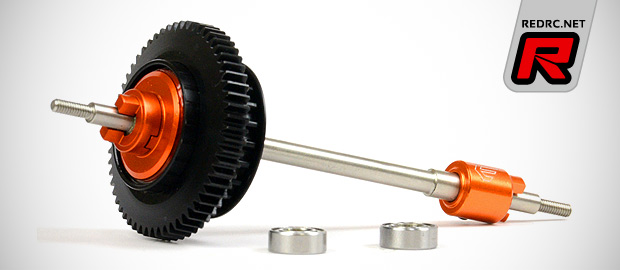 Exotek introduce two new option parts for HPI Racing's Micro RS4 line of cars. First up is the titanium rear axle and ball diff set that is designed to replace the stock gear differential. The externally adjustable ball differential makes for smooth acceleration and swift diff action setup. The alloy left and right axle hubs are polished and anodised in factory orange for looks and durability and the gear pulley set is machined from lightweight but durable POM. Included in the set are heavy duty 4x8mm axle bearings and a lightweight yet strong titanium rear axle shaft. Also new is the alloy and steel high performance CVD set for the Micro RS4. Designed to better withstand higher performance motors and batteries the driveshafts also look great too with their anodised factory orange finish.
Click here to view more photos
Monday, January 27, 2014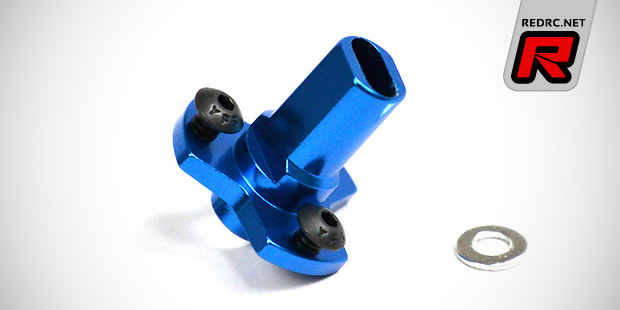 Exotek Racing now have this direct spur gear hub for Team Associated 2WD vehicles available. The slipper assembly eliminator spur gear mounting hub fits all B4, T4 and SC10 with the stock layshaft and is great for stock class and oval racing. The machined aluminium part is lighter for increased acceleration and a cooler running motor and allows the mounting of any standard spur gear for increased gear ratio options. The part weights 3.8g and comes blue anodised.
Click here to view the part in place
Tuesday, January 21, 2014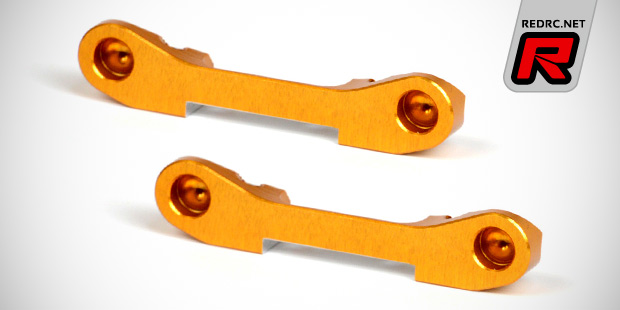 Made for Team Durango's 210 series vehicles are Exotek's new Type B RR aluminium suspension mounts. Machined from high quality material and coming gold anodised the parts are made for the Type B chassis of the DEX210, DESC210 and DEST210 and they sport a slimmer profile for easier hanger swaps and a lighter weight. Available are standard and low roll centre mounts as regular and +0.5 toe-in variant for added rear end bite.
Click here to view the LRC mounts
Saturday, December 28, 2013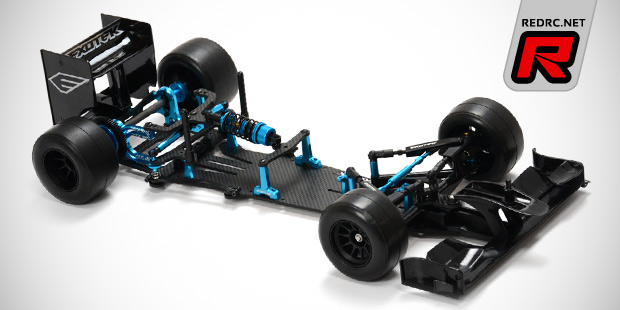 Available soon from Exotek is the F1R2 Pro conversion kit for the Tamiya F104 and F103. The follow-up model of the F1R received a make-over in order to create a chassis that is not overly complex but strong and consistent. The chassis kit makes use of what Exotek call a hybrid link technology, it basically combines all positive aspects of the classical T-bar suspension with the responsiveness and tuning possibilities of a link-type car to create a platform with improved bump absorption capabilities making it ideal for rubber tyre racing. The new rear pod geometry makes for more progressive damping and increased forward bite while the new twin side dampers allow for equal side-to-side dampening.
Click here to continue reading
Monday, November 25, 2013