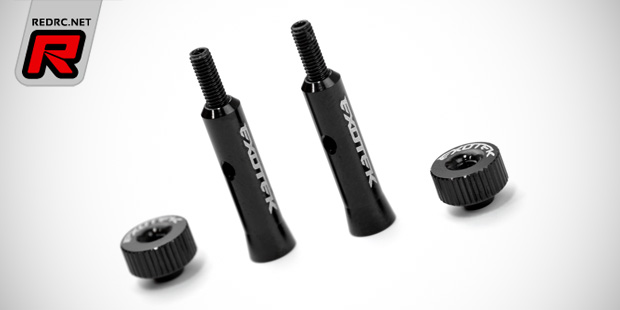 Coming soon and made for the Schumacher Cougar and Cat 1/10th electric off-road buggies are several aluminium option parts from Exotek. First up is the black anodised twist nut LiPo post set with easy adjust twist nuts for the Cougar and Cat series. The lightweight and secure factory style mounts allow to adjust the battery strap height to match the LiPo height perfectly. The set includes two 23mm alloy posts, two alloy twist nuts and two steel threaded rods. The set can also be used with other applications requiring twist nut and LiPo post mounting.
Click here to continue reading
Thursday, April 2, 2015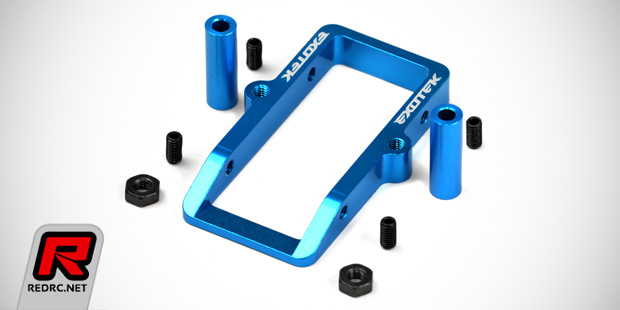 Exotek introduce a servo mount set for F104 series cars using Exotek's IFS front suspension set. It allows for the proper mounting of low-profile servos and front arm droop function when using the IFS kit in F104 cars. Clamp in servo mounting provides easy yet extra secure and robust servo mounting and it also allows forward or back positioning of the servo. The mount is only usable in non-200mm cars and comes including mounting hardware.
Click here to view more photos
Wednesday, April 1, 2015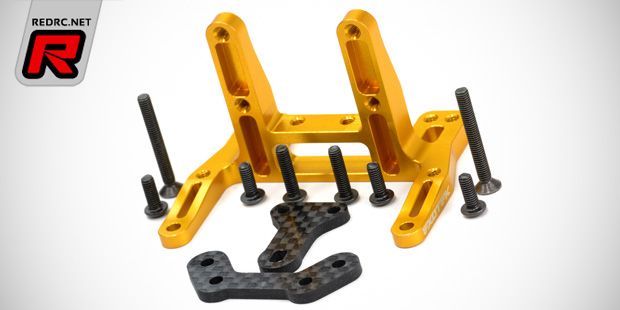 New from Exotek comes the rear motor 7075 aluminium bulkhead conversion for rear motored DEX210 series cars including the v1, v2 and ST. Co-designed with the Team Durango race factory and produced by Exotek the new concept rear motor bulkhead was used by Jörn Neumann to win the 2014 Euro Championships. Made of high-strength 7075 alloy and machined down to reduce overall weight, the new RM bulkhead provides lower inner camber link mounting points for improved high roll centre options as well as chassis mounted alloy inner ball stud mounting. The construction also re-locates the shock tower to be in front of the rear shocks and it changes the flex characteristics of the chassis and gearbox. On top of that the design makes for easier gear box access and removal and the wing can be mounted more forward or in the rear stock gearbox location. The set is available in factory gold or black anodising and it is recommended for experienced modellers as it requires hand cutting of the stock plastic gearbox.
Click here to view more photos
Friday, March 27, 2015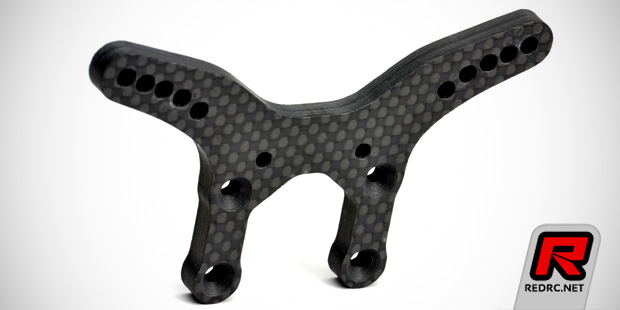 New from Exotek and made for the Team Durango DEX210v2 is a rear carbon fibre shock tower. Offering a heavy duty design and a stealthy matte finish the tower, made from 5mm thick material, is much stiffer and stronger that the stock part for consistent damper action while being still light of weight due to its extra machining. Also the wide open shape allows air to pass through for better wing aero. The shock tower weighs in at 12.5g and fits the original DEX210 as well.
Click here to view another photo
Thursday, March 26, 2015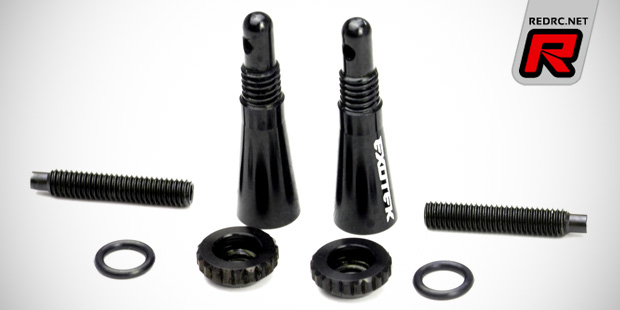 New from Exotek comes a range of aluminium and carbon fibre option parts for the TLR 22-4 buggy. First up is the twist nut battery post set whose design uses alloy twist nuts instead of body clips for holding down the battery straps. The twist nuts have knurling for easy grip and include rubber inserts to keep twist nuts from rattling loose. The threaded alloy posts use steel lower screws for durability and have the upper post extension so that stock body clips can be used for the body. The set is available in glossy black or yellow and it is compatible with saddle or single shorty style packs.
Click here to continue reading
Thursday, March 12, 2015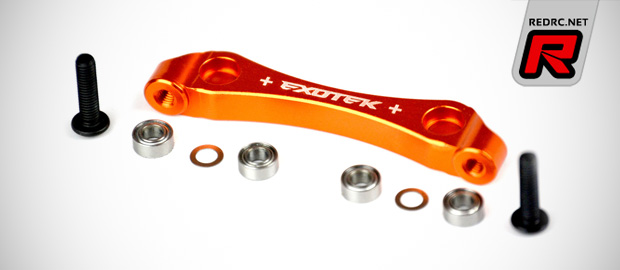 Exotek have new option parts for the Hot Bodies D413 buggy available in the form of an aluminium steering rack, 12mm clamping wheel hex adapters and spur gears with an aluminium mounting plate. Starting with the steering rack, the part is CNC-machined from 7075 aluminium and it is orange anodised to match the remainder of Exotek's D413 options. Included with the rack come four ball bearings, two shims and hardware and the part allows to set the same bump steer and Ackermann settings as the stock rack.
Click here to continue reading
Wednesday, February 18, 2015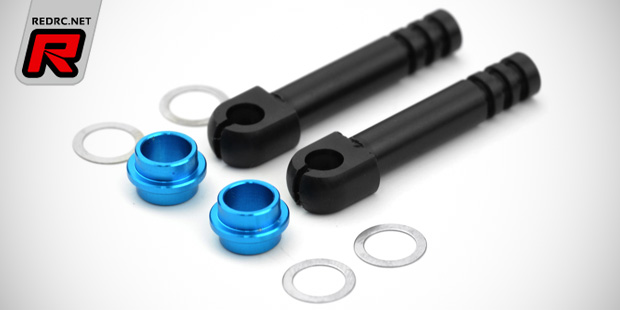 Exotek has new option parts for the F1R2 IFS kit and Xray's 1/10th servo saver available in the form of machined damper rods and a carbon servo saver plate. Starting with the machined damper rods for the F1R2 independent front suspension set, the highly precise parts are machined from black POM and they come with blue anodised alloy spring stands. The rods make for silky smooth damper action of the IFS assembly and they also include M5 shims to to raise the ride height further.
Click here to continue reading
Wednesday, February 11, 2015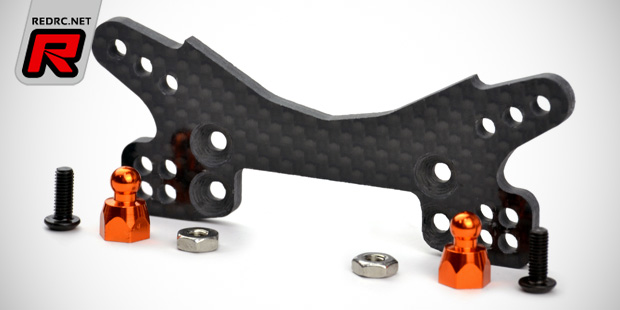 Made for HPI Racing's Sprint 2 touring car chassis are new carbon fibre shock tower sets from Exotek. Coming as separate front and rear set including mounting hardware and orange anodised aluminium shock posts the parts made from 3mm carbon fibre are much stiffer and stronger than the standard towers for consistent damper action while retaining a light weight and offering improved looks.
Click here to view more photos
Thursday, February 5, 2015