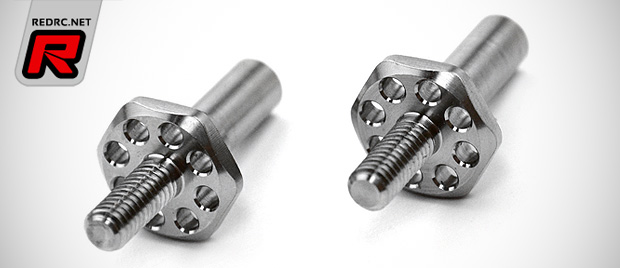 Exotek have new option parts for the Team Associated 5th generation 1/10th off-road buggies and trucks available in the form of titanium front axles for the SC5M as well as aluminium shock parts for the 12mm big bore shocks. Starting with the wheel axles, the "Flite titanium front axles for Team Associated's latest short course truck are precision machined, almost as strong as steel and they weigh in at only 5 grams per pair, compared to the 9.7 grams of the standard steel shafts. The axles reduce rotational mass as well as unsprung weight and they also add some visual impact when the wheels are off.
Friday, October 2, 2015
Exotek have introduced new heavy-duty aluminium servo horns for all Team Associated 1/10th scale vehicles. Machined from 7975 aluminium and sporting a clamp-style design the horn matches the dimensions of the stock AE servo arms and they are available in blue and black anodising and for servos with 23T and 25T spline.
Friday, September 25, 2015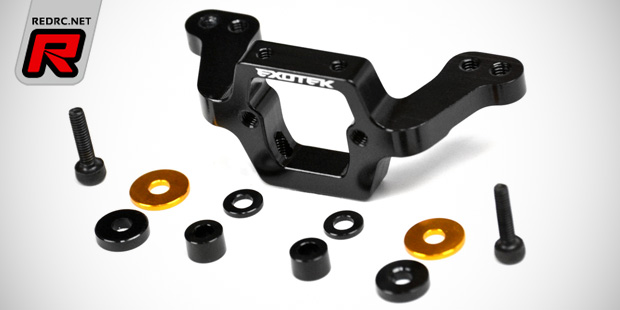 Exotek Racing have new aluminium option parts for the Team Durango 210-series 2WD vehicles in mid motor configuration available. First up is a rear bulkhead conversion made of high-strength 7075 aluminium and machined down to minimise weight. The part provides standard width but lowered inner camber link mounting points for improved high roll centre options. Also gear box access and removal is much easier as the suspension stays fully in place when the gear box is removed. The stronger inner ball end mounting makes for more durable camber link mounting and the design also reinforces the gear box mounting. The part, that fits all versions of the DEX210, DESC210 and DEST210, uses stock Team Durango type 2 or Exotek type 2 rear suspension hangers and included come spacers and hardware. The conversion is recommended for experienced modellers as it requires hand-cutting of the original gear box.
Monday, September 21, 2015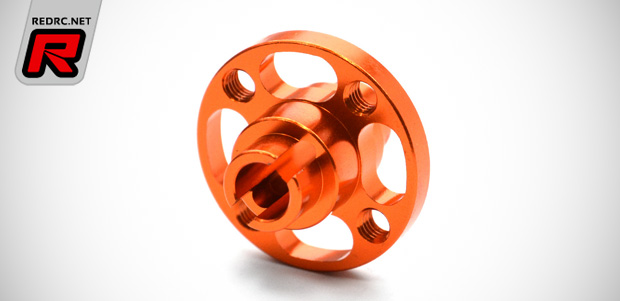 Exotek have a range of aluminium option parts for HPI Racing's Sport 3 4WD club-level touring car available in the form of a spur gear mount, centre driveshaft and 12mm clamping hex adapters. Starting with the spur gear mount, the CNC-machined part weighs in at only 2.6g versus the 8.4g of the original steel adapter. The mount accepts stock or aftermarket gears with 2 or 4-bolt pattern such as the ones from HPI, Kimbrough and Xenon. Coming orange anodised for wear and looks the adapter is a direct fit on the Sport 3.
Friday, September 18, 2015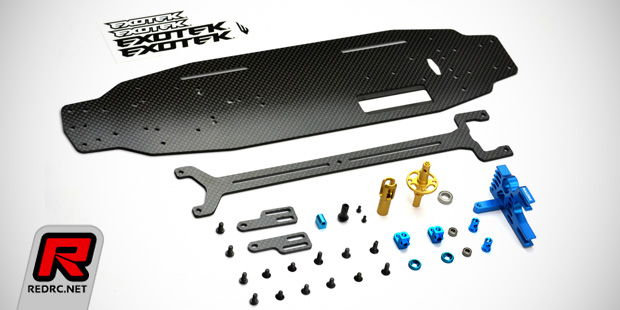 Made for Tamiya's Evo6 shaft-driven touring car is Exotek's latest Evo-Six chassis conversion kit. Targeting stock and VTA racers the kit offers a new inline motor mount plate that eliminates one of the three Evo6 gearboxes for improved top speed, motor efficiency and reduced weight. The motor plate with a centrally mounted and triangulated base insures solid motor mounting and superb gear mesh while being independent of the top plate to reduce tweak and to provide better top plate flex traits. Furthermore the 2.25mm quasi weave chassis is stiffer than the stock chassis for improved handling in higher grip track conditions. With a left side motor position also torque steer is eliminated while a motor position further back helps with high-speed steering and low-speed stability. The included one piece, hard anodised spur mount/input shaft eliminates the play and vibration of the stock unit and a new LiPo cradle system with adjustable sliding holders allows to adjust the weight balance to your liking. The conversion is compatible with the Evo6 kit and also the TB04 v1 and v2 when combined with the new Exo-Six to TB04 parts pack.
Click here to continue reading
Friday, August 28, 2015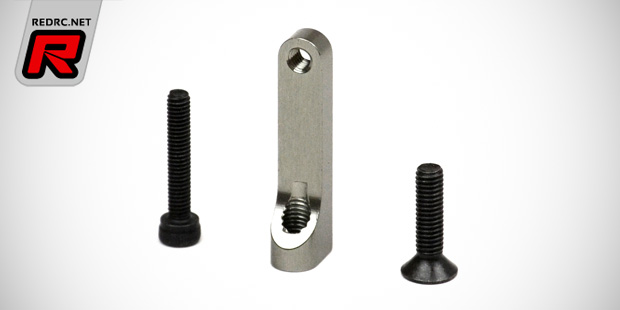 Exotek have a fan mount set for the Exo22 conversion kit available. Machined from gun metal anodised high-quality aluminium the mounting bracket bolts right into place while making for a low centre of gravity setup. The set is designed for 30mm fans that are no thicker than 11mm and it includes mounting hardware but no fan.
Click here to view another photo
Tuesday, August 25, 2015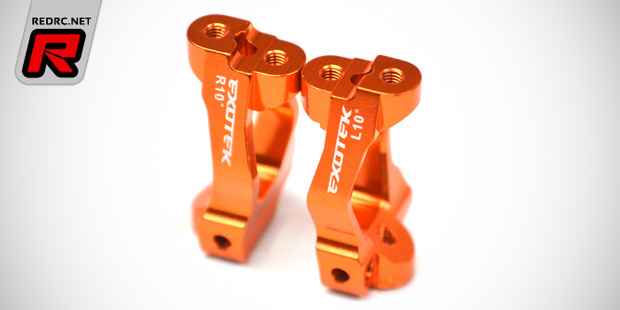 New from Exotek and made for the HB D413 1/10th scale 4WD off-road buggy are 10 degree C-hubs, 12mm front locking alloy hexes and high tolerance flanged bushings. Starting with the castor hubs, the heavy duty 7075 aluminium and precision machined parts weigh it at only 5.5 grams per piece and they are much stronger and stiffer than the stock plastic hubs, for optimum suspension action and reduced play. They come polished and anodised in factory orange. The hubs match the stock geometry and accommodate a, not included, set screw for the hinge pin.
Click here to continue reading
Thursday, August 20, 2015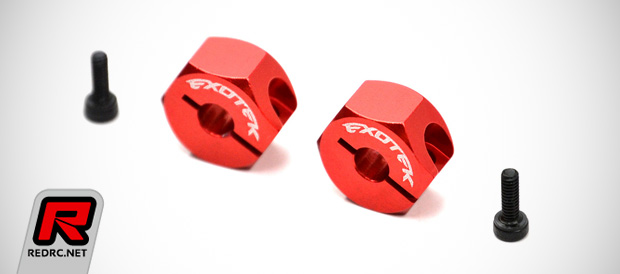 New from Exotek comes a clamping alloy hex set for the Losi Mini 8igh-T Truggy. The heavy duty machined alloy 12mm hexes come anodized red and they match the stock geometry. Included are 2x6mm screws.
Click here to view another photo
Wednesday, August 5, 2015