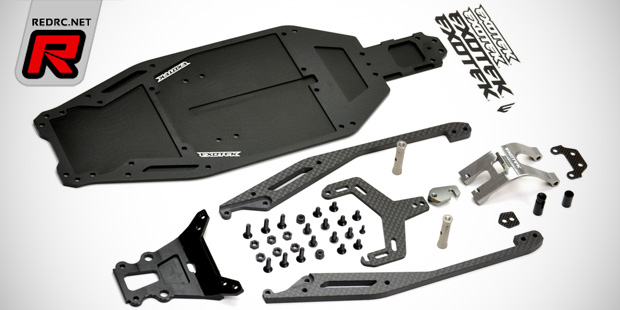 Coming from Exotek and made for the TLR 22 and 22 2.0 are two new mid motor chassis sets. Available in an aluminium and a carbon fibre variant the chassis allows for a range of battery layouts including the standard inline and a new lateral shorty position with the latter making the car easy to drive fast. The 3mm 7075 aluminium chassis variant will offer the most stability, traction and the lowest centre of gravity while the carbon fibre variant is very light of weight and very responsive. Both sets make use of new 5mm carbon side rails, they utilise a special easy access carbon fibre LiPo battery mount and the alloy gearbox brace is positioned further back to allow improved rearward battery positioning. The included, machined 7075 alloy nose plate is used for durability reasons and allows inexpensive chassis swaps between alloy and carbon fibre. Due to the larger footprint chassis the conversion requires a Kyosho RB6 compatible bodyshell for better battery clearance.
Click here to view more photos
Tuesday, July 28, 2015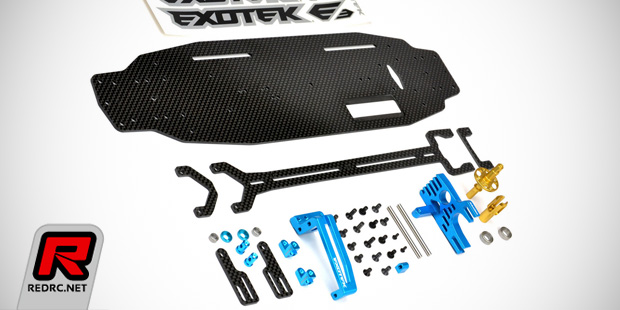 Exotek have introduced the Exo-Five chassis conversion kit for the Tamiya Evo5 and Evo5MS. Although a bit outdated the Evo5 is still a desirable platform for Stock and VTA racers and with the help of the Exotek conversion the car will be 2015 ready. This chassis set is designed for stock type motors and has the opening in the top plate to work correctly with the smaller spur gears and large pinions used in 13.5T to 21.5T type blinky classes and because of this, the largest spur gear that can be used must be 34mm diameter or smaller. The conversion utilises key features such as a stiffer and ultra narrow 2.25mm chassis, a redesigned motor mount that sits on the left side of the chassis to counter torque steering, and the new one piece, hard anodised spur mount/input shaft eliminates the play and vibration of the stock unit. The new hard anodised centre shaft drive cup uses a Tamiya CVD puck for reduced wear and a quieter drive line. Also included is a new 1-piece servo mount and a trick battery mounting system that accepts standard or shorty 2S LiPo battery pack. The limited edition kit is available for pre-order now.
Click here to view the full features list and more photos
Monday, July 6, 2015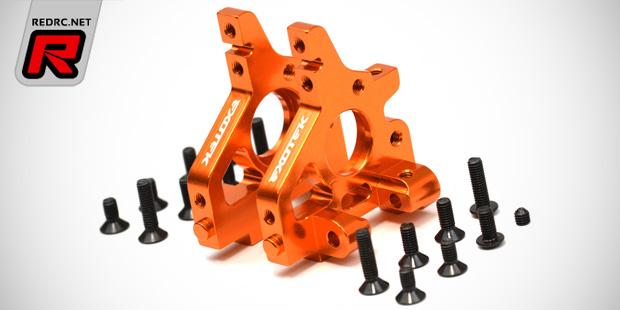 Exotek have a new super trick alloy performance bulkhead for the HPI Sprint 2 4WD touring car available. It is of a heavy duty design that gives the car the precision and strength needed for high power brushless motor speeds. Machined to keep weight at a minimum and then polished and anodised in factory orange the bulkhead not only help to raise the cars performance but also its looks. On top of that the alloy construction adds heat dissipation for the motor plate for cooler running. The set includes quality machined hex M3 hardware and the bulkhead utilises a set screw to hold the hinge pins instead of the stock e-clips. Usable on the front or rear of the car and designed to work with the stock or Exotek chassis as well as the stock shock or Exotek shock towers.
Click here to view more photos
Wednesday, June 24, 2015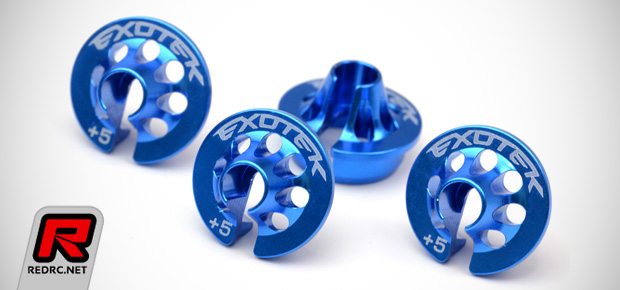 New from Exotek and made for several Team Associated 1/10th off-road cars are aluminium spring perch sets. Coming as +5 variant for the B5M and B44 and in +9 specification for the T5 the spring cups sport extra milling for a lightweight design with reinforced strength of CNC-cut aluminium and a snug fit to reduce the chance of losing a perch. Milled holes also help reduce debris from collecting inside. The perches come blue anodised, laser-etched in in sets of four.
Click here to view more photos
Tuesday, June 16, 2015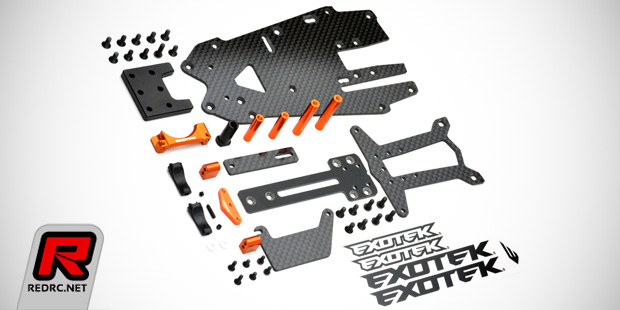 Exotek introduce a range of option parts for the HPI Racing Micro RS4 in the form of the XPro chassis conversion, front steel CVD axles and an alloy front spool. Starting with the conversion kit, the set's race-inspired design utilises micro servos and LiPo packs for true 1/18th scale micro style performance and looks. It makes use of 1.5mm USA-made carbon fibre for lighter weight and factory racing looks and includes a 1.5mm fibre glass T-plate for improved rear suspension flex and handling. The chassis allows to run 140mm or 150mm wheelbase settings with the T-plate being mounted via a steel block. The weight of the block also adds weight to the rear end for better handling with lighter micro sized LiPo batteries. Furthermore the set includes secure adjustable alloy servo mounts for use with micro-sized servos, it comes with a machined alloy front suspension arm pin holder and also an adjustable ESC tray that also serves as the micro battery strap.
Click here to continue reading
Friday, May 22, 2015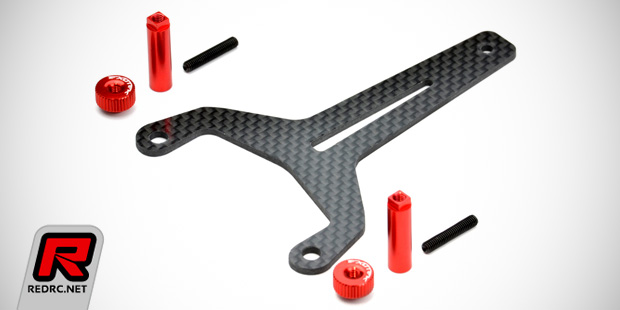 Exotek introduce the new strap and twist nut shorty LiPo mount set for the Kyosho RB6, RT6 and SC6. It includes adjustable twist nuts for precise battery holding and that factory team look while the battery strap is shaped for extra room around the LiPo plugs. Included is a USA-made carbon fibre strap and polished and anodised factory red posts and twist nuts. The set is usable alone or with Exotek's optional rear carbon brace set.
Click here to view another photo
Wednesday, May 13, 2015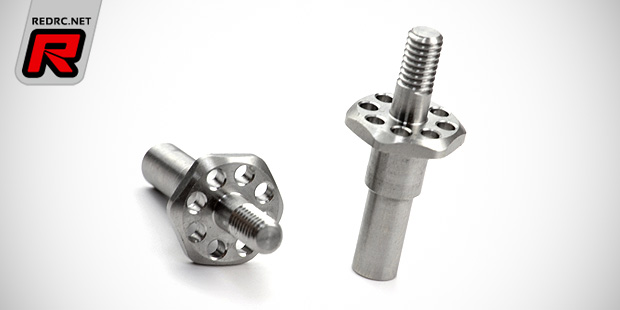 Exotek have new Flite-series titanium front axles for the Team Associated T5 and the Team Durango DEX210 available. Starting with the Team Associated part, the precision machined front axles weigh in at only 5g a pair while stock axles are 11g meaning a significant reduction of rotational mass as well as unsprung weight. The axles are nearly as strong as steel and they come in a polished finish for added looks. Also new are titanium wheel axles for the Team Durango DEX210 buggy. Offering a 12mm hex and an offset design the shafts allow to use standard B5 front wheels. Like the T5 Flite axles they significantly reduce unsprung weight and rotational mass compared to steel axles and they come machined to an eye-catching finish.
Click here to view more photos
Thursday, April 30, 2015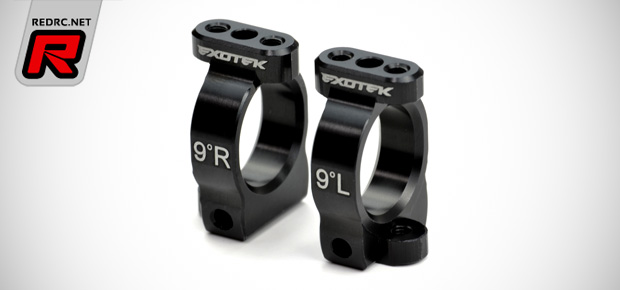 Exotek have new aluminium option parts for the Xray XB4 available in the form of 9 degree C-hubs and a steering crank set for the '15 Spec kit. Starting with the hubs, the heavy duty and precision machined parts are made from 7075 aluminium and they are designed to fit any XB4 series vehicle. Machined down to 6 grams per piece they are still much stronger than the stock plastic hubs and they are made to match the stock geometry. Polished and anodised in factory orange or black the hubs come laser etched for easy left and right identification and they accommodates a set screw for the hinge pin.
Click here to continue reading
Thursday, April 23, 2015