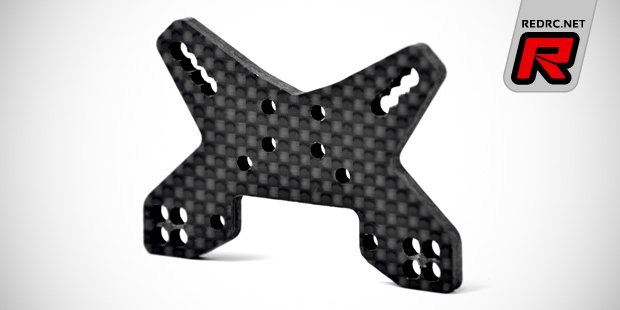 Exotek have announced a range of carbon fibre and aluminium option parts for Losi's Mini 8ight range of vehicles. First up are 3mm carbon fibre shock towers for the Truggy variant. Stronger and lighter than the original parts the front tower also allow for a more upright shock position for improved jump handling.
Click here to continue reading
Monday, November 24, 2014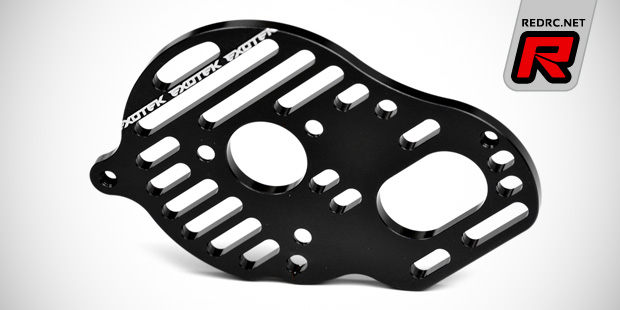 Exotek have two new aluminium option parts for the Team Associated B5 and B5M buggy available in the form of the vented Flite motor plate and an aluminium rear ballstud mount for the B5M mid motor buggy. Starting with the motor plate, the CNC-machined part sports aggressive machining to make the part not only 6.5g lighter than the stock motor plate but to also improve motor and slipper heat dissipation. The critical motor mounting area was left out with machining to maintain a solid base for motor mounting and gear mesh adjusting. The part, that is available in blue and black colour, is designed for the use on indoor clay and carpet environments but a shaved bottom allows for debris discharge if needed.
Click here to continue reading
Thursday, November 20, 2014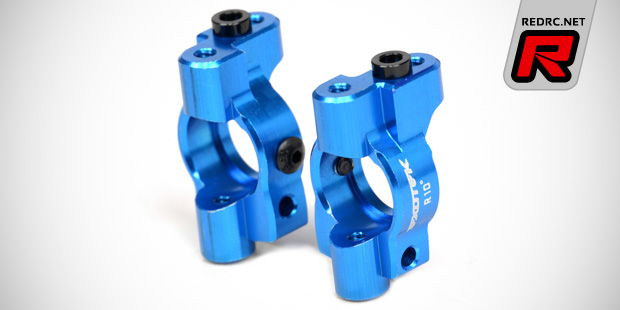 Exotek introduce a 10 degree alloy caster hub set for the Team Associated B44.3 buggy. The updated design offers vertical ball end mounting for quick roll centre adjustments by adding or removing spacers. The included 2mm spacers set the roll centre at the stock geometry with the 10 degree caster hub is set at the stock angle. Additionally the hubs offer adjustable steering arm lockout settings and an optional set screw placement against the hinge pin using a 4/40 set screw. The C-hubs are coming as pair, they are polished and anodised in factory blue and laser etched for easy left right identification.
Click here to view more photos
Friday, November 14, 2014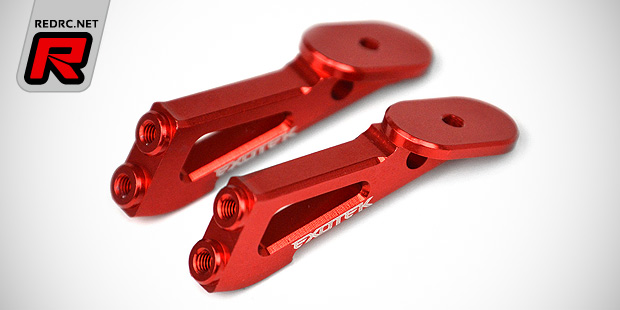 Exotek have new option parts for Kyosho's RB6 buggy available in the form of aluminium wing mounts for mid motor converted buggies as well as delrin big bore cartridge housings. Starting with the wing mounts, the parts made from 7075 aluminium are of a heavy duty design for extra durability while being light of weight at the same time. Threaded holes allow to mount the wing using low profile M3 screws, doing away with the need to use body clips. The mounts come red anodised to match with the remainder of Exotek's Kyosho option parts.
Click here to continue reading
Wednesday, October 29, 2014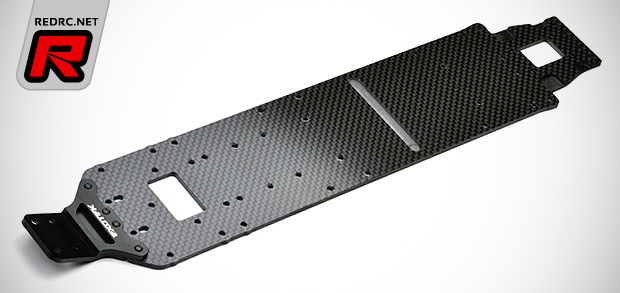 Exotek Racing introduce a carbon fibre main chassis plate for the Team Durango DEX210v2 2WD buggy. Made from 2.5mm USA-made material the chassis scrubs 35g of weight, it is of a heavy duty design and usable with both mid and rear motor converted vehicles. The lighter weight makes for a more nimble response and with slightly more flex than the alloy chassis it also increases overall grip, making it ideal for spec class racing. Included is also a 7075 alloy nose plate for longer wear and extra strength at the chassis bend while machined pockets at the rear of the chassis allows the use of LRC option suspension hangers.
Click here to view more photos
Tuesday, October 21, 2014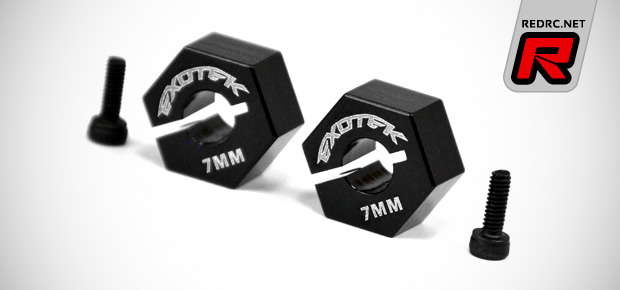 New from Exotek and made for the Xray XB4 are 7mm wide 12mm wheel hex adapters for the rear end of the buggy. They are made to fit Team Associated and Kyosho style 12mm hex wheels on the rear of the buggy and make for a wheel width of 243mm which is 4mm narrower than with Exotek's 9mm offset adapters. The precision machined clamping design hexes are available in Xray orange or black colour and a direct fit.
Click here to continue reading
Monday, October 6, 2014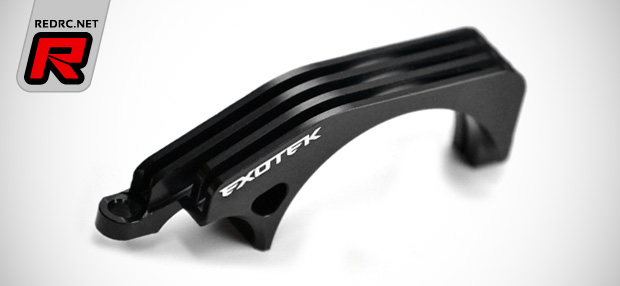 Coming from Exotek and made for the TLR 22-4 4WD buggy is an aluminium finned motor cam strap. Offering a heatsink design the CNC-machined part sports a sleek shape and lightweight design and it allows for extra cooling for the cramped confines of the 22-4. The strap comes in anodised black or yellow colour to match with the remainder of Exotek's TLR option parts.
Click here to view a photo of the part in place
Thursday, October 2, 2014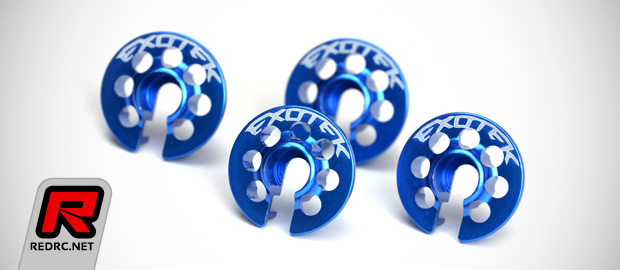 Exotek now have a spring perch set for Team Associated's TC6 series of electric touring cars available. Machined from high-quality aluminium and coming blue anodised the lightweight parts offer improved strength over the stock composite cups while adding some bling at the same time. Milled holes also help debris from collecting inside when running on dusty parking lot tracks. With an inner diameter of 13.25mm the cups fit with standard springs, they come in a 4-piece set and fit the TC6.2, TC6.1 and original TC6.
Click here to view another photo
Monday, September 29, 2014