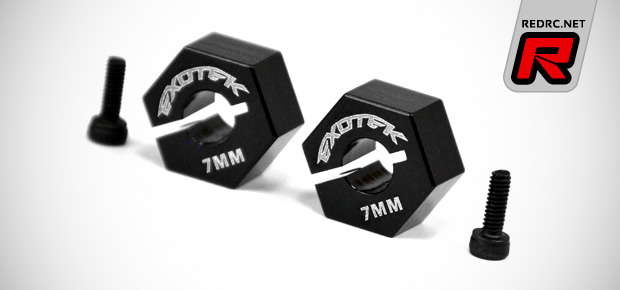 New from Exotek and made for the Xray XB4 are 7mm wide 12mm wheel hex adapters for the rear end of the buggy. They are made to fit Team Associated and Kyosho style 12mm hex wheels on the rear of the buggy and make for a wheel width of 243mm which is 4mm narrower than with Exotek's 9mm offset adapters. The precision machined clamping design hexes are available in Xray orange or black colour and a direct fit.
Click here to continue reading
Monday, October 6, 2014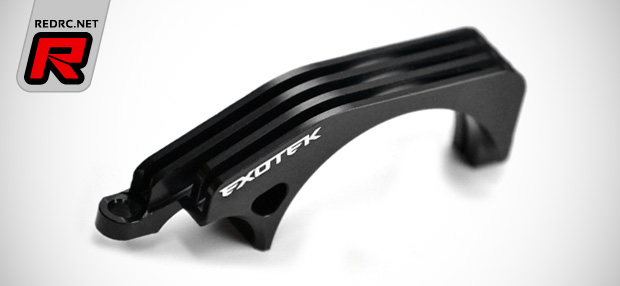 Coming from Exotek and made for the TLR 22-4 4WD buggy is an aluminium finned motor cam strap. Offering a heatsink design the CNC-machined part sports a sleek shape and lightweight design and it allows for extra cooling for the cramped confines of the 22-4. The strap comes in anodised black or yellow colour to match with the remainder of Exotek's TLR option parts.
Click here to view a photo of the part in place
Thursday, October 2, 2014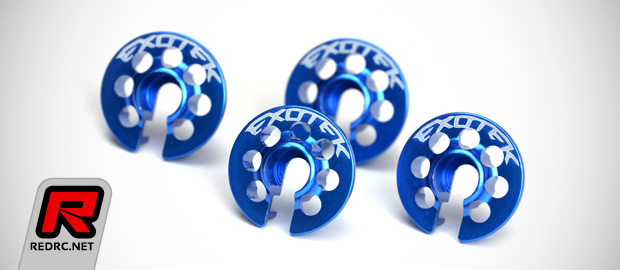 Exotek now have a spring perch set for Team Associated's TC6 series of electric touring cars available. Machined from high-quality aluminium and coming blue anodised the lightweight parts offer improved strength over the stock composite cups while adding some bling at the same time. Milled holes also help debris from collecting inside when running on dusty parking lot tracks. With an inner diameter of 13.25mm the cups fit with standard springs, they come in a 4-piece set and fit the TC6.2, TC6.1 and original TC6.
Click here to view another photo
Monday, September 29, 2014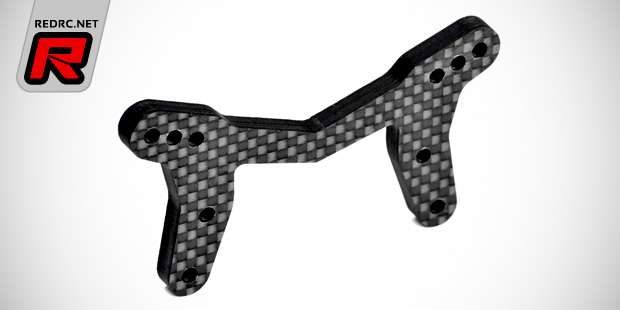 Exotek introduce two carbon fibre front shock towers for the TLR 22 2.0 and the Kyosho SC6 truck. Starting with the TLR part, the shock tower is made of 5mm high-quality carbon fibre and much stiffer and stronger than the original composite item resulting in a more consistent damper action. Extra machining reduces unnecessary weight while improving airflow through the shock stay at the same time. The tower fits both the 22 and newer 22 2.0. Also new and made for the Kyosho SC6 and RT6 is a 4mm front shock tower. Again made to improve shock action the part offers additional outer shock mounting holes for added tuning options while lower countersunk holes insure exact mounting and alignment which is critical for taller shock towers.
Click here to view more photos
Wednesday, September 17, 2014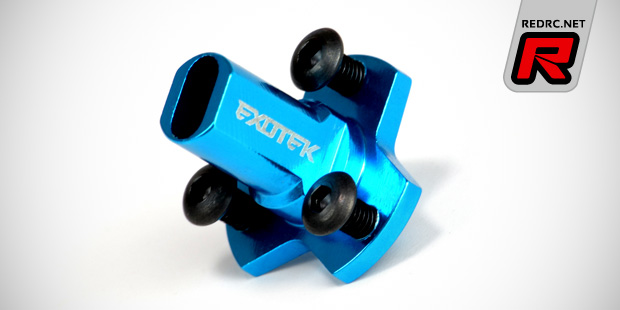 Exotek have new option parts for the Tamiya TRF201 and the Xray XB4 available. Starting with the Tamiya-related part, Exotek's direct spur mount is now also available for TRF201 series buggies. The slipper eliminator hub is ideal for stock and oval racing as it weighs in at only 3.8g, making for improved acceleration and cooler running motors. The part also increases gear ratio options and it is simply swapped for the original slipper clutch when conditions call for it. Also new and made for the Xray XB4 is a 4-piece set of shock bottom caps. The parts add some visual impact thanks to their orange anodising.
Click here to view more photos
Wednesday, September 3, 2014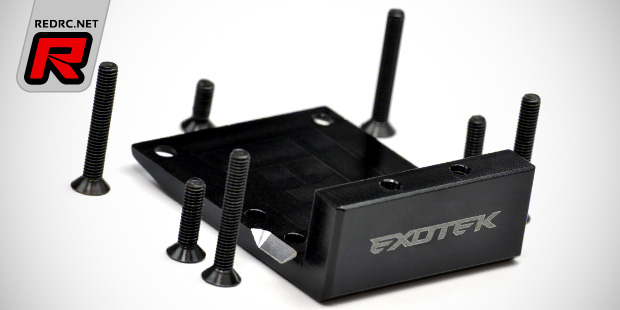 New from Exotek Racing comes this rear skid plate weight for the Team Durango DEX410 buggy and DESC410 short course truck. The part adds 24g of weight to the rear of the chassis for added rear traction. The skid plate is designed for minimal drag thanks to its angled shape and countersunk screws that make for minimal dirt pick up. The design allows for direct mounting of the DESC410 rear bumper. The plate comes made from 6061 aluminium, it is black anodised, sports a laser-etched Exotek logo and includes all needed hardware.
Click here to view more photos
Tuesday, August 26, 2014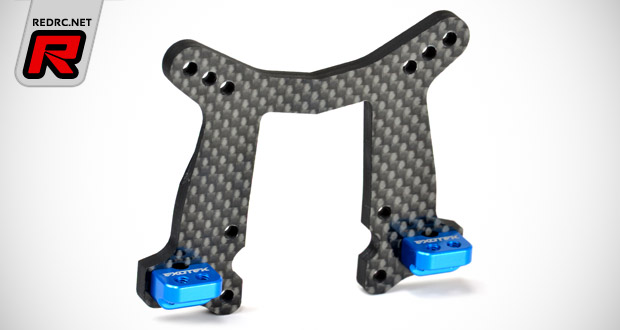 New from Exotek for the Associated B5 comes this heavy duty 4mm carbon fibre shock tower set with machined alloy camber link mounts for both the B5 gull wing arms and B5 flat arms. Much stiffer and stronger than the stock tower, recess cuts on the back side of the tower allow for spring clearance. Choose between factory blue or black machined camber blocks. Matching the stock geometry the total weight is only 14 grams and 13.6 grams respectively.
View more images of the product here
Thursday, August 14, 2014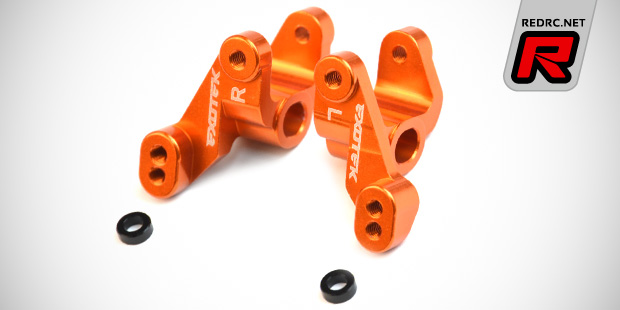 Exotek Racing have two new aluminium option parts available for Serpent's SRX-2 line of buggies and trucks. First up is a front C-hub set made from 7075 aluminium. Weighing in at only 12 grams, the parts are lightweight yet strong and with the included 2mm spacers they match the stock SRX C-hub geometry. With the vertical ball end mounting, roll centre adjustments are easily made by adding or removing spacers.
Click here to continue reading
Sunday, July 20, 2014