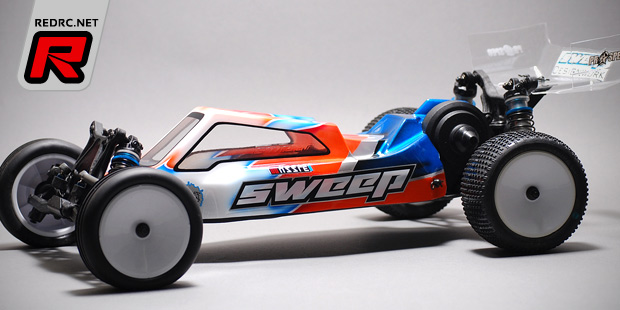 Sweep Racing introduce the Muzzle bodyshell for the Team Associated B5M buggy. Designed to maximise the downforce effects the body is of a cab forward design with a highly angled and channelled roof and a step-up section around the motor mount. Sidepods that raise towards the rear and a small shark fin help to channel the air toward the included 6.5″ rear wing. The direct replacement body comes made from clear polycarbonate and including two high-downforce rear wings.
Click here to view more photos
Tuesday, April 15, 2014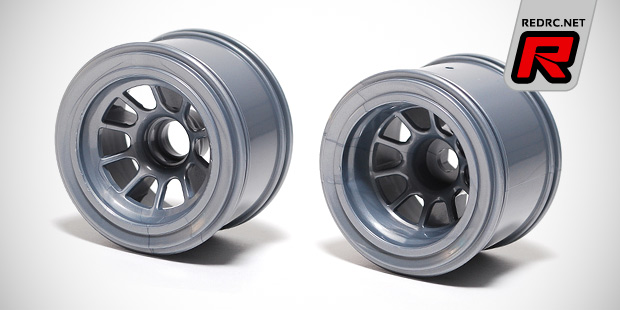 Sweep Racing have new mesh wheels for Formula 1 rubber tyres available. The grey colour wheels are compatible with most "narrow" F1 cars, offer a 44.8mm outer diameter and a width of 30mm up front and 35mm for the rear wheels. They are usable with Sweep, Tamiya, and Solaris rubber tyres with the set containing two front and two rear wheels.
Click here to view more photos
Tuesday, March 18, 2014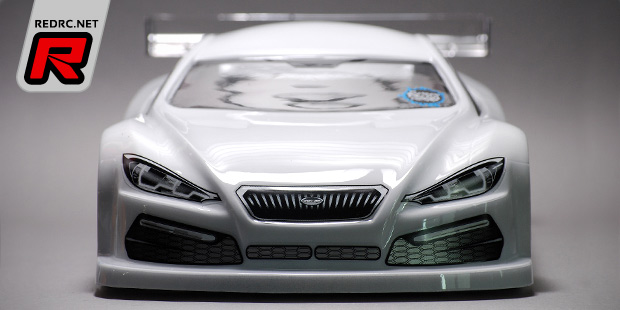 Sweep introduce the STC-4 190mm touring car bodyshell. Designed to meet Global Body Spec rules the TC shell is meant to offer exceptional balance, increased front and rear downforce and maximised corner speed. It will become available as 0.8mm regular weight and 0.65mm lightweight version with both including a 1mm rear wing and mounting hardware.
Click here to view more photos
Monday, March 17, 2014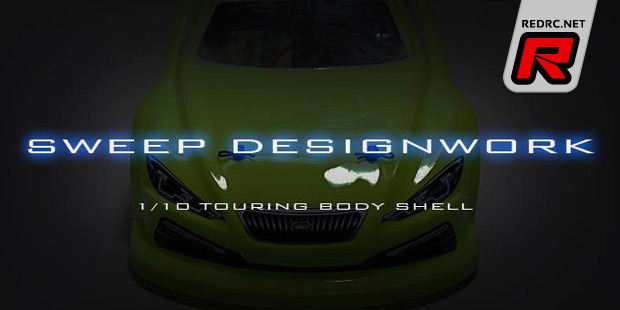 Following up the announcement of the Birdie design bodyshell for the Mugen MBX7, Sweep have released a teaser for an upcoming touring car body that will be launched next month. No further details were given but we will bring them to you when revealed.
Source: Sweep Racing [sweepracing.com]
Wednesday, February 5, 2014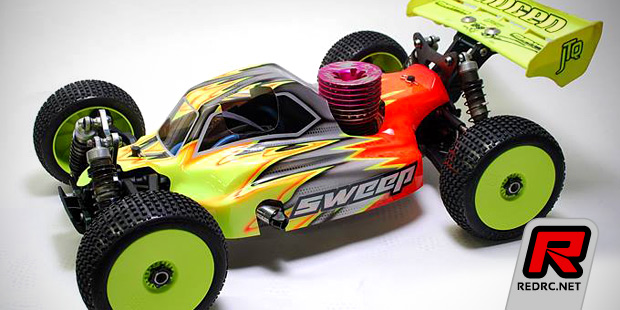 Sweep Racing are currently working on a new bodyshell for the Mugen MBX7 1/8th buggy. The shell makes use of Sweep's distinctive "Birdie" design that incorporates an extreme cabin shape with a steep angled and quite narrow windshield while the cab itself sits in a very forward position. Pronounced and heavily angled sidepods and loads of free space around the engine's cooling head are other features of the body. Sweep does has not given a release date yet but expect the body to hit the stores soon.
Click here to view another photo
Wednesday, February 5, 2014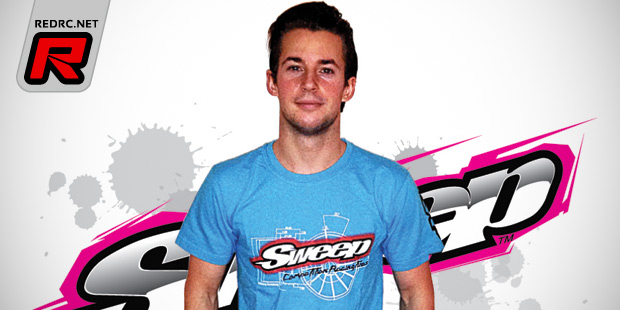 Sweep Racing have extended the contract of Reedy Race of Champions winner Viktor Wilck for the 2014 season. The Swede, who joins current Touring Car World Champion Jilles Groskamp, will not only use the company's line of accessories but also Sweep tyres in open events and he will also assist with tyre and on-road bodyshell development.
Source: Sweep [sweepracing.com]
Tuesday, January 21, 2014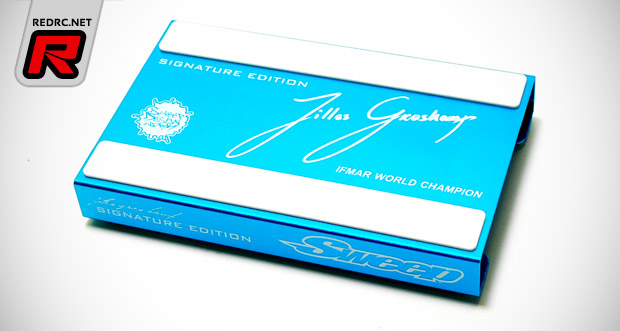 Sweep introduce this Jilles Groskamp signature edition on-road car stand for 1/10 and 1/12th scale chassis. It is made from aluminium and comes in a bright blue colour that perfectly matches with the iconic "Tamiya blue" anodising of Tamiya TRF chassis. The stand sports a small footprint, a low 24mm profile and four rubber feet make for a secure stand even on slippery pit boards.
Source: Sweep [sweepracing.com]
Monday, January 20, 2014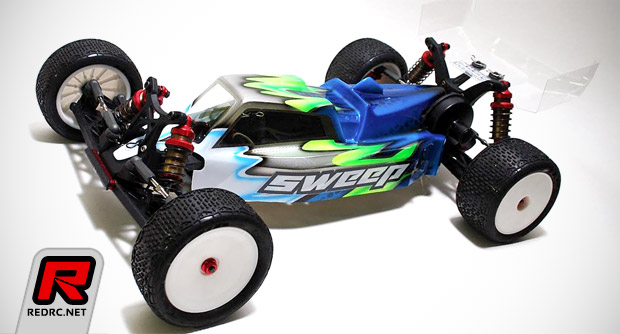 Sweep Racing have released their new 1/10th Muzzle body for the Kyosho RB6 in rear and mid motor configurations. The shell features a rear vertical fin to keep it stable around corners, while the aggressive front windshield provides great cornering. Supplied with a window mask, decal and a 2 wing set.
Thursday, January 2, 2014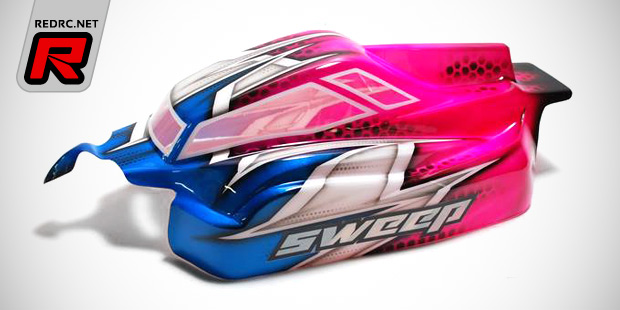 Sweep Racing now have their distinctive Birdie design body shells for TLR's 8ight and 22 line of buggies available. Both are of a radical cab forward design with the 8ight variant looking even more unusual due to the angled roof section and the tiny front window making it look like Tweety Bird on speed. Both shells incorporate a rear fin for improved airflow towards the rear wing with the Twenty Two shell being useable for both mid and rear motor converted buggies.
Click here to view more photos
Tuesday, November 5, 2013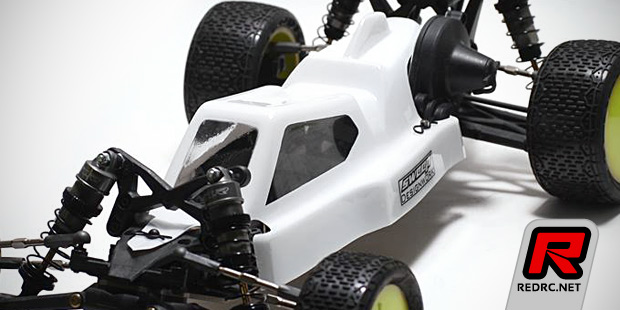 Sweep are currently working on a new optional body shell for the TLR 22 buggy. The yet unnamed body features an aggressive cab forward design, a recess behind the cab an a large motor cover/rear section with an additional fin for high speed stability and a channelled airflow toward the rear wing. We keep you up to date with more details as soon as they are available.
Source: Sweep [sweepracing.com]
Thursday, October 24, 2013