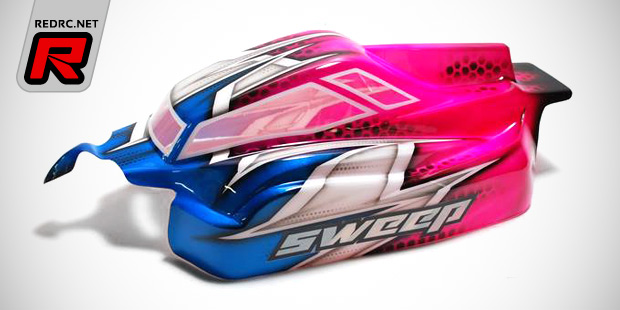 Sweep Racing now have their distinctive Birdie design body shells for TLR's 8ight and 22 line of buggies available. Both are of a radical cab forward design with the 8ight variant looking even more unusual due to the angled roof section and the tiny front window making it look like Tweety Bird on speed. Both shells incorporate a rear fin for improved airflow towards the rear wing with the Twenty Two shell being useable for both mid and rear motor converted buggies.
Click here to view more photos
Tuesday, November 5, 2013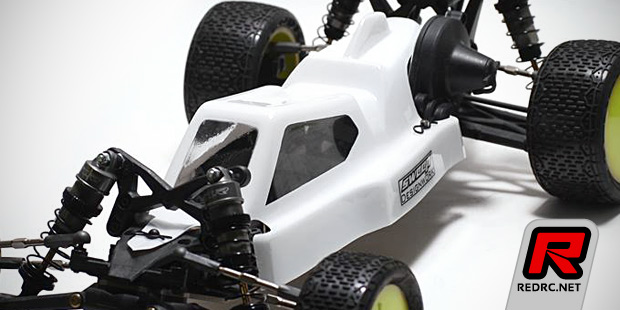 Sweep are currently working on a new optional body shell for the TLR 22 buggy. The yet unnamed body features an aggressive cab forward design, a recess behind the cab an a large motor cover/rear section with an additional fin for high speed stability and a channelled airflow toward the rear wing. We keep you up to date with more details as soon as they are available.
Source: Sweep [sweepracing.com]
Thursday, October 24, 2013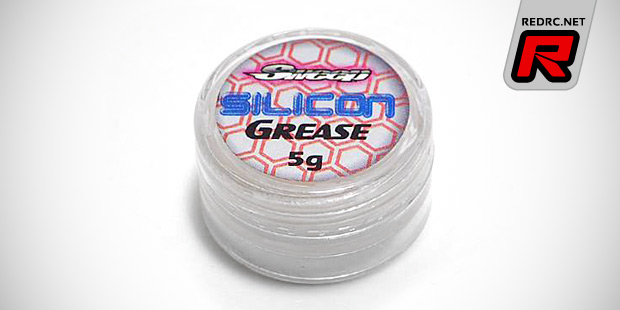 Sweep introduce their new silicone grease for ball differentials. It is of thicker viscosity than standard diff grease making it stick to the pressure plates longer increasing their lifespan and that of the diff balls. The grease is also good for the use on thrust bearings as well as sealed bearings and is recommended for any heavy-duty application where high pressures or loads are occur. The grease works in a large temperature range of -30°C up to 200°C and has a good resistance to moisture and water.
Source: Sweep [sweepracing.com]
Monday, September 16, 2013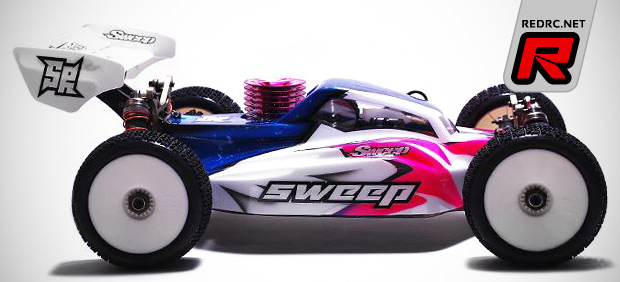 Sweep Racing soon have their Birdie design body shell for Kyosho's MP9 line of buggies available. Sporting a radically shaped cabin section the body that TQ'd the 2013 FEMCA race is meant to offer a direct steering response because of the aggressively angles windscreen and side pods while offering good engine cooling at the same time. The body is made from high-quality polycarbonate and comes clear, ready for your favourite paint job.
Click here to view more photos
Thursday, September 12, 2013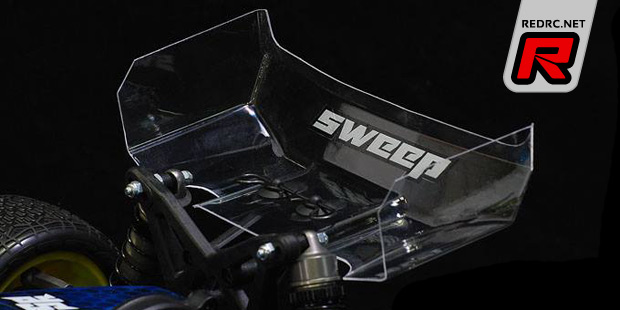 Sweep Racing today released a first image of their new 6.5″ rear wing for 1/10th off-road buggies. Being roughly 165mm wide the wing is a universal fit for nearly every 2WD and 4WD buggy, it offers a stepped design, raised side plates for increase tyre clearance and a large gurney flap that can be cut to size to adjust overall downforce and jumping characteristics. It is understood that the wing becomes available very soon.
Source: Sweep [sweepracing.com]
Thursday, September 5, 2013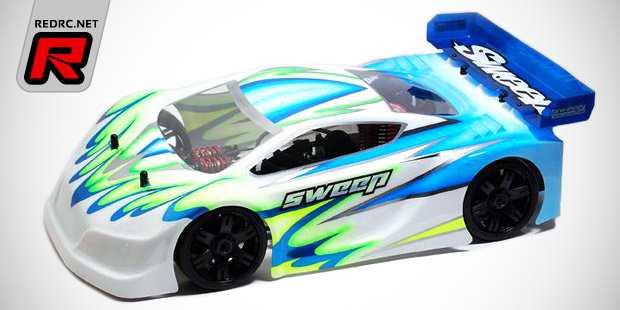 Sweep Racing introduce their first ever body shell for the 1/8th GT class called the P1L. Designed to fit a wide range of chassis and wheelbase settings the generic sports car body features an aerodynamically shaped front end, a low roof line and airflow break-away edges on the rear fenders in order to maximise the aerodynamic performance. Included with the body comes a large rear wing that can be cut to size to further adjust low and high speed handling.
Source: Sweep [sweepracing.com]
Wednesday, August 14, 2013
Following a first teaser last week Sweep now officially introduce their forthcoming Cubix 1/8th buggy tyre. Designed to combine the best features of the Star Trek and Square Armor tyres the new offering is meant to provide great tread wear and traction. The size of the pins is chosen to cope with the enormous power of today's .21 engines and brushless motors while the pin flexibility makes the tread ideal for rough surface tracks. The Cubix builds on the same carcass as Sweep's Micro Contacts and Double Action and the tyre comes in sets of four with various options available.
Source: Sweep [sweepracing.com]
Monday, July 22, 2013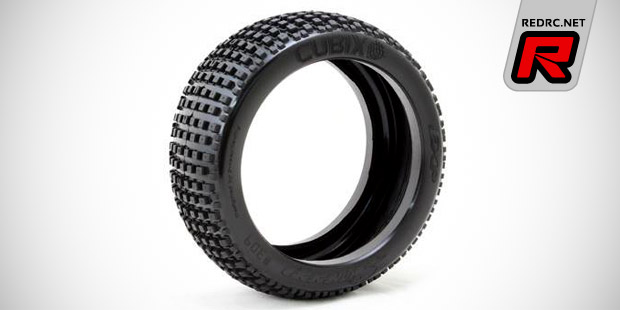 Sweep Racing introduce the Cubix 1/8th buggy tyre. As the name implies the new offering makes use of medium-size square pins that are of nearly cubic dimensions and also widely spaced. It is understood that the tyre will soon be available in Sweep's usual line of compounds from medium to ultra soft and as tyre only and or pre-mounted variant.
Click here to view another photo
Friday, July 19, 2013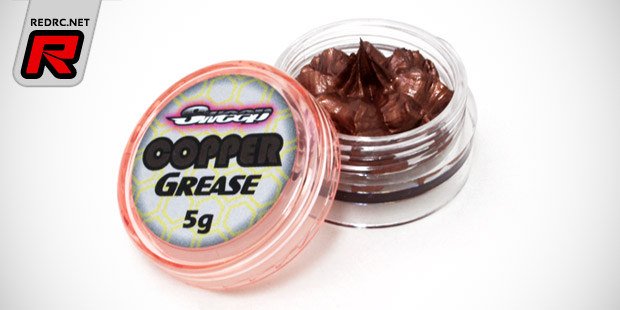 Sweep Racing have announce a new addition to their grease line-up. This copper grease contain actual copper and is used for special applications in the R/C community. Once used, it is water-resistant and won't fly off. It is also resistant to high heat and pressure, keeping strong against other chemicals it may come in contact with. Use Sweep copper grease wherever you need lubrication that stays in spinning parts, differential joints, servo savers and hinge pins.
Source: Sweep [sweepracing.com]
Friday, May 3, 2013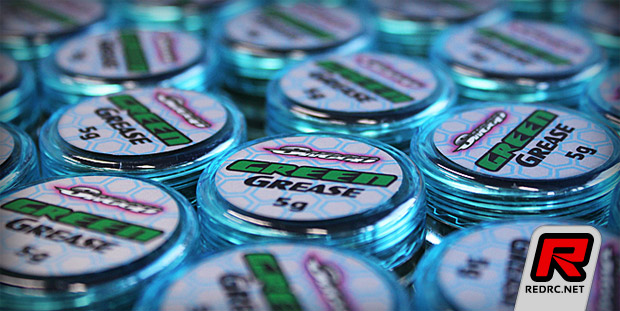 Sweep Racing have introduced their new multi-purposed grease called 'Green Grease', a high performance grease offering excellent lubrication properties to minimize metal parts wear. The special formula lubricates all kind of metal on metal parts such as differential joints, drive shaft, crown and pinion gears, etc. and can also reduce bearing drag, resists water, inhibit corrosion and protect shock O-rings under extreme conditions.
Source: Sweep [sweepracing.com]
Wednesday, March 27, 2013