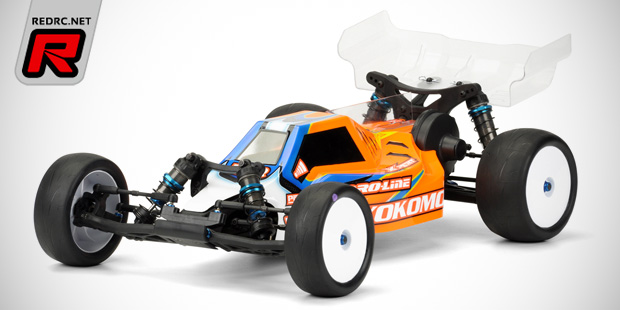 Pro-Line's distinctive Phantom bodyshell design is now also available for the Yokomo B-Max2 2WD buggy. From the mind of IFMAR World Championship runner-up Lee Martin the body is featuring a stealthy cab forward look and sweeping body lines that flow back to a single point. The optional centre fin adds additional high speed stability and finishes off the design of this unique looking body. The B-Max 2 Phantom fits snugly around the chassis for an ultra-low and super sleek look and the body includes window masks and a decal sheet.
Click here to view more photos
Friday, December 19, 2014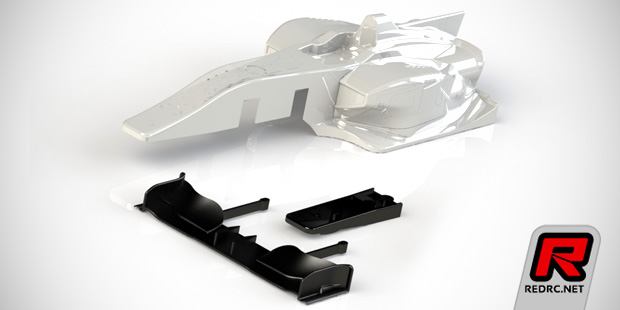 Italian company WRC have a new body and front wing set available for their F-One formula car. The low nose front wing includes a separate plate that not only connects the win and chassis but it also prevents air from entering the body's nose section. When using both the body and win in combination WRC promise an increased downforce of as much as 30 percent.
Click here to view another photo
Wednesday, December 17, 2014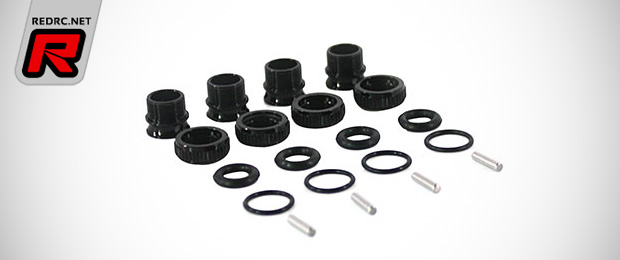 Teamsaxo introduce a body height adjuster set for the use with many 1/10th scale on-road cars. Machined from aluminium the set makes use of a common design that allows the body's position on the mounts to be altered in a range of 0.1 to 3.0mm using threaded bushings and adjusting thumbnuts. Included with the set come four threaded bushings, four thumbnuts, eight rubber O-rings and four pins with the set being available in black, light blue, blue, silver, orange, titan and purple colour.
Source: Teamsaxo [saxoracing.com]
Wednesday, December 17, 2014
Team Losi Racing have new optional parts available for the 8ight-T 3.0 truck as well as the 22-4 4WD buggy. Starting with the 8ight-T 3.0, the new electric body offers the same style and performance as the 8IGHT-T 3.0 body, but all of the "nitro specific" holes for the engine head, fuel gun, and tank pull have not been cut out for the electric version. The body is made from durable 1.5mm polycarbonate, it is pre-cut around the front, sides, and back of the body as well as the body mounting holes and it includes die-cut vinyl window masks and a die-cut 8ight-T 3.0 sticker sheet.
Click here to continue reading
Sunday, December 14, 2014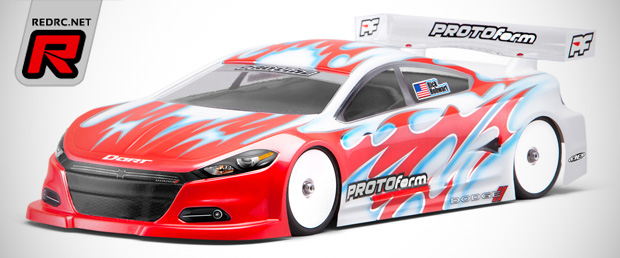 Protoform introduce the Dodge Dart 190mm electric touring car bodyshell. The newly designed all-round body provides adequate steering while still keeping the rear end stable. Already scoring A-main finishes at the recent International Indoor Championships in Las Vegas the body is meant to produce slightly more overall roll than the Mazdaspeed6, according to World Champion Alexander Hagberg. The body is available in both a .025″ lightweight an .030″ regular variant including window mask, overspray film and wing mounting hardware.
Click here to view more photos
Friday, December 5, 2014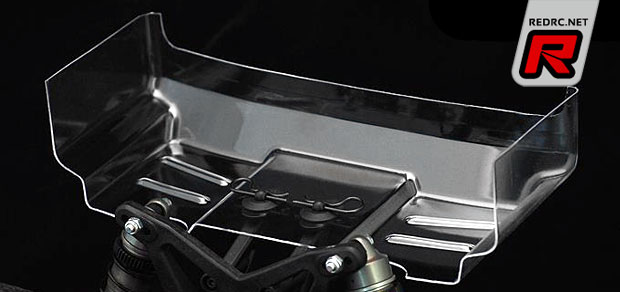 New from Sweep Designwork comes a 7 inch wide rear wing for 1/10th off-road buggies. Made from super-tough 1mm polycarbonate the wing is designed to comply with the IFMAR rules and it sports special dimples to create high downforce without excessive aerodynamic drag while raised side plates allow for good tyre clearance. The wing fits most 1/10th buggies and comes in a set of two.
Source: Sweep [sweepracing.com]
Friday, December 5, 2014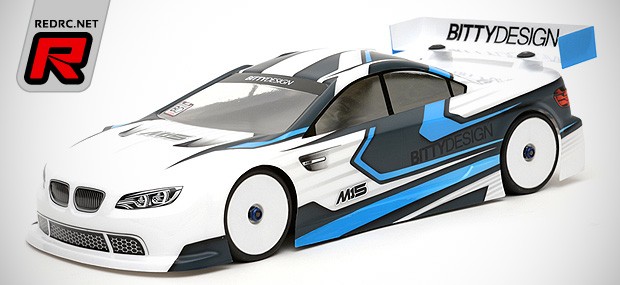 Following first teaser images Bittydesign now introduce the M15 190mm bodyshell for electric touring cars. Developed with the help of internationally experienced top drivers the body is meant to offer a very controllable steering response while retaining exceptional rear end grip and a neutral overall balance, making it easy for the driver to make a race distance both fast and hassle-free. The body, with its distinctive front and rear end design, is especially designed for carpet racing but also works well on low to medium grip asphalt tracks and it comes including a large decal sheet, window masks and a lightweight hardware set to mount the rear wing.
Click here to view more photos
Friday, November 28, 2014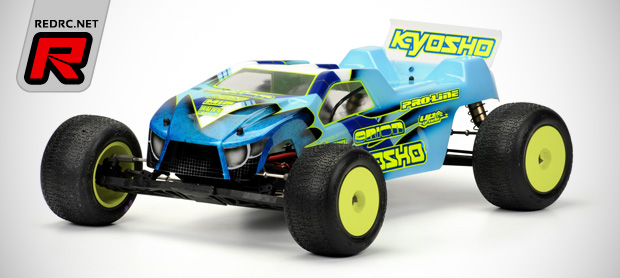 Pro-Line introduce the Bulldog design bodyshell for mid motor racing trucks such as the Kyosho RT6 and the Centro CT4.2 as well as 1/8th Electron buggy tyres. Starting with the body, the mid motor Bulldog is based on the proven rear motor variant and features a new Mohawk down the centre of the roof that improves high-speed stability and adds an aggressive look. The front end geometry has also been reshaped and improved to achieve higher front down force and reduce wheelies that cost precious time. The body comes made from high-quality polycarbonate and it includes window masks and a decal sheet.
Click here to continue reading
Wednesday, November 26, 2014