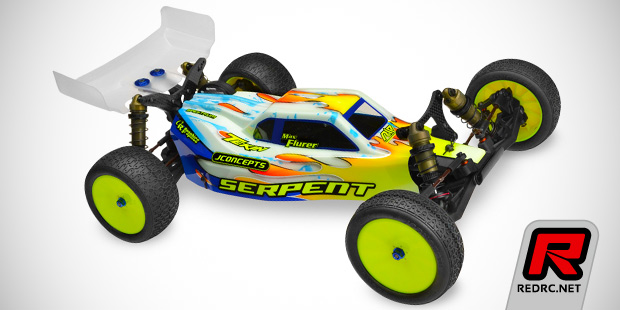 JConcepts introduce their popular Silencer bodyshell design for the Serpent SRX-2 mid motor buggy. Making use of the well-known Silencer design cues such as a mild cab forward design, a roof top shark fin and pronounced sidepods, the body is a direct replacement for the kit item and it comes clear, including window masks, decal sheet and two 6.5″ Hi-Clearance rear wings.
Click here to view more photos
Wednesday, April 16, 2014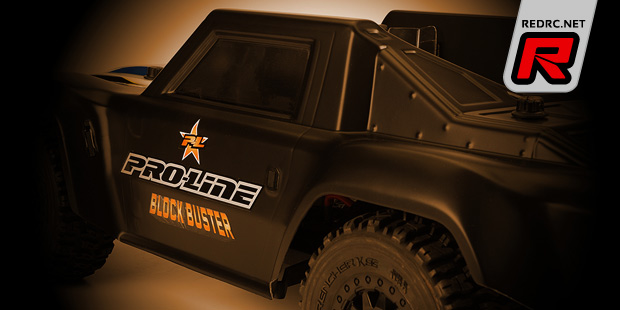 Pro-Line Racing have released this preview image of their forthcoming Blockbuster bodyshell for 1/10th short course trucks. The body in questions appears to sport several "full scale" details such as door handles and quick release fasteners along rivets and other gizmos that make the body stand out. Overall the Blockbuster looks to be of quite an "edgy" design comparable to the gnarly Desert Militia bodyshell. Full information will become available very soon.
Source: Pro-Line [prolineracing.com]
Wednesday, April 16, 2014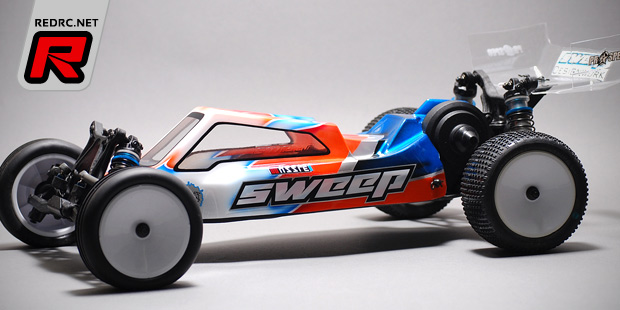 Sweep Racing introduce the Muzzle bodyshell for the Team Associated B5M buggy. Designed to maximise the downforce effects the body is of a cab forward design with a highly angled and channelled roof and a step-up section around the motor mount. Sidepods that raise towards the rear and a small shark fin help to channel the air toward the included 6.5″ rear wing. The direct replacement body comes made from clear polycarbonate and including two high-downforce rear wings.
Click here to view more photos
Tuesday, April 15, 2014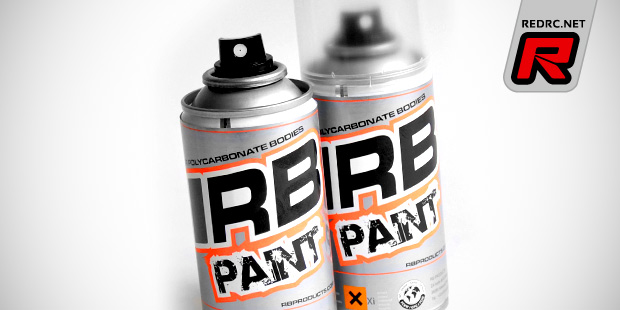 RB introduce their new line of polycarbonate paints coming in 150ml and 400ml cans. Specially designed for RC car bodyshells the paint dries very fast and it comes in nearly 30 different colours including standard, metallic and fluorescent colours.
Source: RB [rbproducts.com]
Thursday, April 10, 2014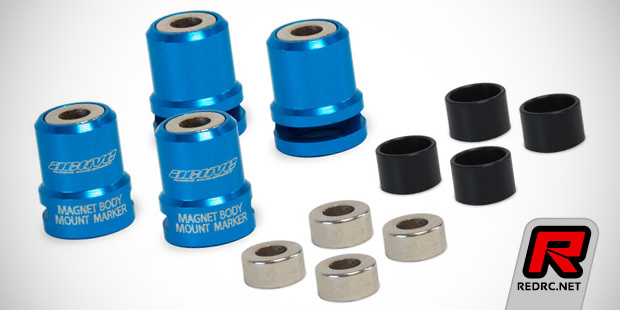 Asian company Active Hobby introduce this magnetic body mount marker set. Making use of a proven design, the set included four magnet-equipped aluminium bushings, four ring magnets and a set of body post bushings with all parts helping to perfectly mount bodies to a wide range of on-road chassis. The bushings are simply placed on the chassis' body posts, the body will then be placed on top and the smaller ring magnets applied from the outside near the bushings. The magnetic force will the rings then slide into place allowing to mark the body post position for later drilling. The set is available in a range of colours including blue, black, red and silver.
Click here to view another photo
Thursday, April 10, 2014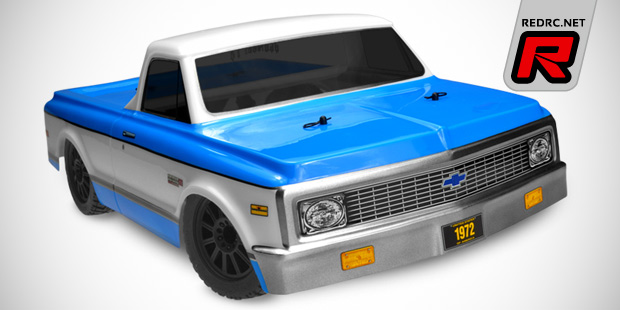 The 1972 Chevy C10 truck body by JConcepts is a perfect complement to the Scalpel Speed-Run conversion kit for the Slash 4×4. Officially licensed, the C10 boasts a wide-body stance which allows it to tame high-speeds while showing off that all important retro look from the 1970′s. Large fenders allow plenty of clearance for the 2.8″ G-Locs tyres and a shallow bed area gives the truck-like appearance while maintaining that all inclusive speed-line structure. Included with the body, that requires JConcept's bumper conversion kit, are grill, headlight, taillight and miscellaneous logo decals.
Click here to view more photos
Wednesday, April 9, 2014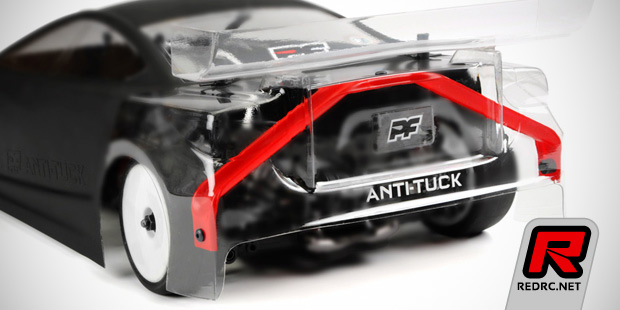 Protoform introduce the anti-tuck body stiffener set for 190mm touring car bodyshells. Made from stiff lexan, the one-piece stiffener fastens inside the rear the body with three simple screws and nuts. The pieces are custom formed to fit the curvature of the lower rear fenders for a perfect fit. Not only will this system virtually eliminate body tuck, but the added rigidity will also aid unwanted fluttering or deflection of the rear of the race body at high speeds. Weighing in at only 4.5 grams, changing the weight bias or centre of gravity of the car is minimised. Each set comes with two body stiffeners, mounting hardware and a decal sheet.
Click here to view another photo
Friday, April 4, 2014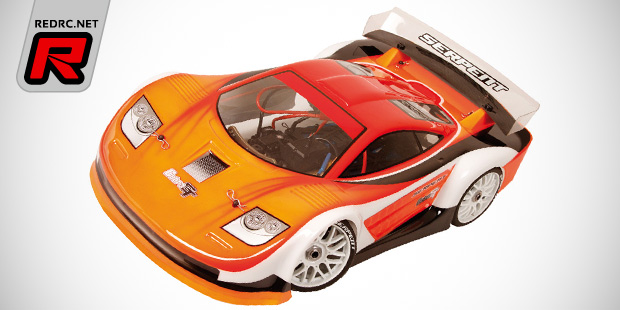 Serpent now have this pre-painted GT8 bodyshell for the Cobra GT and other 325mm "short" wheelbase chassis available. The body is made from high-quality polycarbonate and comes finished in an orange, black and grey colour scheme. Included is also a large rear wing to add downforce and that distinctive GT look.
Source: Serpent [serpent.com]
Friday, March 28, 2014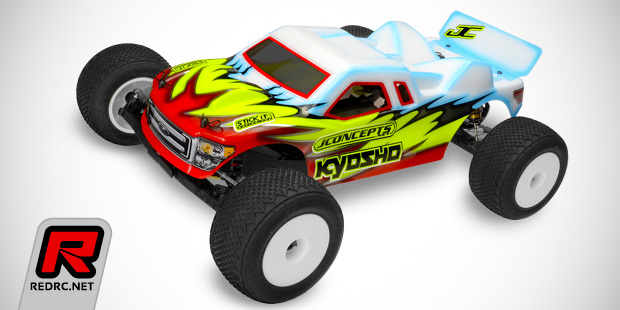 JConcepts introduce the Ultima RT6 RM Finnisher bodyshell for Kyosho's 2014 Cactus Classic winning 1/10th stadium truck. Based off the T4.1 Finnisher, the RT6 compatible variant has been updated to include pre-dimpled locations for the RT6. A revised front hood scoop allows plenty of clearance for the unique RT6 geometry while smoothing out the front down force area. Front chin spoiler, headlight and grill protect the front-end from unwanted up-drafts during flight while, like the ROAR National Champion Hi-Flow SCT body, the Finnisher body has built-in air escape passages which allow the customer to fine-tune the body for maximum outdoor performance. The body includes the high performance gurney spoiler which increases rear grip and balances the handling characteristics of the aggressively styled body.
Click here to view another photo
Monday, March 24, 2014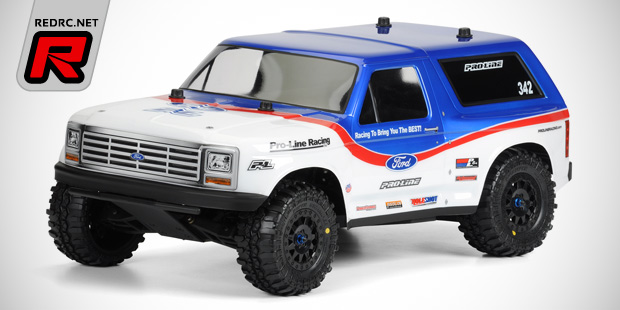 Pro-Line have a new bodyshell for Short Course trucks, pre-assembled Pro-Spec shock absorbers and pre-mounted Interco TLS SX Super Swamper SC tyres available. First up is the 1981 Ford Bronco bodyshell, designed to fit a wide range of trucks such as the Pro-2, Slash, Slash 4×4 and SC10, the body resembles the iconic Bronco truck for a true scale old school look. It comes clear, with a large decal sheet and required the use of extended body mounts due to its dimensions.
Click here to continue reading
Friday, March 21, 2014