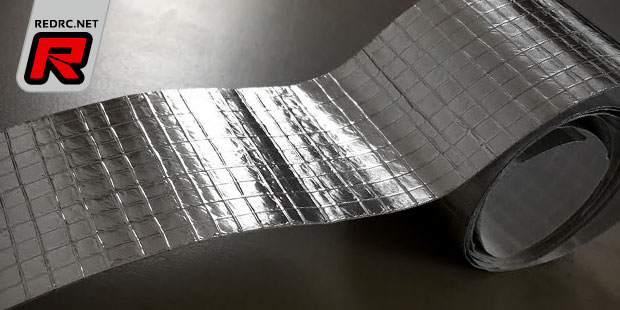 Italian company F.V.S.S. now have an aluminium reinforcement tape available for the use with polycarbonate bodyshells. The 50mm wide adhesive tape comes as 1 metre roll and it is ideal to protect bodyshells from deformation and damage caused by the heat of exhausts and heat sinks.
Source: F.V.S.S. [fvssshop.it]
Monday, September 15, 2014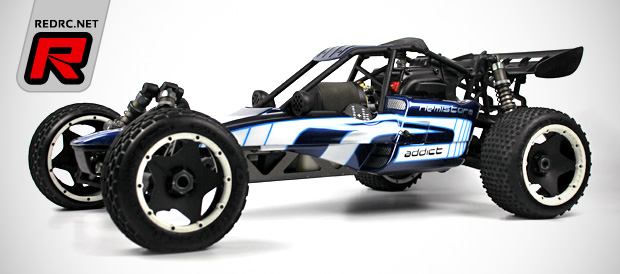 HemiStorm have the new Addict bodyshell for the HPI Baja 5B large scale buggy available. Made from high-quality 1.5mm polycarbonate the 5-piece body is of a somewhat different shape compared to the kit body in order to give the 5B a fresh new look. First up are longer sidepods that keep away dust and debris from the crucial parts such as the clutch and pullstart. Additional width ensures sufficient cooling while underneath the skid plate there is a stepped line allowing for extra ground clearance in rough terrain. The body panels also give enough room for Outerwear's prefilter while the raised front makes it easier to run upgraded linkage setups or additional electronics. Also included with the body comes a paintable lightweight roof that replaces the stock aluminium roof piece.
Click here to view more photos
Friday, September 12, 2014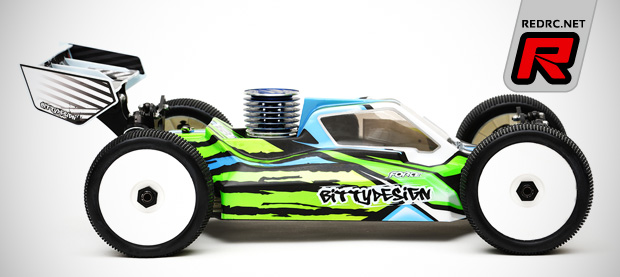 Made for Xray's latest XB8 1/8th scale nitro buggy is Bittydesign's new Force bodyshell. Tailor-made to fit the chassis's lines the body sports a cab forward design with a roof top shark fin, it offers reverse rear side scoop features for added airflow and downforce and it is made from high quality Lexan material. Included come window masks and a decal sheet and the body will become available by end of September.
Click here to view more photos
Tuesday, September 9, 2014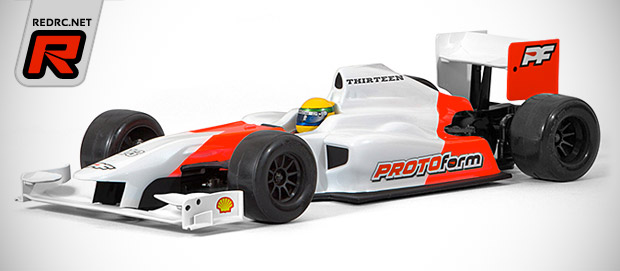 Having shown us a preview of their new Formula 1 body shells about a month ago, Protoform have today released details and images on their new F1-Thirteen & F1-Fourteen bodies. The F1-Thirteen features styling from the 2013 season, including the high-nose and Coanda exhaust detailing. The F1-Fourteen features styling from the 2014 season, including the unique low nose and single turbo exhaust detailing. Racers have the option to add on the controversial extended nose cone with tape or shoo-goo (not included), or cut/black out the center section of the nose for a more conventional look. For both, the side-pod undercuts, an overall low-slung design and the included injection molded black nylon driver's helmet give it the ultra-realistic look that F1 R/C racers strive for. The decal sheets, feature seat belts, steering wheel detail, car numbers and a variety of helmet visor colors, completes the scale detail. Both models fits most modern F1 chassis with the Thirteen requiring Tamiya's F60 Front wing and the Fourteen needing Tamiya's F2012 Front wing.
Thursday, September 4, 2014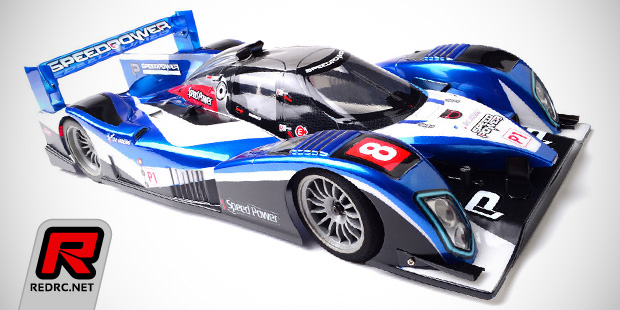 Speed Power have a new 200mm Le Mans endurance bodyshell available. The LM-P is modelled after Peugeot's former Le Mans contender and adds to the already existing LM-A Audi style body. A direct fit on the Speed Passion LM-1 kit the body also fits other 200mm pan cars. The multi-piece body comes clear, including window masks and decal sheet.
Click here to view more photos
Thursday, September 4, 2014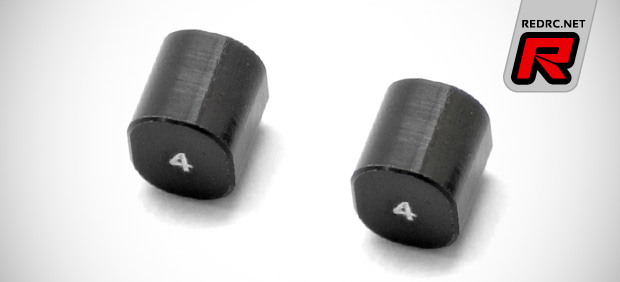 Serpent have two new option parts for the SRX2 line of off-road vehicles available in the form of 3 degree RR aluminium inserts and a front wing for the Spyder buggy. Starting with the suspension inserts, the parts are made to fit all Spyder kits, they are made from anodised aluminium and come with laser-etched markings. They are available as pairs and are direct replacements for the stock parts with no modifications needed in order to run them. Also new is a front wing for the Spyder SRX2 2WD buggy. The part is a direct fit, made from high quality polycarbonate, it comes clear and offers additional front end grip when needed.
Click here to view a photo of the painted and installed front wing
Monday, August 25, 2014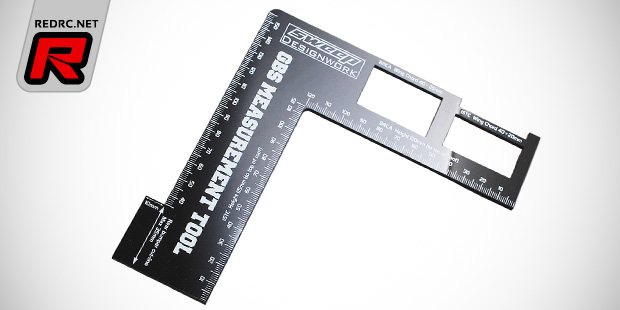 Sweep Designwork introduce two new tools for 1/10th touring cars. First up is the Global Body Spec measurement tool that allows to build and check touring cars shells with BRCA and ISTC rules in mind. The tool measure to check the overall body height, wing chord and side plate dimensions, as well as the rear bumper cutline. Also incorporated is a metric ruler. The second new tool is a quick check camber gauge with a range of 1 degree up to 2.5 degree in 0.5 degree increments. Both tools are made from CNC-machined black colour acrylic with white easy-to-read markings.
Click here to view more photos
Monday, August 25, 2014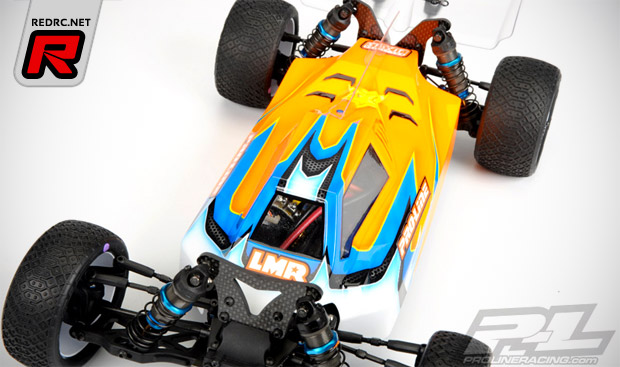 Also new from Pro-Line is this Phantom body for the Yokomo B-Max4 III designed by team driver driver Lee Martin. It features a stealthy cab forward look and sweeping body lines that flow back to a single point while an optional centre fin adds additional high speed stability and finishes off the design. Also new for the Associated B5 are carbon fibre front shock tower with aluminium ball stud mounts! The carbon fibre shock tower adds stiffness for improved shock action as well as durability to an area that takes a lot of abuse while the gun metal anodized aluminium ball stud mounts give added style and precision. Available in a wide version for the B5 and a narrow version for the B5M
View the B5 front shock tower here
Friday, August 22, 2014