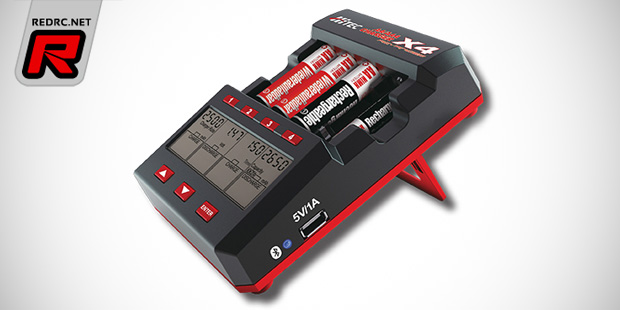 The Hitec Multicharger X4 Advanced is a high-end single cell charger for AA and AAA batteries. It offers four independent docking ports and a compact case with four displays to monitor most of the important charge parameters. When coupled via Bluetooth to an Android or iOS device more detailed information can be gathered and displayed on your smartphone using a dedicated app. The device offers several charge and discharge programs including refreshing and analysing, formatting and cycling functions.
Click here to view the specifications
Wednesday, January 28, 2015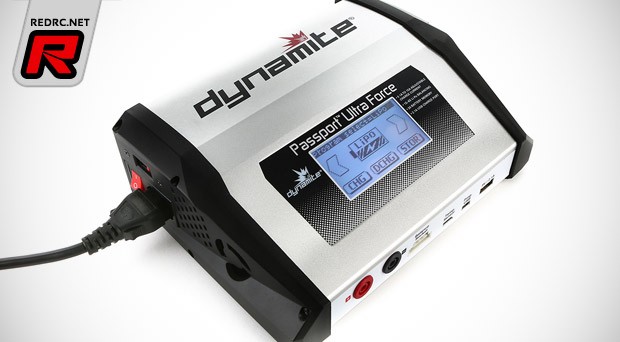 The new Dynamite Passport UltraForce, 220W, AC/DC Touch Charger is a rugged, small footprint, multi-chemistry, AC/DC battery charger. Featuring a fully functional touch screen user interface it allows novice, intermediate and experienced users to quickly charge their 1 to 5C, Lithium or Nickel Metal batteries. This single channel powerhouse charger is designed to charge larger capacity packs in a lot less time.
Wednesday, January 28, 2015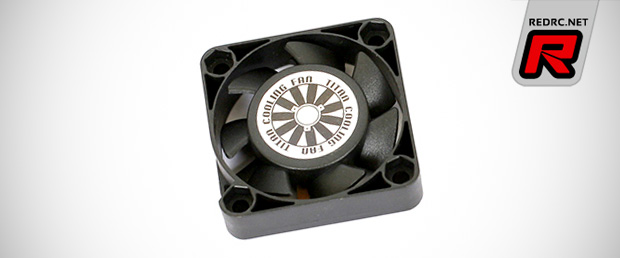 Team Titan have a new 40mm cooling fan available that features an open board with solder tabs for the receiver connection wire over the standard fixed wire most of today's units offer. The high voltage high speed fan comes with an easy to replace 170mm black universal plug wire than can be cut to length to allow for professionally looking wiring jobs.
Click here to view another photo
Tuesday, January 27, 2015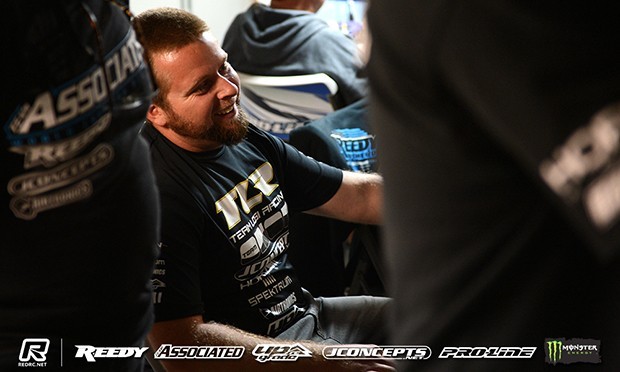 Ryan Maifield and Drew Moller topped practice for the 21st running of the Reedy Race of Champions at OCRC Raceway today in California.  Last year's runner-up, Maifield took his TLR22 to the fastest lap time in the third and final round of 2WD practice ahead of team-mate & last year's 2WD Open class winner JP Richards.  In 4WD it was new HB signing Moller who set the pace from defending Champion Ryan Cavalieri and Maifield, the Ryans best lap time separated by 0.001 of a second.
Continue reading this report here or view our full event coverage here.
Friday, January 23, 2015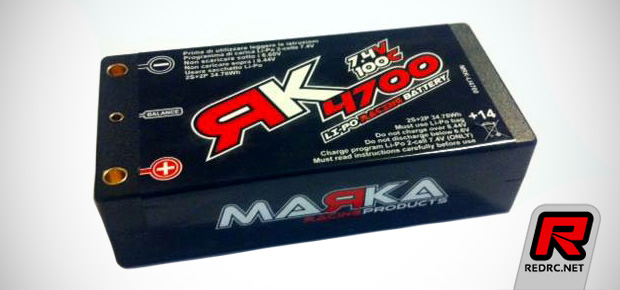 New from Marka Racing comes a high-quality 4700mAh 100C shorty LiPo battery pack. Sporting a protective hardcase with 4mm bullet-type connector tubes the battery weighs in at 210g and it is ideal for pan cars, formula cars and 1/10th off-road buggies alike.
Source: Marka Racing [markaracing.com]
Thursday, January 22, 2015
Reedy's 6500mAh 65C 14.8V competition LiPo battery is all-new for the 2015 racing season. Competition-tested and developed by the racing team, this battery features high capacity for maximum duration on large 1/8th scale tracks, with a 65C rating for maximum power output. Designed specifically for competition 1/8th electric buggies and truggies, the battery fits a variety of chassis brands. The moulded hard case protects against crash damage and a T-plug connector minimises resistance and increases power output.
Source: Team Associated [teamassociated.com]
Wednesday, January 21, 2015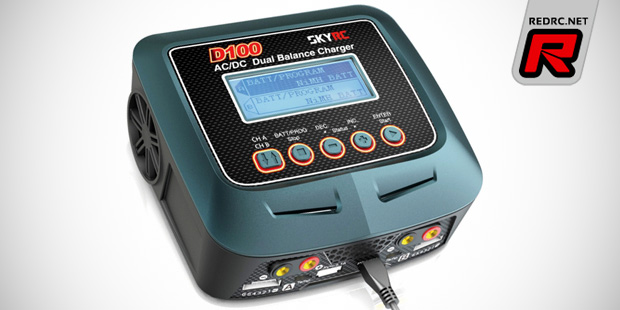 SkyRC introduce the D100 AC/DC dual output multi-chemistry charger. Offering two independent 100W outputs the device is housed in a compact case with a large cooling fan, tilt stands and a large, back-lit display. The menu is operated using five buttons and the charger sports two internal balancer and temperature sensor ports, as well as a micro USB and a 2.1A/5V USB port. The charger offers several safety features such as an automatic charge current and capacity limit, it can store up to ten different charge/discharge profiles, it checks the battery's internal resistance and allows to adjust the charge end voltage including a new LiHV mode for the latest generation of LiPo batteries that are good for a charge end voltage of 4.35V. On top of that the D100 can be controlled using SkyRC's Charge Master PC software or the Wi-Fi module and your iOS or Android smartphone.
Click here to view the specifications
Wednesday, January 21, 2015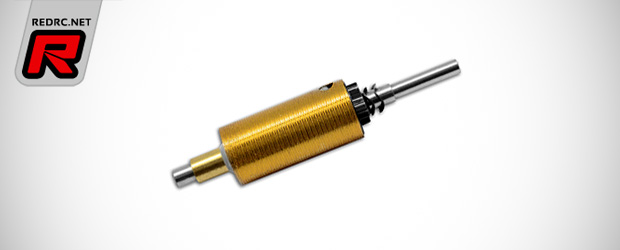 Scorpion have three new optional rotors for the RS-3420 line of electric brushless motors available. First up is the 12.0mm high speed rotor that is designed to improve the maximum RPM produced by the motor while being able to withstand extremely high temperatures. Also new is the 12.3mm all-purpose rotor that offers a good balance of RPM and torque for a linear throttle and brake feeling. Last but not least comes the 12.5mm high torque rotor for maximum power and increased brake and drag brake strength. All rotors are made from high-strength materials and they feature Scorpion's patented screw-type rotor and cooling fan for lower running temperatures.
Source: Scorpion [scorpionsystem.com]
Wednesday, January 21, 2015