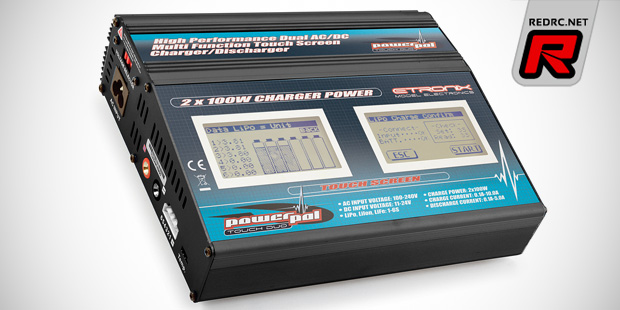 CML Distribution have introduced the new Etronix PowerPal Touch Pro Duo and EZ-4 chargers. Starting with the Touch Pro Duo, the multi-chemistry device is providing two chargers directly from one AC/DC powered unit. Featuring the latest in touch screen technology for ease of use, a full scope of adjustable parameters are available via the touch screen using the supplied stylus for slick and quick operation. With input from either AC or DC voltage and a charge rate of up to 10A the PowerPal Touch is suitable for most needs and applications. Once the charger is set to the specific battery charging requirements via the simple main screen selection, the screen can display a range of data during charging from battery curve voltage to individual cell charge state.
Thursday, October 8, 2015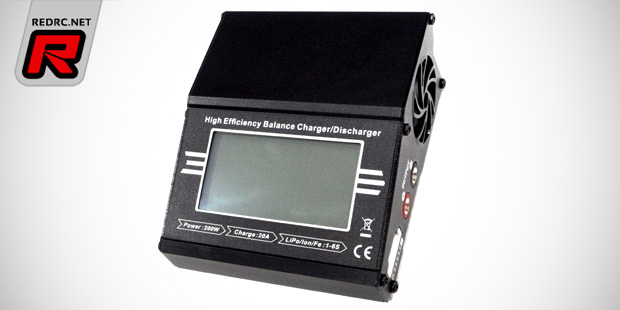 Japanese brand Kimihiko-yano.net have introduced their all-new Blackhawk touch screen DC charger. The multi-chemistry charger is of very compact 102x120x46mm dimensions and it offers up to 20A charge and discharge current. The large LCD screen helps to monitor all of the important parameters with current and voltage can be displayed as a graph if desired. Furthermore the charger offers an internal balancer, 20 memory slots for individual battery setups as well as internal resistance measurement. On top of this the charger allows to charge the latest generation of high-voltage Lithium-Polymer batteries thanks to a Li-HV mode. The device is housed in a black aluminium case and it comes with a touch screen pen and an assortment of adapter wires.
Saturday, October 3, 2015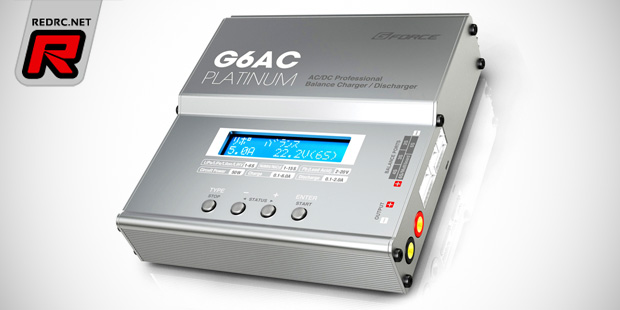 Coming soon from GForce is the G6AC Platinum multi-chemistry AC/DC charger. The industry standard device received some updates such as an improved blue colour back-lit display and a LiHV mode to securely charge the latest generation of high-voltage Lithium-Polymer batteries. The low-profile charger is housed in a silver aluminium heatsink case, it is usable with 11-18VAC or 110-240VDC input and it offers a range of charge and discharge programs, ten battery memory and it allows to charge 1S to 6S LiXX packs with up to 6A charge current. Included with the charger comes an arrangement of charge harnesses and adapters.
View the specifications and another image here
Wednesday, September 30, 2015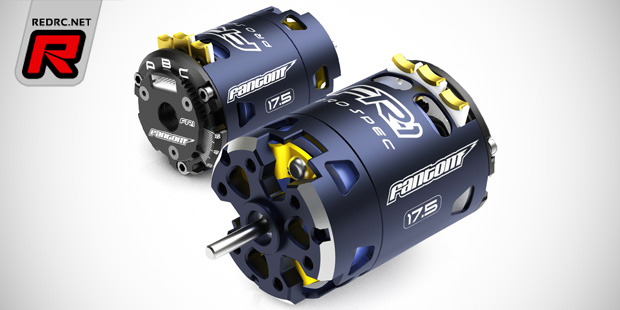 Fantom Racing have introduced their all-new FR-1 540-size brushless motors. Developed on the USA, the motors feature purpose-designed stators made from premium Japanese Kawasaki steel to cover different wind motors and their intended uses. Despite just varying stack heights, Fantom uses different designs with the Type T being used in the 10.5T spec motor as well as the 2.5T to 9.5T modified variants while the Type R rotor comes into play for the 21.5T and 25.5T motors. The 13.5T and 17.5T variants are available either with the Type T or Type R configurations. All motors are built using premium grade Neodymium magnets and they come engraved with the Fantom logo and specifications.
Monday, September 28, 2015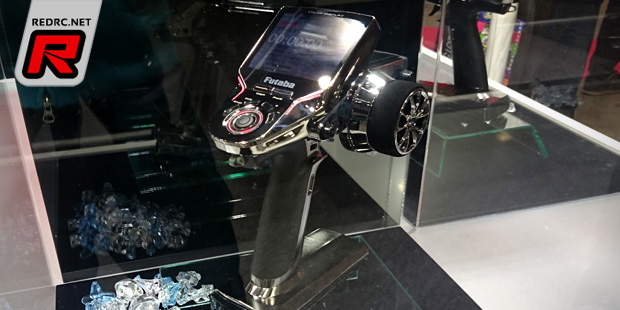 As for the miscellaneous bits and pieces, Futaba have the forthcoming 4PXR 2.4GHz pistol grip radio on show. The top of the foodchain transmitter is meant to be again faster than the already swift 4PX that was introduced not long ago. The R's case features what appears to be a dark chrome coating although we are unsure if that's just a gizmo for the show, as we doubt a chrome transmitter case will make you many friends on the rostrum. Features aren't available yet nor is a release date but, like previously mentioned, we will keep you posted on any news.
Friday, September 25, 2015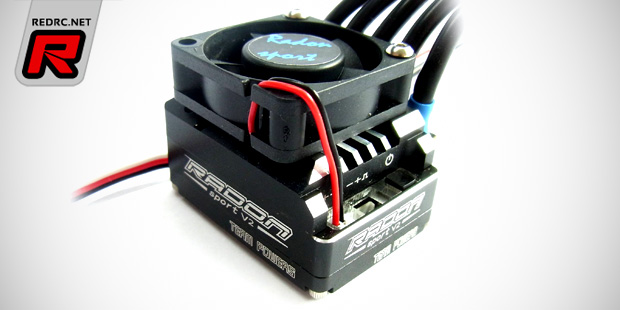 Coming soon from Team Powers is the Radon Sport V2 brushless speed controller. The upgraded V2 comes with several hardware and software improvements to boost performance and reliability. Starting with the hardware upgrades the V2 sports swapped A and C motor wires for easier wiring, the alloy case features a newly designed heatsink that allows to mount the new 30mm fan flat or at a 30 degree angle and both the receiver connection and programming wire have been relocated to avoid unwanted removal. As for the software changes the speedo offers a single modified and stock program, simplified boost and turbo settings as well as improved brake adjustment and smoother throttle control. The new firmware also addresses reliability issues when running boosted stock motors with high timing settings and the improved software also keeps the ESC running at lower temperatures.
View the specifications, features and more photos here
Thursday, September 17, 2015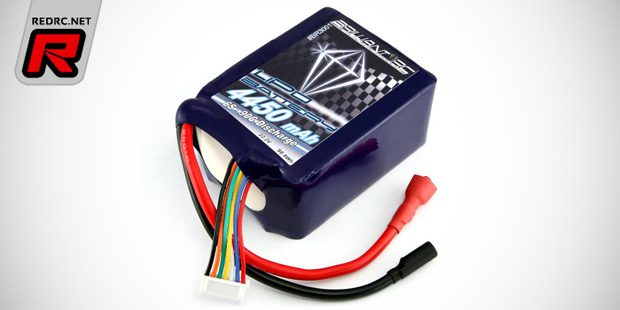 Brilliant RC have introduced their high quality competition battery especially designed for 1/8th on-road cars. As the huge weight of the battery should be placed in the centre of the car for a balanced handling, various 1/8th electric on-road cars need a special battery configuration. Developed with a leading battery manufacturer Brilliant RC now offers a suitable battery pack with a size of 93x70x42mm that can be used in the Shepherd Velox E8, Capricorn Lab E 801 as well as aftermarket upgrade kits for Serpent and Mugen. To maximise the power output the battery comes equipped with 5.5mm gold-plated connectors. With a capacity of 4450mAh the battery offers maximum runtime while still being below the crucial 100Wh shipping limit.
Source: Brilliant RC [brilliant-rc.com]
Wednesday, September 16, 2015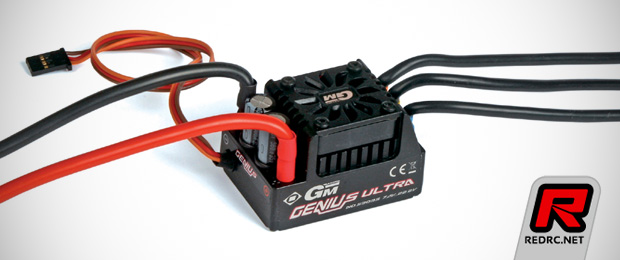 Graupner have introduced two new brushless speed controllers for 1/10th and 1/10th scale applications. Starting with the Genius Ultra, the 1/8th scale speedo offers a telemetry function to monitor parameters such as input voltage, current temperature, maximum temperate, maximum current, maximum and average speed on compatible HoTT transmitters such as the X-8N. It also sports an adjustable high-voltage BEC for 5V to 8V output and the controller is highly adjustable using an optional programming box or compatible HoTT transmitters.
Tuesday, September 15, 2015