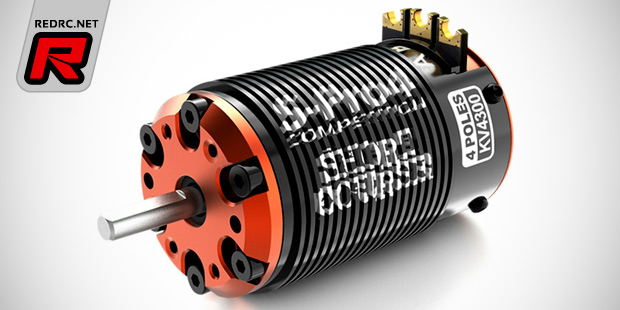 Following yesterday's announcement of the 2-pole S-Pro2 brushless short course motor SkyRC now also introduce a 4-pole variant. Built around a T6 billet aluminium heatsink can the motor is of a 4-pole/12-slot design and features neodymium magnets, a sensored design, high RPM oversized bearings and high-purity copper windings. The motor is compatible with sensored and sensorless motors alike, it measures 38×63.5mm and comes in five kv variants from 4300kv down to 1850kv.
Source: SkyRC [skyrc.com]
Wednesday, April 16, 2014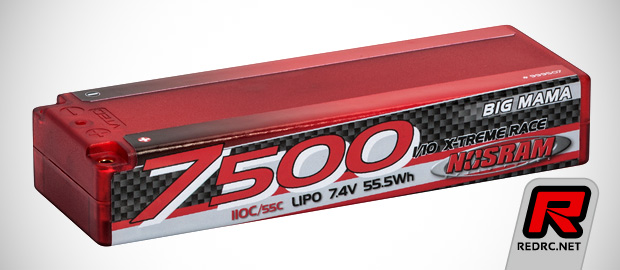 Nosram introduce two new LiPo battery packs out of their X-treme line of competition batteries. Available as 7500mAh and 6000mAh variant both packs are build from the latest 110C/55C cells, they come in a red semi-transparent case and are good for all power-hungry applications such as electric off-road and touring car racing.
Click here to view the 6000mAh pack
Wednesday, April 16, 2014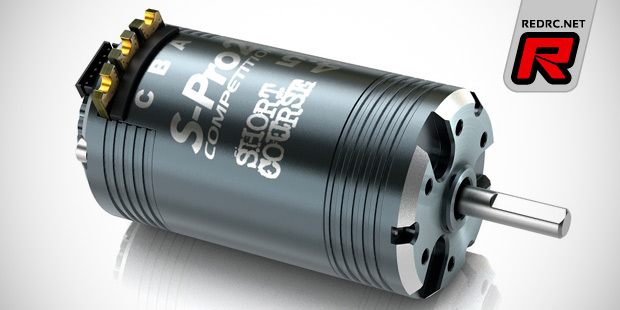 SkyRC introduce the Ares S-Pro2 competition brushless motor for 4WD short course trucks. The motor is designed around a CNC-machined T6 billet aluminium heatsink can and features a 2-pole/3-slots setup, 5mm pinion shaft, adjustable timing and heavy-duty solder tabs. It is available in four different specifications as 4.5T/4800kv, 5.5T/4000kv, 6.5T/3400kv and 7.5T/3000kv variant for high-speed down to technical tracks and usable with sensorless and sensored controllers alike.
Source: SkyRC [skyrc.com]
Tuesday, April 15, 2014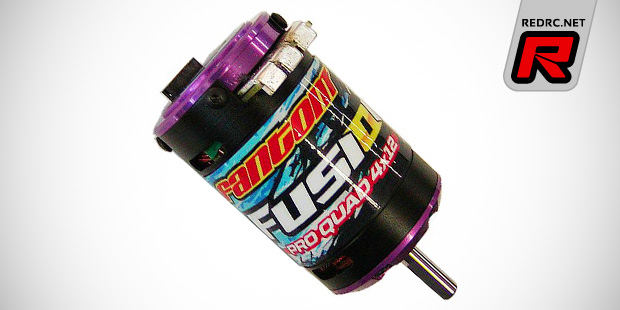 Fantom have new electric brushless motors for 4WD short course trucks available. They are of a new 545-size design with a slightly longer can than standard 540-class motors. The 545′s are shorter than class-typical 550-size short course motors for a better power/weight ratio with the 57.4mm long can with aluminium front and back plates offering the same diameter and mounting pattern than normal 540 motors making the motors usable in virtually every 4WD SC truck. Other features include a 5mm shaft, a 4-pole rotor and 12-pole stator design, dual ball bearings and the motor is available as 3200kv, 4000kv and 4850kv variant.
Source: Fantom [fantomracing.com]
Monday, April 14, 2014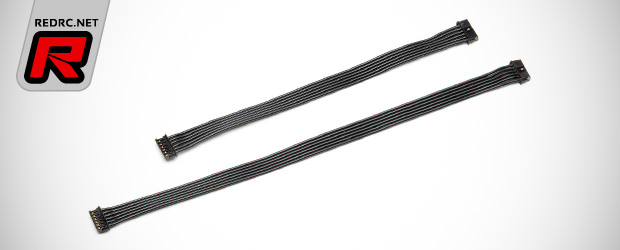 Team Associated introduce new flat sensor wires in two dimensions ideal for the B5 and B5M buggy. Coming as 125mm "B5″ and 175mm "B5M" variant the wires make for a very clean wiring job with five additional wires from 70mm to 270mm being also available.
Source: Team Associated [rc10.com]
Friday, April 11, 2014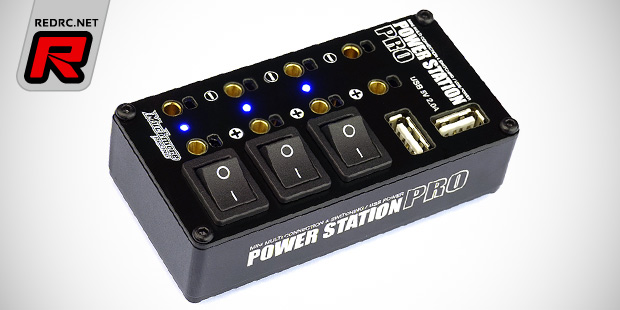 Muchmore introduce the Power Station Pro multi distributor. The box multiplies the available outputs of power supplies and offers three switched and one non-switched output as well as two 5V/2A USB charging ports for mobile devices. Available in two colours, black and blue, the box is usable with 4mm banana and alligator clips alike as it offers a pair of holes next to each connector tube for secure fixing of the alligator clips.
Click here to view more photos
Friday, April 11, 2014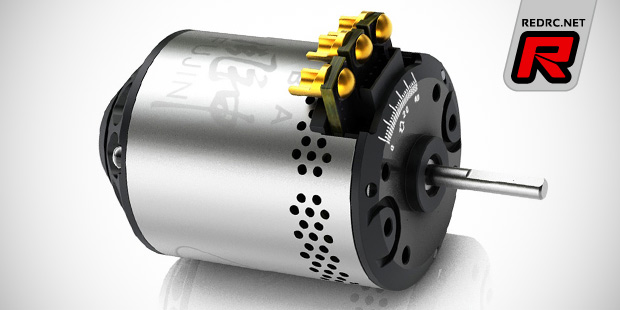 Available soon from GForce is the Fujin brushless motor for drift cars. Being of quite an unconventional design with front mounted soldering terminals, the motor also features a high airflow can, internal fan unit and a special sound plate in the try to recreate the sound of a turbo charged full-scale engine. The rebuildable motor is available in 8.5T and 10.5T specification, features adjustable timing, ball bearings, and will become available by the beginning of May.
Source: GForce [gforce-hobby.jp]
Thursday, April 10, 2014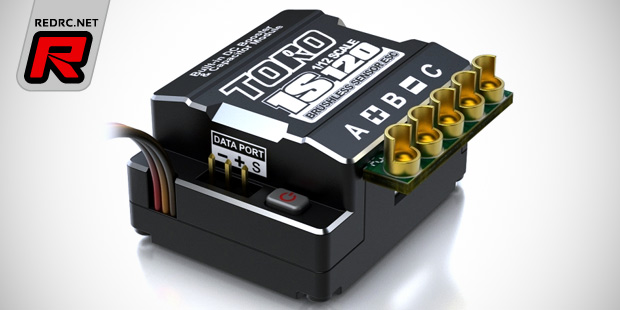 SkyRC introduce the Toro 1S120 brushless speed controller for all racing classes that use 1S LiPo batteries. The speedo features a built-in DC booster to do away with the need to run a 2S receiver battery while an internal capacitor module replaces the external capacitor board. The controller has a 3.5T motor limit, features a 6V/3A BEC system, a built-in on/off switch and an easy access programming socket. The large array of software features including boost and turbo functions is adjustable using SkyRC's own PC interface or an optional programming box.
Source: SkyRC [skyrc.com]
Tuesday, April 8, 2014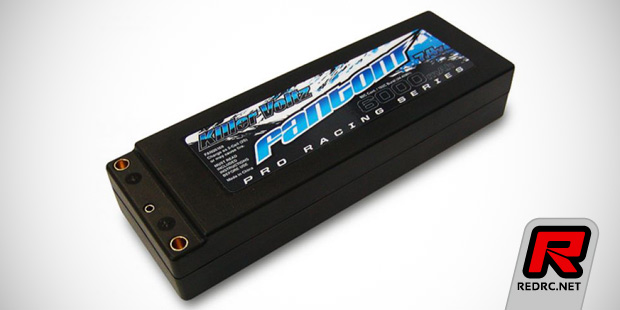 Fantom Racing now have their latest 6000mAh 80C LiPo battery pack available. The ROAR-legal Pro Racing series pack is built using the latest 80C cells and comes in a protective hardcase and with 4mm connection tubes. Beside the "bullet-type" variant Fantom also offers two pre-wired packs with Deans and Traxxas style plugs.
Click here to view the pre-wired packs
Monday, April 7, 2014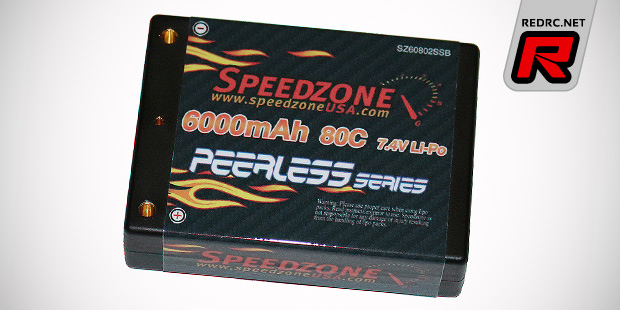 Speedzone have a new Peerless Series LiPo battery pack available in the form of a 6000mAh 80C 2S square pack. The battery measures 93×68.5×25.1mm and is a substitute option to saddle packs as it sports the same dimensions as a side-by-side 2S saddle pack but does away with the fiddly jumper wire. The battery comes with 4mm connections and shrink-wrapped for added protection.
Source: Speedzone [speedzoneusa.com]
Monday, April 7, 2014