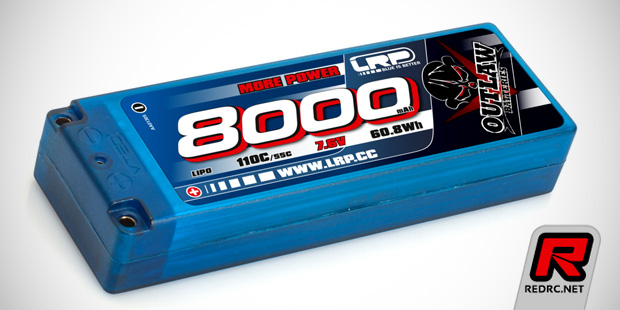 Coming soon from LRP are the Outlaw Car Line high-voltage hardcase LiPo battery packs. Thanks to the new HDS-X high density stacking technology the packs have a nominal voltage of 7.6V compared to the standard 7.4V of current 2S batteries. To make maximum use of the added voltage the batteries need to be charged to 8.70V using chargers with special charge programs or adjustable charge end voltage with the high-performance 110C/55C cells allowing for charge rates as high as 3C. Both the 8000mAh standard size and 4900mAh shorty battery do not comply with the current rules of governing bodies such as IFMAR, EFRA, ROAR and others so they are banned from competition use but they can be run in outlaw classes or in your favourite bashing vehicle.
Click here to view the shorty pack
Thursday, July 30, 2015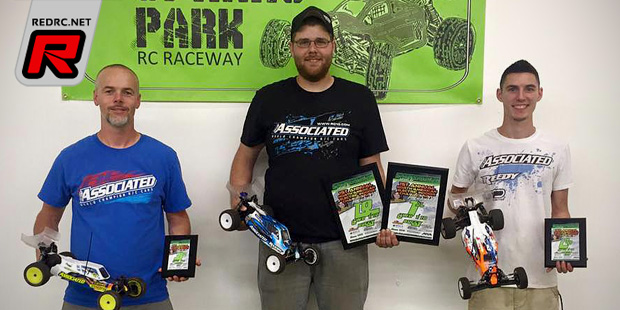 The 1st annual North American Indoor Championships were held at Sparks Park in Columbus, Ohio and the event brought in approximately 160 entries across the ten classes that were offered. In Modified 2WD Buggy, Brandon Marsh took the TQ and in the A-main he was able to lead from start to finish to take the win while Brandon Weiland and Eric Clark came in second and third respectively, making for a Team Associated podium lock-out.
Continue reading the report here
Wednesday, July 29, 2015
Motiv RC's new Black Out charge harness is all-black to match any colour pit station. It uses the patent pending TQ Wire 4 to 5mm step bullet-type connectors, allowing to charge 4mm or 5mm bullet plug packs with the same lead. The ends are colour coded at the bullet's using shrink wrap to designate positive and negative polarity. It also boasts 200 degree Celsius wire that allows to charge at higher amps if desired and at 2 feet long it allows to charge out of the way to keep the pit area clean. The harness also features extra length added to the most common XH balance plug which allows to reach the balance port without putting added stress on the wires.
Source: Motiv RC [motivrc.com]
Tuesday, July 28, 2015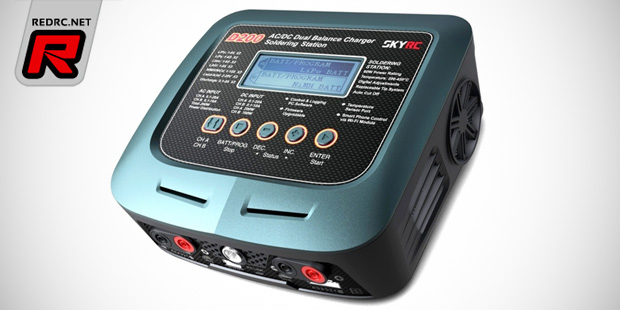 New from SkyRC comes the D200 dual output 200W AC/DC multi-chemistry charger with soldering iron output. Housed in a compact case the charger offers 5-button menu operation, a large back-lit display and it can handle up to 6S LiXX and up to 15 cell NiXX battery packs along 2 to 24V Pb batteries. The dual output design allows for up to 20A charge current on the main output and up to 10A on the secondary channel and as a novelty the device comes with a 60W soldering iron that can be plugged directly into the charger. The charger offers several features such as a built-in balancer, 20 charge/discharge profiles, a battery voltage meter, battery resistance meter, end voltage adjustment, a LiHV mode and the ability to perform software updates and remote controlling using SkyRC's Charge Master software. Included with the device come the 60W/450°C soldering iron, one pencil and one chisel soldering tip.
Click here to view the specifications and another feature
Monday, July 27, 2015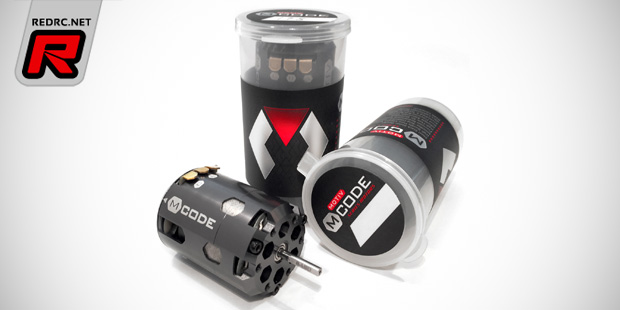 Motiv RC have introduced the M-Code Pro Tuned brushless motors for 1/10th and 1/12th applications. The motors offer a short stack design, specially selected stator material for low power loss and they use high-quality pure copper wire for the windings. Other features include gold-plated solder tabs, a sintered rotor, high-quality neodymium magnet material and all-aluminium, high airflow cans for lower operating temperatures. Every M-Code motor is hand checked, assembled, and packaged by a professional in house at the WI, USA office and included with each motor is an analysis and quality control spec sheet. This Sheet is filled out on a motor to motor basis all threw testing and assembly and includes information unique to your M-Code motor. Available is a range of windings including 3.5T to 8.5T modified and 10.5T to 21.5T stock variants.
Source: Motiv RC [motivrc.com]
Saturday, July 25, 2015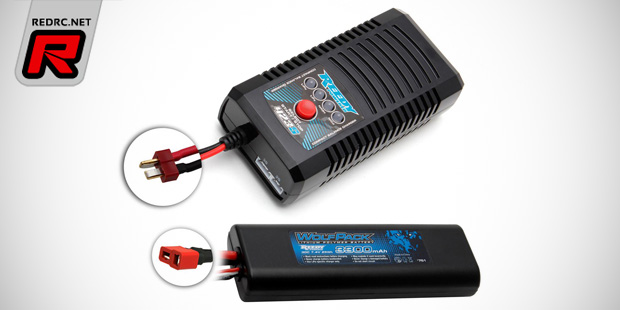 Reedy's 423-S AC/DC Compact Balance Charger is now available bundled with a choice of either a WolfPack 3000mAh NiMH or WolfPack 3300mAh LiPo battery. The compact balance charger is easy to use thanks to its single-button operation and the charging process is as simple as connecting the battery, selecting the battery type, and pressing the start button. It is highly versatile as it is capable of charging LiPo, LiFe, NiMH, or NiCd batteries, making it a one-stop solution for enthusiasts who want the flexibility to charge a variety of different battery types for a wide range of vehicle types and scales. Each battery comes equipped with low-resistance T-plug connectors and are quality constructed for maximum performance and durability.
Click here to view the features and specifications
Saturday, July 25, 2015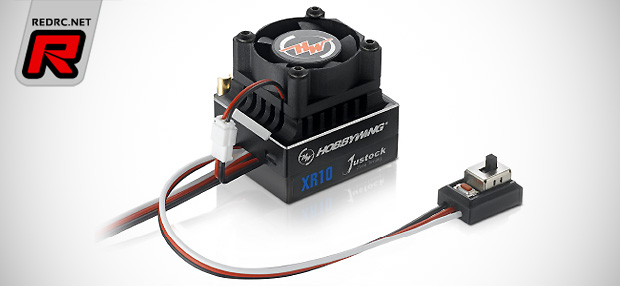 Hobbywing have introduced the new XeRun XR10 Justock brushless speed controller and Justock 3650 sensored brushless motor. Starting with the controller, the device was especially designed with zero timing/boost racing in mind. Featuring an aluminium upper case with built-in heatsink and making use of internal heat-conductive copper plates the controller stays cool even in high ambient temperatures and in demanding racing conditions. The small footprint allows the controller to be used in a range of classes including touring cars, 1/12th and formula cars and the single-button setup helps to fine-tune the software settings. As usual the controller's firmware can be updated using the Hobbywing USB Link software and the LCD Program box.
Click here to continue reading
Friday, July 24, 2015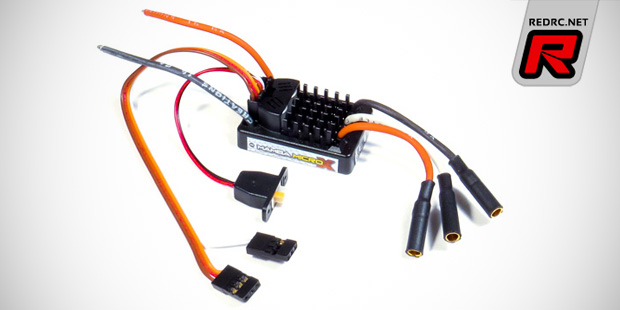 Castle Creation soon have the new Mamba Micro X brushless speed controller available. The waterproof speedo is suitable for 2WD or 4WD vehicles such as the Mini-LST, Half-Eight, Mini-Quake and Spyder vehicles. The controller received a heavy-duty BEC to handle today's high-draw digital servos and also features a programmable auxiliary wire that allows the user to make "on-the-go" adjustments to several settings, such as torque control and max throttle, directly from a compatible transmitter. This allows to fine-tune the performance of the Micro X to meet changing driving conditions. New to the Micro X is the ability to run sensored brushless motors with the purchase of an optional sensor harness. The Micro X is cable of running on 2S up to 3S LiPo power with a highly-efficient heat sink design to keep the controller running cool, even when pushing it hard in mud, sand and other heavy power applications. The ESC is available as controller only or as controller plus motor combo.
Click here to view the specifications and another photo
Wednesday, July 22, 2015