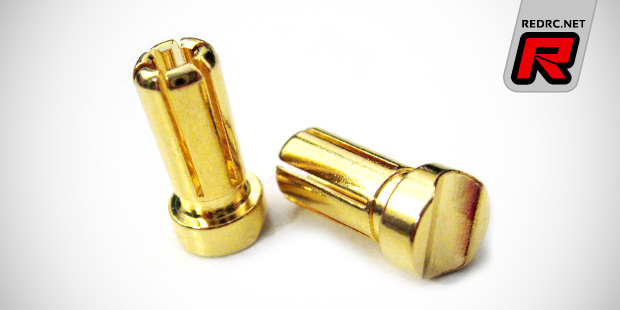 TQ Wire have new 5mm bullet-type connectors with gold or silver plating available. They are only 13mm long, saving weight for touring and pan cars, and are made in a special way where the brass stock is copper clad first before the silver plating is applied, increasing conductivity. The connectors are ideal for the latest breed of high-performance LiPo packs with larger 5mm connector tubes.
Click here to view the silver-plated connector
Friday, December 6, 2013 - add a comment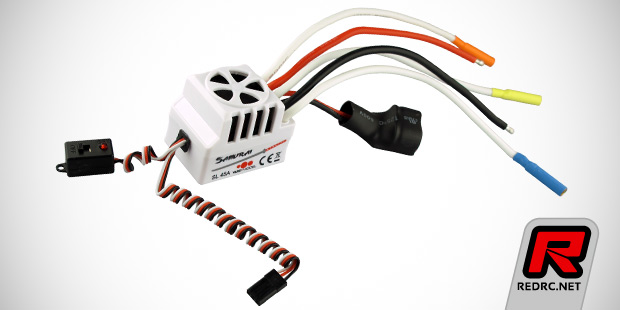 New from CN Development & Media comes the sensorless Samurai 1/10 BL/SL 45A brushless speed controller. Measuring 45x32x37mm the 2S to 3S LiPo compatible ESC features a 2A/6V switched BEC system, splash waterproof protection and it comes pre-soldered with 4mm gold-plated connectors for the motor. The controller is available separately or as combo set including a 3450kv motor and programming card.
Click here to view the combo set
Thursday, December 5, 2013 - add a comment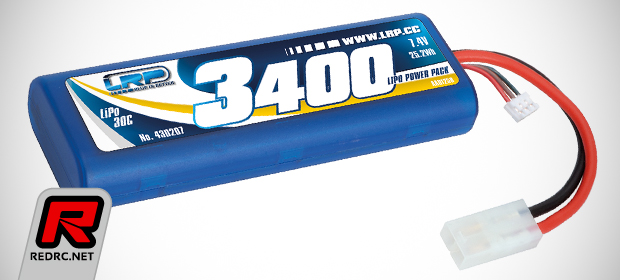 LRP introduce the new Power Pack 3400 hardcase LiPo battery. Build from 30C cells the battery mimics the dimensions of a NiMH racing pack making it ideal not only for a wide range of RTR vehicles but also nitro starter boxes and many other applications that need "racing pack"-style batteries. The pack comes in a protective hardcase and is pre-wired with a Tamiya-type connector and an EHR balancer port.
Source: LRP [lrp.cc]
Monday, December 2, 2013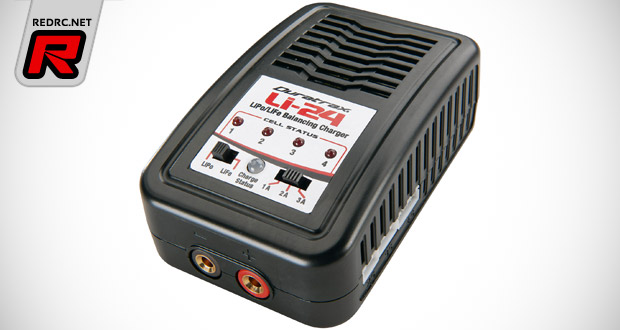 New from Duratrax, the Li-24 is a compact fully functional budget charger that fits easily in a field bag or on a workbench. Able to charge LiPo and LiFe up to 4S, this AC unit has a maximum of 3A charging current and is super simple to use. Fitted with gold plated connectors it comes supplied with Deans Ultra Plug connectors.
View more details on the Li-24 here
Saturday, November 30, 2013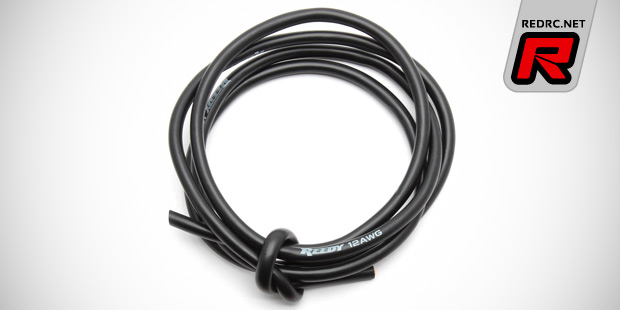 Team Associated introduce the new Reedy pro silicone wire and low-profile bullet-type connectors. Starting with the wire, it was developed to be lightweight and highly flexible while offering efficient current flow at the same time. The thin silicone insulation is yet sturdy enough to withstand the rigours of racing and the wire is available as 1 meter long 12AWG/4mm, 14AWG/3mm and 16AWG/2.7mm variant in any colour you want – as long as it is black. Also new are 14mm long low-profile bullet-type connectors. Coming in a standard 4mm and also new-type 5mm variant the flat top plugs are pre-shaped for easy soldering. They are silver-plated for a low resistance connection and the will become available as pair or 10-piece pack. Last but not least in the line of new electric accessories is a set of coloured shrink tube for motors and speed controllers. The kit contains three pieces each of black, red, blue, orange, and yellow shrink tubing.
Click here to view the other new parts
Thursday, November 28, 2013
Reedy have released their new 7000mAh 65C LiPo battery featuring heavy-duty 5mm socket for high current applications such as Short Course 4WD, 1:8 eBuggy, and 1:10 Touring Car. Racers will certainly appreciate the improvement in power output achieved by utilizing a lower resistance connector. This battery is constructed with the same low resistance, high-capacity cells used in Reedy's popular #309 battery housed in a durable hard case. Meets ROAR, EFRA, BRCA, IFMAR specs.
Source: Reedy [teamassociated.com]
Monday, November 25, 2013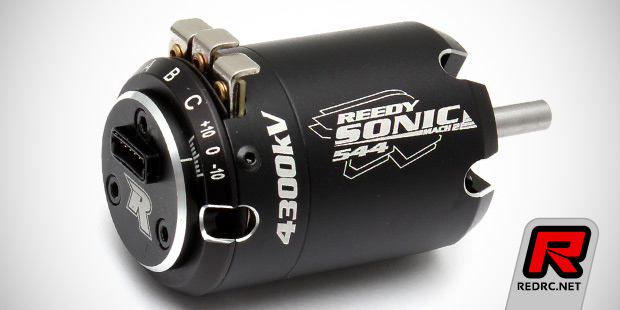 New from Reedy comes the Sonic 544 Mach 2 4-pole brushless motor for 4×4 short course trucks. Designed for competition, the motor incorporates several high-performance features to achieve maximum power output, efficiency, and durability. A lightweight case reduces overall motor weight with strategically placed vent holes and an aluminium end cap to lower operating temperatures. Supported between dual precision ball bearings, the high-strength 4-pole rotor creates the torque necessary to power out of the turns and clear the toughest jump sections. The 540-size motor features a 5mm output shaft and comes as 4300kv and 4800kv variant.
Click here to view the features
Wednesday, November 20, 2013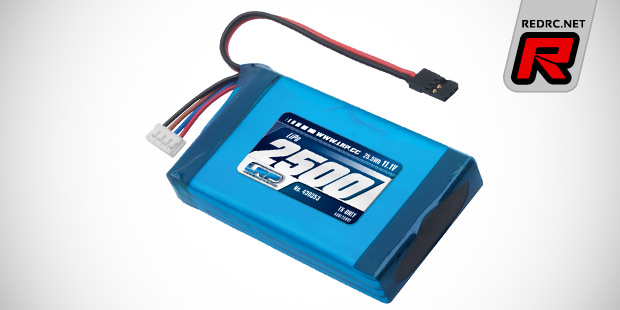 LRP have new LiPo battery packs for Sanwa and Futaba radios to offer along an updated line of specific receiver battery packs. Starting with the transmitter batteries, available soon are a 11.1V 2500mAh pack for the Sanwa M11, MX-3 and Futaba 3PK, a 7.4V variants with 2600mAh for the M11-X and MX-3X as well as a 3000mAh pack for the M12, MT-4 and the Exzes-X. All batteries come pre-wired with balancer ports and a universal connector. For the receiver side of things LRP offers the 2200mAh small hump, 2500mAh 2/3A straight and 2700mA 2/3A hump battery pack. All are of 2S/7.4V specification for the direct use with high voltage compatible receivers and servos. Like the transmitter packs the RX batteries come pre-wired with industry-standard balancer connectors and universal plugs.
Click here to view the other new battery packs
Monday, November 18, 2013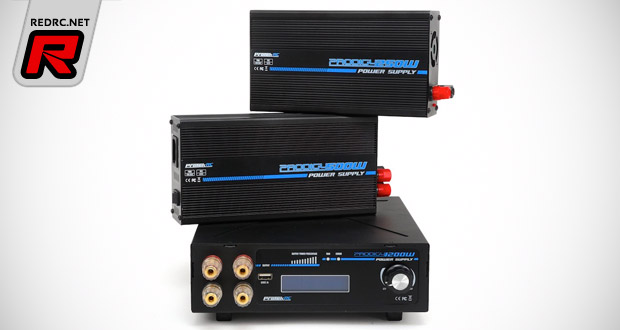 Having just announced a new line of chargers ProTek R/C have also all-new Prodigy power supplies. The economical Prodigy 250 delivers 16.5 amps of current and 247 watts of power in a compact package. The Prodigy 500W features dual outputs with 33 amps of current, and 495 watts of power, while the flagship Prodigy 1200W power supply comes with dual 60 amp outputs, 1200 watts of power and a handy 2.1 amp USB port for conveniently charging your mobile devices. The Prodigy 1200W also features an LED screen that displays the power output percentage of the unit.  All three of the Prodigy power supplies are anodized black and feature an internal cooling fan.
View more details & images here
Saturday, November 16, 2013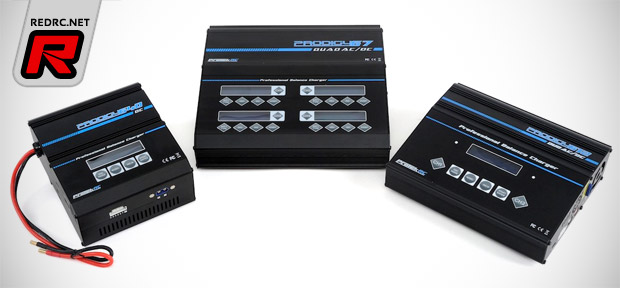 ProTek R/C have released their next generation of Prodigy chargers, the Prodigy 640, Prodigy 612 Duo AC and Prodigy 67 Quad AC. ProTek R/C's Prodigy 640 can charge your battery packs insanely fast. At up to 40 amps, the most demanding enthusiasts will be back in the air or on the track in no time. The 640 can also handle up to 6S Lithium batteries and up to 16-cell NiMH battery packs.  Bring your Lithium batteries back to life. With the "Pre-Charge" mode Lithium batteries that have been discharged too far can be revitalized. This only scratches the surface of the 640's features, but you can see why it will sit atop the workbenches of the world's best pilots and racers.
View complete details on all the new chargers here
Friday, November 15, 2013