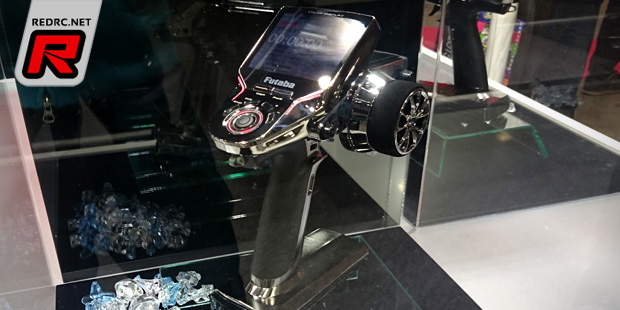 As for the miscellaneous bits and pieces, Futaba have the forthcoming 4PXR 2.4GHz pistol grip radio on show. The top of the foodchain transmitter is meant to be again faster than the already swift 4PX that was introduced not long ago. The R's case features what appears to be a dark chrome coating although we are unsure if that's just a gizmo for the show, as we doubt a chrome transmitter case will make you many friends on the rostrum. Features aren't available yet nor is a release date but, like previously mentioned, we will keep you posted on any news.
Friday, September 25, 2015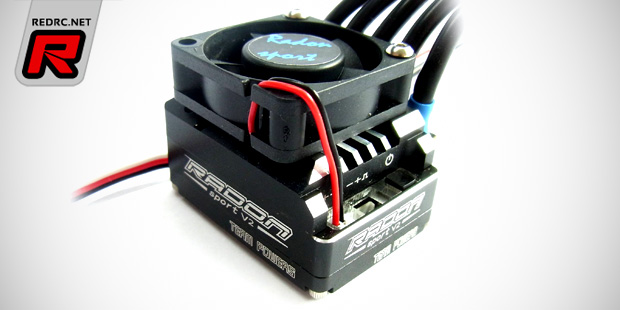 Coming soon from Team Powers is the Radon Sport V2 brushless speed controller. The upgraded V2 comes with several hardware and software improvements to boost performance and reliability. Starting with the hardware upgrades the V2 sports swapped A and C motor wires for easier wiring, the alloy case features a newly designed heatsink that allows to mount the new 30mm fan flat or at a 30 degree angle and both the receiver connection and programming wire have been relocated to avoid unwanted removal. As for the software changes the speedo offers a single modified and stock program, simplified boost and turbo settings as well as improved brake adjustment and smoother throttle control. The new firmware also addresses reliability issues when running boosted stock motors with high timing settings and the improved software also keeps the ESC running at lower temperatures.
View the specifications, features and more photos here
Thursday, September 17, 2015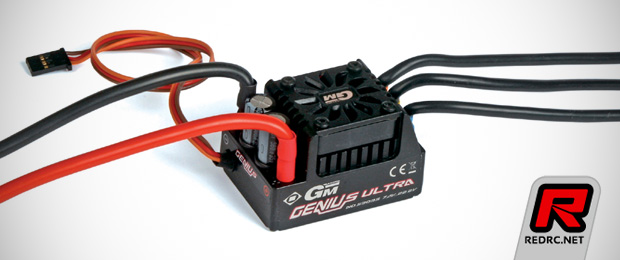 Graupner have introduced two new brushless speed controllers for 1/10th and 1/10th scale applications. Starting with the Genius Ultra, the 1/8th scale speedo offers a telemetry function to monitor parameters such as input voltage, current temperature, maximum temperate, maximum current, maximum and average speed on compatible HoTT transmitters such as the X-8N. It also sports an adjustable high-voltage BEC for 5V to 8V output and the controller is highly adjustable using an optional programming box or compatible HoTT transmitters.
Tuesday, September 15, 2015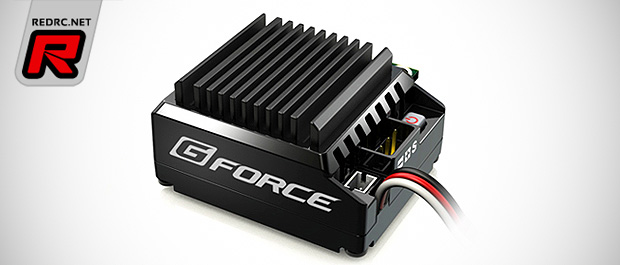 Japanese company GForce have introduced the TS90+ brushless speed controller. Rated at 90A content current the speedo is good for the use with motors down to 5.5T at 2S LiPo battery packs. The controller is usable with or without an additional fan unit, it measures 39x38x20mm and it offers 6V/3A BEC output as well as several turbo and timing functions which are accessible using an optional programming box or GForce's WiFi Link. The ESC comes pre-wired with 14AWG silicone wires, a power capacitor and it will become available with a black or orange heatsink.
Tuesday, September 8, 2015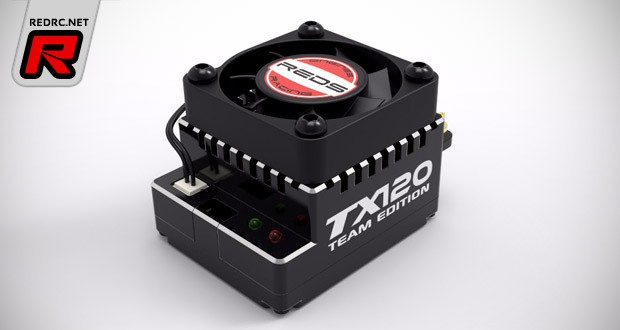 Having seen the pre production version at the 1/8th Euros last month, Reds Racing have today released their 1/10 speed controller called the TX120. Running on 2S LiPo batteries and featuring a built-in BEC with 6.0V/7.4V voltage output, the TX comes with external power capacitors to maintain a compact design, high reliable external power switch and high speed cooling fan. With a focus on capability and versatility it utilises high grade and low resistance components throughout. Built with a custom high-efficiency aluminium heatsink housing and full programming, the TX provides you with the tools to win.
Thursday, August 6, 2015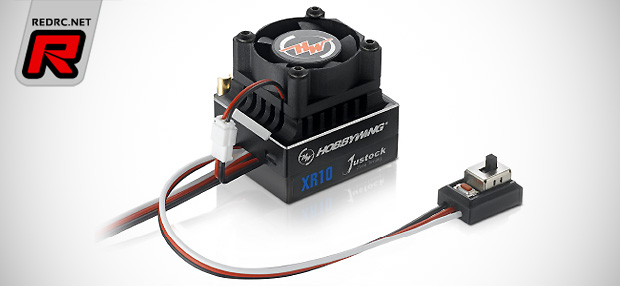 Hobbywing have introduced the new XeRun XR10 Justock brushless speed controller and Justock 3650 sensored brushless motor. Starting with the controller, the device was especially designed with zero timing/boost racing in mind. Featuring an aluminium upper case with built-in heatsink and making use of internal heat-conductive copper plates the controller stays cool even in high ambient temperatures and in demanding racing conditions. The small footprint allows the controller to be used in a range of classes including touring cars, 1/12th and formula cars and the single-button setup helps to fine-tune the software settings. As usual the controller's firmware can be updated using the Hobbywing USB Link software and the LCD Program box.
Click here to continue reading
Friday, July 24, 2015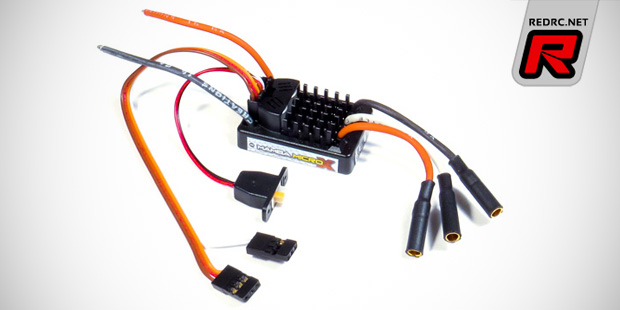 Castle Creation soon have the new Mamba Micro X brushless speed controller available. The waterproof speedo is suitable for 2WD or 4WD vehicles such as the Mini-LST, Half-Eight, Mini-Quake and Spyder vehicles. The controller received a heavy-duty BEC to handle today's high-draw digital servos and also features a programmable auxiliary wire that allows the user to make "on-the-go" adjustments to several settings, such as torque control and max throttle, directly from a compatible transmitter. This allows to fine-tune the performance of the Micro X to meet changing driving conditions. New to the Micro X is the ability to run sensored brushless motors with the purchase of an optional sensor harness. The Micro X is cable of running on 2S up to 3S LiPo power with a highly-efficient heat sink design to keep the controller running cool, even when pushing it hard in mud, sand and other heavy power applications. The ESC is available as controller only or as controller plus motor combo.
Click here to view the specifications and another photo
Wednesday, July 22, 2015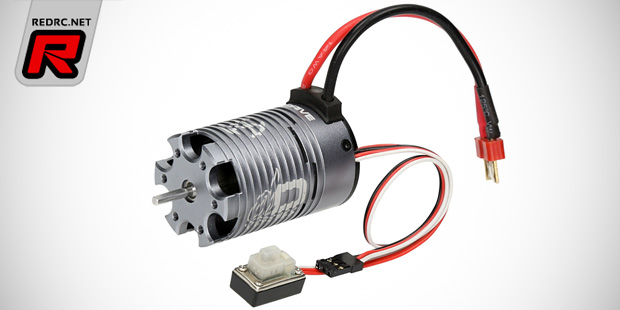 Team Orion have introduced their all-new dDrive 2-in-1 brushless power unit for 1/10th scale on-road and off-road vehicles. The revolutionary system combines a highly efficient and very powerful 4-pole brushless motor and a brushless controller in one simple to use package. Coming from the mind of Oscar Jansen the unit is used in place for the usual motor and is very easy to setup while the integrated system uses only a minimal amount of wires for improved reliability and less hassle especially for beginners. The integrated controller offers three different drive modes, user-adjustable performance settings, overheat protection and low-voltage cut-off while the 4-pole motor is housed in an aluminium heatsink can. The 58mm long unit is splash-proof, it comes pre-wired with a T-type connector and it is available as 2700kv and 3000kv variant.
Click here to view the features, video and more photos
Friday, July 10, 2015