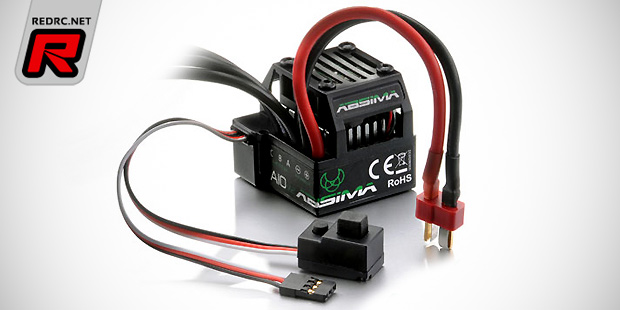 German company Absima introduce the Thrust BL 1/10th brushless speed controller and motor combo set for the use with RTR or entry to intermediate level kits. Starting with the speed controller, the 45A rated ESC is housed in a compact plastic case and it features a large heatsink and an integrated fan unit to reduce the temperature during operation. The 2S-compatible controller offers 8 degree fixed timing, a 6V/2A BEC system and automatic battery detection for NiMH and LiPo packs. The controller comes pre-wired with a T-plug connector and includes a 4-pole 3421kv brushless motor with aluminium heatsink can and pre-wired gold-plated bullet-type connectors.
Friday, February 27, 2015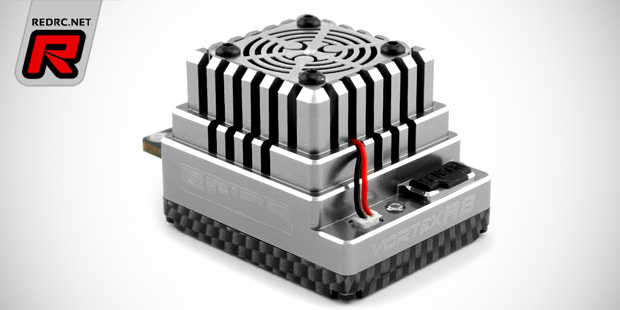 Team Orion's Vortex R8.1 Pro brushless speed controller is a purpose-built 1/8th scale ESC for heavy duty competition use. Based on the World Championship winning R10 Pro the R8.1 offers an aluminium heatsink case, dual sensor ports and an advanced and highly programmable software to fine-tune the throttle and brake settings to your liking. The 4S-compatible controller also sports an adjustable 6V to 7.2V BEC system to allow the direct use with high-voltage compatible servos and a specially designed fan guard helps to protect the highly stressed fan unit.
Friday, February 13, 2015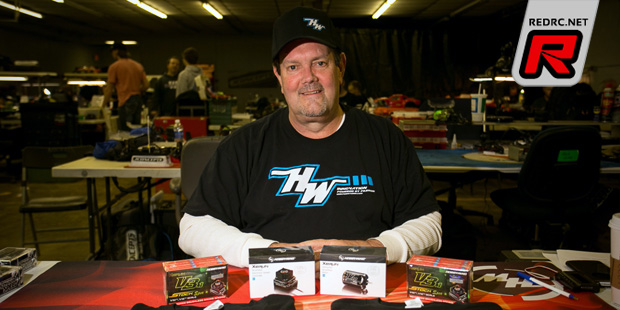 Roaming through the pits at the recent opening round of the JConcepts Indoor National Series we had a chance to sit down and talk to Ron Schuur, team manager of Hobbywing. It was interesting to discuss the testing and tuning Ron had come up with for his team drivers here this weekend at the JConcepts Winter Indoor Nationals. Not only are the team drivers being taken care of but Ron has turned some heads with customer support helping drivers tune their vehicles trackside.
Click here to continue reading
Tuesday, February 10, 2015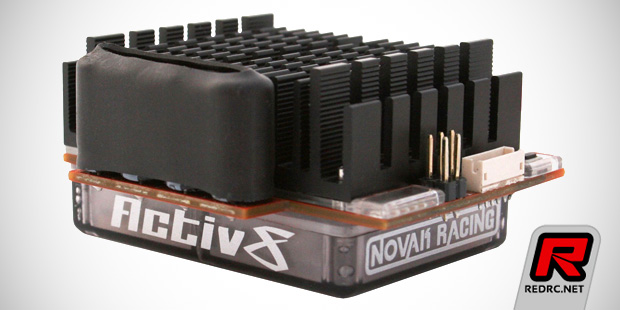 Novak introduce the new Activ8 V2 brushless speed controller and the HD8 sensored brushless motor for 1/8th scale electric buggy and truggy racing. Starting with the controller, it is of a pure sensor-based design to offer the maximum in drivability and power output. The case features internal shock protection using silicone cushioning  to keep the internals from becoming damaged during hard landings, and a gasket seal keeps the elements away even on very dusty tracks. A full-coverage heatsink with direct contact to the Mosfets ensures maximum heat transfer and reliability which is further supported by a large fan unit with fan guard. To feed even the most power-hungry digital brushless servos the controller sports a high-current BEC system with programmable 6.0V to 7.2V output and up to 7A peak current. Software features like Novak's own X-Drive for a smooth throttle feeling and NovaBrakes for a connected and controlled brake feeling round out the package. All software features are user customisable using the on-board programming feature or Novak's new Pit Wizard Plus programming box.
Click here to continue reading
Thursday, February 5, 2015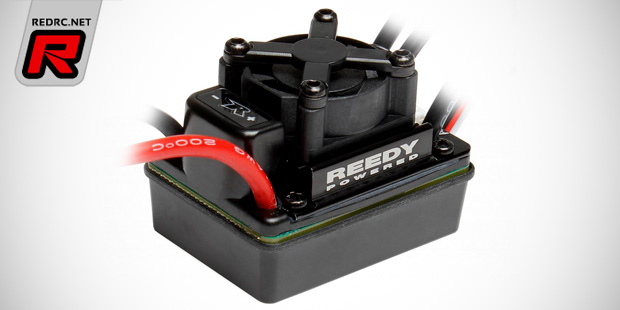 Reedy's all-new SC800-BL Brushless ESC is splash-proof for maximum durability and features a compact footprint that allows for easy installation in most 1/10th scale vehicles. The SC800-BL is standard equipment in Team Associated's ProSC 4×4 and is the perfect replacement for RTR speed controllers thanks to its ease of setup and simple forward/brake/reverse operation. When paired with Reedy brushless motors, a potent combination of power and efficiency is created, resulting in quick acceleration, high top speeds, generous run times, and more fun.
Click here to view the features and specifications
Wednesday, January 14, 2015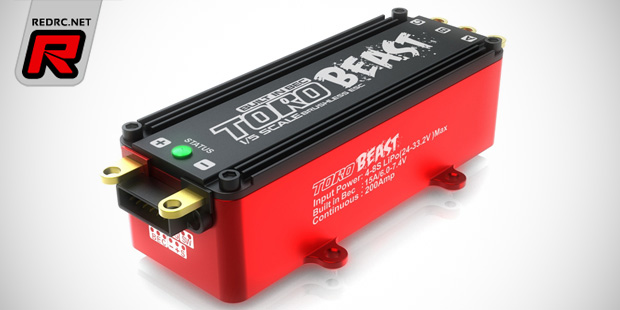 SkyRC introduce the Toro Beast, a dedicated brushless speed controller for large scale electric vehicles. The 200A rated ESC is usable with 4S to 8S LiPo battery packs and it is housed in a sturdy aluminium case for protection and improved heat dissipation. Mounting lugs help to securely fasten the motor to the chassis or radio plate. An internal BEC system allows for a standard 6V or high voltage 7.4V output and a whooping 15A to feed even the most power-hungry large scale servos. Also part of the package is a data logging function that measures and records parameters such as battery voltage, amp draw, motor RPM and the controller's temperature. On top of that the speed is widely adjustable using the SkyLink PC interface, the WiFi Module or SkyRC's Progbox.
Click here to view the specifications
Wednesday, January 14, 2015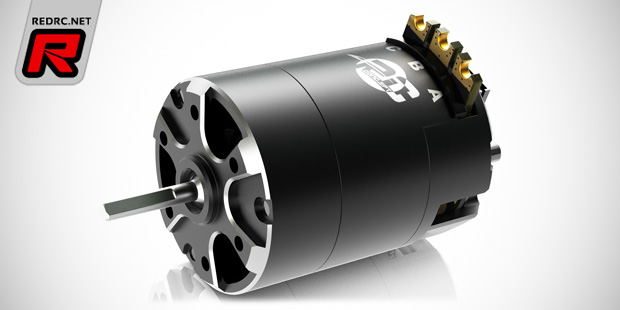 French company RC Concepts introduce a 540-class electric brushless motor and a 120A brushless speed controller, both aimed at 1/10th scale applications. Starting with the EC called motor, it is based around a T6 aluminium can with venting openings for a low overall weight and efficient cooling of the internals. The magnets are of a high-performance neodymium type and the motor offers dual sensor ports, a heatsink timing plate and heavy duty solder tabs. To comply with a wide range of applications the motor is available as 5.5T to 10.5T modified and as a 13.5T stock class variant.
Click here to continue reading
Wednesday, January 14, 2015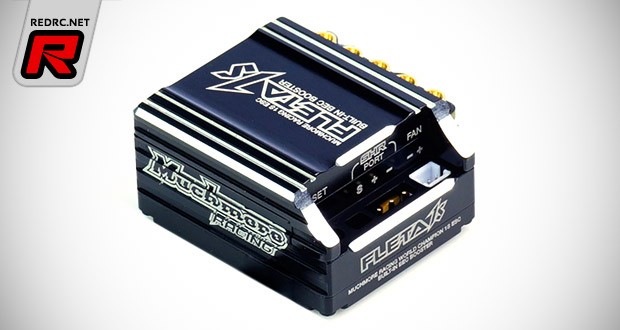 The speed controller that won last year's 1/12th Worlds in Florida, driving by Marc Rheinard, Muchmore have released the Fleta 1S Brushless ESC. Coming pre set with the same setting used by the German, the Fleta 1S features a continuous 120A current and up to 830A in burst and as the name suggest can handle no larger than 1S LiPo battery. The case features their Flow-Max cooling design the with upper, middle and bottom case made from aluminium giving it better heat dissipation and allowing higher current. The built in DC-DC Booster BEC helps maintain a super stable voltage until the end of the race.
View more technical details here
Tuesday, January 6, 2015