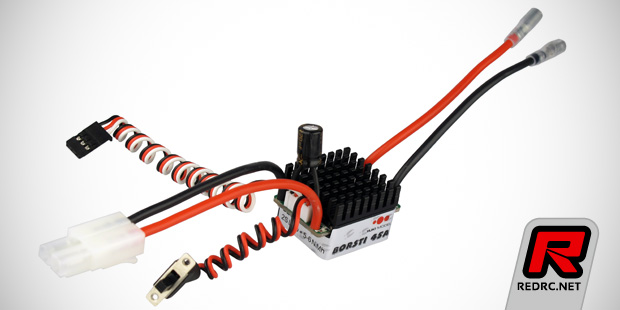 Yuki Model introduce the Borsti 45A brushed speed controller. Offering up to 45A constant and 340A peak current, the 2S LiPo-compatible controller measures 38x28x2mm and it weighs in at 40g. The speedo features low-voltage and over-temperate protection, a 2A/5.8V BEC system and it comes pre-wired with Tamiya-style battery and motor connectors.
Source: CN-Group [cn-group.de]
Tuesday, November 25, 2014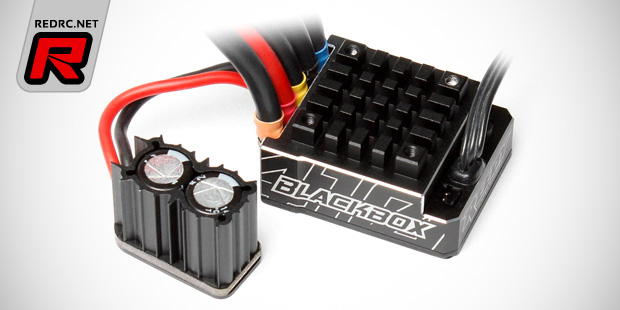 The long-anticipated Reedy Blackbox 410R electronic brushless speed controller is now available to racers worldwide. Extensive track testing by Reedy's engineers and racing team has resulted in a high performance and high quality ESC suitable for all levels of competition. A focus on throttle and brake feel, precision adjustability, and robust hardware make the Blackbox 410R suitable for a wide range of racing applications. With the optional Blackbox PROgrammer, the full potential of the ESC can be exploited. In addition to working as a programming device to fine-tune the eight pre-installed profiles, the device operates as a data logger, battery monitor, and USB firmware update device.
Click here to view the features and another photo
Monday, October 6, 2014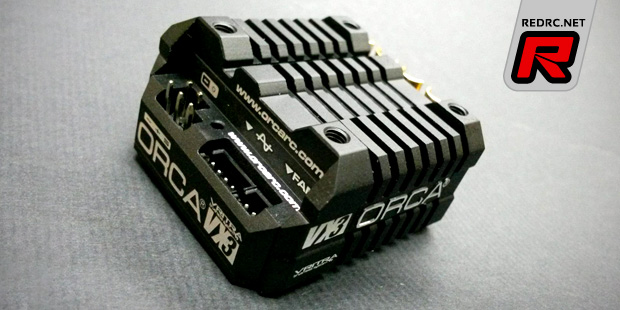 First images and information on ORCA's latest VX3 brushless speed controller have appeared on the internet recently. The follow-up model of the successful VXX will feature an all-aluminium case for improved heat dissipation while the latest in FET technology will make for reduced internal resistance and cooler running temperatures. The receiver wire is of a replaceable design which indicates that several length wires will become available to create clean wiring jobs on touring cars and off-road buggies alike. With the VX3 comes an optimised firmware to get the best out of the speedo. More information will become available soon.
Source: ORCA [orcarc.com]
Friday, September 26, 2014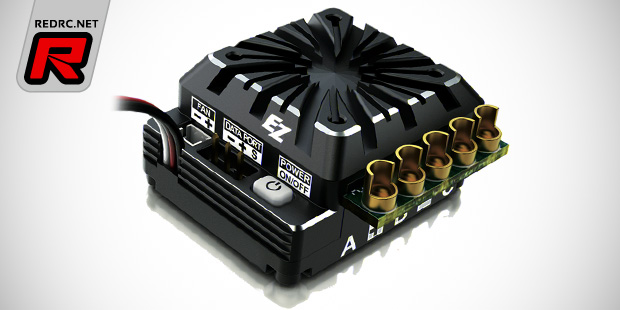 Italian company EZPower introduce the Gladiator 120A brushless speed controller for 1/10th and 1/12th scale appellations. Coming with an all-aluminium case with "spider web" cooling grooves the speedo is meant to stay cooler during operation. A build-in on/off switch, data port and heavy duty solder towers round out the package. Full information about the ESC, that will hit the stores in October, will become available soon.
Source: EZPower [ezpower.it]
Friday, September 19, 2014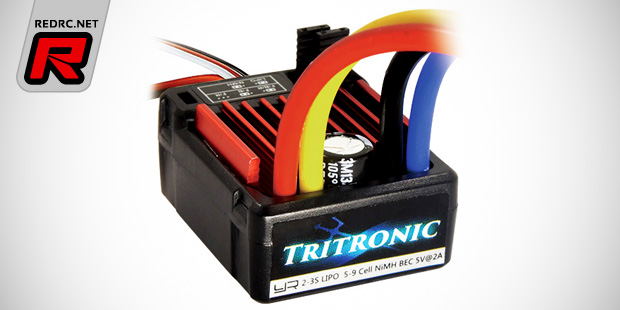 Along with the release of their Hackmoto V2 brushed motors Yeah Racing also introduce a suitable speed controller in the form of the Tritronic 60A ESC. Made for 1/10th scale applications with 2S to 3S LiPo packs or 5 to 9 cell NiMH batteries the speed controller features dust and water protection, a 5V/2A BEC system, and three running modes including FWD/Brake and FWD/Brake/Reverse. With its 60A rating the speedo allows to run brushed motors down to 12T with a 2S LiPo pack and it will become available separately or as a combo set including a Hackmoto V2 brushed motor.
Source: Yeah Racing [yeahracing.com]
Tuesday, September 2, 2014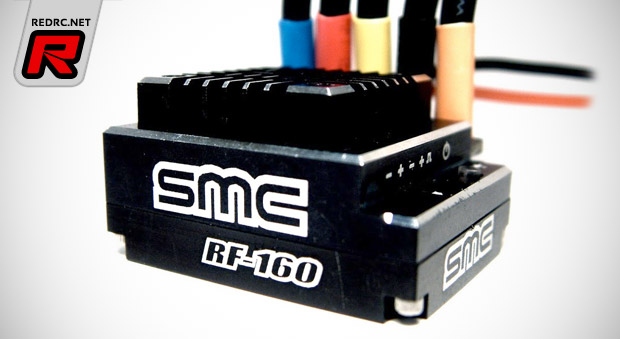 SMC have introduced their new Race Formula RF-160 ESC for both modified and stock racing with the stock racing 'blinky' mode meeting ROAR specs and will be submitted to ROAR for approval soon. The ESC features high quality and powerful FETS, an all-aluminium case for maximum cooling, built in switch, user updatable firmware and can be programmed with the program box or a computer program. In addition to the new RF-160 ESC SMC also have a full range of silicone wire and flexible sensor cables of various lengths to support the ESC.
Tuesday, August 19, 2014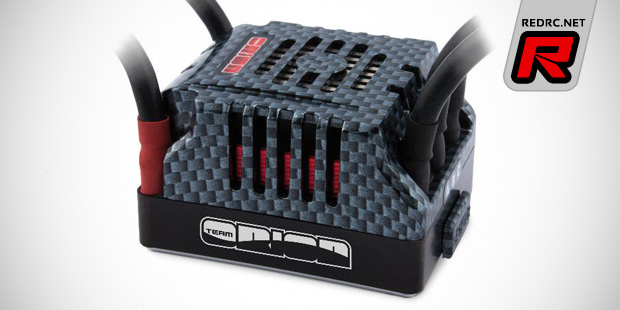 The Vortex R8 Pro X is Team Orion's latest "no limit" 1/8th scale brushless speed controller. Building on the proven R8 Pro the speedo features improved internals for lower internal resistance and a new housing with an aluminium lower case. In sum the updates allow for up to 220A constant current and 6S-compatibility even with fast 1/8-size motors. Other features include adjustable 6V-7.2V BEC voltage to make the most out of today's high-voltage servos, a new fan protection system improves durability and a proven firmware makes adapting the ESC to various motor types easy. The controller is programmable using Team Orion's optional programming box and compatible with sensored and sensorless motors.
Source: Team Orion [teamorion.com]
Friday, August 1, 2014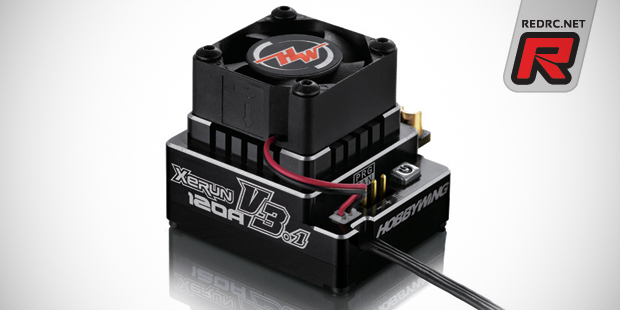 After more than half a year of development and testing, Hobbywing announce the latest firmware release for their flagship Xerun V3.1 car series controller. The new "V3.2_140627_Beta" firmware offers improved bottom end feel with lower motor temperatures. Development has also focused on improving the brake operation when running super fast boosted programs. Brake linearity is retained whilst still providing exceptional brake power. World Champion team drivers Atsushi Hara and Andy Moore have both helped developing the new firmware, and highlight the improved feel throughout the throttle and brake profiles.  The latest firmware version is available for download here.
Source: Hobbywing [hobbywing.com]
Thursday, July 31, 2014