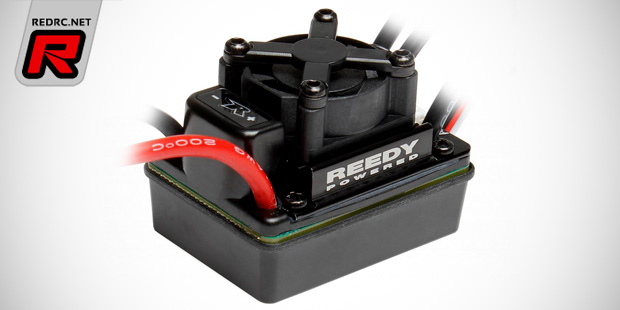 Reedy's all-new SC800-BL Brushless ESC is splash-proof for maximum durability and features a compact footprint that allows for easy installation in most 1/10th scale vehicles. The SC800-BL is standard equipment in Team Associated's ProSC 4×4 and is the perfect replacement for RTR speed controllers thanks to its ease of setup and simple forward/brake/reverse operation. When paired with Reedy brushless motors, a potent combination of power and efficiency is created, resulting in quick acceleration, high top speeds, generous run times, and more fun.
Click here to view the features and specifications
Wednesday, January 14, 2015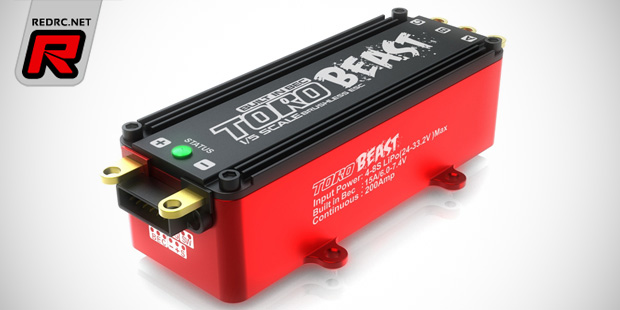 SkyRC introduce the Toro Beast, a dedicated brushless speed controller for large scale electric vehicles. The 200A rated ESC is usable with 4S to 8S LiPo battery packs and it is housed in a sturdy aluminium case for protection and improved heat dissipation. Mounting lugs help to securely fasten the motor to the chassis or radio plate. An internal BEC system allows for a standard 6V or high voltage 7.4V output and a whooping 15A to feed even the most power-hungry large scale servos. Also part of the package is a data logging function that measures and records parameters such as battery voltage, amp draw, motor RPM and the controller's temperature. On top of that the speed is widely adjustable using the SkyLink PC interface, the WiFi Module or SkyRC's Progbox.
Click here to view the specifications
Wednesday, January 14, 2015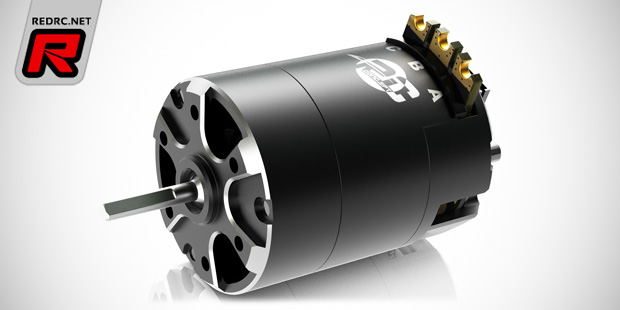 French company RC Concepts introduce a 540-class electric brushless motor and a 120A brushless speed controller, both aimed at 1/10th scale applications. Starting with the EC called motor, it is based around a T6 aluminium can with venting openings for a low overall weight and efficient cooling of the internals. The magnets are of a high-performance neodymium type and the motor offers dual sensor ports, a heatsink timing plate and heavy duty solder tabs. To comply with a wide range of applications the motor is available as 5.5T to 10.5T modified and as a 13.5T stock class variant.
Click here to continue reading
Wednesday, January 14, 2015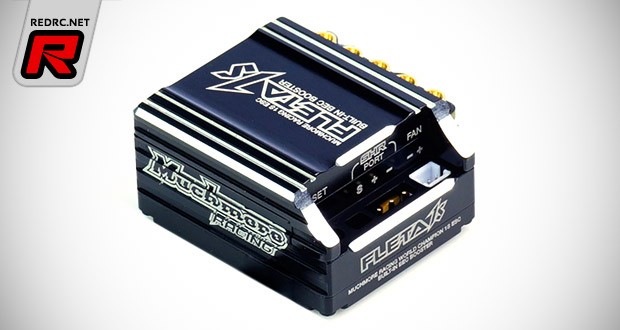 The speed controller that won last year's 1/12th Worlds in Florida, driving by Marc Rheinard, Muchmore have released the Fleta 1S Brushless ESC. Coming pre set with the same setting used by the German, the Fleta 1S features a continuous 120A current and up to 830A in burst and as the name suggest can handle no larger than 1S LiPo battery. The case features their Flow-Max cooling design the with upper, middle and bottom case made from aluminium giving it better heat dissipation and allowing higher current. The built in DC-DC Booster BEC helps maintain a super stable voltage until the end of the race.
View more technical details here
Tuesday, January 6, 2015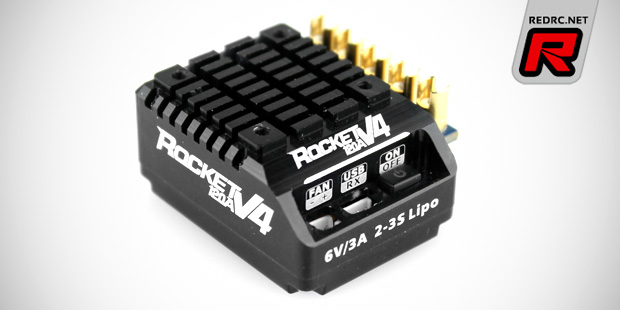 German company CS-Electronic introduce their latest 1/10th brushless speed controller, the CS-Rocket V4. The follow-up model of the controller that won the 2009 IFMAR 1/10th Buggy Worlds features a black anodised aluminium case, a 120A rating for a 3.0T motor limit, it is usable with 2S to 3S LiPo packs and comes with a 6V/3A BEC system. As for the software features the controller incorporates 10 Modified, Boosted and Blinky class profiles, and it is highly adjustable using an optional programming box or the included USB interface. The speedo is available in a standard or pre-wired version both of which include an add-on fan unit, power capacitor board, sensor wire, USB interface and PC software.
Click here to view the specifications and more photos
Friday, December 19, 2014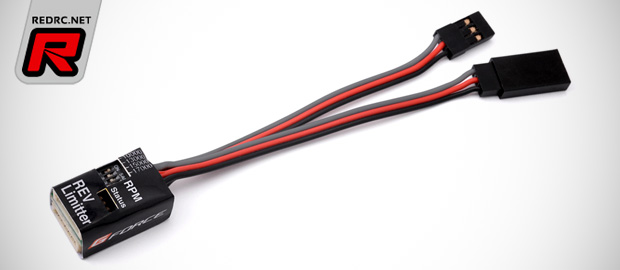 Coming soon from GForce is the Rev Limiter module to limit the maximum RPM of electric brushless motors. Looped between the motor, controller and receiver the device limits the maximum RPM of sensored brushless motors in four steps between 10,000 and 17,000 RPM. Micro switches and status LEDs help to check the setting, making the module ideal to equalise the performance of brushless motors for entry level and stock racing classes. The 2S LiPo-compatible Rev Limiter comes in a lightweight case, it measures 22x15x10mm and comes pre-wired with universal connectors and including a sensor wire.
Source: GForce [gforce-hobby.jp]
Friday, December 12, 2014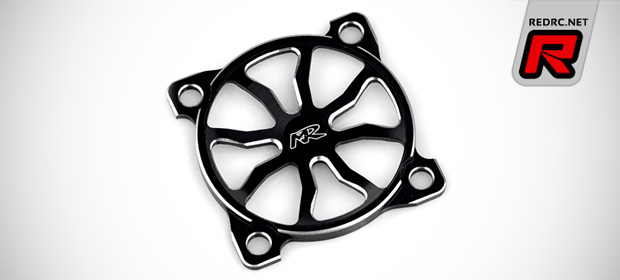 Muchmore now have a 3D cooling fan guard for 30mm fan units available. Developed with the help of 3-times World Champion Marc Rheinard the CNC-machined aluminium part weighs in at only 1.9g to not interfere with the weight distribution of the car while allowing exceptional fan protection and additional cooling surface at the same time. Four aluminium screws help to connect the speed controller's heatsink with the fan guard which is meant to reduce the operation temperature by up to 8 percent. The guard fit's Muchmore's Fleta line of speed controllers and many other speedos with 30mm fan units.
Click here to view another photo
Wednesday, December 10, 2014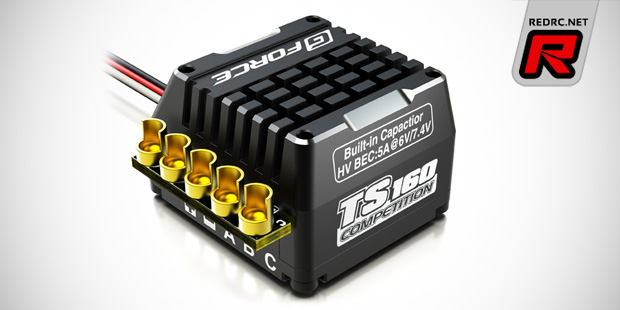 Japanese company GForce introduce the TS160 Competition brushless speed controller. Made for 1/10th and 1/12th scale applications and 2S to 3S LiPo batteries the speedo sports compact dimensions of 30.6×35.6×22.5mm and it features a high-voltage BEC system with selectable 6V or 7.4V output, internal power capacitors and an optional high-speed fan unit. The integrated power button reduces the amount of wire hanging from the case while heavy duty solder terminals allows to use the use of large diameter motor and battery wires. In terms of software the TS160 offers an improved firmware for smoother throttle feeling and it is highly adjustable using an optional programming box or GForce's PC link software.
Click here to view the specifications and another photo
Thursday, December 4, 2014