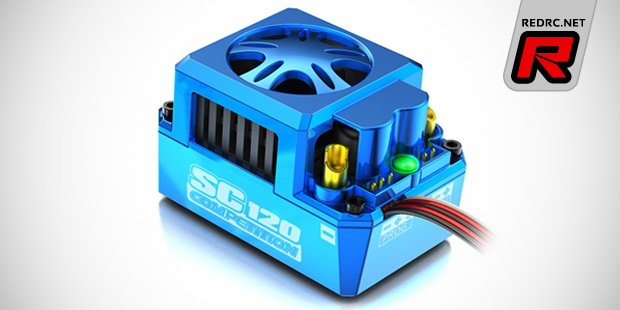 SkyRC introduce the Toro SC120 Competition brushless speed controller. Designed for the use in 4WD short course trucks the speed is able to handle up to 4S LiPo set-ups, it features a 6V/3A linear BEC system and it works with sensored and sensorless motors. The case measures 57x38x35mm and it can be taken apart to replace the internal fan unit while the heavy-duty gold-plated solder towers allow the use even of very thick silicone wires. The on/off switch is of a dust-protected electric type and the controller is highly adjustable using 10 user-modifiable profiles that can be tweaked using an optional programming box or a PC interface.
Click here to view the specifications
Thursday, November 7, 2013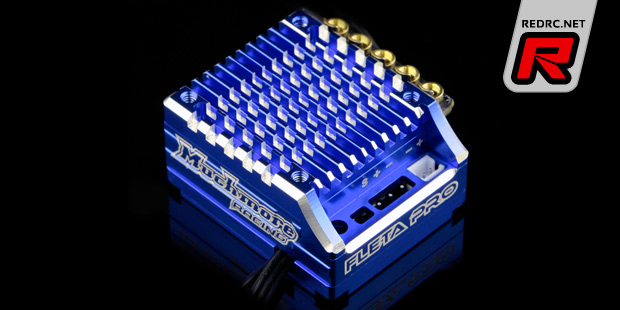 Muchmore introduce their new line of Fleta brushless speed controllers in the form of the Fleta Pro, Fleta Stock Spec and Fleta Euro all of which are completely new designed. Starting with the Fleta Pro, the controller was designed in cooperation with 3-time World Champion Marc Rheinard and it features a 120A rating, it is 2S-LiPo compatible and incorporates a 6V/3A BEC system. The new Flow-Max heat sink design ensures the controller stays as cool as possible even in high ambient temperatures or when running low turn modified motors. Included comes a dual power capacitor and an ultra high RPM fan. The speedo is highly adjustable using Muchmore's new ESC program card and ideal for on-road and off-road racing alike.
Click here to continue reading
Wednesday, October 23, 2013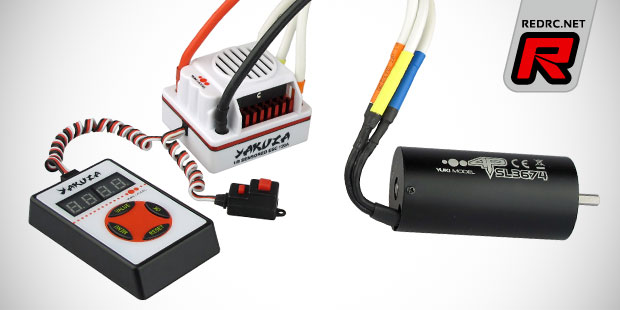 CN Development & Media introduce the Yuki Model 1/8 Yakuza SC brushless motor and speed controller combo. Included in the set is a 4-pole sensorless 3674  motor with 2150kv and a 120A rated 6S-compatible speed controller. The ESC measures 57x49x39mm, weights 150g and features a switched 6V/3A BEC system. Included in the set are also a programming card, 5.5mm gold-plated bullet-type connectors and a multi-language manual.
Source: CN Group [cn-group.de]
Thursday, October 10, 2013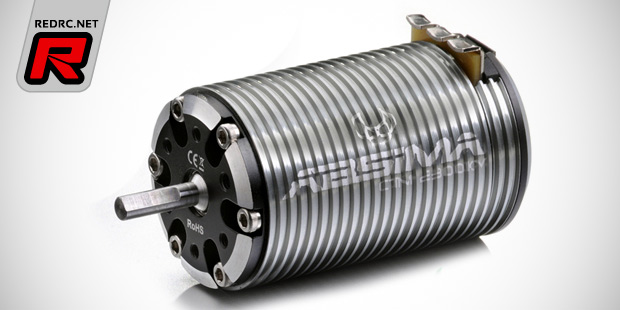 German company Absima introduce their Revenge brushless motor and controller series for 1/8th vehicles in the form of the Revenge 1:8 CTM motor and CTS 8 controller. Starting with the motors, they feature CNC-machined aluminium heatsink-design cases with aluminium front and back plates as well as pre-shaped heavy-duty solder tabs. Oversized ball bearings and a large diameter rotor shaft make for added durability while the motors are usable with sensored and non-sensored controller. The can measures 42x69mm and the motors are available as 1750, 1900, 2100, 2300 and 2500kv variant.
Click here to continue reading
Tuesday, October 8, 2013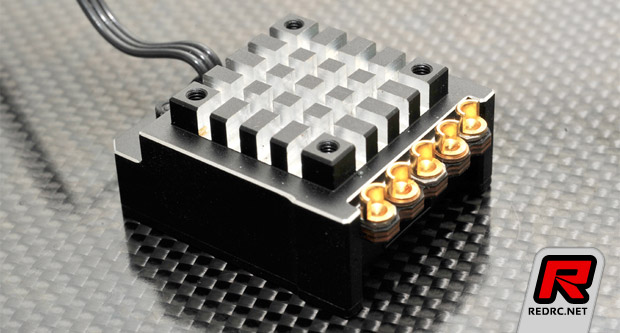 During last week's IFMAR Electric Buggy World Championships Team Associated showed us their upcoming Reedy competition brushless speed controller, internally called the black box. Designed for on-road and off-road use the yet nameless speedo is being tested mostly by Team Associated's own Rick Hohwart and features an integrated on/off switch and an all aluminium case along sturdy direct solder tabs. The controller is designed with both stock and modified racers in mind and its software will have a secret feature called speed sensitive drake brake which they didn't go into more detail about. The 1S to 2S compatible controller will include a programmer and is set for a release in December or January.
Click here to view more photos
Monday, September 30, 2013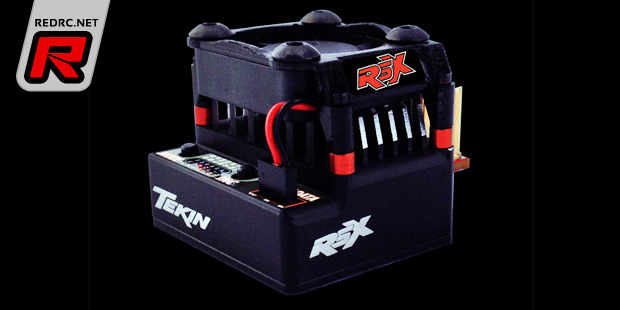 Tekin introduce the RSX competition brushless speed controller. The compact unit is designed for the use with 2S to 3S LiPo battery packs and it offers a billet aluminium heatsink housing, an optional fan shroud system and a highspeed fan for maximum cooling. The controller is compatible with sensored and sensorless motors, offers easy on-board programming and an adjustable high voltage BEC system with 6V to 7.4V output. Sporting an 180A rating the RSX is good for the use with motors as low as 2.5T with 2S batteries and 8.5T motors with 3S packs.
Click here to view the specifications and features
Thursday, September 26, 2013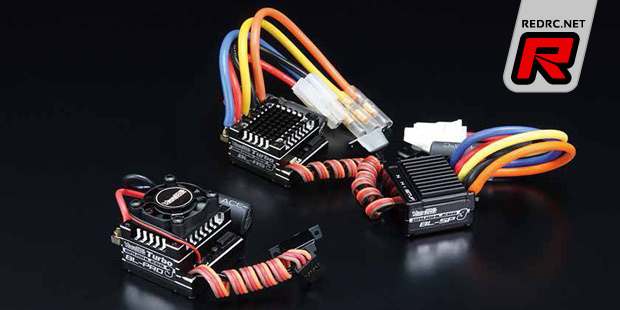 Yokomo introduce three new brushless speed controllers in the form of the BL-SP3, BL-RS3 +Turbo and the BL-Pro3 +Turbo. While the SP3 with its 8.5T motor limit is more of an intermediate level offering both the RS3 +Turbo and the Pro3 +Turbo are pure competition speedos. The latter two offer an aluminium heatsink case, they are widely adjustable using Yokomo's optional programming box and it is understood that they offer both a zero timing and a turbo mode making them ideal for blinky, boosted and modified racing alike. All three speed controllers will become available in October and details on specifications and features will be available shortly.
Source: Yokomo [teamyokomo.com]
Wednesday, September 25, 2013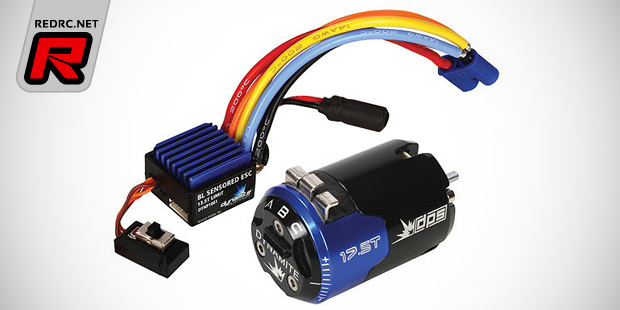 Available soon are two new brushless motor and speed controller combos from Dynamite. Available as 13.5T and 17.5T variant both come with the Dynamite Platinum Sensored speedo that has an adjustable timing and a "blinky" mode, making it ideal for open or spec-class racing. The small footprint of the ESC makes it ideal for crowded touring car chassis, 1/12th pan cars and also off-road buggies. The sensored technology provides efficient, cog-free operation especially under hard acceleration. Both Platinum sensored motors feature adjustable timing, convenient solder tabs and smooth ball bearings for efficient power delivery and long life.
Source: Horizon Hobby [horizonhobby.com]
Thursday, September 5, 2013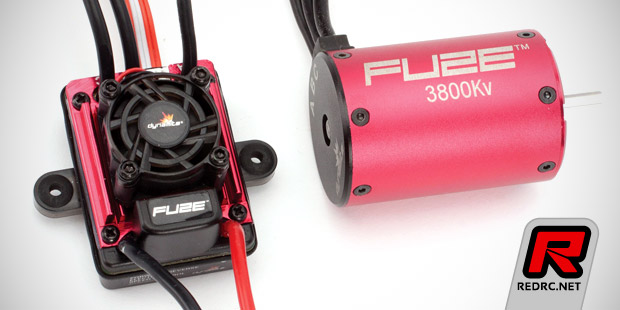 Horizon Hobby introduce the Dynamite Fuze 1/10 4-pole brushless motor and speed controller combos. They include a splash waterproof Fuze 70A speedo that comes pre-wired with EC3 battery and bullet-type motor connectors while an add-on heatsink lowers the ESC's temperatures when the going gets tough. The sensorless controller can handle up to 3S LiPo batteries and its case sports mounting lugs for a secure fastening on the chassis or radio tray. The included sensorless 4-pole motor is available as 3800kv SCT or speedier 4800kv variant for general use and both sport an updated rotor and stator design for increased performance and efficiency. Coming in a red aluminium can the motors feature ball bearings and a closed can design making them ideal for off-road applications.
Source: Horizon Hobby [horizonhobby.de]
Thursday, August 29, 2013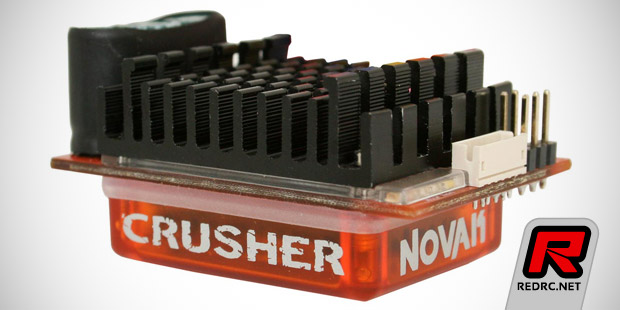 Novak introduce the Crusher 2S-4S LiPo-compatible brushless crawler speed controller. The follow-up model of the famous Goat 3S speedo is designed for a multitude of applications such as rock crawling, rock racing, monster trucks and even short course racing. The device features auto-detect LiPo sensing, onboard programming and Novak's RPM Boost Timing for increased performance when needed. The case is of a sealed design and the ESC comes with an add-on fan unit, features replaceable wires and a built-in 5A heavy-duty BEC system. The Crusher controller is available separately, as Rock Crawler System including a 18.5T or 21.5T Ballistic motor or as Extreme Sport System including a 17.5T Ballistic motor.
Click here to view the features
Friday, August 2, 2013