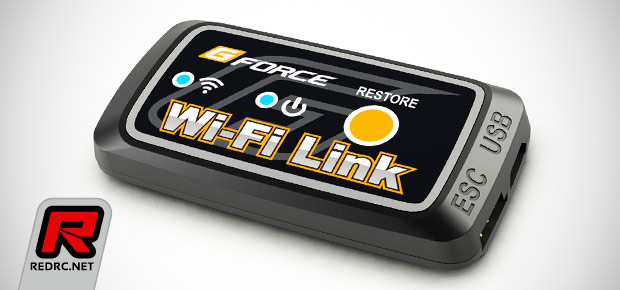 Made for the use with GForce's TS120A, TS90A and 1S120A speed controllers is the the Japanese manufacturer's new Wi-Fi Link module. The device allows to adjust the speed controller's software parameters using an iOS or Android-based mobile device. Plugged into the programming port of the ESC and mated with your mobile device the module is used in place of the standard programming box for a more convenient adjustment of the various throttle, boost and brake parameters.
Click here to view another photo
Monday, July 28, 2014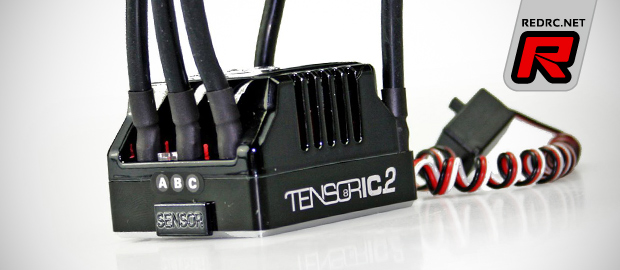 Available now from German company Hacker is their latest 1/8th brushless speed controller, the Tensoric8.2. Designed for the use with 2S to 6S LiXX cells, the speedo builds on the experience gained with the Tensoric8 and it features a completely redesigned and more powerful PCB power control board, a newly designed heatsink and a switched high voltage BEC system that allows to choose between 6V or 7.4V output for the use with standard or high-voltage compatible servos. All that is housed in a new fibre-reinforced case with lower aluminium heatsink. Mounting holes in the lower case make it possible to mount the speedo to the chassis or radio tray, doing away with the need to use double-sided tape which results in improved reliability. From stock the ESC comes with a software profile optimised for Hacker Skalar8 brushless motors but with the use of the optional Progbox V1 or V2 the controller can also be adapted to any other brushless motor while allowing to fine-tune the countless software parameters as well.
Click here to view the specifications and more photos
Thursday, July 10, 2014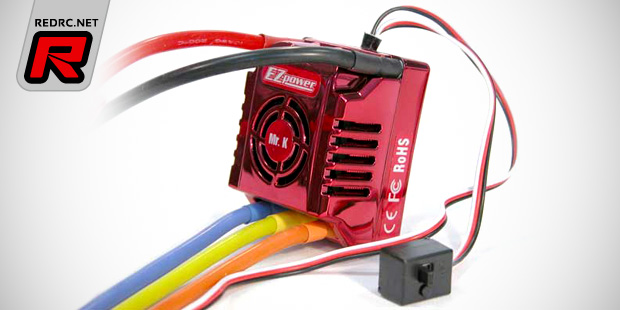 Italian company EZPower introduce their new brushless speed controller called Mr. Kong II. The sensorless ESC has a 150A rating and is 2S to 6S LiPo compatible, making it ideal for 1/8th on-road, off-road and monster truck models alike. The controller comes pre-wired with Traxxas high-current connectors and features adjustable drag brakes, throttle/brake curves, motor timing and punch setting as well as reverse motor rotation and thermal protection. All software features can be set using a one-touch button or an optional program card.
Source: EZPower [ezpower.it]
Friday, May 30, 2014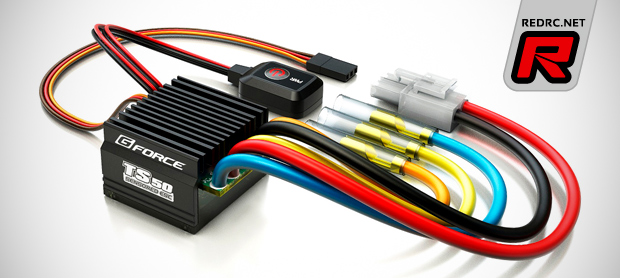 Available soon from GForce is the TS 50A Type-C sensored brushless speed controller. The "non-boost" club-level speedo measures 35.3×32.4×19.7mm, and is made for the use with 2S LiPo batteries. A burst current of 300A allows to use down to 8.5T motors in on-road and 11.5T motors in off-road applications while the GForce's optional Progbox helps to fine-tune the throttle and brake settings when needed. The speed controller come pre-wired with Tamiya-compatible battery and motor plugs and sports a dust-protected on/off switch for added security.
Click here to view the specifications
Friday, May 16, 2014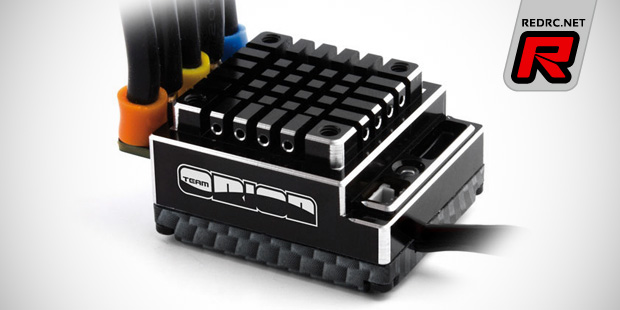 Seen for the first time at this year's Nuremberg International Toyfair Team Orion's latest competition 1/10th scale speed controller is about to hit the market. The Vortext R10.1 is the follow-up model of the successful R10 and features a new case design with a new-shape heatsink, a slightly redesigned black-colour case, a rubber cap to close the empty sensor port when needed and also all-black receiver and switch wires. Inside the 2S-compatible R10.1 sports new hardware for a lower internal resistance and increased current load capacities. The firmware also received an update for added punch in "boosted" stock classes while offering improved overall drivability to make for even smoother throttle response. We understand that the controller becomes available very soon.
Source: Team Orion [teamorion.com]
Wednesday, May 14, 2014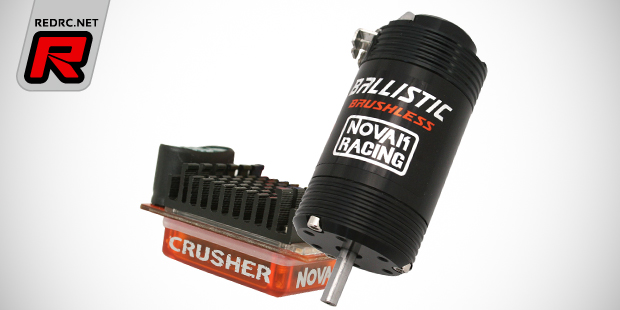 Novak introduce a new budget brushless motor and speed controller combo for 4×4 short course trucks. Included is the proven 6.5T 3400kv Ballistic 550 brushless motor and the newly updated Crusher brushless speed controller. The ESC offers 2S to 4S operating range, a 5A BEC system, complete on-board programming, a sealed case, auto-detect LiPo cutoff, and ESC thermal protection. The sensored system is ideal for bashers, club racers and speed fanatics alike.
Source: Novak [teamnovak.com]
Thursday, May 8, 2014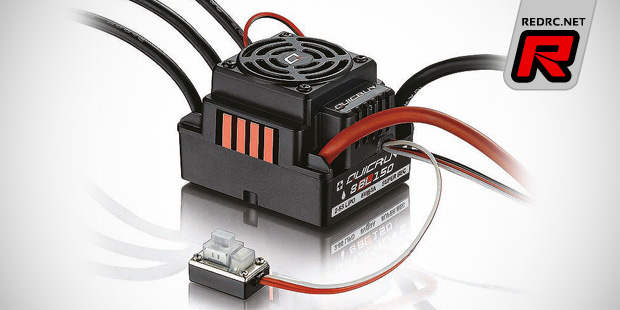 German Hobbywing distributors Hype introduce the Quicrun series of "sports" brushless motors and speed controllers. The controllers are developed to work with sensorless and sensored motors and are LiPo and NiMH battery compatible. There is also a waterproof line of controllers available and a port for an optional programming card makes adjusting the speedos to your likings easy. Available are a 30A 1/16th scale ESC, two 60A 1/10th controllers with and without sensor port, as well as a 150A 1/8th variant. As for the motors, Hobbywing comes with a 3800kv sensorless 1/10th scale and 2000kv sensorless 1/8th scale offering beside four 1760kv to 3450kv sensored 540-size motors.
Click here to view the other new speedos and motors
Monday, April 28, 2014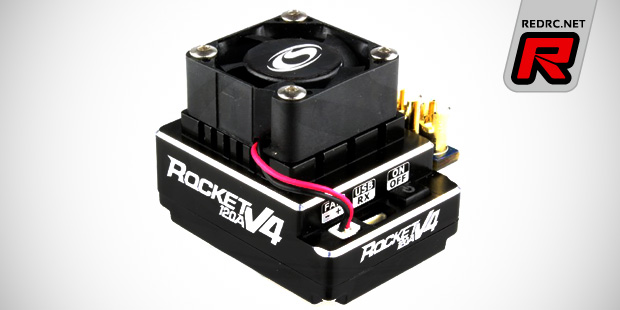 German company CS Electronic have released first images of their forthcoming Rocket V4 120A brushless speed controller. Making use of a common design the ESC will feature an aluminium case with low-profile heatsink, an optional fan unit, an easily replaceable receiver lead and heavy duty solder towers. There are no information about the software features yet but the controller will come including an USB adapter and possibly also a programming box.
Source: CS Electronic [cs-shop.de]
Tuesday, April 22, 2014