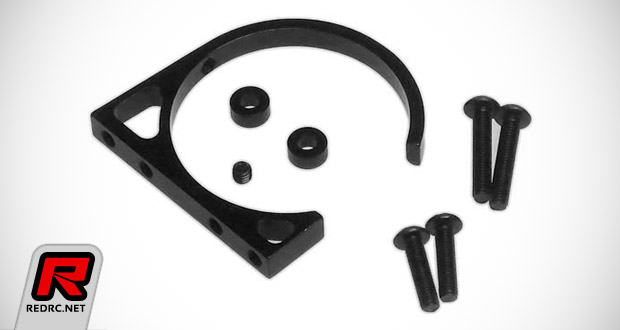 Yeah Racing has released an aluminium light fan heat sink mount suitable for 30mm and 40mm fan units. The part is made from high quality aluminium and weights in at only 5 gram. Its unique design allows it to be mounted to the motor firmly and securely and it can be easily installed by using the set screws included. The supplied 3mm washers can be placed between the motor and the fan to enhance the heat dissipation effect. The mount comes without fan and is available in gunmetal, black and blue colour.
Source: RC Mart [rcmart.com]
Tuesday, December 10, 2013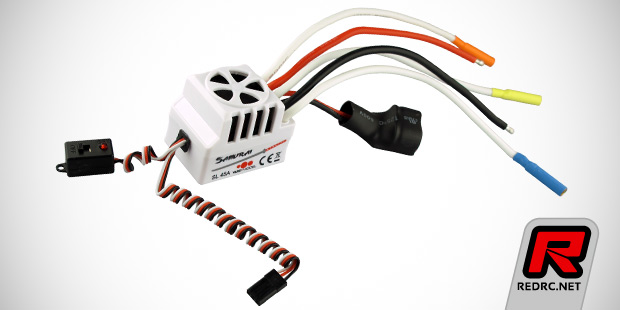 New from CN Development & Media comes the sensorless Samurai 1/10 BL/SL 45A brushless speed controller. Measuring 45x32x37mm the 2S to 3S LiPo compatible ESC features a 2A/6V switched BEC system, splash waterproof protection and it comes pre-soldered with 4mm gold-plated connectors for the motor. The controller is available separately or as combo set including a 3450kv motor and programming card.
Click here to view the combo set
Thursday, December 5, 2013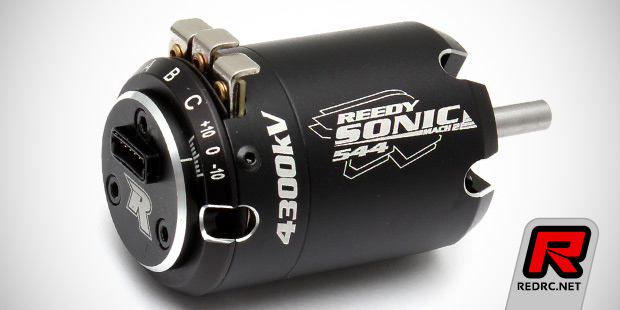 New from Reedy comes the Sonic 544 Mach 2 4-pole brushless motor for 4×4 short course trucks. Designed for competition, the motor incorporates several high-performance features to achieve maximum power output, efficiency, and durability. A lightweight case reduces overall motor weight with strategically placed vent holes and an aluminium end cap to lower operating temperatures. Supported between dual precision ball bearings, the high-strength 4-pole rotor creates the torque necessary to power out of the turns and clear the toughest jump sections. The 540-size motor features a 5mm output shaft and comes as 4300kv and 4800kv variant.
Click here to view the features
Wednesday, November 20, 2013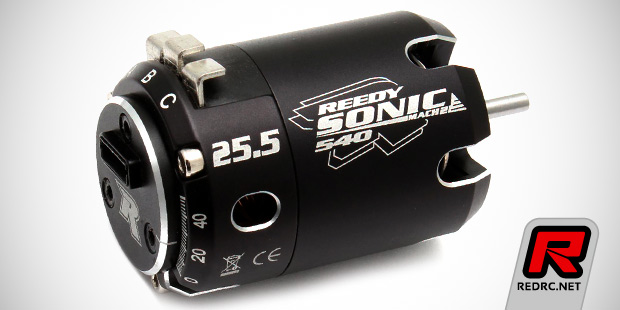 Reedy is now offering the Sonic 540 Mach 2 brushless motor in a 25.5-turn version for use in Vintage Trans-Am and other classes and series that require the use of a 25.5-turn spec class motor. Developed specifically for competition, the Sonic 540 Mach 2 25.5T motor incorporates all the same features found in other Sonic spec models such as a lightweight design, optimised airflow, a balanced sintered rotor, adjustable timing and silver-plated heavy-duty solder tabs.
Source: Reedy [reedypower.com]
Monday, November 4, 2013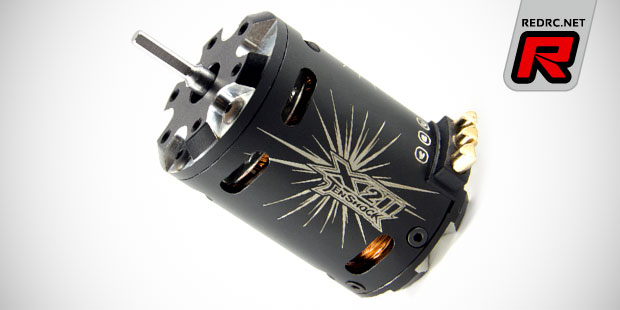 Tenshock introduce the X-211 4-pole brushless motor. The sensored motor is build to match current 540-size dimensions and features a CNC-machined aluminium can, heavy-duty solder tabs, it is of a 4-pole 12 slots design and comes with a kevlar-wrapped rotor. High purity copper windings make for maximum conductivity while the sintered neodymium magnet promised the highest torque possible. The motor is available as 3.5T to 8.5T "modified" as well as 10.5T to 21.5T "stock" variant.
Click here to view more photos
Thursday, October 31, 2013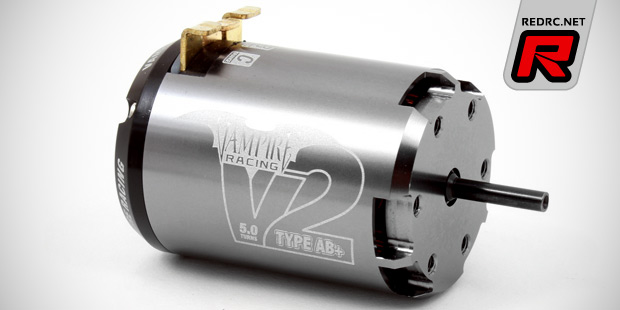 Vampire Racing is proud to announce the release of the new even turn Type AB+ V2 brushless motor series. Building on the winning heritage of the conventional half turn motor the new .0 series offers a fully rebuildable EFRA-legal design with separate stator unit, duo-balanced and Titanium-Nitride coated 'black shaft' rotor, replaceable rubber-sealed precision sensor unit and oversized high-quality ball bearings. The motors are equipped with the recently introduced updated endbells and are available as 4.0T, 5.0T, 6.0T, 7.0T and 8.0T variant.
Source: Vampire Racing [vampire-racing.com]
Monday, October 14, 2013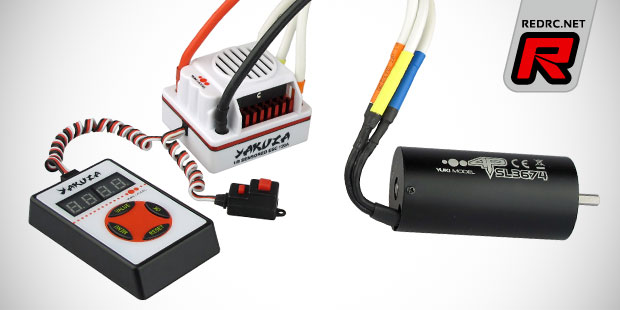 CN Development & Media introduce the Yuki Model 1/8 Yakuza SC brushless motor and speed controller combo. Included in the set is a 4-pole sensorless 3674  motor with 2150kv and a 120A rated 6S-compatible speed controller. The ESC measures 57x49x39mm, weights 150g and features a switched 6V/3A BEC system. Included in the set are also a programming card, 5.5mm gold-plated bullet-type connectors and a multi-language manual.
Source: CN Group [cn-group.de]
Thursday, October 10, 2013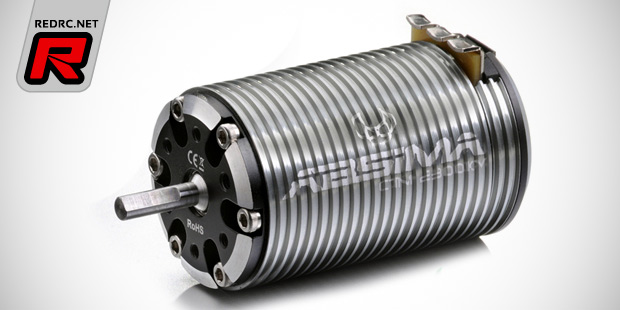 German company Absima introduce their Revenge brushless motor and controller series for 1/8th vehicles in the form of the Revenge 1:8 CTM motor and CTS 8 controller. Starting with the motors, they feature CNC-machined aluminium heatsink-design cases with aluminium front and back plates as well as pre-shaped heavy-duty solder tabs. Oversized ball bearings and a large diameter rotor shaft make for added durability while the motors are usable with sensored and non-sensored controller. The can measures 42x69mm and the motors are available as 1750, 1900, 2100, 2300 and 2500kv variant.
Click here to continue reading
Tuesday, October 8, 2013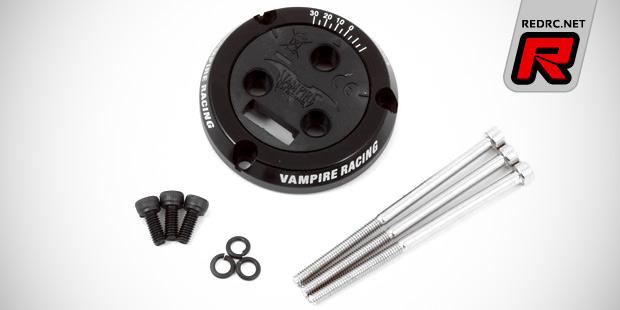 Vampire Racing have designed a new V2 update package for the Type AB+ V2 brushless modified motors. All new motors supplied from now will include this update already in the box, and end users who have an 'old spec' Type AB+ V2 motor will receive this package totally free of charge. The update package includes a new end bell ring, timing plate, timing pate screws with captive sprung washers and new motor can screws. The timing plate is made of a new tougher material, it features an internal timing pip that will not allow the timing to be altered past its desired and designated settings, it also features beefier cap head screws with sprung washers for a more secure and solid fitting and new screws are also provided for motor can assembly. Customers who wish to upgrade their existing motors are asked to contact their local dealer in order to receive the free update package.
Source: Vampire Racing [vampire-racing.com]
Monday, October 7, 2013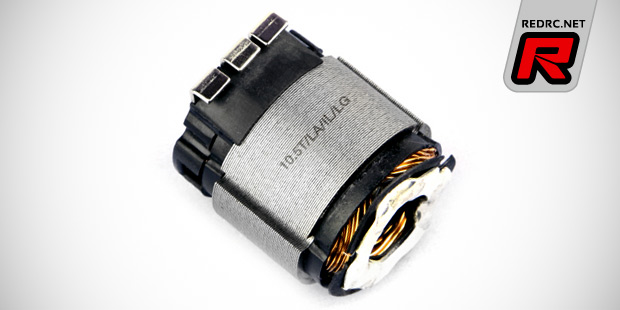 Much More Racing introduce replacement stators for the Fleta ZX line of brushless motors. Included in the variants available are 10.5T, 13.5T, 17.5T and 21.5T Type-W offerings as well as a 13.5T Type-S stator. They are a direct fit for all Fleta ZX cans and ideal to replace a damaged stator. You can also use them to upgrade an existing motor doing away with the need to buy a totally new one.
Source: Much More [muchmoreracing.net]
Thursday, September 12, 2013