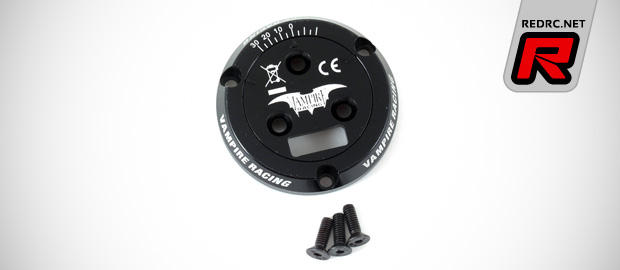 In an effort for constant product development and to listen to the customer's needs Vampire Racing introduce the new aluminium backplate for the Type AB+ V2 competition brushless motors. The updated all-alloy plate improves motor cooling and also addresses unwanted timing movement issues some customers experienced. The updated plate is a running change and it will be included with all V2 motors from now on.
Click here to view a photo of the part installed
Thursday, September 25, 2014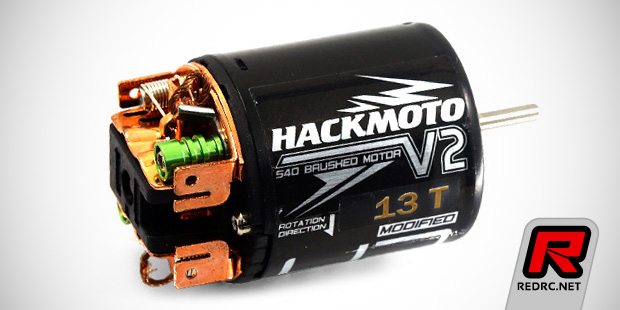 Yeah Racing introduce the new Hackmotor V2 540-size brushed motors for all die-hard "vintage" technology fans. Coming in several winding options, such as as a mild modified 13T and a spec racing 23T variant, there are also three very high turn 35T, 45T and 55T motors available. All feature black cans with high-strength magnets, vented motor heads with large solder tabs and cooling towers for the brushes as well as dual ball bearings. The motors are fully rebuildable and available now.
Source: Yeah Racing [yeahracing.com]
Monday, September 1, 2014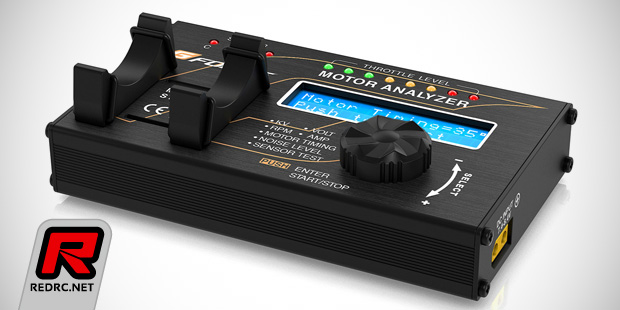 New from GForce comes the motor analyser, a device to check multiple parameters of car and flight brushless motors. Housed in a sturdy case with a blue backlit display, the motor analyser allows to check the motor's KV rating, voltage and amp draw, as well as the sensors. A timing test helps to precisely adjust the timing level while a noise level test can give a hint on the motor's ball bearing condition. The motor tester is made for the use with 7.4V to 8.4V input power sources and it comes with a set of adapter wires for the motor and power supply.
Click here to view more photos
Wednesday, August 27, 2014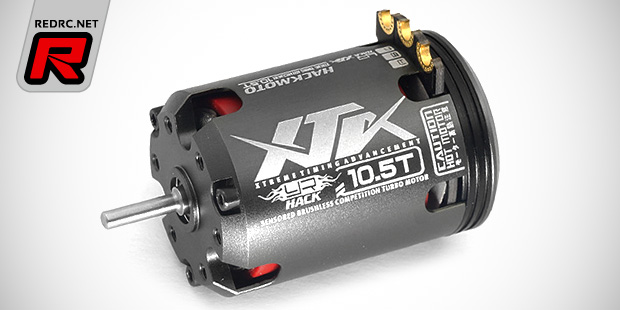 Yeah Racing introduce three new Hackmoto XTA series brushless stock racing motors. The second generation Hackmoto motors feature a gunmetal anodised aluminium can, high-purity copper windings, high-power neodymium magnets as well as an aluminium endbell for improved heat dissipation. Venting holes further reduce the running temperatures while the Xtreme Timing Advance system allows for precise and step-less timing adjustments. The sensored motors are available as 10.5T, 13.5T and 17.5T variant.
Source: Yeah Racing [yeahracing.com]
Wednesday, August 6, 2014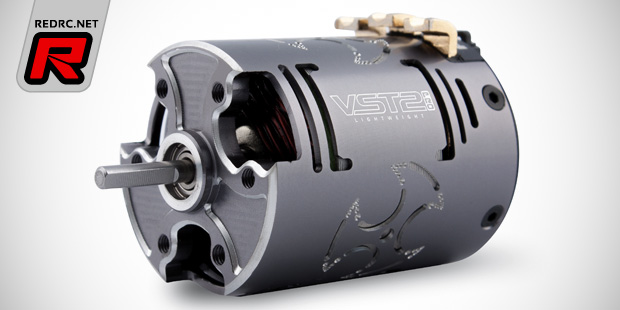 Team Orion soon have special lightweight versions of their Vortex VST2 Pro electric brushless motors available. It is understood that they offer the same specifications as the regular weight variants but the heavily machined cases scrub around 15g of weight. Especially the front part sports new milled out sections that not only reduce weight but help with cooling. The LW motors are available in a range of windings including modified 3.5T, 4.0T and 4.5T variants as well as 10.5T, 13.5T and 17.5T stock motors.
Click here to view another photo
Tuesday, July 22, 2014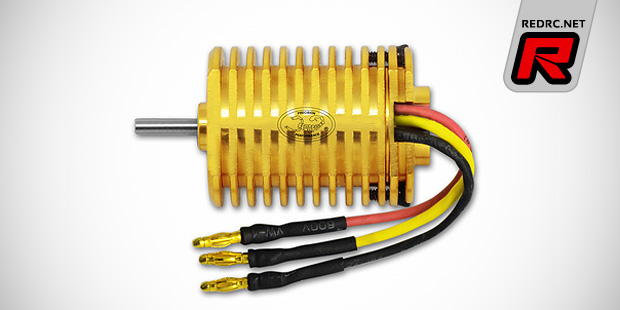 Following the release of their first ever line of car-related brushless motors Scorpion now also have an optional motor for Kyosho Mini-Z VE vehicles available. Made to fit both the Mini-Z on-road and buggy chassis, the motor is made using aero grade aluminium and ultra high quality 0.2mm stator steel with high temperature resistant magnets and enamel wires, to work with high efficiency and to produce higher peak power and higher torque in combination with a lower running temperature. Weighting in at 20.5 grams the motor is ultra light weight to increase top speed and acceleration while improving the car's handling at the same time.
Source: Scorpion [scorpionsystem.com]
Tuesday, July 1, 2014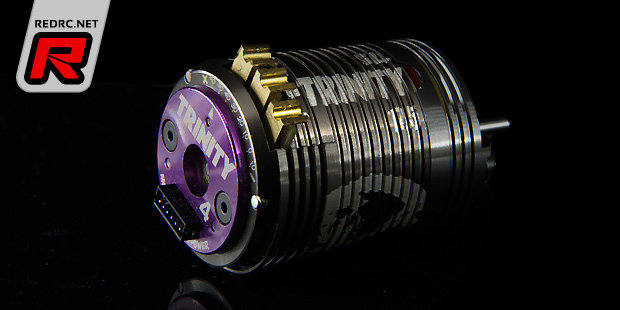 Following much speculation about the follow-up motor of the successful D3.5, Trinity now officially introduce the D4 electric brushless motor. Designed to meet all ROAR specifications the motor is based around a new stator design and a 3-piece heatsink can with an updated endbell for improved bearing alignment and increased airflow for lower operating temperatures. Other features include windings made from certified pure copper wire, grade 5 ball bearings, and new larger silver-plated solder tabs. The motor is 8 grams lighter than the previous D3.5 and available as 2.5T to 9.5T modified and 13.5T and 17.5T ROAR Spec stock motors. The motors should hit stores by the time you read this.
Source: Trinity [trinityrc.com]
Tuesday, June 24, 2014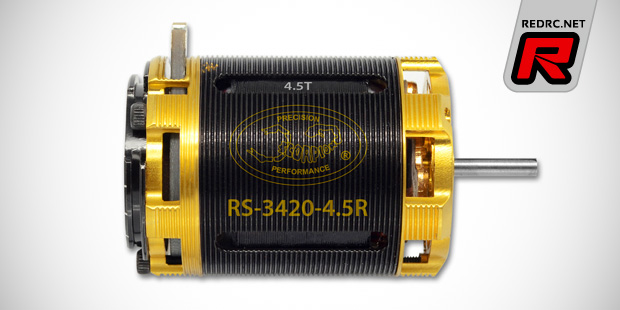 Following a brief introduction some days ago Scorpion Power Systems now have full details on their RS-3420 electric brushless motor available. Being a first for the company that is well known for its aircraft brushless motors, the motor sports some interesting features such as a patented screw-type rotor surface for increase flux density and maximised cooling. Also no plastic inserts are used to achieve maximum copper fill for the stator windings while high grade silicone steel and high purity copper wire allow for a high flux density and a minimal internal resistance. Other features include a CNC-machined 7075 heatsink can, sleeve-protected magnets, and a built-in temperature sensor for on-track monitoring with future Scorpion ESCs. The motors are built to comply with the IFMAR rules and are available as 4.5T to 8.5T modified and 10.5T to 21.5T stock variant.
Click here to view all features
Thursday, June 12, 2014