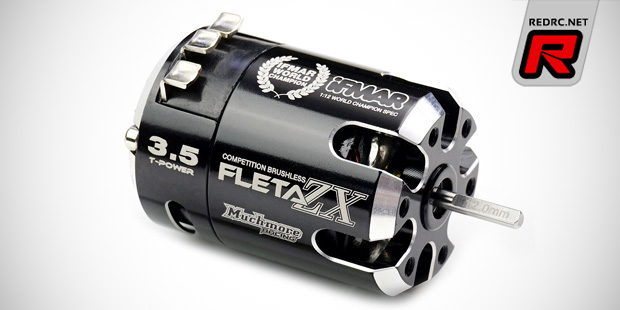 Muchmore introduce the Fleta ZX 3.5T 1:12 World Champion Spec brushless motor built to the same specifications as used by Marc Rheinard to win the 2014 IFMAR 1/12th scale World Championship title. Housed in a full aluminium can with large airflow holes the motor features a redesigned stator and 12.0mm rotor to make for higher RPM, a super-mild power curve and a low running temperature. The rear timing end plate sports a specially designed protector for the sensor wire and connector that saves all parts from harm.
Source: Muchmore [muchmoreracing.net]
Monday, December 22, 2014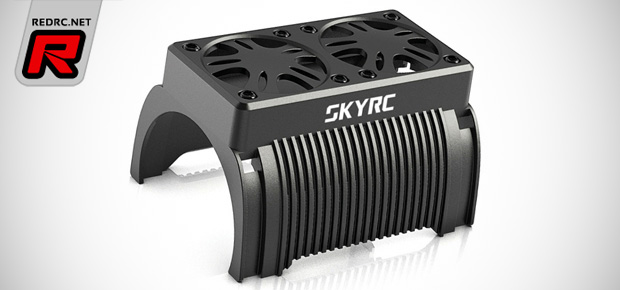 SkyRC introduce a twin motor cooling fan kit for large scale brushless motors with a diameter of 55mm. The part made from heat-resistant material offers a heatsink design, it incorporates two pre-wired 40mm highspeed 7.4v fans and it easily mounts to the motor using two zip ties. The compact design allows to efficiently reduce the running temperature of a wide range of motors used in 1/5th scale models.
Click here to view another photo
Thursday, December 4, 2014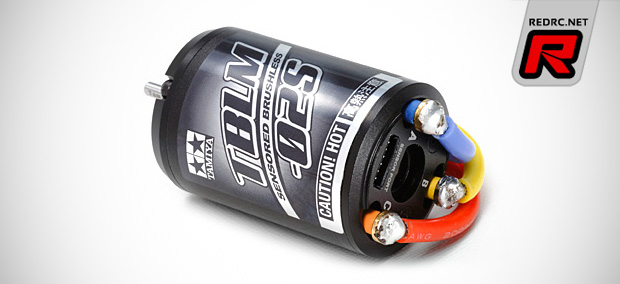 Tamiya soon have a new sensored brushless motor available in the form of the TBLM 02S. Coming as faster 10.5T and slightly slower 15.5T variant, both offer sensored and sensorless operation and build-in bullet type connectors. Their closed design makes them usable for on-road and off-road applications alike.
Source: Tamiya [tamiya.com]
Wednesday, December 3, 2014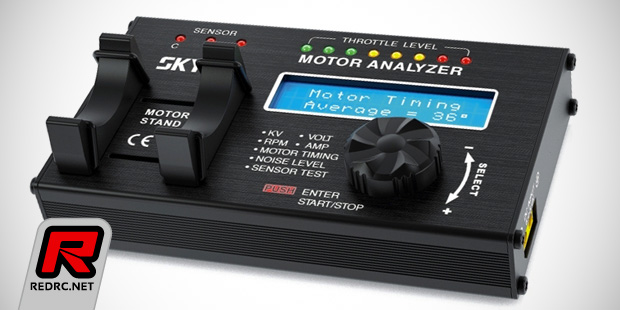 New from SkyRC comes the Motor Analyser, a device to test and fine-tune electric brushless motors. The motor tester offers KV measurement, voltage, RPM and Amp draw tests as well as timing and hall sensor checks together with a noise level test that allows to draw conclusions on the conditions of the ball bearings. Coming in a sturdy aluminium case the device sports a back-lit display, jog dial menu operation and it includes an array of wires such as a sensor cable, motor connection wires and power input adapters.
Click here to view the specifications
Monday, December 1, 2014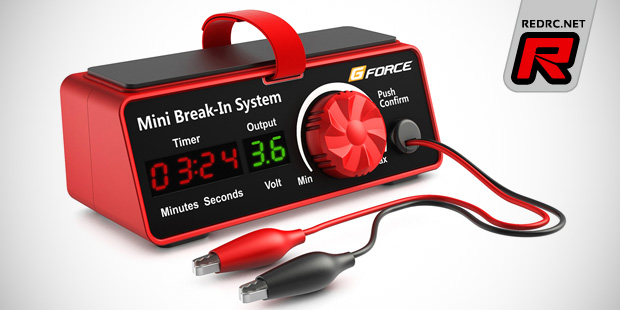 GForce introduce the Mini Break-in system for mini and micro-size brushed motors. Designed for the use with Tamiya's Mini 4WD series of "slot cars", the system is also usable for the brushed motors found in Kyosho's Mini-Z or HPI's Micro RS4 line of vehicles. The motor run-in system is housed in a sturdy case with a jog dial to adjust the output voltage and also a timer that stops the run-in process after a certain time. A non-slip foam pad and a velcro strap prevent the chassis or motor from moving around and the break-in device is powered by four AA-size batteries or an optional power supply.
Click here to view the specifications and more photos
Thursday, November 27, 2014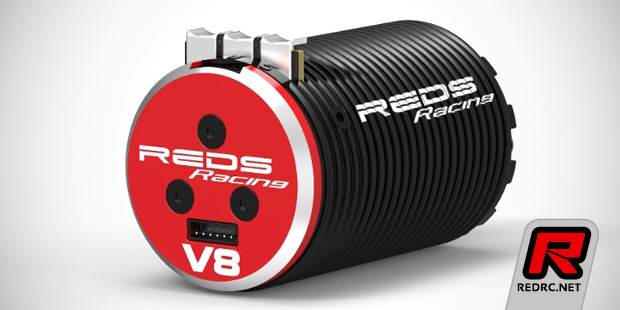 After releasing the VX 540-size electric brushless motors Reds Racing now introduce a dedicated series for 1/8th scale racing. The V8 are specifically designed 1/8th off-road motors to provide exceptional power, superior smoothness and control in combination with high efficiency and a low temperature operation. Coming with a highly finned CNC-machined aluminium can for improved heat dissipation the motor is capable of both sensored and sensorless operation and available in two KV options of 1900KV and 2100KV.
Click here to view the features and another photo
Wednesday, November 5, 2014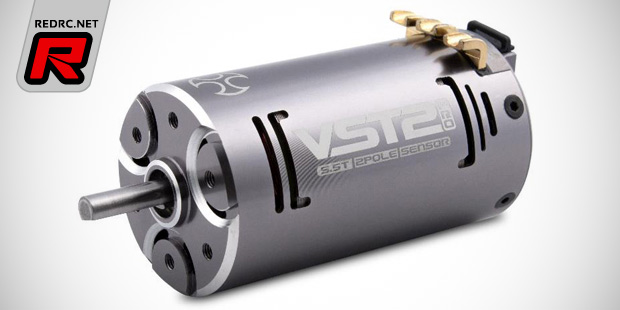 Team Orion introduce the VST2 Pro 550 4.0T brushless short course motor. The motor builds on a robust aluminium case with an improved ventilation system for best possible cooling. The new design also features a convenient dual sensor port system which allows the motor to be installed in the chassis in the best possible way. The empty port can be used to easily program the ESC through the motor. The 2-pole 5100kv motor also offers adjustable timing, heavy-duty solder tabs and it comes with a rotor installation tool to make convenient rebuilding possible.
Source: Team Orion [teamorion.com]
Wednesday, October 22, 2014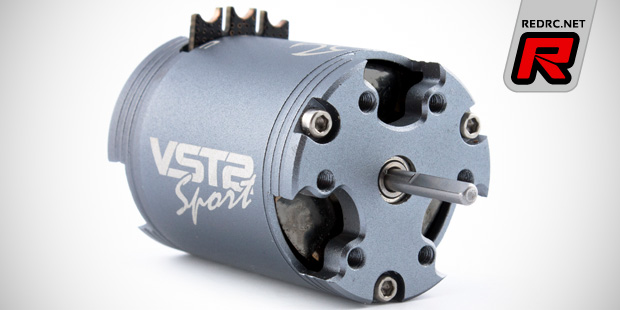 Team Orion introduce the new VST2 Sport brushless motor. Developed by Oscar Jansen the sport version of the World Championship winning VST2 Pro is of a fixed timing design, making it ideal for spec racing classes. The motor builds on a machined aluminium can, it is of a simple and reliable deign and large venting holes make for efficient cooling and low running temperatures even in high ambient temperatures. The VST2 Sport is available in 6.5T to 8.5T modified and 10.5T to 21.5T stock windings.
Click here to view the features and more photos
Wednesday, October 15, 2014