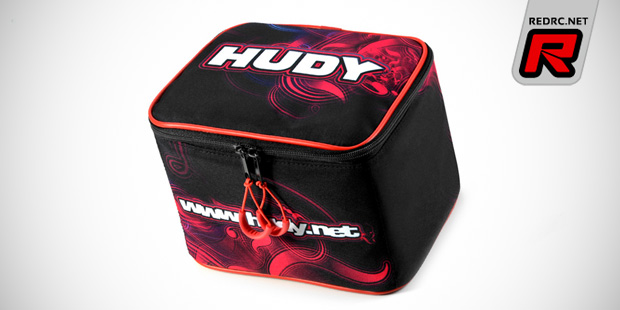 Following a medium-size oil bottle bag Hudy now also introduce a large bag to store shock, differential and air filter oils in. Measuring 22x17x16cm the bag is ideal for Hudy's large oil bottles and it features fully cushioned and reinforced walls, flashy graphics and a sturdy zipper to keep the bag securely closed during storage and transportation.
Source: Hudy [hudy.net]
Tuesday, December 16, 2014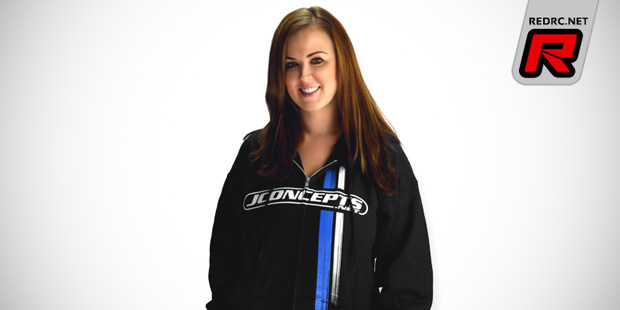 New from JConcepts comes the zipper hoodie sweatshirt with Racing Stripes print. Much like the muscle cars of the 1970's, the blue and white racing stripes vertically positioned extend well below the logos for decorative impact and presence. The hoodie is made from 90/10 cotton and polyester fabric, black of colour and it comes in medium to xxx-large sizes.
Monday, December 15, 2014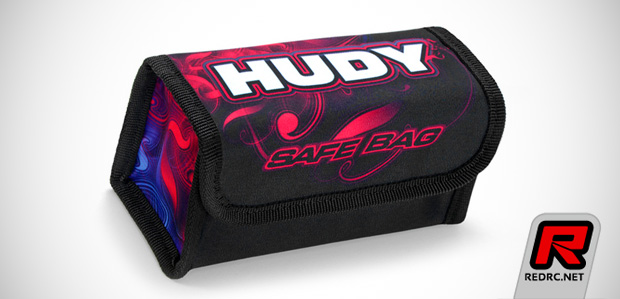 Hudy introduce their new LiPo safety bag large enough to store three standard 2S LiPo packs in. Made from EN531 standard fireproof material, the same as firefighter suits are made of, and coming with flashy Hudy graphics the bag reduces the damage done to the pit table and its surroundings in case a LiPo battery goes boom during charging, discharging or storage. The bag measures 140x60x70mm and it is available very soon.
Source: Hudy [hudy.net]
Friday, December 12, 2014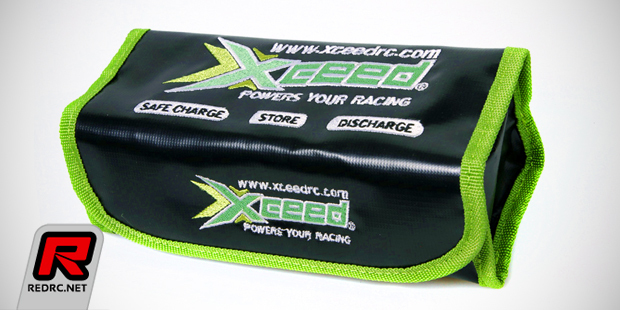 Xceed have a new safety bag available for secure charging and transportation of LiPo battery packs. Made from fire-proof fabric the bag reduces the damage done to the pit table and surroundings in the event of a LiPo battery catching fire for any reason during charging, discharging or stprage. The bag is large enough for two standard 2S stick packs and it sports stitched Xceed logos.
Source: Xceed [xceedrc.com]
Thursday, December 11, 2014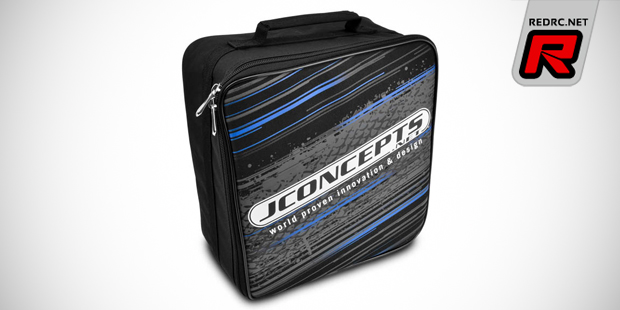 JConcepts introduces a radio bag for the Spektrum DX4R-Pro transmitter assigned with travel, cushion, ease of use and protection in mind. The lightweight design consists of a rugged outer bag which has a convenient and easy access zipper closure and inside has a Velcro closure pouch for additional easy access items. Inside, a high-density, form fitted foam, pre-cut for your radio of choice cushions all sides of your pricey possession while a lower stage foam insert cushions the bottom. The bag is travel friendly and sized to fit inside most luggage or racing carrier bags. JConcepts Striker logo and graphic imagery is printed on the outside for the most authentic look.
Click here to view the features and more photos
Thursday, December 11, 2014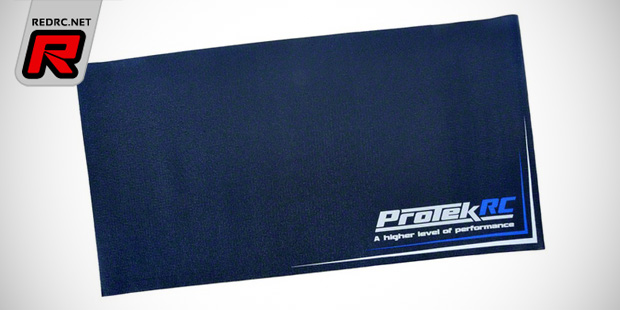 New from ProTek R/C comes a 4mm thick foam pit mat for comfortable wrenching in the pits. The high-density mat is soft and durable, and it rolls up for convenient storage. A zipped mesh pouch is included to protect the pit mat while stowed. At 122x61cm, the mat is giving plenty of room when building a new ride or thrashing during quick repairs and it has a non-slip textured surface that has been sealed, so that it is water and oil-resistant. Non-toxic cleaners can be used to remove oily residue left over from shock and differential maintenance.
Click here to view another photo
Monday, December 8, 2014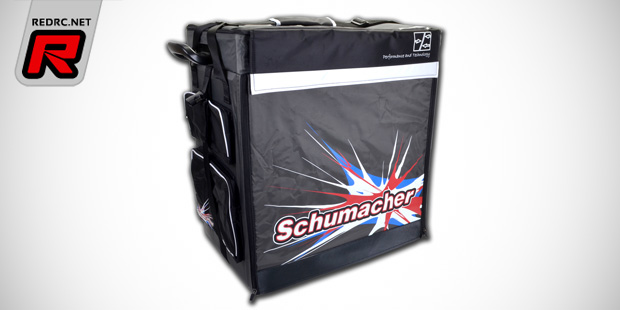 Coming from Schumacher is this large hauler bag for transporting all your race gear to the track. The branded bag is super easy to manoeuvre with is two position, push button, lightweight aluminium handle and robust moulded wheels. The bag also incorporates a shoulder strap for more carrying options and the handle is replaceable if somehow it gets damaged. The zips on the hauler are also super tough, with upgraded fastenings for improved durability. The bag offers five corrugated boxes, one large, three medium and one small, all of which are available separately as spare parts, with moulded supports to provide even more strength. Also incorporated into the design are an upper tool tray and a side bag for that all important setup board.
Click here to view more photos
Wednesday, December 3, 2014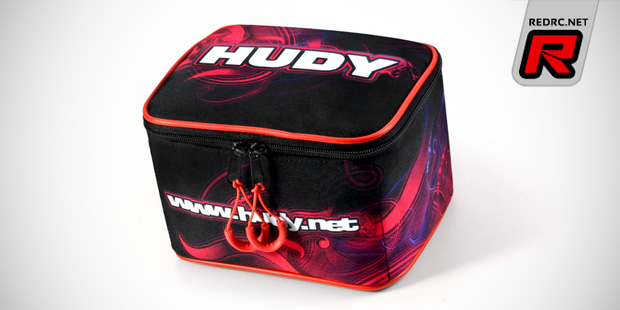 Hudy introduce their new medium-size shock and differential oil bag. Measuring roughly 19x15x12cm the reinforced and padded bag is ideal to store and transport up to 18 medium-size Hudy silicone oil bottles without having to fear they rattle and leak inside any DIY box. Flashy graphics and reinforced zippers make the bag stand out in your hauler bag and on the pit table.
Source: Hudy [hudy.net]
Wednesday, December 3, 2014