Dynamite is proud to offer new stainless steel screw upgrade sets for Traxxas trucks. They are resistant against rust or corrosion and the hard steel makes it nearly impossible to strip heads. The sets include socket, button, flat head and set screws and comes in a quality, reusable plastic pit case. Available for the Traxxas Slash 4×4 and Slash, Stampede, Rustler and Bandit.
Source: Horizon Hobby [horizonhobby.com]
Thursday, June 16, 2011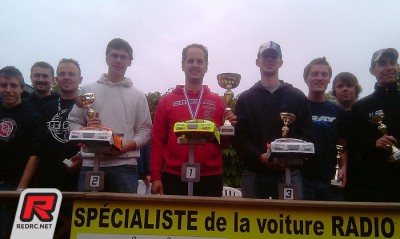 The 4th round of the French 1/10 scale 200mm championship was held on the track of ASCAP at Poissy near Paris. On the small and technical track. Basile Concialdi took the TQ honours and victory in the Elite class with his Team Orion powered Capricorn LAB-C01 leaving the Xray NT1/RB T11RS trio Maxime Favrelle, Thomas Correard and Michaël Derderian behind him. The National class was won by Jean-Laurent Ripoll (Xray NT1/RB T11RS) in front of Jonathan Gergen, Rémi Rivard and David Petit after Vincent Berthon lead the final until he run out of tyres with three minutes to go eventually finishing in sixth position.
View the National class podium here
Thursday, June 16, 2011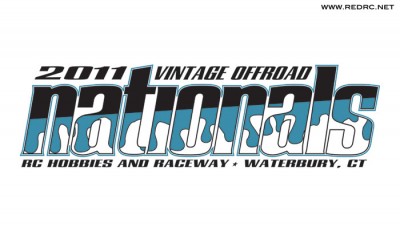 Our friend Erich Reichert got in touch to tell us about the the 2011 Vintage Offroad Nationals that will be held once again at RCHR in Waterbury, CT USA from September 15 to 18th. RCHR's throwback name and indoor clay track make it the perfect place for racing 1994 and earlier production cars and this year's race will have classes for 2WD, 4WD, Stadium Truck, Classic, Novice Classic, and two classes for Heavy Metal. HM1 will be for the pure, no holds barred monsters like the Clod Buster while HM2 will offer smaller monsters like the Blackfoot and King Cab a shot to run with the big boys. HM1 and HM2 will run together Grand-Am style and is one of the most exciting classes to be part of. Click here for more information on the venue.
Thursday, June 16, 2011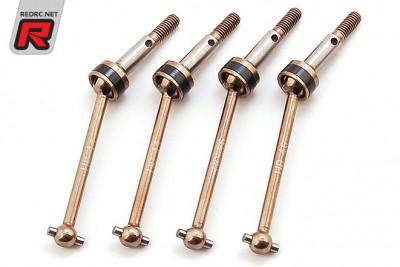 Spec-R release 44mm and 46mm swing shafts for the Hot Bodies TCX electric touring car. CNC-machined from high-quality spring steel for tight tolerances and best possible durability the parts feature a safety ring to keep the cross pin securely fastened. Also available are 50mm and 52mm shafts for Xray and 42mm, 44mm and 46mm shafts for Tamiya touring cars.
Source: Spec-R [spec-r.com]
Thursday, June 16, 2011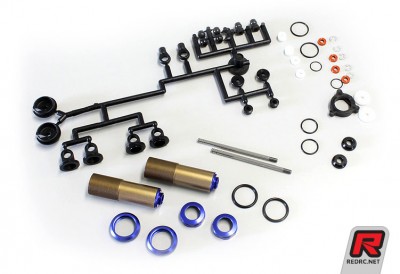 Kyosho America got in touch to tell us about their new velvet coated triple cap threaded big bore shock set. The shocks with aluminium body, upper and lower caps are suitable for the Ultima SC/SC-R/DB and the RT-5 trucks. They must be used with XGS springs on the rear.
Source: Kyosho [kyoshoamerica.com]
Thursday, June 16, 2011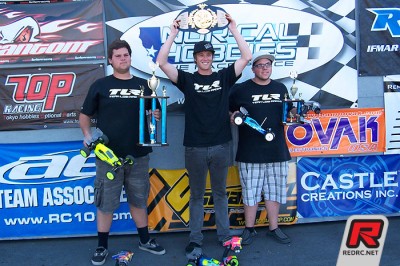 TLR's Dustin Evans swept the 2WD and 4WD classes at the third round of the Norcal off-road championships at Norcal Hobbies. In 1/10 2WD Dustin used his TLR 22 buggy to set the fastest time in every round and take the overall TQ, leading the top 7 qualifiers all with TLR 22's. When the tone went off for A1, Dustin quickly jumped out to a quick lead, and never looked back taking the win, with Cody Turner in 2nd. A2 say more of the same with Dustin getting an early lead, and moving away from the pack. Matt Schreffler was able to hold onto the 2nd position ahead of Cody Turner in 3rd. Dustin would take the overall win, with Schreffler and Turner completing the podium.
Continue reading the report here
Wednesday, June 15, 2011
DE Racing release their famous Trinidad Short Course wheels in new fluorescent yellow colour. Available with ten model specific offsets for trucks like the Associated SC10, HPI Blitz, Jammin SCRT10, Team Durango DESC410R, Team Losi Ten-SCTE and XXX-SCT/SCB as well as the Traxxas Slash, DE Racing suits all your SC truck and buggy needs. 
Source: DE Racing [deracing.net]
Wednesday, June 15, 2011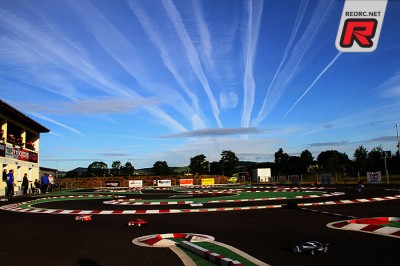 Our friend Uwe Rheinard got in touch to tell us about the recent 24h race at the Motodrom Andernach. Being in its 12th year the challenging around the clock race once again attracted 25 teams with a total of 175 racers from Austria, the Netherlands, Luxembourg and Germany to race their Porsche-bodied Tamiya TT-01E kits at the legendary Motodrom, home of World Champion Marc Rheinard and host of the ETS season final. According to the rules each team as to build the chassis on Saturday morning using only a minimum of option parts and Porsche GT3 body shells. For the second year in a row Speed Power sponsored LiFe hardcase battery packs with a capacity of 4200mAh that every team had to use. After 24 hours, 3559 laps and a total distance of around 750km the five time winners "Wild 13" claimed the top spot on the podium using 5 sets of tyres but not a single spare part, followed by the team from the Netherlands with 22 laps less. For more information and a TV report from the 2009 event please visit www.teammotodrom.de.
Click here to view impressions from the race
Wednesday, June 15, 2011