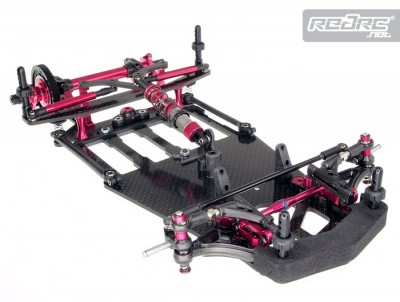 More new products from T.O.P. Racing with the introduction of their Rebel 12, 1/12th scale chassis. This new link car features and ultra open motor pod designed specifically for brushless motors with an axle tube to assure perfectly aligned pod bearings and a counter balanced rear hub allowing for smooth rotation. Up front there is easily adjustable 3-way reactive caster suspension, adjustable front arm droop and aluminium eccentric arm spacers for simple front width adjustment.
View the full features list here
Wednesday, September 29, 2010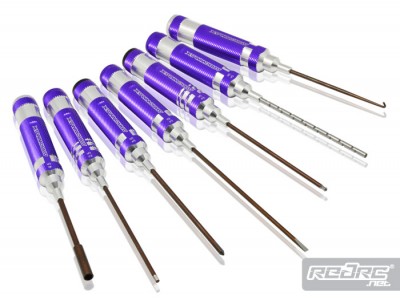 New from Free Max is their new Arrowmax range of tools. With hollow purple, anodized aluminium alloy handles, the tips are made of spring steel which are super durable and allow long life. the different types of tools are easily identified by the different colors cap, such as purple, black, silver, etc. In addition, the size is indicated on the round rings and number of turns. A complete tool series, it includes Allen, Nut Spinner, Philips, Flat head, Reamer and Exhaust spring tools. Also new from Arrowmax is this newly developed bearing meter measuring tool that can be used to accurately measure bearing inner diameters up to 15mm.
Wednesday, September 29, 2010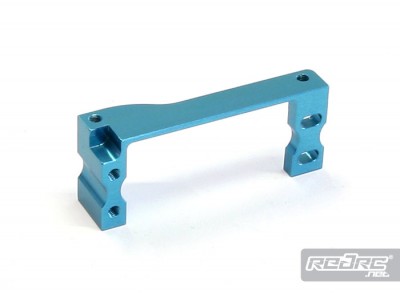 Shepherd have released this one-piece aluminium steering servo mount for the Velox V10. The prototype was succesfully used at the world championship in Houston earlier this year by Marc Rheinard and other team drivers. The blue-anodized CNC-machined servo mount is made of high quality 7075 T6 material to provide an optimized fastening of the steering servo. This results in a very precise control of the steering movement and improves the handling of the Velox V10. Long holes allow the use of different kinds of servo and the necessary fastening material is included.
View it mounted in the car here
Wednesday, September 29, 2010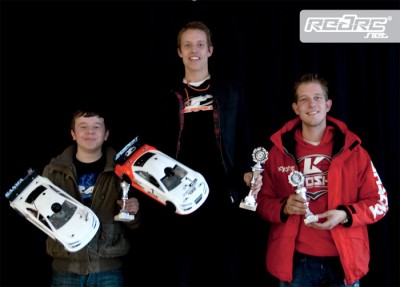 Last weekend was the final round of the Dutch National at the smooth flowing Apeldoorn track in the east of the country. Pedro Rombouts had successfully defended his title on the Baanbrekers home track 4 weeks ago, where the final was less then 10 minutes because of a thunderstorm hitting the track. While the NK class was decided already, the NOMAC class still had no champion and with 4 drivers still able to take it, it would be an interesting weekend for them. Daan Jacobs took TQ for the event, also setting a new fastest lap for the AMCA track. The Serpent team driver was clearly happy that he finally could focus on his chassis and described his car as perfect. Maxim Claese didn't train on Saturday which left him half a second behind Daan Jacobs on the grid. Sander Borghof was in 3th spot on his home track. Pedro Rombouts in 4th and completing the top 5 direct qualifiers was Daan Stuiver, who had also trained on friday with his new Capricorn chassis.
Continue reading the report here
Wednesday, September 29, 2010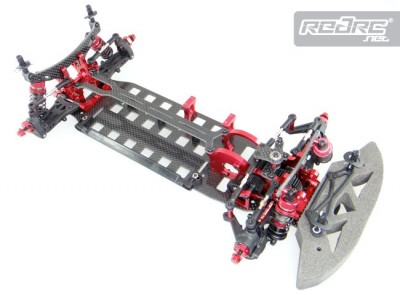 Having shown you the first CAD images from the new T.O.P. Sabre FD front wheel drive chassis back in February, the car is now ready and specs have been finalised. Using a gear driven front drive system, it features a super narrow 2.5mm thick chassis design and alloy bulkheads & motor mounts for improved heat dissipation. Other features include alloy threaded shock absorbers, alloy hex wheel hubs, a front ball differential and 3 step adjustable steering Ackermann.
View more details and images here
Wednesday, September 29, 2010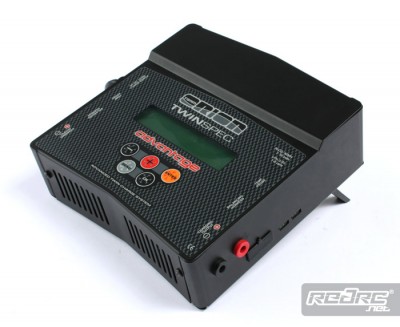 The new Team Orion Advantage TwinSpec charger features the Advanced Twin Charge System which allows the simultaneous charge or discharge of two batteries with currents of up to 20A. With two individual channels which can be setup and used independently one from another, it means that you can charge a LiPo battery on one channel and a NiMH battery on the other. You can also charge a battery on one channel and discharge another battery on the other channel, all at the same time. During use you can easily switch from one channel to another, just by pressing a key.
Wednesday, September 29, 2010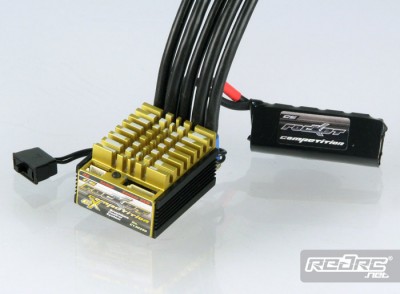 CS Electronic have released the CS-Rocket Competition CX ESC, the follow up to the World Championship CS Rocket. The latest generation of intelligent brushless speed controller it has been developed for both on and off road competition use and is equipped with the highest quality components. With the ability to choose between 10 different power programs, durability and lots of power, the CX can be used with all modern battery types as well as both brushed & of course brushless motors up to 3 turn (7 turn delta).
Source: CS Electronic [cs-shop.de]
Tuesday, September 28, 2010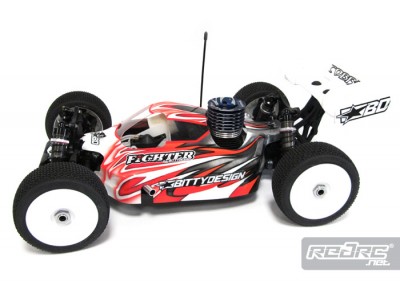 Bitty Design have expanded their Fighter body line with the release of this new shell for the Serpent Cobra S811. Made from high quality 1mm thick polycarbonate, it features a forward cab design that gives your buggy faster steering response. Other features include side skirts for easy body location as well as an improved new cut line on the rear to allow the release of hot air from around the engine and pipe. The clear body is sold with protective film and window masks and decal sheets are included.
View more images of the new shell here
Tuesday, September 28, 2010