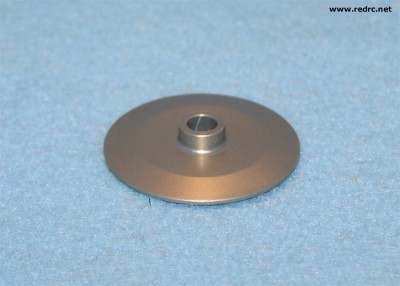 X Factory have introduced this slipper plate which fits the X-6 & 6 Squared, X-60 and AE B4 & T4. Individually CNC machined from aluminium, the new plate is a super accurate fit, light in weight and hard anodized for long life. Available now.
Source: X-Factory [xfactoryrc.com]
Friday, January 22, 2010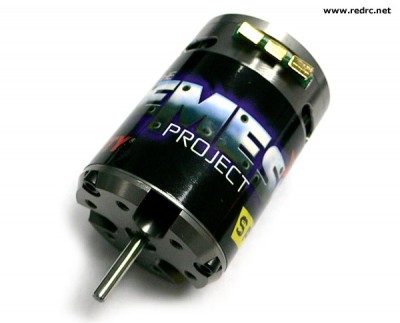 New from Team Epic is this Nemesis Project 7.5T high torque dirt oval motor. Featuring a high power rotor for dirt oval and off-road, it delivers lots of low end power to keep your car from bogging off the corners. There is also a new rotor for Nemesis modified motors used for 1-cell racing. The diameter and magnet strength is designed to increase rpm and power when using the 50% less voltage of a 1 cell pack. A red end cap is for easy identification and it is ROAR legal for both spec & modified classes.
Thursday, January 21, 2010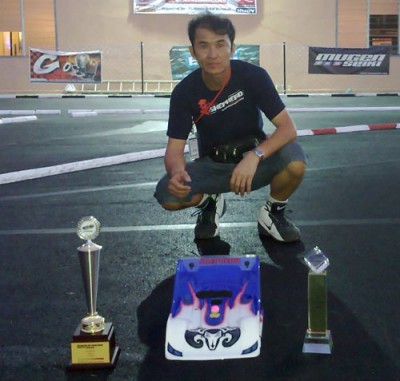 Last Saturday saw the first open race in Malaysia, held at Excellent Speedway in the north of country and saw over 70 drivers in attendance. In the 1/8th scale GTP class it was reigning national champion Niko Cheng driving for Shepherd who dominated the whole event. After 3 rounds of qualifying he claimed the TQ spot for the 35 min A final clocking the fastest laptimes of all drivers. At the start of the final he could pull away easily and was unchallenged for the whole race distance. He crossed the finishing line in first position with a gap of 7 laps on the second placed driver claiming the first victory of the 2010 racing season. With his brand-new Velox V10 Niko Cheng also participated in the 1/10 nitro touring class. After 3 rounds of qualifying he lined up in the starting grid on second position. At the start of the 40 min final he could take over the first position until the first pitstops. Unfortunately he dropped back due to some minor mistakes and finished on 8th position.
Source: Shepherd [team-shepherd.com]
Thursday, January 21, 2010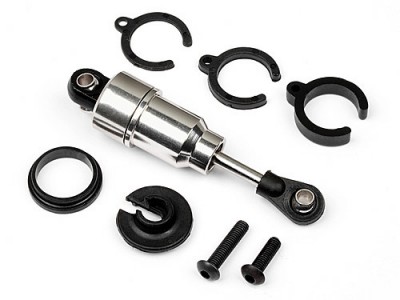 Boost the performance of your HPI Formula Ten car with an aluminium shock set. This is a high-quality oil-filled, CNC-machined pre-assembled aluminium damper with a 54mm length, perfect for replacing the stock friction shocks on the Formula Ten. For convenient mounting, the shock is fitted with pivot balls that swivel in plastic shock ends. A longer shock shaft end is included for cars that need longer shocks, and long M3 cap head screws are included for attaching the shock to the chassis and rear pod. Clip-on ride height adjusters allow you to quickly change the length of the shock. The shock will fit Formula Ten option springs and standard size touring car shock springs (13mm diameter). Sold singly, it includes ride height adjustment clips.
Source: HPI [hpieurope.com]
Thursday, January 21, 2010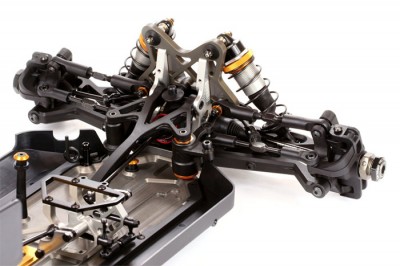 So, we have seen the parts, the rear and now Durango are showing us the front of the DNX408. By Durango standards the front suspension is pretty standard stuff, solid, light weight, with a clean, no-risk design. The front end features all the necessary adjustments, plus hard anodised suspension holders, hard anodised bulkheads, 5mm hard anodised shock towers, outdrive and CVD boots and the 15mm bore PTFE coated shocks. Team Durango style down-stops keep the front of the chassis nice and narrow for best front ground clearance. When it comes to taking the gearbox and centre drive shaft out it should only take about six screws.
Click here for more images of the front end
Thursday, January 21, 2010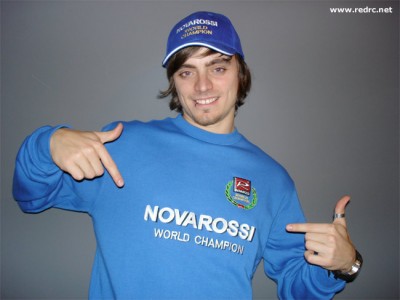 Novarossi have announced the signing of a long term agreement with Spanish driver and Team Associated factory driver Robert Batlle. The 2007 European Champion and 4 time consecutive Spanish National Champion ends his relationship with GRP engines and joins the Novarossi 'Super Team' of Adam Drake, Yannick Aigoin, Jerome Aigoin, Darren Bloomfield, Martin Bayer and Billy Fisher with more announcements expected.
Source: Novarossi [novarossi.it]
Thursday, January 21, 2010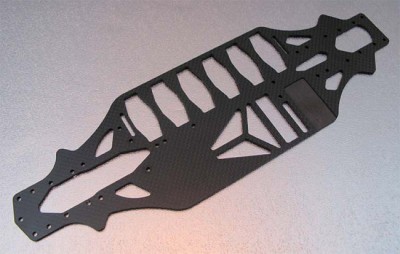 New from Yokomo for their BD5 touring is this new special flex chassis. Used by their team to finish 1-2-3 at the Japanese touring car nationals, this new carbon fibre chassis plate has been designed by Umino Kojiro to be used in combination with a front one way on lower grip surfaces such as those on outdoor tracks as well as on very tight indoor tracks to give more grip and steering. Available in a limited quantity only.
Source: Yokomo [teamyokomo.com]
Thursday, January 21, 2010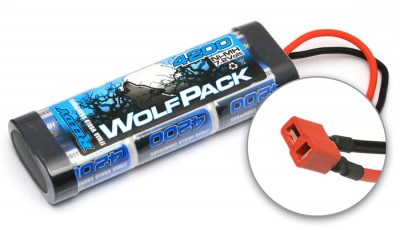 To satisfy the demands of enthusiasts worldwide, Reedy Wolfpacks are now available equipped with Deans Ultra Plug Connectors in 6-cell 7.2V and 7-cell flat 8.4V versions. Wolfpacks are assembled using Reedy's high-tech NiMH sub-C SC-R cells which features high capacity for extended run times while delivering maximum output thanks to its current carrying capabilities and ultra-low internal resistance. To improve power output, prevent meltdowns, and increase reliability, an industry-standard Deans Ultra Plug connector has been fitted and to further minimize power-robbing resistance and heat, welded connections between each cell and thick 14AWG silicone power wires ensure maximum performance and reliability. An adapter is also available that allows you to charge these new packs with chargers that use a Tamiya-style output.
Source: Reedy [reedypower.com]
Thursday, January 21, 2010