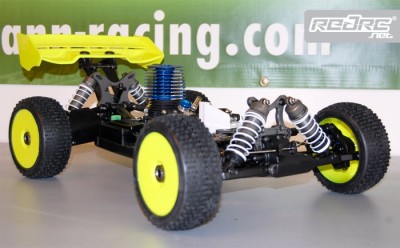 Ansmann Racing are showing off the first pictures of their new 1/8th scale buggy platform, the V8. A full competition car to follow the success their previous cars, this new buggy is the result of 2 years testing and design. The goal of the car's design was to get a perfectly balanced lightweight car with awesome track performance, with the manufacturer providing no further information at this stage. The first prototypes are expected to hit the tracks in April this year.
Click here for more images of the prototype
Thursday, February 11, 2010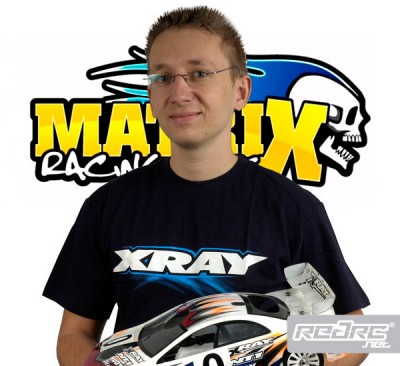 Matrix racing tires have announced that Martin Hudy will join their team for 2010. Having used their tires during the European Championships in Gubbio last year and having checked the quality and consistency, he has chosen to use them on his Xray NT1 chassis this season. The Slovakian finished on the podium at the World Championships in Portugal in 2008 and took 4th place in Gubbio last summer and will be a strong title contender at both the Worlds in Houston and Euros in Gothenburg later this year.
Source: Matrix Tires [matrixtires.it]
Wednesday, February 10, 2010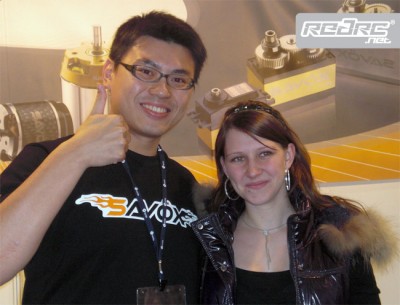 Fast lady racer Sabrina Lechner has inked a deal with Asian servo manufacturer Savox to use their products in her car for next year. The World Championship quarter finalist has been testing the products since the event in Lostallo and has been happy with the results and will now use them in her cars for 2010 as she plans to attend the European 1/8th and 1/10th scale Championships later this year. Savox joins Sabrina's other sponsors Serpent, Max Power, IDM tires and MLC fuel.
Source: Savox [savoxtech.com.tw]
Wednesday, February 10, 2010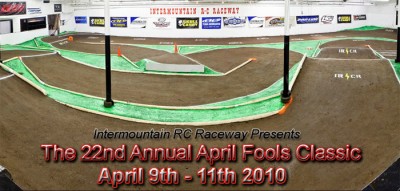 Intermountain RC Raceway has announced the dates of April 9th, 10th & 11th for the 22nd Annual April Fools Classic. With all the common electric classes running from novice, short course and on up through stock, pro stock and modified electric, last years race had over 200 entries with tons of fun had by all over the weekend. This is one of the longest running annual electric indoor races in the country with plenty of legends of RC making a showing in previous years like Pop's Losi, Brian Kinwald, Matt Francis, Mike Truhe and many others. With an incredible clay surface that has consistent high traction all weekend makes for great racing. Along with the mains in all the classes the triple A-mains in the mod classes always end in quite a show, last year saw a battle between Losi and Associated drivers in all the mod classes with top showings from Brent Theilke, Scott Brown, Dustin Evans, Matt Chambers and Joel Eaton. The sign up sheet and more information can be found on the IRCR website here.
Wednesday, February 10, 2010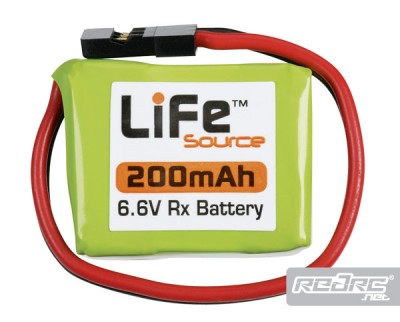 The new LiFeSource 200mAh 6.6V LiFe receiver battery is perfect for powering receivers for 1/10 and 1/12 scale racing where a 1S LiPo is used as a power pack. Featuring a universal connector it's tiny 30 x 23 x 12mm size allows it to fit inside the smallest of spaces and at 15 grams, it's among the lightest Rx batteries ever produced. LiFeSource lithium-iron phosphate battery technology offers very high energy density, very light weights and the longest cycle life of any batteries sold for RC.
Source: Hobbico [hobbico.com]
Wednesday, February 10, 2010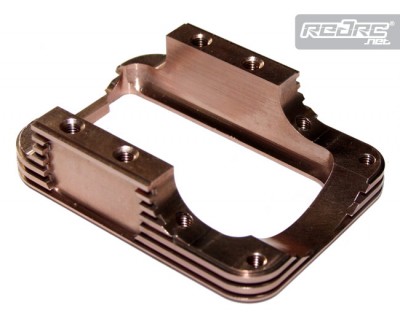 Capricorn RC have introduced a new line of one piece engine mounts made with a patented new material. The nominal weight is more than 300% higher than standard Ergal 7075 aluminium, almost 51g compared to 15.5g, with more than double the heat dissipation. Perfect for bringing the weight to the lowest and most central part of the car and of course better cooling for the engine crankcase. Expect it to become available in the next 15 days for the Capricorn LAB-C01, Xray NT1, Kyosho V-One series and Shepherd V10.
Click here to see the engine mounts being weighed
Wednesday, February 10, 2010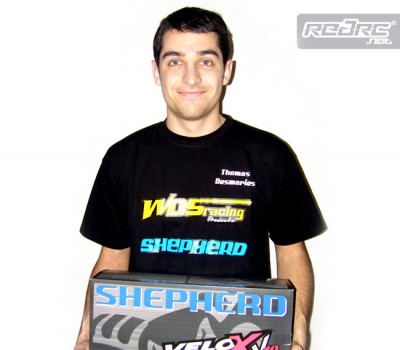 Front running French racer Thomas Desmaries will use the Shepherd Velox V10 for the upcoming season. The 2008 and 2009 French Cup winner will help the local distributor WDS Racing Products promoting the brand new Velox V10 in the competitive national championship. Thomas had the following to say:
I really enjoy to join the new French Shepherd/WDS racing team for this season 2010. I will do my best to win the Championship title this year, and i'll try to win the French Cup the third time in a row. Also I'm sure with an innovative car like the V10 I'll have a good result at the World this year, and I'm eager to start the season with my new Velox.
Source: Shepherd [team-shepherd.com]
Wednesday, February 10, 2010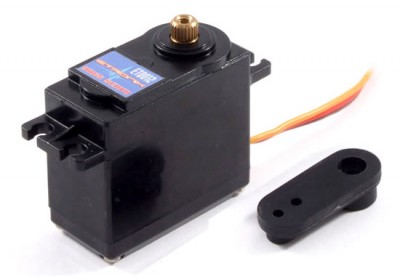 Etronix have introduced their new standard size all metal geared 9kg rated servo, the perfect choice for cost conscious RTR owners looking to upgrade their stock units. Ideally suited to crawlers and 1/8th buggies and trucks it rugged and strong drivetrain it will help eliminate those annoying servo failures.
Source: CML [cmldistribution.co.uk]
Wednesday, February 10, 2010