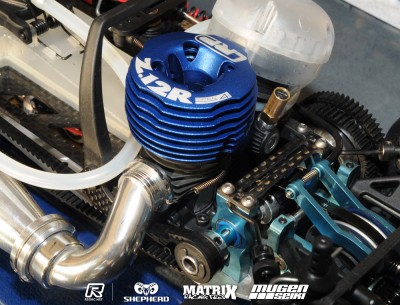 During this weeks 1/10 scale 200mm nitro on-road European Championships in Ettlingen/Germany, LRP team drivers Ronald Völker and Teemu Leino are using a prototype of the upcoming LRP ZZ.12C Ceramic engine. So far the engines, using a Z.12R Spec4 cooling head, are doing very well with both Teemo (5th) and Ronald (7th) making the Top 10 after qualifying. The third driver to use the Ceramic prototype is 2010 "B" vice European Champion Dirk Stammler (21st). The engine has been designed completely from scratch and is constructed using high-end components and latest production technologies to create a pro-level powermill for the highest competition races. No word so far on a release date.
Click here to view another picture
Saturday, August 20, 2011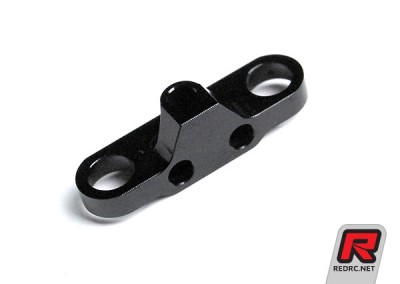 Exotek Racing got in touch to show us their latest option part for the Xray T3'11 touring car. The centre link makes for an equalised steering geometry of left and right steering input when mounting the servo in the East/West configuration. The part is machined from 7075 aluminium and comes black anodised.
Click here to view a picture of the part in place
Saturday, August 20, 2011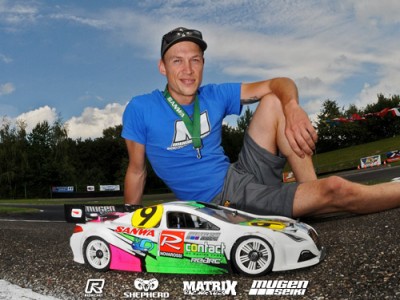 Mugen designer Robert Pietsch gave his latest creation the MTX-5 its first accolade by securing Top Qualifier honours at the 200mm European Championships in Ettlingen, Germany.  Top Qualifier at the World Championships using the MTX-5's predecessor, the German ace claimed his first Euros TQ with his time from yesterday's second round of qualifying as no one could take advantage of the dry Q4 conditions to better his time.
View our event coverage here.
Friday, August 19, 2011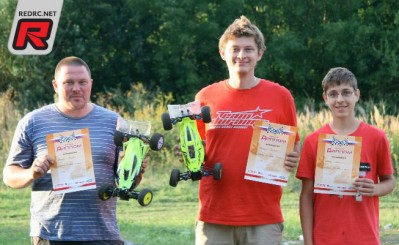 Dmitry Malyshko has won the 4th round of the Russian EP Off-Road Cup series. The Race was held in Tula on the Hobby-Cents track with around 30 percent Astroturf and 70 percent dirt surface. After taking TQ after the qualification, Dmitry swept the A finals and won in front of Gennady Ereveev and Stepan Leshenko.
Source: Durango [team-durango.com]

Friday, August 19, 2011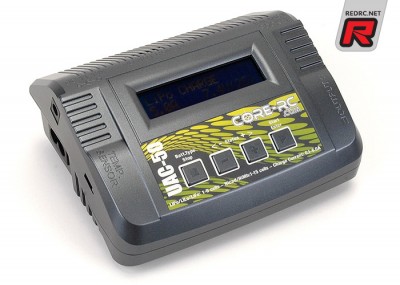 The Core RC UAC-50 universal digital charger is a multifunction balance and rapid charger/discharger controlled by a high performance microprocessor and specialised operating software. Making use of multi voltage input of 110-240v AC or 12v DC the multi-chemistry charger is compatible with all types of batteries including LiPo, Li-lon, LiFE, NiMH, NiCd, and Lead-Acid cells. The software programs include charing with up to 6 amps, discharging, balancing, cycling and storing. A JST XH balancer board and as well as adapter leads are included.
Click here to view the specifications and more pictures
Friday, August 19, 2011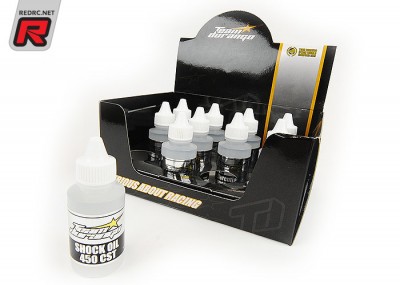 Team Durango are pleased to introduce their range of pro-level silicone-based shock absorber and differential oils. Available in sets, or individually, each oil has been tested and approved for optimum performance over a wide range of temperatures and track conditions. Ideal for the use with 1/10 and 1/8 off-road buggies and trucks. The shock oils range from 200 cst up to 700 cst  with the differential oils ranging from 1000 cst up to 20000 cst. Both lines are also available in handy sets of 11 and 10 bottles.
Click here to view the differential oil set
Friday, August 19, 2011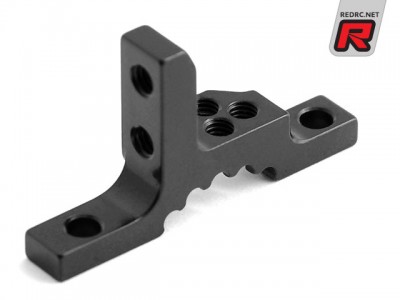 Spec-R release new option parts for Xray's T3 2011 Spec chassis and Hot Bodies TCX touring car. Made for the T3 are 7075 upper bulkhead parts machined from 7075 aluminium. Coming black anodised the parts feature an additional bracket with three location holes for the upper camber links to move them away from their kit position on the shock towers. Designed for the Hot Bodies TCX are lightweight Delrin front spool outdrive adapters that feature large outdrive saver rings and that are a direct replacement for the stock parts.
Click here to view the outdrives
Friday, August 19, 2011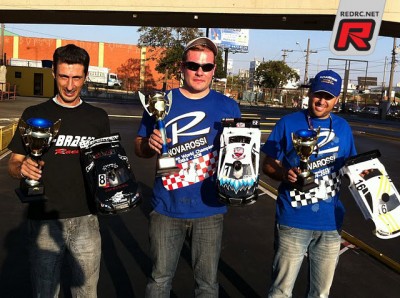 Sandro Martines has won the 5th round of St. André Championship in Brazil. Starting in the middle of grid and struggling with a rich setting of his engine during the first minutes of the race, the first pit stop and engine re-tune brought a change as KM H-K1 driver Sandro took the lead and won the 30 minutes final one lap ahead of Leandro Fares (Capricorn) and team mate Anderson Becheli (KM H-K1) who was leading the race until he ran out of fuel, ending his chances of winning and missing the second place by a few seconds. Paulo Cesar (KM H-K1) finished 4th.
Source: KM [km-rc.com]
Friday, August 19, 2011