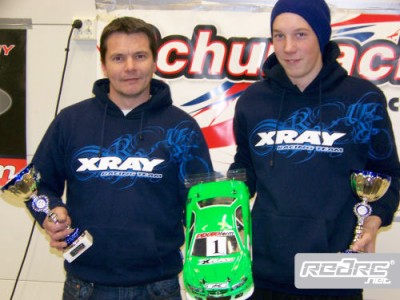 The 3rd round of the Norwegian National Winterseries in 2010 was held at BMRK's track in Moss, 40 min south of Oslo, a medium size track with high grip. In Touring Modified Petter Berntsen dominated this race through the qualification having just after switched cars earlier in the week. Tom Erik Haaversen ended up in 2nd followed by Oyvind Stusdal in 3rd. In 1/12 scale it was Helge Johannessen who was the man of the day, totally dominating this class and leaving the rest of the field in his dust. 2nd place went to Lars Haugen followed by Georg "gogg" Ellingsen. In SuperStock the fastest man was again Bjorn-Ivar Haug who tok TQ spot in front of Lars A Andersen and Trygve B Freng.
Continue reading the report here
Wednesday, December 15, 2010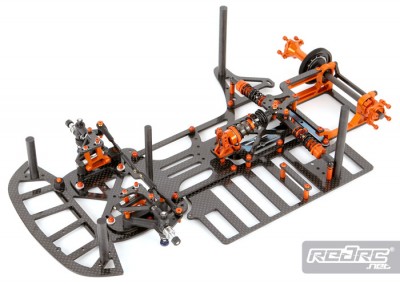 McPappy Racing have introduced the Dart 2.5 and have released a Dart 2.5 Standard Kit and a Dart 2.5 Team Kit. This newest version was designed to stay flatter and turn harder and it has an offset and super offset T-plate position. Shorter wheelbase and lightened pod plates, the left side of the chassis was moved out .100″ to increase the left weight percentage and also taking advantage of the newest Protoform D-HD nationwide body. The LiPo strap brace was moved to the rear of the battery allowing the battery to move toward the LF wheel. This increased front weight percentage. They also added new rubber o-rings designed to work with the carbon fiber flex braces which eliminates all tweaking and finally new standoffs flatten the angle of the side shocks which in testing, has all proven to be better.
View more images of the new car here
Wednesday, December 15, 2010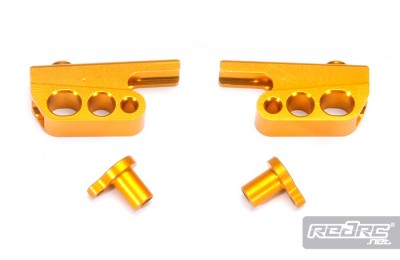 New from Edam is this orange anodized 7075 T6 aluminum front anti-roll bar mount for the Spirit chassis. These new parts allow you to independently adjust the anti-roll bar from the downstop, so that the downstop setting doesn't influence the performance of the anti-roll bar and vice versa.
Source: Edam [edam.com.tw]
Wednesday, December 15, 2010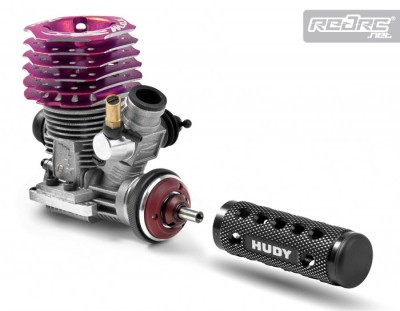 Designed for 1/8 & 1/10 on-road nitro engines, but working with most current centrifugal-axial clutches, the new Hudy clutch tool allows you to easily mount/dismount the clutch spring preload collar and make fine preload adjustments. For mounting, insert the preload adjusting collar into the tool, press onto the spring, and then start threading it onto the clutch nut. Dismounting is done in the reverse order. For preload adjustment, place the tool over the collar and tighten or loosen the collar. Part of the all-new '25 years anniversary' limited edition Exclusive Tool Line, it is made from super-lightweight CNC-machined Swiss 7075 T6 aluminium with diamond pattern surface for unsurpassed grip.
View images of the tool itself here
Wednesday, December 15, 2010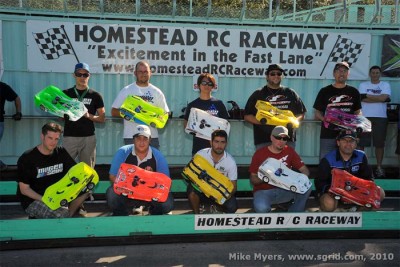 This past weekend saw the Pre Worlds take place at Homestead RC Raceway in Miami, Florida in preparation for next April's IFMAR 1/8th scale on road World Championships. The race saw the top qualifier from the past 2 gas on road World Championships Robert Pietsch once again take top spot with his self designed Mugen MRX-5 ahead of team mates Mike Swauger and Keisuke Fukuda, with Serpent driver Paolo Morganti rounding out the top 4. In the race it was Dutch driver Rick Vrielijnck who set the fastest lap on the way to the win taking the flag by less than a second from team mate Fukuda in 2nd, both using the new Protoform P909 shell, with Paolo Morganti rounding off the podium in 3rd spot.
Wednesday, December 15, 2010
Balance charging LiPo batteries is one of the best ways to prolong the life of your LiPo battery and achieve maximum performance. Reedy now offers two charge harnesses for balance charging 2S batteries with 4mm socket connectors. The Standard version is equipped with two 4mm connectors and one 2mm connector while the Saddle pack version is equipped with four 4mm connectors. Both feature a JST-XH balance connector and 12 gauge silicone wires which can be equipped with a plug compatible with your favorite charger.
Source: Reedy [rc10.com]
Wednesday, December 15, 2010

Mikes Hobby Shop in Porter, Tx, home of the 2010 IFMAR 200mm Worlds, hosted their 4th Annual Toys For Tots Race ending up with 116 entries. Again, a fantastic day (and night!) of racing, with everyone in good spirits as they got started at 3PM. Phil W. and Jeremy Cupps ran a super-smooth program with nearly no hitches and even though they took no breaks between rounds, and only about a 30 minute break before the mains, they were still there until nearly 3am. Estimates put the total of toys donated at about 123 and if you average them at $10/each (many were worth more), then that was close to $1230 worth of toys donated, for a grand total of over $2000 in Toys and Cash. The firemen that picked up the toys said this was far-and-away the largest haul they'd had this season, so congrats to everyone involved.
Tuesday, December 14, 2010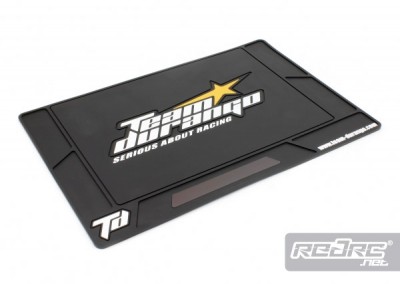 Team Durango have released their new pit mat, which at 620 x 420mm is suitable for both 1/8 and 1/10 scale cars. It features recessed sections to stop items such as tools and parts rolling off your work area. Made from a tough rubber material that gives a hard wearing and easy to clean work surface, another feature is a large magnet in the recessed section at the front of the pit mat that will securely hold on to screws, nuts and other items that you don't want to roll off your table when working on your car.
Source: Durango [team-durango.com]
Tuesday, December 14, 2010