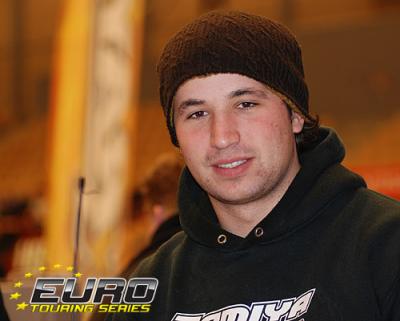 Tamiya Factory driver, and 2004 IFMAR World Champion, Marc Rheinard from Germany is just one the big name racers to have confirmed his entry for round 2 of the Euro Touring Series that takes place on the 14th – 16th of March in Vejle, Denmark. Running in the modified class he will be joined by other mod entrants that include 2008 DHI Cup winner Viktor Wilck, HB team driver Toni Rheinard as well as super quick locals Steen Graversen for Kyosho and Jonas Kaerup racing for HB. With more big names expected to enter, we will keep you informed when we find out more.
Do you want to race against some of the World's top touring car racers, while being commentated on by the legendary Scotty Ernst, in a fun and friendly, yet professional racing atmosphere then be sure to get your entry in for round 2 of the ETS by going here.
Find out more about the ETS Series by going to the official site.
Thursday, February 21, 2008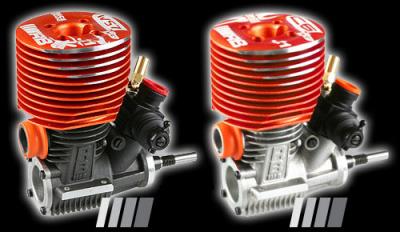 As seen at the toy fair a few weeks ago, RB Product in France have now officially released their new C6BB and WS7 Turbo L2G buggy motors. The C6BB has a wide rpm range, a fast and smooth acceleration giving complete satisfaction to the international racers who have used this engine said to be the best compromise found in off-road racing. The WS7T L2G has a new re-enforced crankcase, and has also been re-looked at the baseline for better stability and strength. Like the C6BB it has the L2G low profile head which increases cooling efficiency and comes with a new turbo combustion chamber. This new engine has a lot of exclusive features including the special RB Concept coating, new off road carburettor as well as a new backplate with improved gas flow and improved o-ring positioning.
Source: RB Products [rbproducts.com]
Thursday, February 21, 2008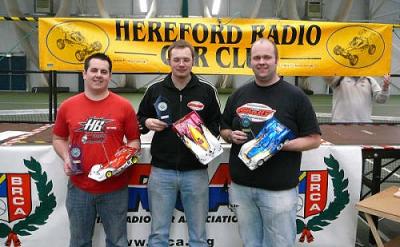 Last weekend saw the 19 turn British 1/12th scale GP run in Hereford, where the organisers created a challenging layout that was very unforgiving and punished small errors very heavily. Qualifying saw the TQ spot go to Russ Williams but he suffered worse luck in the 3 leg finals, crashing out of the third leg while leading. In the first leg of the A-final the win went to Corally racer Chris Kerswell ahead of Matt White with Mark Stiles in 3rd. The 2nd final saw a battle between HB team mates Mick Farrell and Mark Stiles until pressure saw Mick make a mistake eventually ending in 3rd behind winner Stiles and Keith Robertson in 2nd. This meant the winner would be decided in leg 3 and following the demise of Russ Williams, Chris Kerswell could take the lead and eventually the win, giving him the overall win ahead of Mark Stiles in 2nd.
Source: Mirage [mirageracing.com]
Thursday, February 21, 2008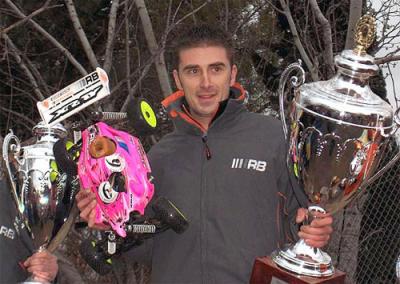 Xray have a report from newly signed team driver Jerome Sartel on last weekends Montpellier GP. Coming fresh from his win in both the buggy and truggy classes at the recent Euro Indoor race, the French racer was initially struggling, partly due to the cold temperatures and lack of practice. Having qualified 6th, and continuing to fine tune his car, he would start the main final from 6th after placing 4th in his semi final. A change of tires transformed the car and saw Sartel battling in 3rd behind Rodriguez and Ezazian in the early part of the race, taking the lead after 15 minutes only to have a fast charging Renaud Savoya move onto his tail. A battle ensued but when the Mugen racer had problems, Jerome saw himself with a lap lead ahead of 2nd and could cruise home for the win, in front of Jerome Ezazian and Nico Rodriguez.
Source: Xray [teamxray.com]
Thursday, February 21, 2008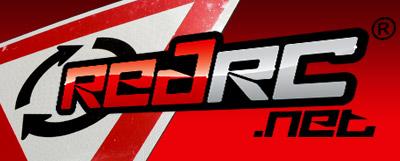 A summary of other news pieces from around the internet today in our Red RC Round-up:
> Eric Dankel wins EP Mod in Southern Germany – Link [smi-motorsport.de]
> Mirage Shut Out at British Indoor Winter Series – Link [mirageracing.com]
> Soeren Boy Holst takes Rd5 of Danish Champs – Link [teamxray.com]
> New Asso, Losi & Mugen parts from RMV – Link [rmv-deutschland.de]
> New RC Commercial from Jammin – Link
Wednesday, February 20, 2008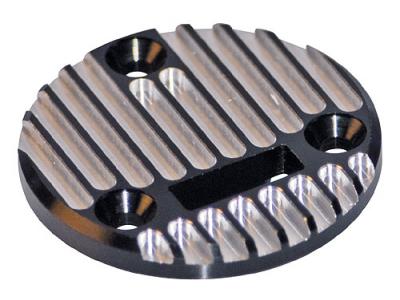 Seen on the LRP stand at the toy fair a few weeks ago and on the motors of team drivers prior to that, LRP have released a range of aluminium plates for the LRP Vector X11 range of brushless motors. Starting with this backplate with its cool black machined aluminium look, this tuning part includes cooling fins for better heat dissipation. For the front of the motor there are a pair of cover plates that improve the cooling of the motor increasing its performance, while the design of the plates means they are lighter than the standard part. Available in 2 thicknesses, the thinner front cover moves the motor more to the centreline of the car resulting in a different weight distribution of the car.
Click more to see the cover plates… (more…)
Wednesday, February 20, 2008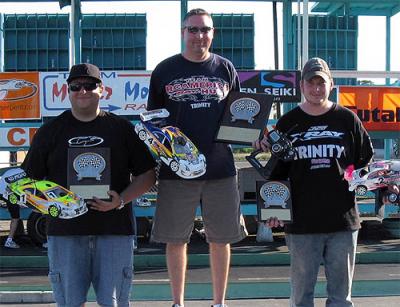 Xray team driver Paul LeMieux has a report from last weekends 1/10th 200mm race at the 2008 Winternats in Florida. Held on the very unforgiving Ft Myers track, the Xray team had a successful event despite Ralph Burch starting 2nd on the grid behind pole man Paolo Morganti for Serpent. In the end Burch managed to get ahead of Morganti and take the win by half a lap with Paul coming home in 3rd half a lap further back.
Things were now spread out a bit with Ralph and I running 1&2 but Paolo was not content with 3rd and made a hard charge and was reeling me in. Now with the race winding down the order was still Ralph followed by myself and Paolo running third. Paolo caught me with around 15min to go, he got into the back of me but waited for me to get back by him (very nice), but over the next few laps he made a nice pass on me to take back 2nd place. From there Ralph was on cruise control with a half lap lead over Paolo with 5min to go. Paolo pulled away from me by a few seconds.
Read the full report here.
Source: Xray [teamxray.com]
Wednesday, February 20, 2008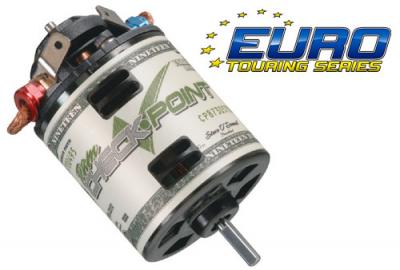 The organisers of the upcoming round of the Much More backed ETS (Euro Touring Series) in Vejle Denmark, which will be run from the 14th – 16th of March, have confirmed that the handout stock motor for the event will be the Team Checkpoint Money 19T Spec Motor. This is a great spec motors and thanks to series sponsors Team Checkpoint you will get this as part of your entry to the Danish event. The series organisers have also confirmed that this same motor will be used at the Dutch round of the ETS in Heemstede, which takes place on the 11th – 13th of April.
Find out more about the ETS Series by going to the official site.
Entry for ETS round 2 in Denmark is now open and you can sign up by going here.
Wednesday, February 20, 2008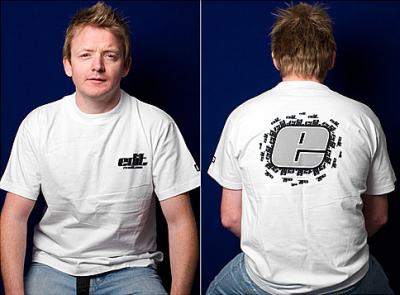 Get ready for the racing season with the latest Edit T-shirt, featuring the unique 'E'mitter design. The large Edit 'E' is featured prominently high on the back, surrounded by multiple Edit logos, while on the front a discreet Edit logo is placed on the left chest and an even more discreet Edit 'E' logo is on the left sleeve. Available in the usual range of sizes, all logos are screen printed on soft, white cotton for comfort at all temperatures.
Source: Edit [rc-edit.com]
Wednesday, February 20, 2008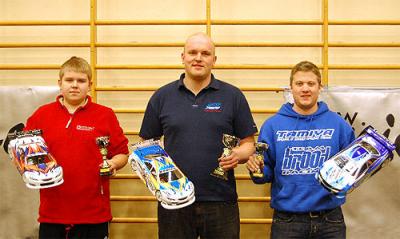 The 5th and final round of the Norwegian Winter Series took place last weekend hosted by VMBK and going into this last round all top 3 spots were wide open. In qualifying for the modified class it was Xray driver Helge Johannessen that claimed the TQ spot in front of Truls "ShortCut" Solberg in 2nd for Tamiya, while in the 3rd starting spot was Adrian Berntsen also for Xray.
Continue reading… (more…)
Wednesday, February 20, 2008