August 16, 2011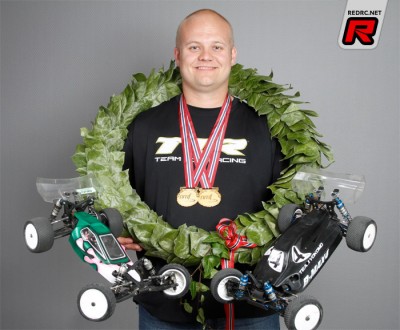 Last weekend saw the Norwegian Championships in 2wd and 4wd buggy held in IMSK-RC's fabulous track in Torbustaden, Levanger. 2wd was held on Saturday, with sunny weather and perfect conditions for the 32 drivers in attendance. The track consists of high grip astro turf, with both fast sweeping sections and more tight technical turns, and making an error free run would not be easy. In the qualifiers, Andreas Daving showed great pace with his AE B4, and managed a brilliant TQ-time, 2nd qualifier was local hero Roy Gjemble running impressively fast with a rear motored TLR 22, and 3rd was Martin Sørlie running the usually more astro friendly mid-motored TLR 22.
In the finals it was all about making the least mistakes. The track is very technical, and the smallest error can ruin a perfect race. In the first two very eventful finals with several good fights and lead changes, Martin Sørlie came out on top. Starting from third, he had the perfect position to wait for others to make the mistakes, and even though he got himself into a few tricky situations he kept the lead and secured the 2011 Norwegian National Championship title. 2nd was Kjell Gunnar Guttormsen (AE B4.1) and 3rd was Roy Gjemble (TLR 22 Rear).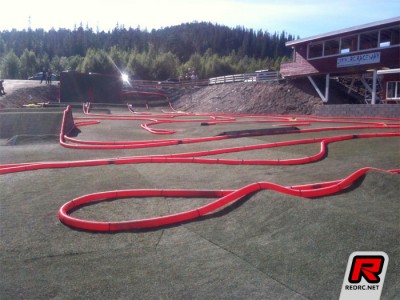 For 4wd on Sunday it was expected to start raining, but the it stayed sunny and dry. Again Andreas Daving (B44.1) really showed he had the pace to beat, and took TQ ahead of Roy Gjemble (Durango) and Team Associated Factory driver Ketil Pettersen. Again the finals was about making the least mistakes, and we had three different final winners. The first final went to TQ-man Daving, after catching up to the front after some early mistakes. The second final went to Roy Gjemble, making the 3rd final a thriller with several potential winners.
One of them was 2wd winner Martin Sørlie (Yokomo), who had started from 4th position and got 2nd place in both of the previous finals. In the last final he grabbed the lead rather early, but went through several fights with both the hard charging TQ-man Daving and Roy Gjemble, before he got a break and could settle into a comfortable and safe rythm on his way to his second title in a row.
The IMSK-RC crew did a fantastic job with the track, and together with Race Director and speaker Gøran Langsholt they held an awesome event none of the racers and spectators will ever forget.
Main photo: Nikolai Moe
---