March 21, 2016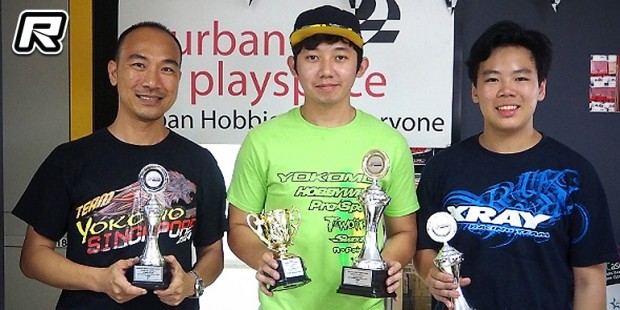 Round four of Singapore's Urban Touring Series was held at the city-centre circuit of Urban PlaySpace this past weekend. This event was once again a concurrent points scoring round for the Singapore national EP on-road series. With most of Singapore's top racers in attendance, the event promised to be super-competitive in both the Open and 17.5T Non-Boosted classes. In Touring Open the first TQ went to Nicholas while Dominic Quek TQ'd the 3rd round. A short rain shower halted proceedings just before round four of qualifying was to get underway. Following the rain delay, round four would see slower lap times so Dominic Quek would once again TQ the round and tie Nicholas Lee on points. Thanks to his faster TQ results, Nicholas would confirm his TQ for the class to start on pole for the finals. Dominic would lock down P2, with Colin Tong starting in from the three spot.
Touring Open A-main grid:
1. Nicholas Lee – Yokomo
2. Dominic Quek – Xray
3. Colin Tong – Xray
4. Nelson Lee – Yokomo
5. Esmail Apandi – Awesomatix
6. YS Heng – Yokomo
7. Eugene Goh – Yokomo
8. Hasron Robana – Xray
In the finals, Nicholas ran a perfect race to take an easy leg 1 win. After a clean start running in 2nd, Dominic went sideways on one of the turns dropping to 5th. Nelson capitalised on a racing incident between Dominic and Esmail to rush through into 2nd, a position he would defend to the end.  Dominic ended up 3rd in leg 1. In leg 2, Nicholas would be hard pushed by Dominic at the start, but Nicholas was able to win, and with it he took the overall victory for the second race in a row. Dominic would end up 2nd, one-lap up on YS Heng in 3rd. With Nicholas sitting out leg 3, the battle for the remaining podium spots would play out in the last final. Leading from the start, Dominic ran a mistake-free race to take the win and secure overall second. Colin Tong finished second, in front of the hard charging YS Heng. With the points tabulated, it would be Nelson Lee who would edge out YS Heng for the final podium spot on a tie-breaker.
Touring Open A-main result:
1. Nicholas Lee – Yokomo
2. Dominic Quek – Xray
3. Nelson Lee – Yokomo
4. YS Heng – Yokomo
5. Colin Tong – Xray
6. Esmail Apandi – Awesomatix
7. Eugene Goh – Yokomo
8. Jonathan Ho – Yokomo
Source: Xray [teamxray.com]
---