May 23, 2018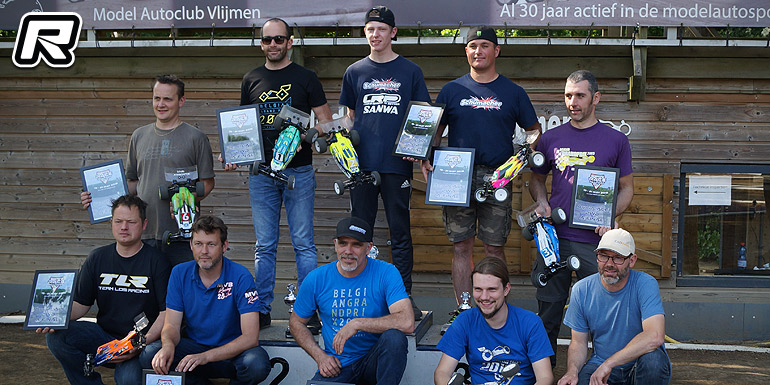 The second edition of the international Race Real Dirt event was held on the Pentecost weekend. The MAC Vlijmen club was the host of this event that offered a nicely prepared and flowing clay track to race on. The three-day event started with a full day of free practice on Saturday followed by the 2WD Buggy class on Sunday and 4WD buggy on Monday. During free practice a lot of laps where turned and the track started to groove in nicely, ,making it faster and more consistent to drive. With good weather ahead for the race days this made for perfect condition for everyone. On Sunday morning, it was immediately clear that the top drivers were very close in terms of pace and after the first qualifying round Wesley van Helmond was on top of the list. He wasn't so fortunate in Q2, where a last lap crash allowed Bruno Heremans to take the top spot. However, after four rounds of qualification it was Wouter Wynen with a win in Q3 and Q4, securing him the pole position.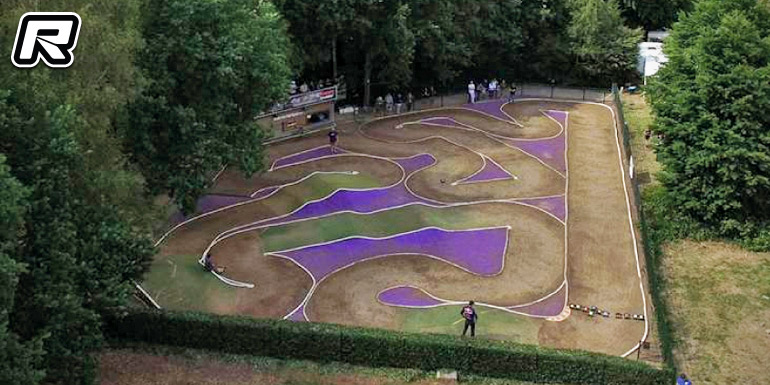 2WD Buggy qualifying top 10:
1. Wouter Wynen
2. Wesley van Helmond
3. Bruno Heremans
4. Paul Dijkstra
5. Marco Briers
6. Steve Lambrechts
7. Tom van Drunen
8. Patrick Lievens
9. Ronald Joostema
10.Hans Smit
Right from the tone of the first A-final a tight battle between the top drivers arose. Wynen was leading the race from the start with pressure from behind. Van Helmond clearly had more raw speed but wasn't able to pass until lap seven where Wynen went a bit wide handing the lead to van Helmond. A2 was again a tight battle between van Helmond and Wynen up front. But after the flag it was van Helmond who managed to secure the highest step of the podium by finishing just a few tenths in front of Wynen. Just behind them it was Bruno Heremans was able to record his second 3rd place. In A3 a small mistake in lap five from Wynen made him lose three spots, allowing van Helmond to cruise to his third win and Heremans and Briers to fight for the 2nd spot. After five minutes, Briers were able to secure his 2nd spot and 3rd place overall. With two second places in A1 and A2 it was Wouter Wynen who went home with the 2nd place overall.
2WD Buggy final results:
1. Wesley van Helmond
2. Wouter Wynen
3. Marco Briers
4. Bruno Heremans
5. Steve Lambrechts
6. Tom van Drunen
7. Paul Dijkstra
8. Ronald Joostema
9. Hans Smit
10.Patrick Lievens
Monday it was time to unleash the 4WD buggies. With the smooth track and high grip conditions everyone knew this was going to be fast and spectacular. The day after van Helmond took his 2WD victory, he showed his 4WD speed was on point as well, taking Q1. But it was Erik Michiels who was able to put down the quickest 5 minutes in Q2. In Q3 and Q4 van Helmond was again the fastest car on track followed by Marco Briers and Bart van Echelpoel.
4WD Buggy qualifying top 10:
1. Wesley van Helmond
2. Erik Michiels
3. Marco Briers
4. Bart Van Echelpoel
5. Dominique van Helmond
6. Patrick Lievens
7. Kristof van Echelpoel
8. Paul Dijkstra
9. Jo Degeest
10.Esmeé Briers
In A1 we saw Wesley van Helmond pulling a gap from pole and never looking back. This allowed Erik Michiels, Bart van Echelpoel and brother Dominique van Helmond to have a trilling fight for the 2nd spot. Nevertheless, after some close racing Michiels was able to take this position just a few tenths in front of van Echelpoel.

The second final was not very different as Wesley drove away to secure his overall victory. Right behind him there was again a tight battle, but with some new names in the mix. It was Erik Michiels again followed by Marco Briers and Paul Dijkstra fighting for that 2nd spot. After a solid drive of Briers, he was able to finish in 2nd. 

In A3 Wesley van Helmond made an early mistake what made him fall back to the back of the field, starting to slowly move up the field. However, with the 1st place open it was now a tight battle for the lead, unfortunately a small crash of the leader in lap five affected the drivers behind him, allowing the number 5 car Dominique van Helmond to take the lead. Dominique wasn't planning on handing this spot over to anyone and laid down a solid drive to the flag, taking the win of A3. Brother Wesley moved up in the meantime to 2nd place just in front of Marco Briers. This intense last final moved Dominique van Helmond in 2nd place overall and Marco Briers finished 3rd.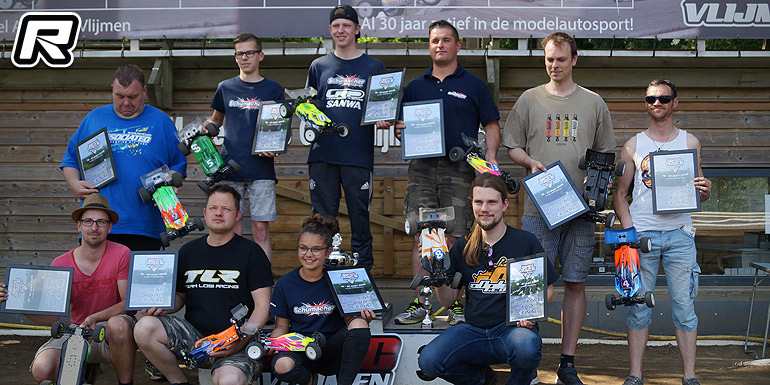 4WD Buggy final results:
1. Wesley van Helmond
2. Dominique van Helmond
3. Marco Briers
4. Erik Michiels
5. Bart Van Echelpoel
6. Paul Dijkstra
7. Patrick Lievens
8. Kristof van Echelpoel
9. Esmeé Briers
10.Jo Degeest
Source: MAC Vlijmen [macvlijmen.nl]
---