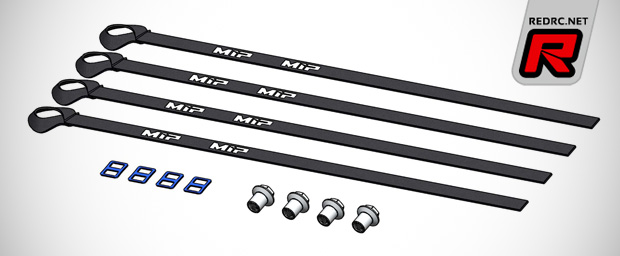 New from MIP and made for large scale off-road vehicles such as the Losi 5ive-T are a limiter strap set and a header gasket. Starting with the suspension limiter straps, the set offers scale looks, functionality, and adjustability. Their main purpose is to limit the overall extension of the shock as to prevent it from overextending and doing damage to the piston, eyelet, rod end, and shock retainer. There are also many secondary benefits of these straps including not bending the arm at the droop screw pivot point, keeping the arms and chassis in better condition, and the droop set correctly on both sides. Included in the set are four limiter straps, limiter strap buckles and strap mounts.
Click here to continue reading
Sunday, August 30, 2015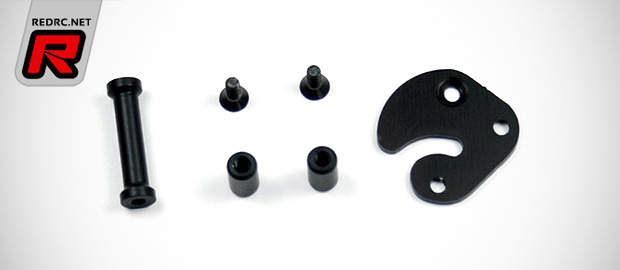 Italian company Mon-Tech have a new battery mount for Xray's X1 formula car available. The LiPo Stop does away with the need to use mounting tape to securely hold the battery in the car as the C-shaped aluminium hold down plate puts enough pressure on the battery to keep it in the chassis even when the going gets rough. The mount, that supports both a longitudinal and transversal battery position, attaches to the existing battery plate and included in the set comes the plate, one long and two short aluminium posts as well as mounting hardware.
Click here to view more photos
Saturday, August 29, 2015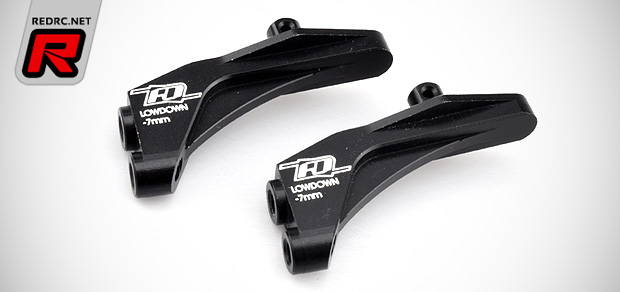 New from Revolution Design Racing Products and made for the Team Associated B5M buggy is an aluminium low-profile wing mount set. The updated design places the wing 7mm lower than the stock wing mount does, which leads to a lower centre of gravity and improved jumping both over small, medium and large jumps. On top of that the high-quality 7075-T6 aluminium part grants a better support for the wing which leads to better aerodynamics and also improved durability in the event of a crash. The wing mount set is available in blue or black anodising.
Click here to view another photo
Friday, August 28, 2015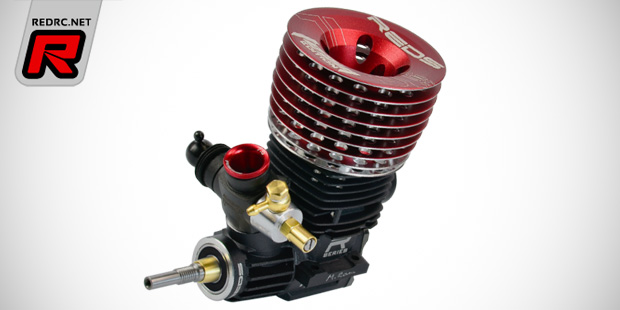 Available now from Reds Racing is a dedicated nitro engine range for 1/8th GT vehicles. Built using the same crankcase and crankshaft as Reds' 1/8th R line engines, the new GT range features a class specific timing, and a 5-port liner and 7mm venturi insert to comply with the classes' engine regulations. Available are two versions; the R5 Racer GT and R5T Team Edition GT. The Team Edition engine features a HCX horizontal carburettor, a silicon filled, balanced and tuned crankshaft, a RDC hard coating back plate, a sleeve with five inlet ports and exhaust port with booster as well as a high performance Japan-made front ball bearing and a Swiss-made ceramic rear  bearing.
Click here to continue reading
Friday, August 28, 2015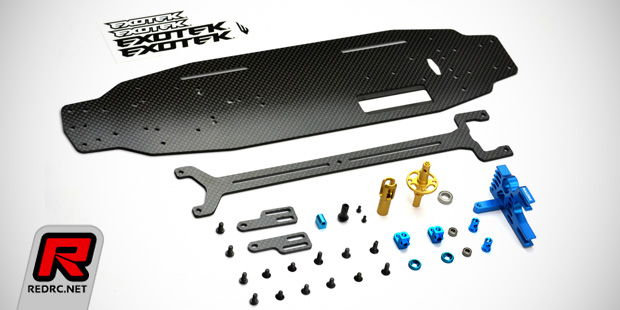 Made for Tamiya's Evo6 shaft-driven touring car is Exotek's latest Evo-Six chassis conversion kit. Targeting stock and VTA racers the kit offers a new inline motor mount plate that eliminates one of the three Evo6 gearboxes for improved top speed, motor efficiency and reduced weight. The motor plate with a centrally mounted and triangulated base insures solid motor mounting and superb gear mesh while being independent of the top plate to reduce tweak and to provide better top plate flex traits. Furthermore the 2.25mm quasi weave chassis is stiffer than the stock chassis for improved handling in higher grip track conditions. With a left side motor position also torque steer is eliminated while a motor position further back helps with high-speed steering and low-speed stability. The included one piece, hard anodised spur mount/input shaft eliminates the play and vibration of the stock unit and a new LiPo cradle system with adjustable sliding holders allows to adjust the weight balance to your liking. The conversion is compatible with the Evo6 kit and also the TB04 v1 and v2 when combined with the new Exo-Six to TB04 parts pack.
Click here to continue reading
Friday, August 28, 2015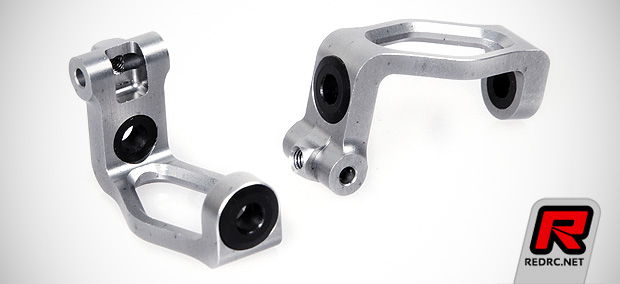 Coming from Serpent and made for the 411 Eryx touring car are anodised aluminium castor hubs for RRS equipped cars. Machined from high-quality material the hubs include delrin king pin inserts and they are made for the use with the reactive rear steering system but they are also good for the use in the front of the car.
Source: Serpent [serpent.com]
Thursday, August 27, 2015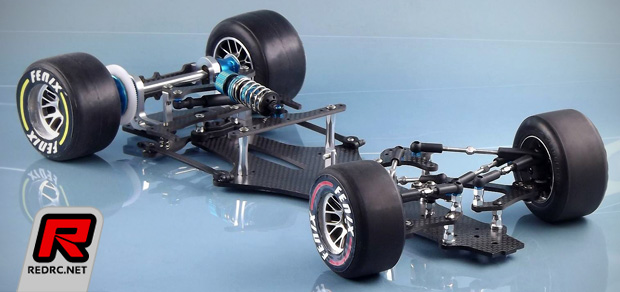 Following a recent teaser Fenix now have first images of their forthcoming Mistral 1/10th scale Formula pan car kit available. Designed to offer the lowest possible centre of gravity the vehicle builds on a high-quality 2.5mm quasi isotropic carbon fibre chassis that allows for three different battery positions; a longitudinal as well as a front or rear transversal one. When a low-profile shorty LiPo is used additional weights can be placed on the chassis to obtain the best possible weight balance. Up front a redesigned suspension allows for easy rigidity adjustment and independently adjustable camber and caster settings. The car will become available as a full kit, including genuine Tuning Haus alloy chassis posts, and also as an upgrade set for the already existing Suzuka kit.
Click here to view more photos
Thursday, August 27, 2015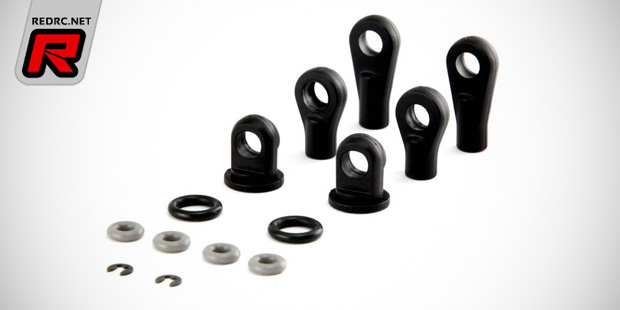 Shepherd have new upgrade parts for their Revolutionary shock absorbers available. First up is the shock revision set that will keep the dampers in perfect condition. New piston rod O-rings guarantee a smooth operation of the piston rod while the black O-rings ensure a precise guidance of the floating piston. With the included balljoints and shock caps slop can be reduced for a much more precise operation of the shocks. Also new are updated shock bottom caps that allow an easier escape of air bubbles when tightening them down. Thanks to a much larger bleeding slot a simpler and faster filling of the shocks is possible and the screws are also included in the Velox kits from now.
Click here to view the lower shock caps
Thursday, August 27, 2015