Horizon Hobby Inc, parent company to many well known RC car related brands such as as TLR, Losi, Spektrum, Nitrotane etc. have announced that its board of directors has signed a definitive agreement under which the company would be sold to an investor group led by Joe Ambrose, Horizon's Chief Executive Officer. The investment group includes Armory Capital, LLC and Mill City Capital L.P., two investors that have deep experience with management-led acquisitions. Financial terms were not released.
Read the complete announcement here
Monday, December 9, 2013 - 1 comment so far

Tekno now have non-vented shock caps for the dampers of their 1/8 and 1/10 scale off-road vehicles available. The parts are CNC-machined from aluminium, come gun metal anodised, in sets of 2 and they fit the company's 1/8th buggy and truck shocks as well as the SCT410 short course truck.
Source: Tekno [teknorc.com]
Monday, December 9, 2013 - add a comment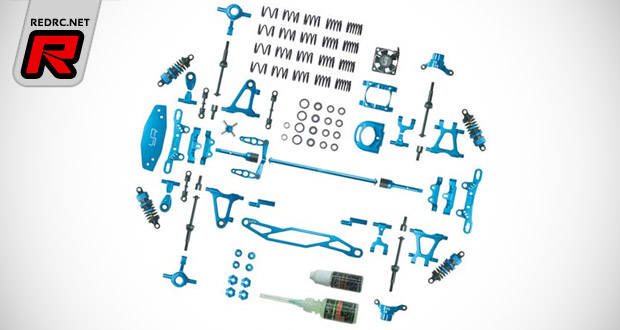 The Yeah Racing aluminium conversion kit for Tamiya'a TT-02 touring car virtually includes all of Yeah Racing's option parts for the entry-level race car. The sets contains a vast amount of aluminium as well as many steel option parts such as upper and lower wishbones, hub carriers, steering upgrades, steel suspension pins, ball bearings, aluminium outdrives and many more. Included are also an alloy centre prop shaft, steel and aluminium universal driveshafts 55mm aluminium shock absorbers, a complete spring set, shock and bearing oils, a full bearing kit and a lightweight heatsink including fan unit.
Source: RC Mart [rcmart.com]
Monday, December 9, 2013 - add a comment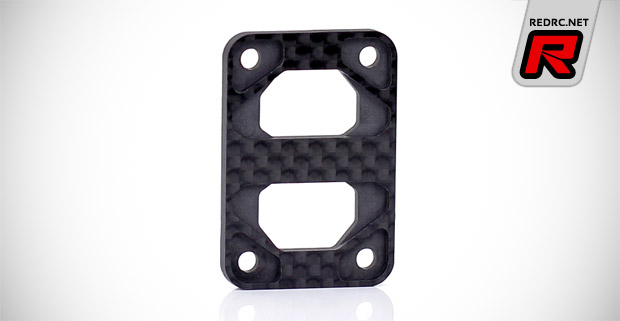 PSM have introduced two new optional parts for the Kyosho Inferno MP9e TKI and the CML Centro C4.2. First up for the MP9e is a 3mm thick lightweight carbon fibre centre differential brace which replaces the standard nitro brace included in the kit. For the C4.2 are new battery strap posts which are made from high quality 7075 aluminium and will replace the original Posts. A perfect fit with the original battery strap, they come supplied with the required fasteners.
Saturday, December 7, 2013 - add a comment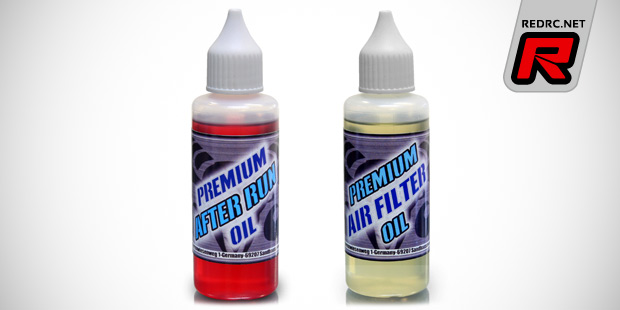 A new range of high-quality premium oils for nitro applications is available from Shepherd. First up is an after run oil specially developed for the use with nitro engines. It keeps the internal engine parts lubricated and protected from oxidation and excessive wear when storing the engine or starting it from cold. It is recommended for the use after every racing day and before storage. The second new product is the sticky air filter oil that protects the engine from dust and dirt. It allows enough air to flow through the filter while airborne particles adhere to it ensuring an optimised combination of protection and performance. Both oils come in handy 50ml bottles.
Source: Shepherd [team-shepherd.com]
Saturday, December 7, 2013 - add a comment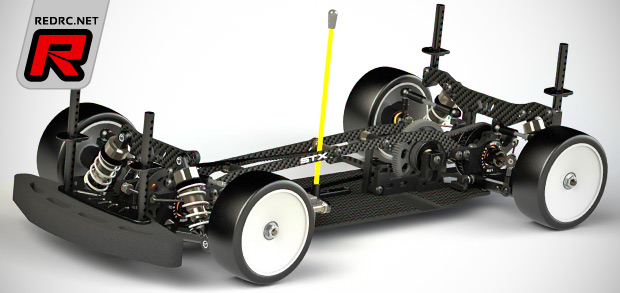 Italian company WRC have announced the latest version of their electric touring car, the STX '014. The updated version is more of a small update than a whole new car with the main changes coming in the form of a new chassis, new inner split suspension mounts for more flex, new battery locators and improved shock absorbers for better handling and cornering. For those who have the current car, an upgrade kit will be made available to bring up to the '014 spec. Available now.
Source: WRC [wrc-racing.com]
Friday, December 6, 2013 - 4 comments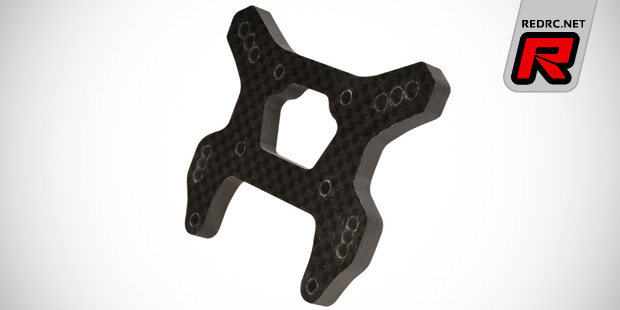 Team C Racing introduce carbon fibre shock towers for their GT8 line of cars. Coming as front and rear item the shock stays are machined from thick high-quality carbon fibre, they offer multiple mounting points for the shocks and camber links and are usable on the GT8, GT8L and GT8LE.
Click here to view the rear shock tower
Friday, December 6, 2013 - add a comment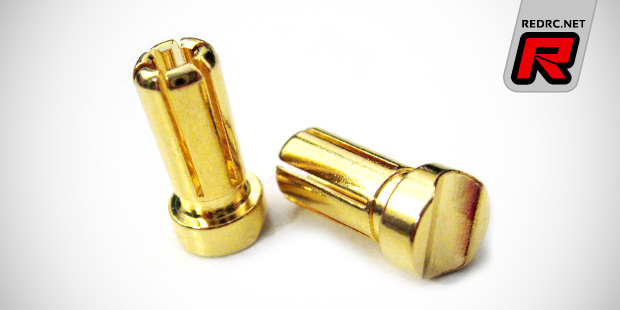 TQ Wire have new 5mm bullet-type connectors with gold or silver plating available. They are only 13mm long, saving weight for touring and pan cars, and are made in a special way where the brass stock is copper clad first before the silver plating is applied, increasing conductivity. The connectors are ideal for the latest breed of high-performance LiPo packs with larger 5mm connector tubes.
Click here to view the silver-plated connector
Friday, December 6, 2013 - add a comment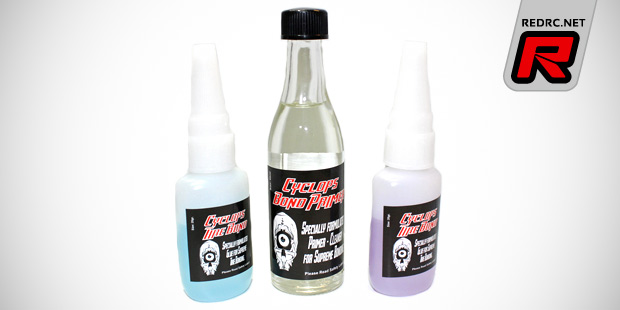 Cyclops have an updated line of tyre gluing accessories available. The purple medium glue is a 100cst viscosity product and after demand from customers the glue is now available in a new, improved bottle. New to the line is the blue thin glue of 25cst viscosity that offers the same elasticity and bonding capabilities as the original purple formula but is thinner allowing the chemical to penetrate gaps faster and also to dry faster. Last but not least is the Cyclops primer which is used to prime the surface of both the tyre and rim for perfect bond. It also is a surface cleaner used instead of ammonia, alcohol or break cleaner. 1/10 EP touring car drivers have also found in many case the primer/cleaner to be used as a tyre additive or as a primer agent for the additive.
Source: DSAW Hobbies [dsaw-hobbies.com]
Friday, December 6, 2013 - 1 comment so far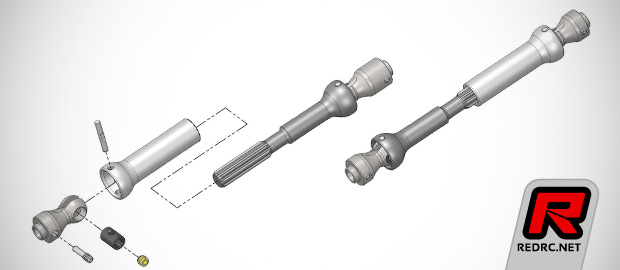 MIP introduce new Spline CVD centre drive kits for the Axial Wraith and SCX10 off-road vehicles. The kits feature an updated design that was made necessary after Axial's running changes to the chassis. The MIP kits will no longer feature the double set screw design to clamp onto the through hole but now incorporate a pin set screw for attachment. Along with that improvement MIP have also changed the drive hubs so that there is no longer any interference when it comes to making contact with the stock spur gear cover. The kits come as specific Wraith and SCX10 variants including hardware and a set of grease and thread lock.
Click here to view the Wraith centre CVD kit
Friday, December 6, 2013 - add a comment