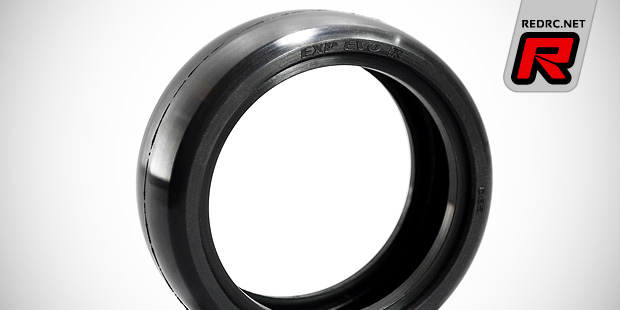 Sweep Racing introduce the EXP Evo-R touring car tyres. The tyre, developed with the help of Touring Car World Champion Jilles Groskamp, has an all new designed carcass that greatly improves the balance and feel making it easier to drive. The new design has an increased diameter of 65mm which is slightly larger than the previous EXP Evo giving a thicker side wall while the Evo-R also sports a stronger inner mesh/belting for increased durability. The tyre comes in three different compounds of 30, 36 and 40 hardness.
Source: Sweep [sweepracing.com]
Friday, April 18, 2014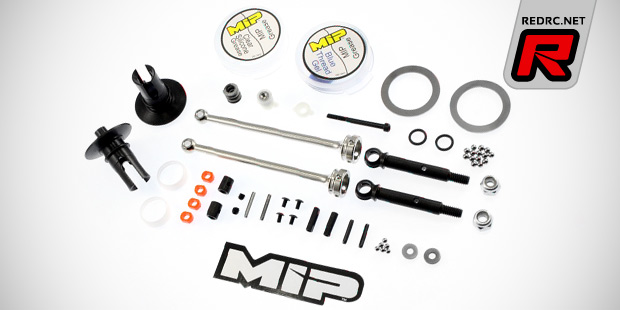 MIP introduce the Pucks Shiny drive system for the X-Factory X-6 Cubed buggy. The "Shiny" kit provide all the speed, acceleration, and replaceable Pucks made to handle the abuse of the Modified racing. The special design of the drivesahfts provides smoother acceleration and better handling out of turns without adding additional weight. The X-6 Cubed specific set included MIP's shiny driveshafts, wheel axles, Pucks-compatible outdrives, new diff rings and diff balls, a thrust race assembly, and a new diff gear as well as several small parts, grease and thread lock.
Source: MIP [miponline.com]
Friday, April 18, 2014
Serpent introduce a gear differential for their Spyder SRX-2 line of vehicles including the mid and rear motor buggy as well as the upcoming short course truck. The diff features a compact composite material housing and it is of a multi-piece design with a separate diff gear and two side plates that are held in place using small screws and metal backplates for improved fitment and leak-free mounting. The internal gears are made from sintered metal while the crosspins are made from lightweight aluminium. In combination with the lightweight spring steel outdrives the differential weights in at only 28.9g without oil. The diff is usable instead of the standard ball diff and comes in handy especially on high grip surfaces.
Source: Serpent [serpent.com]
Thursday, April 17, 2014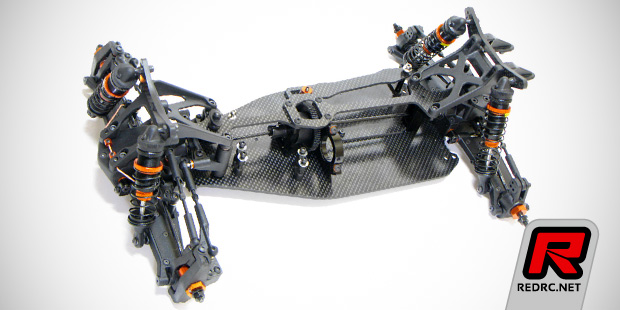 Azarashi introduce this chassis conversion kit for Hot Bodies' D413 4WD buggy. Included is a new carbon fibre main chassis plate with angled front section to make for a slimmer and more compact appearance. Also the chassis layout has beed changed a bit with the servo shifted to the left side of the chassis and sitting in a stand-up position making the use of a low-profile offering necessary. Included with the chassis, that has beed designed around the use of a shorty LiPo pack, comes the chassis, servo mounts and a mid-cab design bodyshell. The conversion also required a bit of DIY as you need to build additional body mount plates from polycarbonate pieces and velcro straps.
Click here to view more photos
Thursday, April 17, 2014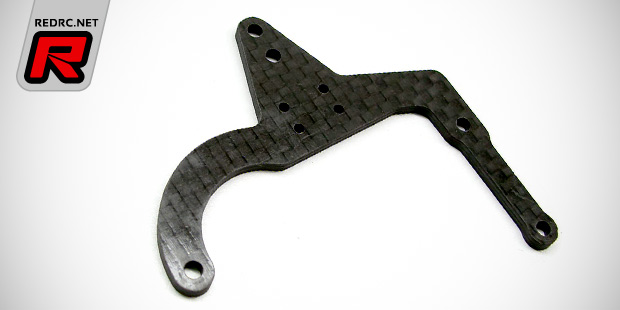 Calandra Racing Concepts have two new option parts available in the form of a dual extended upper plate for the company's line of 1/12th scale chassis and a carbon fibre front shock tower for the TLR 22 buggy. Starting with the upper plate, the part fits Altered Ego and standard XTi and SE cars cars with slider rear pods and it is made to extend the upper rear shock mount to utilise the matching longer front shock positions in the chassis. The plate is made from 2.5mm QHM material and available now. Also new is the 4mm carbon fibre front shock tower for the TLR 22 buggy. Fitting older spec kits and the new 2.0 variant the part is cut from pure carbon fibre quad-axial high-modulus material for added strength. The part is a direct replacement for the stock composite tower.
Click here to view more photos
Thursday, April 17, 2014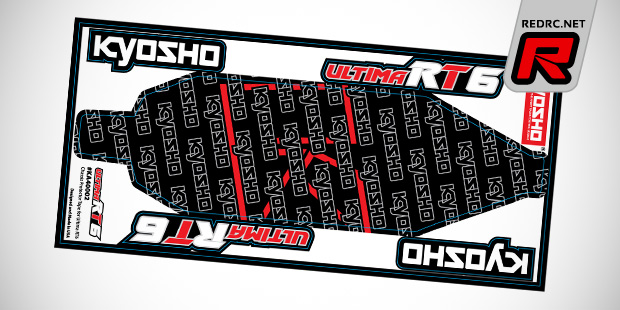 Kyosho introduce chassis protective decals for the RT6 truck as well as new snap back hats. Starting with the chassis skins, the protective decals are pre-cut and come in sets of two including one black and one white themed skin. They are made to protect the bottom of the chassis from becoming overly scratched while adding some visual impact. Also new are two snap back caps in red or black colour. They sport an embroidered Kyosho logo and let you show your passion to everything Kyosho.
Click here to view the other new products
Thursday, April 17, 2014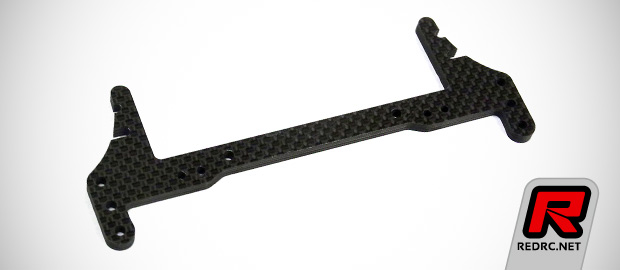 Team CRC Japan introduce this 4mm carbon fibre tweak plate for the CRC Altered Ego 1/12th scale car. The part replaces the kit brace with a 4mm thick and more durable plate in order to improve crash resistance. The tweak plate is available world-wide via Team CRC Japan.
Source: Team CRC Japan [kimihiko-yano.jp]
Thursday, April 17, 2014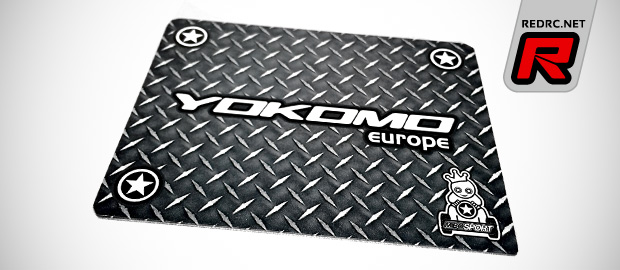 Yokomo Europe introduce this under LiPo weight. It is of a universal design, weights in at 50g and is usable with a wide range of chassis while the Yokomo Europe and Mibosport graphics make for additional visual impact.
Source: Yokomo Europe [teamyokomo.eu]
Wednesday, April 16, 2014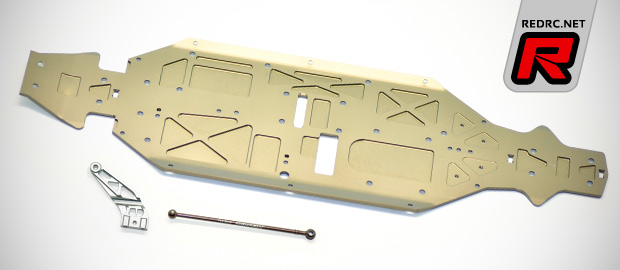 Serpent now have the Plus4 chassis, that is part of the updated S811 2.1, available as a separate set to allow the upgrade of existing Cobra 811 buggies. The main chassis plate is 4mm longer in the rear to create a more planted rear end on tracks with short bumps and a rough surface. Included with the hard-anodised chassis comes a longer rear centre driveshaft and an updated aluminium rear chassis brace. All parts are also available separately.
Source: Serpent [serpent.com]
Wednesday, April 16, 2014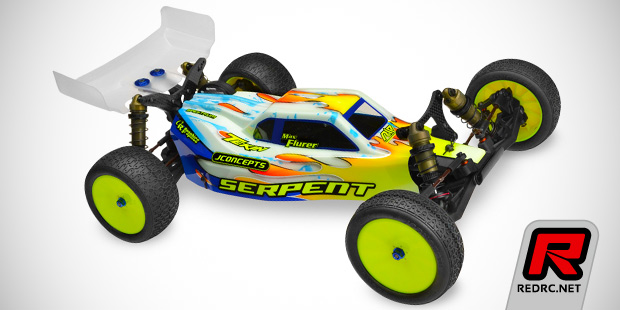 JConcepts introduce their popular Silencer bodyshell design for the Serpent SRX-2 mid motor buggy. Making use of the well-known Silencer design cues such as a mild cab forward design, a roof top shark fin and pronounced sidepods, the body is a direct replacement for the kit item and it comes clear, including window masks, decal sheet and two 6.5″ Hi-Clearance rear wings.
Click here to view more photos
Wednesday, April 16, 2014