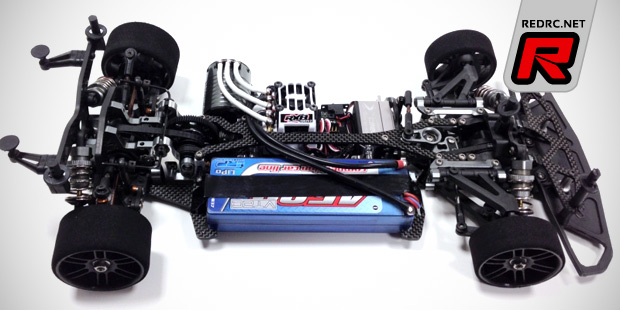 Serpent introduce the 747-E electric upgrade kit for the 747 200mm nitro car. Included is all necessary hardware to convert the nitro-powered 747 into a whisper-silent 200mm touring car. The set contains a carbon fibre main chassis and top deck, an aluminium motor mount assembly, new belt pulleys and shafts, battery mounts, ball races and hardware. The converted car can be used with a conventional 2S touring car motor and speedo setup but higher power 3S batteries, a suitable 4-pole motor and a strong 1/8th scale speed controller are recommended in order to reach speeds above 90km/h. Beside the conversion kit Serpent will release a complete 747-E kit by the end of January 2014.
Click here to view more photos
Thursday, December 12, 2013 - add a comment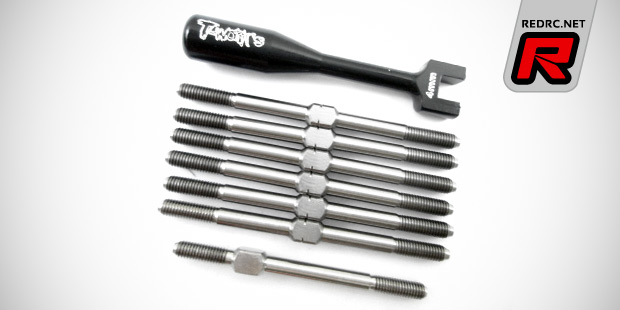 T-Work's have new option parts for Xray's XB4 buggy available. First up is a titanium turnbuckle set that includes a total of seven links made from high quality titanium. They are meant for the camber and toe links as well as the servo link and come with a suitable 4mm aluminium wrench for easy adjustment. Next in the line are titanium shock mount shafts for swift and easy shock angle adjustment. Coming in a set of four the 1-piece design allows for swift set-up changes as you only have to undo a single nut in order to remove the damper from the shock tower.
Click here to continue reading
Thursday, December 12, 2013 - add a comment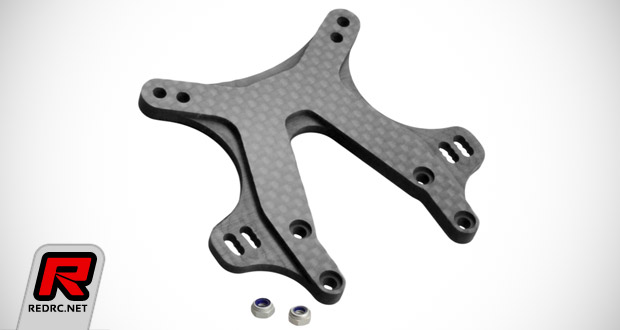 JConcepts has produced a carbon fibre front shock tower for the popular Team Associated B4 line of vehicles. The 4mm thick material is durable, lightweight and features the camber link position mounted in a horizontal position relative to the kick-plane. There are 3 inner positions and 3 outer positions for quick and steady adjustments and the tower features the JConcepts treatment of a milled surface creating the ribbing effect to increase durability where needed. Eliminating the outer shock position gives the vehicle a more nimble look in the front-end while still maintaining the 2 most popular positions.
Source: JConcepts [jconcepts.net]
Wednesday, December 11, 2013 - add a comment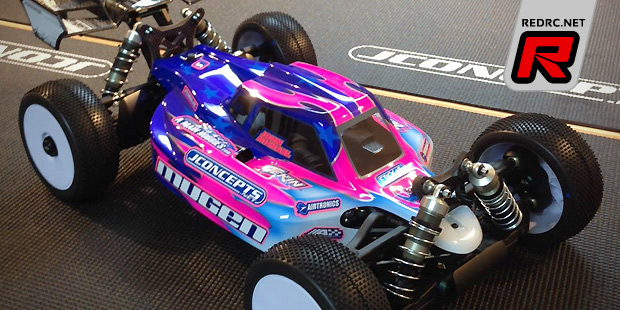 JConcepts have a first teaser image of the forthcoming Silencer bodyshell for the Mugen MBX7 Eco available. Like the other Silencer design bodies the Mugen variant is especially made for high-speed tracks where straightline stability and airflow around the wing and the electronics is critical. All information about the release will become available soon.
Source: JConcepts [jconcepts.net]
Wednesday, December 11, 2013 - add a comment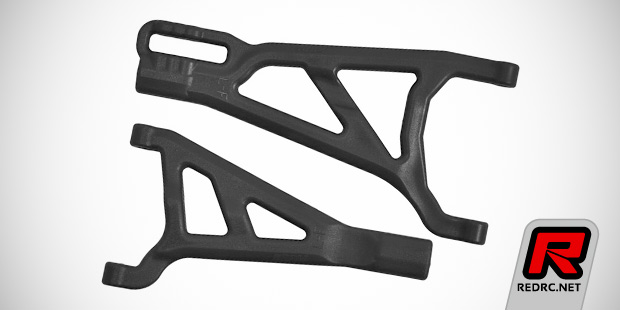 RPM soon have dedicated front A-arms for the Traxxas Summit truck available. RPM's front right A-arms for the Traxxas Revo are already compatible with the Summit but due to the extended T-Lock differential on the left side, the Revo front left A-arms would not fit. That is no longer an issue with these A-arms that feature a revamped cross-brace to clear the T-Lock differential. The arms are moulded from a virtually indestructible blend of high-grade nylons and they come in standard black or blue colour.
Click here to view the blue A-arms
Wednesday, December 11, 2013 - add a comment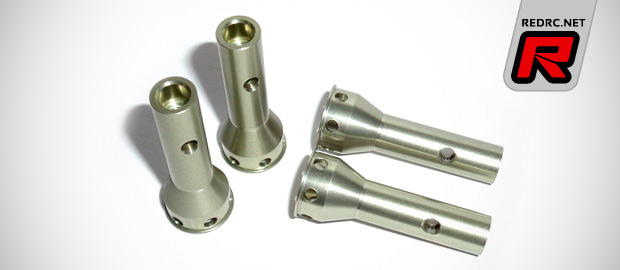 Sylveris RC is a new after market company from France and the first products to appear are front and rear aluminium driveshaft axles for the Tekno EB48/48.2 and NB48 line of vehicles. The shafts are machined from 7075-T6 aluminium, come hard-anodised and they are made to replace the standard steel axles with a lightweight yet durable solution. Using the alloy parts scrubs about 20 gram of rotation mass and unsprung weight from the buggy making for quicker acceleration and better braking action.
Source: Sylveris RC [sylveris-rc.fr]
Wednesday, December 11, 2013 - add a comment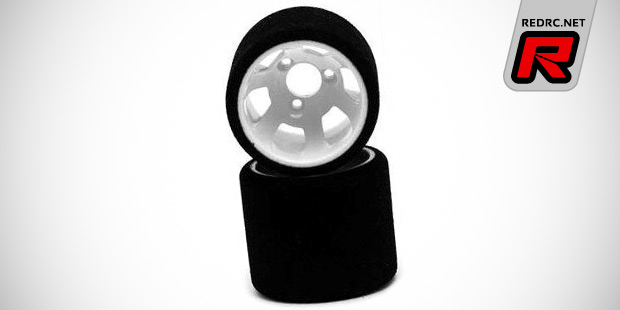 Gravity RC's G12 line of 1/12th scale tyres is now complete with the addition of GRC:102 super soft rear tyre. Now the tyre line boasts new tuning capabilities still without being too complicated, three rear and three front compounds all selected by GRC complete the working range of both the front and rear for any 12th racing application. The tyres come packaged in multi-purpose storage tubes and the rears include instructions and decal sheet.
Source: Gravity RC [teamgravityrc.com]
Tuesday, December 10, 2013 - add a comment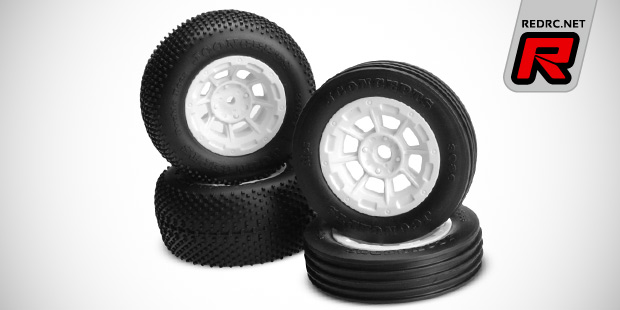 JConcepts introduce their new line of tyres and wheels for the Team Associated RC10 Classic buggy. First up is the Rips front tyre that is modelled after the kit tyres but offers more steering for an increased fun factor. The rounded edges of the Rips peak out and return to the base exposing the deep Ripped ribs which tile out as an evenly spaced 5-rib tire. The Rips fit a classic style 1.9″ sized wheel giving the buggy an era correct appearance in size and proportion and they are produced in JConcepts sticky green super soft compound and include And-1 open cell inserts for increased support.
Click here to continue reading
Tuesday, December 10, 2013 - add a comment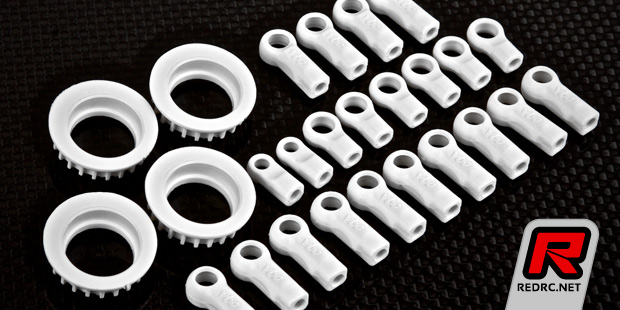 VBC Racing have a white ball cup and belt tension adjuster kit for the Wildfire line of touring cars available. Included are 22 turnbuckle ball cups of various sizes along four belt tension adjuster rings, all of which are made to replace the original grey and yellow parts. The set fits the Wildfire as well as the Ghost VTA kit.
Source: VBC Racing [vbcracing.com]
Tuesday, December 10, 2013 - add a comment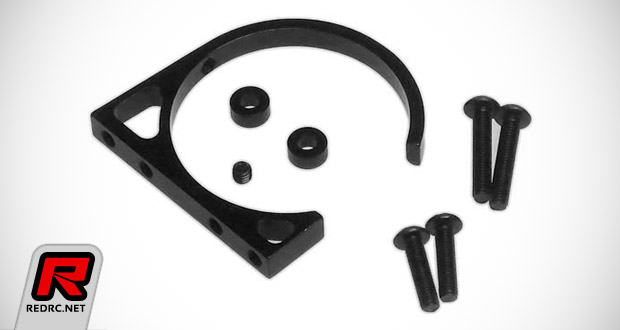 Yeah Racing has released an aluminium light fan heat sink mount suitable for 30mm and 40mm fan units. The part is made from high quality aluminium and weights in at only 5 gram. Its unique design allows it to be mounted to the motor firmly and securely and it can be easily installed by using the set screws included. The supplied 3mm washers can be placed between the motor and the fan to enhance the heat dissipation effect. The mount comes without fan and is available in gunmetal, black and blue colour.
Source: RC Mart [rcmart.com]
Tuesday, December 10, 2013 - add a comment