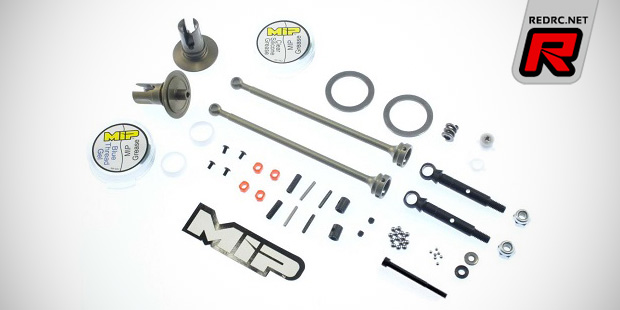 The latest vehicle to receive MIP's Pucks drive system treatment is the TLR 22SCT 2.0 short course truck. Designed especially for 17.5T stock class racing the set greatly reduces the drivetrain's rotating masses by utilising aluminium C-CVD driveshafts, aluminium differential outdrives and the drivepin-replacing Pucks cushions that take the place of the inferior steel pins. This combination greatly increases the longevity of the drivetrain and most importantly decreases the drivetrain's overall rotating mass by a whopping 50 percent. The decrease in weight directly results in quicker acceleration, deceleration, and lower motor temperatures. Beside the driveshafts the set also includes a full MIP ball differential, minus the diff gear, as well as wheel axles and small parts.
Source: MIP [miponline.com]
Monday, April 20, 2015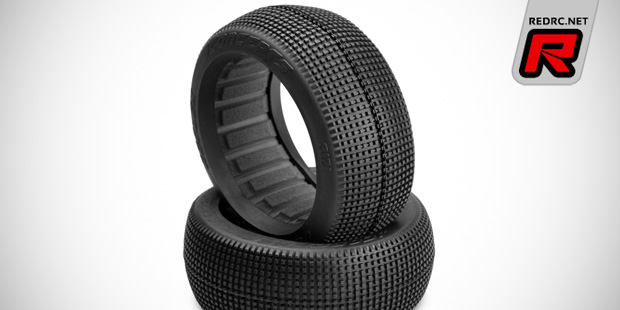 New from JConcepts' comes the Reflex tyre featuring a tread designed to bridge a gap between the popular Hybrid and other options such as Crossbow and Stacker. The Reflex has square angled pins that are stacked vertically to flex and fold evenly across the tyre. Typically a stacked tread will wear less and provide more forward bite while the aligned space helps rotation in the turns and gives a snappy release to square up quickly. During the IFMAR World Championships, the Reflex tyre was at full potential when the weather soaked the track and drivers searched for grip. Ryan Maifield bolted on a set of green compound Reflex to his buggy and quickly showed the capability of the tread by taking one of the fastest times on the weathered surface. Back in California at the Sidewinder Nitro Explosion and then again at The Battle of the Sikest race Maifield used the Reflex tyre to success on a maintained and lightly watered surface. The tyre is available in a range of rubber compounds and including the Dirt-Tech closed cell inserts.
Source: JConcepts [jconcepts.net]
Monday, April 20, 2015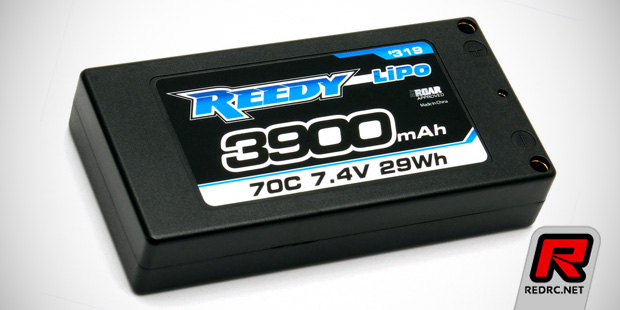 Latest from Reedy is the 3900mAh 70C LP LiPo shorty battery pack. Offering a standard 97x47mm footprint at a height of only 18.5mm the pack is substantially lower than standard 25mm shorty packs for a lower centre of gravity and a reduced weight. Scrubbing around 50g of weight compared to a regular shorty and offering a capacity of 3900mAh the pack is ideal for both stock and modified racing and it comes in a protective hardcase with 4mm low-resistance sockets.
Source: Team Associated [teamassociated.com]
Monday, April 20, 2015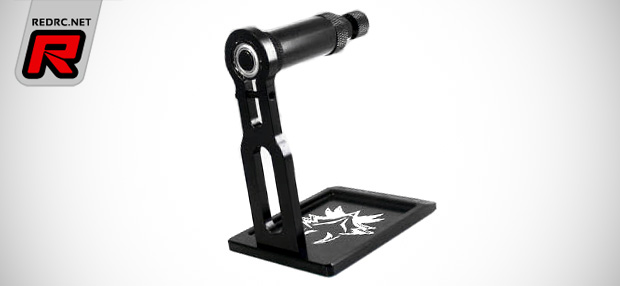 VP Pro have a new wheel balancer available for 1/10th tyres with 12mm hex rims. Made from black anodised aluminium the wheel balancer offers high accuracy and a clamping-type system that prevents binding. A large lower tray acts as a sturdy base and also takes small parts such as mounting hardware. The balancer is made especially for 1/10th off-road wheels but it works with other 12mm hex adapter wheels also.
Source: VP Pro [vp-racing.com]
Monday, April 20, 2015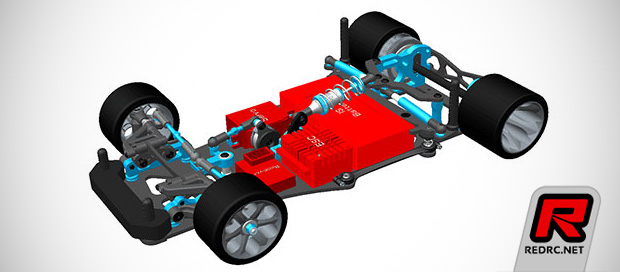 Teamsaxo have released first renderings of their forthcoming GT-300W 1/12th scale pan car kit. Based on a 2.5mm carbon fibre main chassis the car will feature a widely adjustable front end with alloy mounting brackets for the front lower A-arms, a single bellcrank steering assembly and a rear link-type suspension with dual roll dampers and a large volume centre shock. By the look of things the car accepts transversal battery layouts only and it should become available shortly.
Click here to view more photos
Saturday, April 18, 2015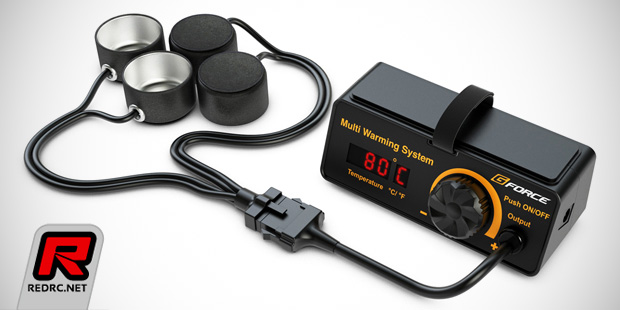 Japanese company GForce introduce the Multi Warming System for Mini-Z-sized mini and micro cars. The system consists of a compact main unit with LC display and a dial for the menu operation and it is powered by 11 to 18VDC input. The included set of alloy cups for the tyres offers individual temperature sensors and 26.4mm reducers to adapt the system to a range of tyre diameters. The unit offers a temperature range of 20°C up to 100°C (68°F-212°F) and a 30 minute safety timer prevents the tyres from becoming cooked.
Click here to view another photo
Friday, April 17, 2015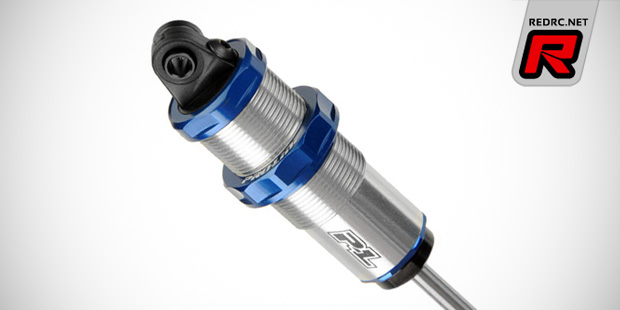 Pro-Line have introduced 1/10th buggy versions of their Pro-Spec high-performance shock absorbers. Previously only available for 1/10th short course trucks the shock Pro-Spec dampers now also come for today's most popular buggies. They are of a 12mm Big Bore design with a single low friction X-ring seal while the pistons and shaft guides are made from smooth white Delrin for low stiction. The threaded aluminium bodies house 3.5mm thick shock shafts with hard chrome coating, just like full scale racing shocks. The shocks also feature an easy access bleeder cap screw for consistent shock builds every time and each pair includes three different piston options of 1.4, 1.6 and 1.8 sizes as well as a blank piston for drilling to a custom size. Custom shock tightening tools and optional shock limiters are also included. The dampers accept most 12mm big bore buggy springs and included are also several upper and lower shock pivot balls as well as optional +2, +4 and +6mm spring perches to fit a wider range of vehicles right out of the box. Coming as separate front and rear sets the shocks are known to fit the Team Associated B5, B5M and B44.3, the Kyosho RB6 and ZX-6, the TLR 22 2.0 and 22-4 as well as the Yokomo B-Max2 and B-Max4.
Click here to view more photos
Friday, April 17, 2015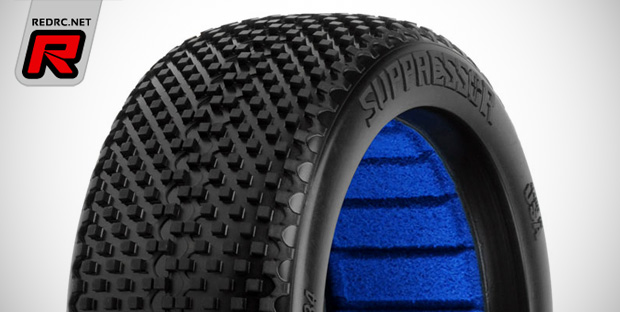 Pro-Line introduce the Suppressor 1/8th off-road tyre for 1/8th buggies and truggies. The company's latest race tyre was designed specifically for medium packed to loose outdoor tracks. The tread design takes inspiration from tyres like the Hole Shot, Lock Down and Tazer. The tyre features a smooth transition from the sidewall to the tread to prevent catching the sharp edges in the track, which can cause violent roll overs and lost time. The long centre bars on the Suppressor will provide massive forward bite and have a Hole Shot style relief cut for added side to side tread flex. Below the centre tread is reinforcement webbing that mimics the outside pattern for a cohesive Suppressor look. The buggy tyre will become available in X3, X4, M3 and M4 compounds with the VTR truggy variant coming in X3 and M3 rubber.
Click here to view the truck tyre
Friday, April 17, 2015