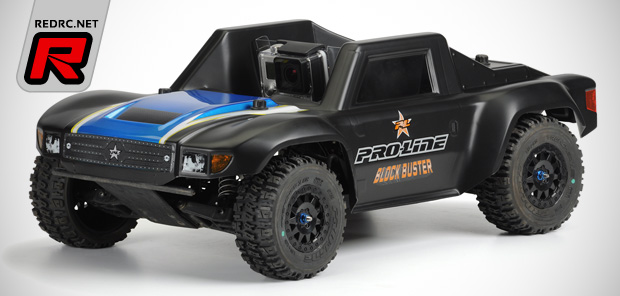 Pro-Line introduce the BlockBuster bodyshell as well as aluminium option parts for the Pro-2 truck. Starting with the body, the BlockBuster is specifically designed for creating movies and inboard off-road footage by mounting "action" video cameras such as the GoPro inside. Complete with a dash for realistic first person camera shots, the body is perfect for creating action packed sequences. It is made out of extra thick lexan with moulded-in strengthening ribs to provide a stable camera mount for non-shaky footage. The sides of the body extend past the top of the camera for protection against roll-overs while the outside looks tough and ready with the Desert Militia style appearance.
Click here to continue reading
Thursday, April 24, 2014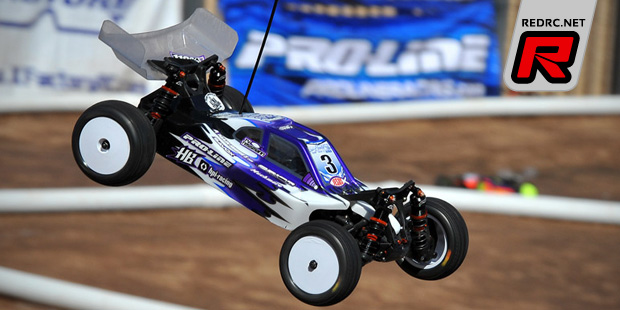 Pro-Line introduce the Type-R bodyshells for the Hot Bodies D413 and D812 buggies. The Type-R came from the mind of Pro-Line team driver Ty Tessmann with a unique mid-cab look and undercut side pods that break away from all of the recent cab forward trends. The Type-R body for the D413 fits perfectly around the triangulated shock towers of Hot Bodies' latest 4WD electric buggy and features kick up in the rear for balanced front to rear down force. Pro-Line's new Type-R body style is a single piece body unlike the stock 3-piece screw together unit, which is difficult to paint and mount. The Type-R for the D812 is the same exact one that Ty used to dominate the 2014 Nitro Challenge. Both the 1/10th and 1/8th body come clear, including window masks and decal sheet.
Click here to view the D812 body
Thursday, April 24, 2014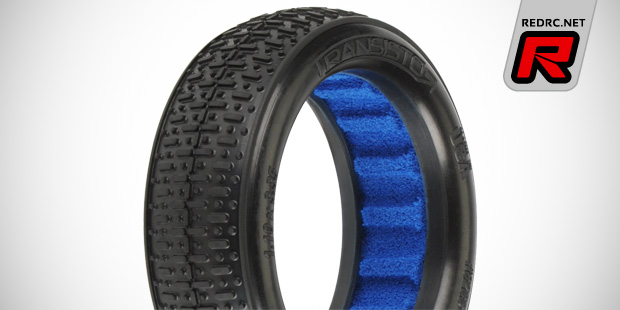 Pro-Line introduce new VTR series 1/10th buggy tyres in the form of the Transistor VTR and Suburbs VTR. Starting with the Transistor the tyre is available as 2WD and 4WD front tyre and designed to offer good, consistent steering in a variety of conditions thanks to the dots and bars design. The Suburbs rear tyre is already known for its performance on indoor clay and outdoor blue groove surfaces and now comes also as VTR variant. The VTR tyres and wheels introduce the horizontal mounting style common in 1:8 Nitro and bring it to the precision environment of the 1:10 racing scene, resulting in the lightest tyre/wheel package possible. All three tyres are available in X2 medium, M4 super soft and MC clay compounds. The VTR tyre line is rounded out by the new Velocity VTR 2.4″ hex wheels for buggies such as the TLR 22, RB5 and RB6, B4.1/2 and the B44.1/2. The rims are available in fluorescent yellow and standard white.
Click here to view the other new parts
Thursday, April 24, 2014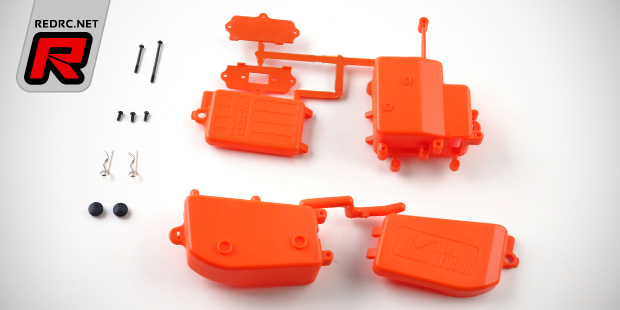 Kyosho have several new option parts for the MP9 1/8th nitro off-road buggy available in the form of coloured radio boxes, suspension weights and aluminium throttle/brake servo arms. Starting with the RC boxes, the parts have been seen before and are now officially launched. They are available in several colours such as fluorescent green, yellow and orange along a white version all of which match with the already available rims and rear wings. The parts are a direct fit on the MP9 platform.
Click here to continue reading
Thursday, April 24, 2014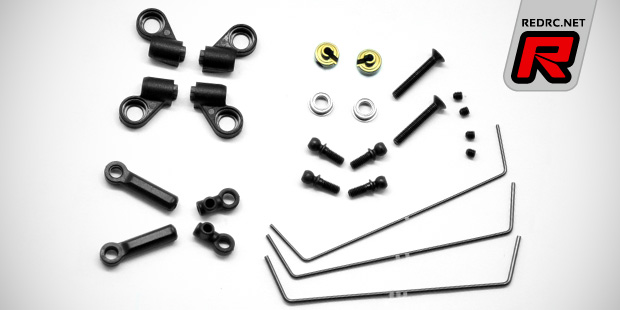 Serpent have two new ball-raced rear anti-roll bar kits for the SRX2 RM and MM available. Both include three different thickness anti-roll bar wires and the needed hardware, including ball bearings, to mount the parts either in the rear motor RM or mid motor MM buggy. Using a rear swaybar can come in handy especially on high bite surfaces such as astroturf, carpet and sugared clay.
Click here to view the mid motor swaybar kit
Thursday, April 24, 2014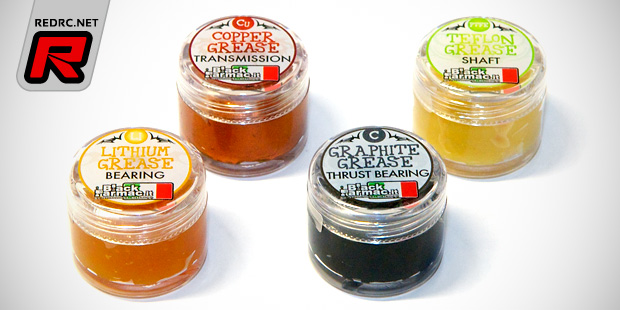 Blacktarmac introduce a line of specially formulated greases for a wide range of applications. First up is the copper grease, a lubricant incorporating finely dispersed copper dust. The grease is formulated to have excellent adhesion and resistance to give protection against wear, rust and high temperature degradation. Its primary use is on transmission parts.
Click here to continue reading
Thursday, April 24, 2014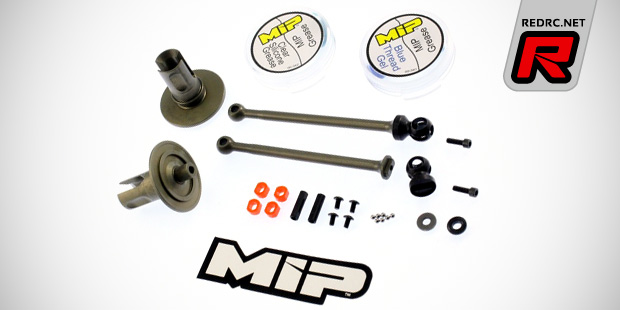 Based on their own Pucks drive systems MIP now introduce the new bi-metal R-CVD driveshaft set for the Team Associated B5 and B5M. This all-new design features a keyed joint made out of hardened alloy steel that connects to 7075 hard anodised aluminium bones. This feature allows to lighten up the drivetrain without sacrificing the durability that steel components offer. The R-CVD design also helps to keep costs low while 7075 hard anodised aluminium outdrives further reduce the rotational mass of the drivetrain. The set is designed to work with the B5 kit's wheel axles and differential parts.
Source: MIP [miponline.com]
Thursday, April 24, 2014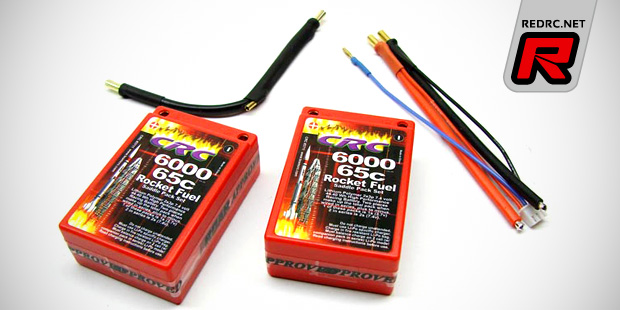 CRC have a new competition LiPo battery available in the form of the Rocket Fuel 2S 6000mAh saddle pack. Built from high-performance 65C cells the ROAR-approved battery comes in an orange colour hardcase and including jumper wire and balance lead.
Source: CRC [teamcrc.com]
Wednesday, April 23, 2014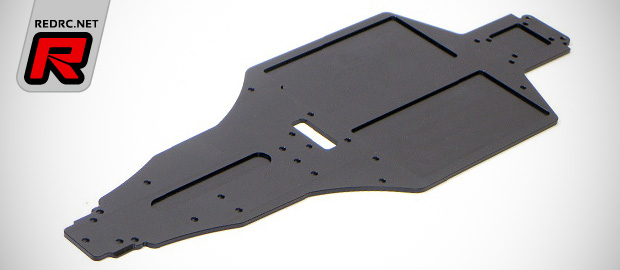 Azarashi introduce a prototype aluminium chassis plate for their Kyosho ZX-5 Redseal conversion kit. Made from 6061 aluminium and coming black anodised the limited edition part is designed to replace the stock carbon fibre main chassis plate with a stiffer part that offers less torsional flex, making it ideal for all high-grip surfaces. The machined chassis features several milled-out pockets for the battery and electronics in order to lower the weight and centre of gravity and it is available through Azarashi's webshop for a limited time.
Source: Azarashi [team-azarashi.com]
Wednesday, April 23, 2014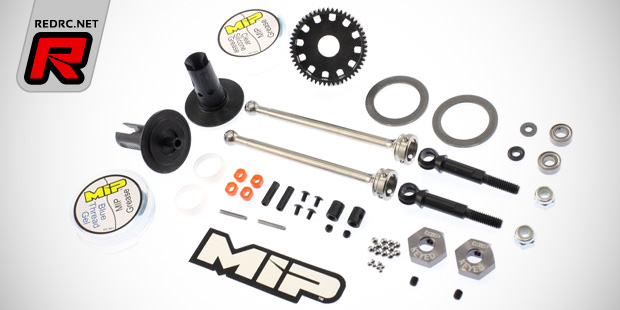 MIP is busy adding more Pucks drive systems to their portfolio. This time a full load of  kits is available for the Kyosho RB6, both for standard ball diff and optional gear diff equipped vehicles. The Modified "Shiny" ball diff variant includes new diff gears, outdrives and thrust race along durable "Shiny" steel C-CVD driveshafts while the 17.5T gear diff set includes aluminium outdrives suitable for Kyosho's optional gear differential. Also available is a Shiny set for RB6′s with gear diff and a dedicated 17.5T set for ball differential equipped RT6 trucks. All sets improve durability, make for quicker acceleration and a smoother running drivetrain.
Click here to view the other new sets
Tuesday, April 22, 2014