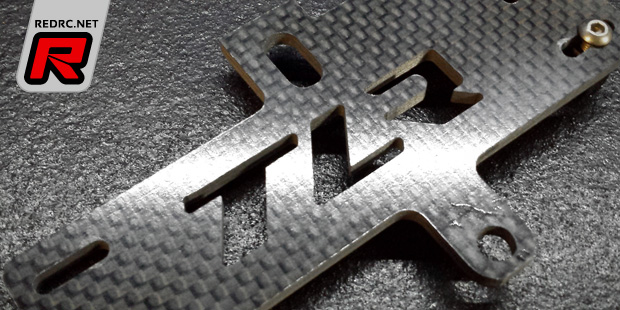 Factory RC introduce a carbon fibre shorty battery brace for the TLR 22-4 buggy. The battery hold down features an adjustable battery stop block that allows to more easily and conveniently adjust the battery position within he chassis. The brace replaces the stock plastic part, it is cut from 3mm carbon fibre and it comes with heavy duty carbon steel or titanium screws.
Click here to view more photos
Friday, November 21, 2014

Made for the Tamiya TRF418 and TRF419 are the P8 double joint driveshafts from Spec-R. They are of a reinforced design with a large diameter cross joint, 1.8mm cross pins and strong 0.8mm circlips for the cross pins. Made from high quality spring steel and offering precision-ground wheel axles the shafts are recommended for the use in combination with a front spool axle and they minimise wheel chatter at high steering angles due to their design.
Source: Spec-R [spec-r.com]
Friday, November 21, 2014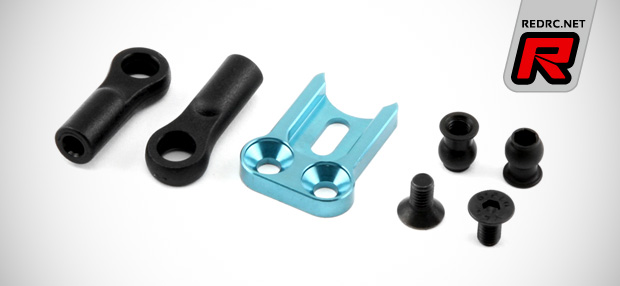 Shepherd have a new option part for the Velox V10 Pro 200mm nitro on-road car available in the form of an updated steering Ackermann plate and linkage parts. Due to a much smaller steering differential angle, the new 8mm servo saver Ackermann plate provides even more steering and a completely different, more aggressive overall handling. Prototypes have been successfully tested at the this year's European and World Championships and also at the ENS in Fiorano with a higher corner speed noticed by all drivers. The servo saver Ackermann plate is available as a set including new 4.9mm uniballs and ball joints or as a single part from now on. The new uniballs and ball joints are also available separately as a replacement of the standard parts to eliminate play in the V8 and V10 steering linkage while allowing smooth operation.
Click here to view the linkage set
Friday, November 21, 2014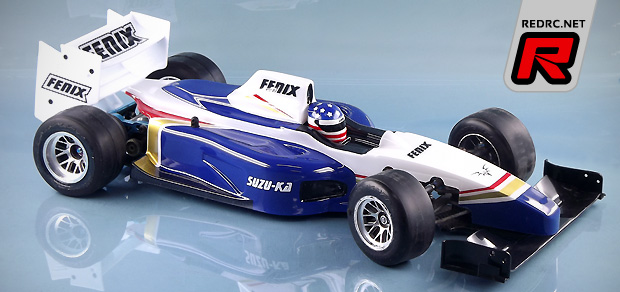 Fenix Racing from Italy introduce their new Phi-Gamma formula bodyshell for 1/10th cars. Designed using 3D CAD software with Computational Fluid Dynamics validation for improved aerodynamics, the body is best used on medium to fast tracks and it is completely tuneable in terms of downforce and drag. The body is made from clear polycarbonate and fits most of today's formula chassis.
Source: Fenix [fenix-racing.com]
Friday, November 21, 2014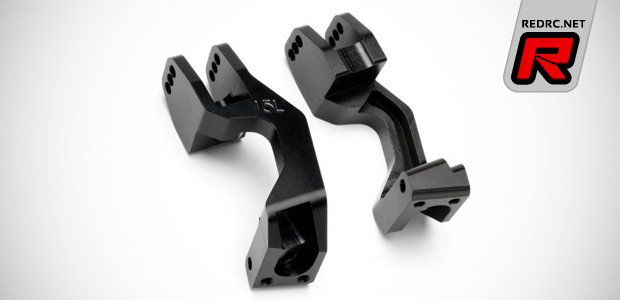 HPI Racing have two new option parts for the HB D812 available such as the V2 caster block sets and an updated air filter set. Starting with the C-hubs, coming as 15, 17.5 or 20 degree variant the parts are an easy option to alter the steering characteristic of the buggy. Machined from billet aluminium for strength and durability the hubs come black anodised and marked for easy identification. The parts need to be used with HPI's 4 degree steering block set and fit the D812 only. Also new is the V2 air filter set, featuring a standard cylinder shape combined with dual-element design. A low-profile double-elbow connector keeps the air filter mounted low on the chassis for less movement and extra durability. The set will fit any D8-series buggy and the D8T Tessmann Edition truggy kit.
Click here to view more photos
Thursday, November 20, 2014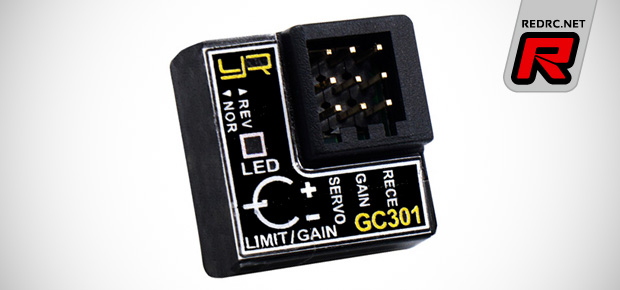 Yeah Racing introduce their GC301 gyro for the use with drift cars. The compact device measures 21x21x11mm, it weighs 3.6g and connects between the receiver and the steering servo. The adjustable heading hold function keeps the car stable during cornering but it maintains full manoeuvrability and car control. The amount of gain can be adjusted using the third channel on the transmitter or by using the gyro's potentiometer. The device is usable for other on-road and off-road applications also but when used in a race event you need to check for legality.
Source: Yeah Racing [yeahracing.com]
Thursday, November 20, 2014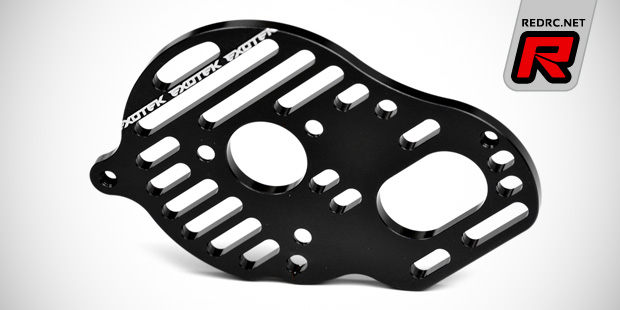 Exotek have two new aluminium option parts for the Team Associated B5 and B5M buggy available in the form of the vented Flite motor plate and an aluminium rear ballstud mount for the B5M mid motor buggy. Starting with the motor plate, the CNC-machined part sports aggressive machining to make the part not only 6.5g lighter than the stock motor plate but to also improve motor and slipper heat dissipation. The critical motor mounting area was left out with machining to maintain a solid base for motor mounting and gear mesh adjusting. The part, that is available in blue and black colour, is designed for the use on indoor clay and carpet environments but a shaved bottom allows for debris discharge if needed.
Click here to continue reading
Thursday, November 20, 2014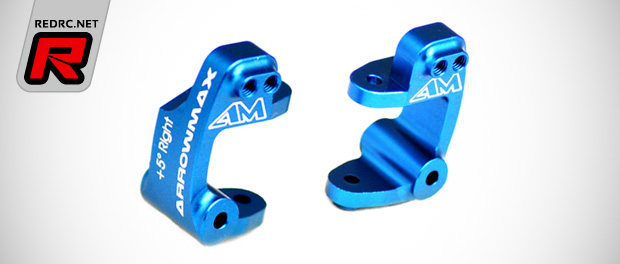 Arrowmax now have a +5 degree C-hub set for Yokomo's B-Max2 2WD buggy available. The hubs are CNC-machined from aluminium, come blue anodised and laser-etched for easy identification and added looks. Much stronger than the original composite parts the alloy hubs make for improved durability while the +5 degree caster setting improved on-power steering.
Source: Arrowmax [arrowmax-rc.com]
Thursday, November 20, 2014