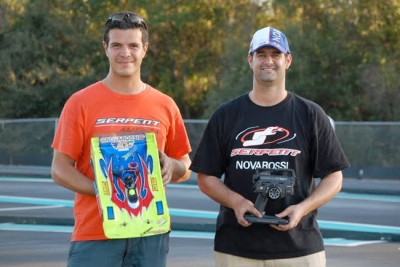 DJ Apolaro has a report from this past weekend's 4th round of the Florida State Series. Normally I run sedan or both 1/8 scale and sedan. I am leading the points for sedan, however I made a choice to concentrate more on 1/8 scale for the next few months, as the competition is higher in the 1/8 scale class. I got to the track with my friends on Friday morning and we set up out pits. I was the only one of us running 1/8 scale and I was going to help them battle for the sedan class. I was looking to learn more about the 1/8 scale, as I am never really satisfied, like I am with the sedan. I started with a basic setup and the car was OK, but needed a lot of work. First I ran in a motor while the track was still green. By the end of Friday my car was pretty good and I was excited about the race weekend. The faster racers at this event where Paolo, Scotty, Ronnie, myself and a few others.
Continue reading the report here
Thursday, December 17, 2009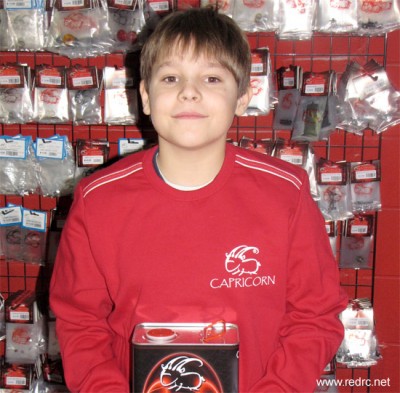 Italian company Capricorn RC have signed young 11 year old Italian racer Simone Pausini to use their fuel for the 2010 season. This very promising driver will compete in the Italian Junior Championships as well as the European 1/8th scale 'B' Championships in Monaco using his IDM powered Shepherd Velox V8, fueled by Capricorn's competition fuel.
Source: Capricorn RC [capricornrc.com]
Thursday, December 17, 2009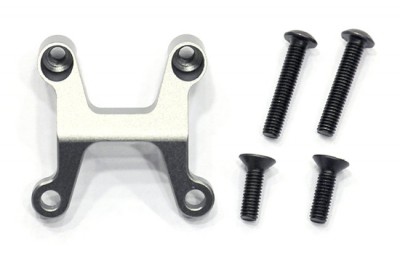 New for the Serpent 733 is this precision machined aluminium rear end stiffener. To be mounted between the rear brackets and the legs of the lower engine mount support, the long screws replace the standard versions in the car mounted from the top. This option offers an extra possibility to play with the rear end flex of the car and will also increase rear end rigidness, so the chassis will be less prone to bending in the case of a rear end crash.
Click here to see it mounted in place
Thursday, December 17, 2009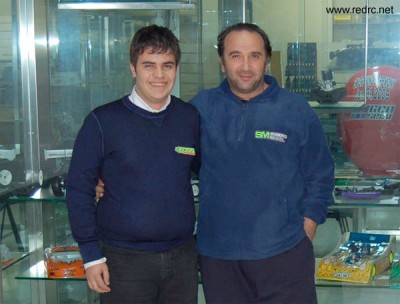 Schepis Model in Italy have announced an agreement with former European B Champion Alessio Mazzeo to use their BOSS engine for the 2010 season. The front running Italian Serpent driver previously ran with JP and Max Power engines. Schepis Model had the following to say about the deal:
Mazzeo will replace team driver Giuseppe D'Angelo as official development driver – we thank Giuseppe for the activities carried out so far on our behalf. Our choice has been motivated by the fact that Mazzeo is in our opinion one of the best international drivers and, besides, he lives in our city, Messina. For this reason, the agreement will definitely help us in the process of testing and development of our engines.
Source: Schepis Model [schepismodel.it]
Thursday, December 17, 2009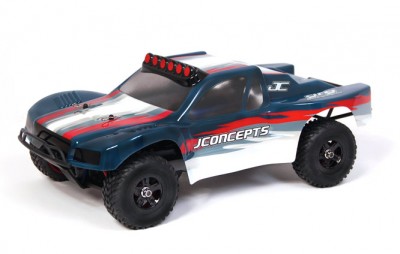 JConcepts have released a number of new parts for the 1/16th Slash VXL, Kyosho RT5 and HPI Blitz. First up for the Slash is the new Dare short course shell whose cab, bed and fenders are all styling areas of focus and together with realistic mock lights and decals the shell includes extra fender clearance to eliminate troublesome tire rubbing issues. For the Kyosho RT5 the Illuzion 'Hi-Flow' styling presents a flowing design while incorporating many radical edge styling details for additional style and performance. Race inspired aggressive styling, Illuzionized cab and cove hood scoop combined with a durable flowing bed design are just some of the features on this new body. Finally for the Blitz is an overtray, which fits under the body and protects your chassis from unwanted excess dirt and debris build-up during racing conditions.
Click here to see the other new products
Thursday, December 17, 2009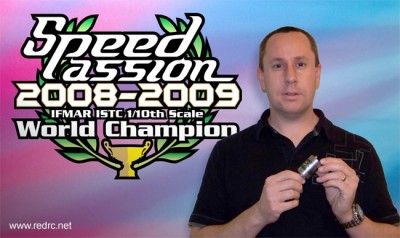 Speed Passion have announced the signing of another top UK off road racer, current 2wd National Champion Ellis Stafford. Ellis will use the company's Competition 3.0 motors together with their GT2.0 Pro speedo to defend his title next year and had the following to say about the deal:
With the many good comments I heard from other Speed Passion users I knew I had to try out the equipment to see if it is as good as people had said..and it certainly is!! The power is delivered incredibly smoothly and the speedo is easy to set up but with enough parameters for anyone. The plugs on the motor are a really nice touch as well and make last minute motor changes no problem at all. They are also very keen to progress more and with a very strong team I look forward to defending my 2wd British title and hopefully adding a few others next year with Speed Passion whilst working on future products.
Source: Speed Passion [speedpassion.net]
Thursday, December 17, 2009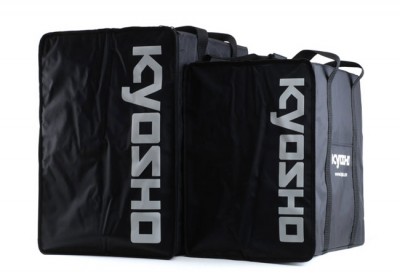 Kyosho's new pit bags are available in both medium for 1/10th scale size cars like the V One RRR and FW06, while the large pit bag is made for larger scale vehicles like the 1/8th Evolva Evo M3 and off road buggies like the Inferno MP9. Each bag has 3 separate compartments and each compartment slides into its own heavy duty sleeve which is riveted for extra strength. The compartments and sleeves are made from an industrial strength plastic that will hold up to any abuse you can dish out.
Click here for more images of the bags
Wednesday, December 16, 2009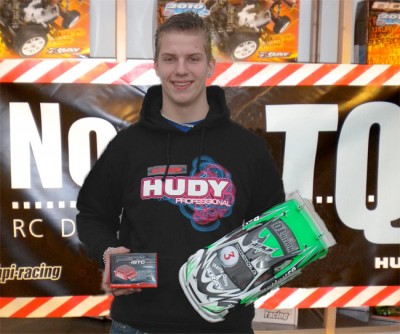 Nosram have announced that current Danish national championship leader in the modified electric touring car class, Danni Eyde-Nielsen has signed a contract with NorthTQ and Nosram for the 2010 season. The 16 year old will be driving the new Xray T3 chassis powered by Nosram electronics and Danni has already made the track record at his home track with his new racing package. Having tested the Nosram equipment he is looking forward to the upcoming races with his first appearance with Nosram electronics the DHI cup in January.
Source: Nosram [nosram.com]
Wednesday, December 16, 2009