By popular demand AKA will be releasing all of their SC tires pre-mounted on their new Cyclone SC wheels. The Wishbone, Enduro, Gridiron and Cityblock will be available in soft and super soft on all four variants of the Cyclone wheel to fit Traxxas, Associated, Kyosho, HPI and Jammin' trucks. AKA SC pre-mounts feature AKA's industry first closed cell insert to ensure durability and balance of each tire. Each AKA SC pre-mount is hand assembled using AKA Premium Tire Glue ensuring that the tires stay glued to the wheel using the same process as they use to assemble their best selling 1:8 pre-mounts.
Source: AKA [raceaka.com]
Wednesday, October 20, 2010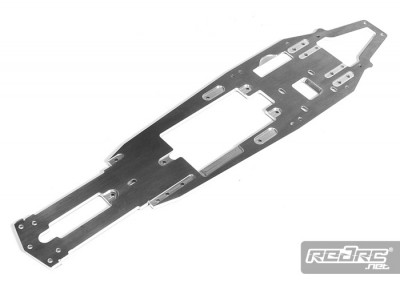 Shepherd have announced the release of the extra hard chassis plate for the Velox V10. This chassis plate is CNC-machined from the finest German 7075 T6 alloy and meets the highest quality standards. The material is super-strong and extra stiff which results in a more reactive car. The hard chassis plate features some additional mounting holes for the brass battery plate mounts, so it's possible to use up to 5 brass mounts to reach the necessary minimum weight.
View the bottom side of the chassis plate here
Tuesday, October 19, 2010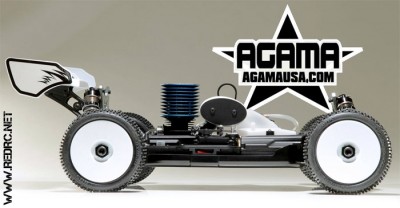 Agama USA are expanding their US race team on all levels and are looking for drivers to join their growing team that includes Levi Jackson and Gene 'The Machine' Hickerson. If you can effectively promote their product, race competitively and help newcomers to the hobby then they are interested in you. To be in with a shot, send your resume to support@agamausa.com
Source: Agama USA [agamausa.com]
Tuesday, October 19, 2010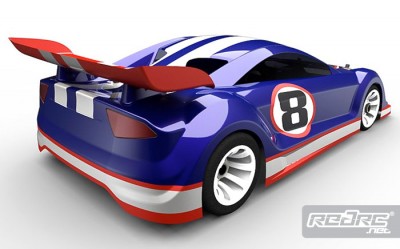 Motonica are trying to revive GT cars for gas on road with the release of this Gran Turismo body especially redesigned for 1/8th scale on road category. The new body fits perfectly to all Motonica models series P81, P8C and P8F and it will be sold together with its rear spoiler and fixing screws.
View another image of the shell here
Tuesday, October 19, 2010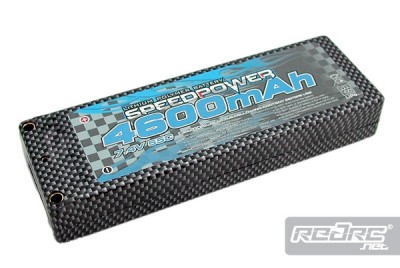 Speed Power have introduced two new LiPo packs, the first is this 4600mAh 7.4v battery with a 55C rating. This stick pack configuration features the now obligatory hard casing for impact protection. Also new is the 5300mAh 7.4v saddle pack with has a 40C rating and also comes in a hard case, with both batteries featuring bullet connectors.
Click here to view the saddle pack
Tuesday, October 19, 2010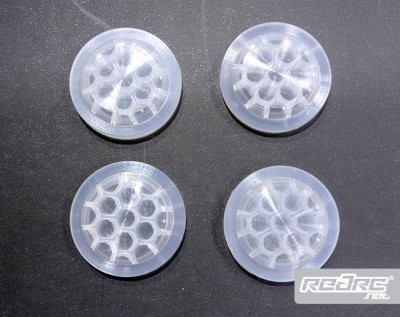 Serpent have released the webbed silicone shock absorber membranes for the Cobra buggy to help reduce shock fading. This membrane features re-enforced webbing and will keep its shape under higher pressure and higher temperatures. A direct replacement of the standard membranes, they may fit other brands of 16mm shocks too.
Source: Serpent [serpent.com]
Tuesday, October 19, 2010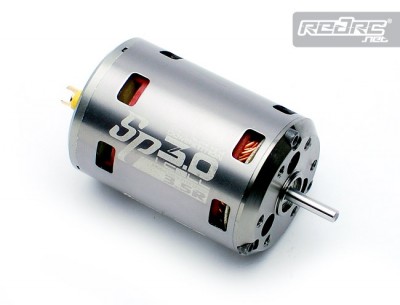 Through joint testing together with their US team driver Josh Cyrul, Speed Passion have released the all new Competition V3.0 1 cell motor. Designed to operate with 1 to 2 cell LiPo batteries, the new high performance 1 cell motor suitable for 1/12, 1/10, Oval and WGT class application. The new motor sports a newly designed stator in order for 1 cell lipo low battery voltage and able to provide a smooth power from low to top end speed. With the new 1 cell motor design, the weight is reduced by 15grams to improve the performance of your 1/12 and 1/10 pan car in any conditions. Featuring adjustable timing, it comes in 3.5R, 4.5R, 5.5R, 7.5R, 10.5R, 13.5R, 17.5R & 21.5R versions.
View more images of the motor here
Tuesday, October 19, 2010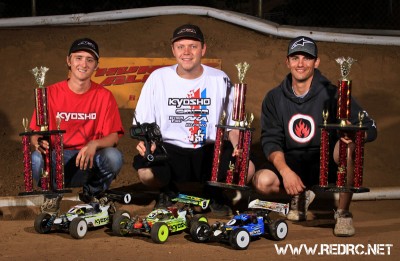 Thunder Alley was the site of the 2010 Sidewinder Nitro Explosion race and the best in the world were in attendance racing their last big race before the upcoming World Championships. The entry list read like a world final – Pavidis, King, Cavalieri, Mayfield, Drake, Truhe, Tessman, etc. were all in attendance. For AKA the mains could not have gone any better. In the Sportsman Buggy A Main it was Sean Gaffney taking the win on AKA Gridiron soft tires, AKA wheels and AKA closed cell inserts. In the Intermediate A Main it was Colin Herzig taking the win on AKA Enduro Soft tires using the new AKA Evo wheel and AKA closed cell inserts. In the Expert Buggy A Main it was Cody King coming home with the win using AKA Enduro soft tires on the new AKA Evo wheel and AKA closed cell inserts. Mark Pavidis also made the podium coming home a strong third using the new AKA Impact tire in medium and the new AKA Evo wheel with AKA closed cell inserts. Cody King and Mark Pavidis both commented after the race the the new EVO wheel really made the high speed sweeper much more predictable compared to the older wheels.
Source: AKA [raceaka.com] / Photo: John Cary

Tuesday, October 19, 2010