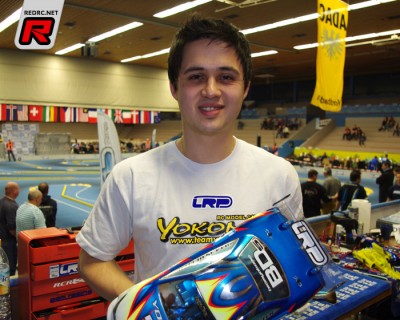 Ronald Volker will start tomorrow's LRP Touring Car Masters from pole position having dominated qualifying in Eppelheim today. The Factory Yokomo/LRP driver secured the top spot with one round still left to run, with a perfect score to line up ahead of current World Champion Marc Rheinard in 2nd and last weekend's ETS Rd4 winner Juho Levanen in 3rd. Also taking pole position in dominant fashion was Eric Dankel, the Xray/LRP driver carried forward his form from his previous two ETS outings by easily taking the top spot in the first 4qualifying rounds, securing the top starting spot with one round left to run. Daniel Wohlgemuth will line up 2nd after topping the final qualifier with Tim Wahl in 3rd. Sunday will see triple mains for all the A-finalists, with double mains for everyone else and you can follow the coverage over at the official event site here.
Saturday, March 26, 2011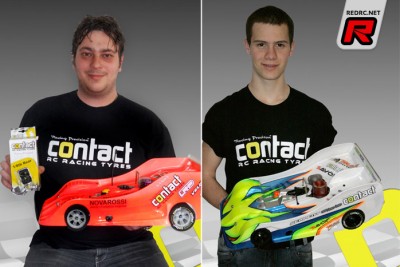 Contact RC have announced the addition of two top international drivers to their team line up for 2011. Michele Romagnoli was 5th at the 1/8th European Championship in Locorotondo last year and finalist of the last pre Worlds in Miami.  After testing Contact Tyres he decided to use their tires from now and at the World Championship in Miami in a couple of weeks time. Another young Italian driver Stefano Pregnolato has also joined the Contact  team. The 2009 Italian 1/8th scale champion in the Senior class, he is now very well settled in the very competitive Italian EFRA A class making the A final in the final Italian Championship race in Bologna last season. The new guys join the already strong line up of USA Champ Paul Lemieux, European Champ Robert Pietsch, Simon Kurzbuch, Jerome Renaux and US star DJ Apolaro.
Source: Contact RC [racing-cars.com]
Saturday, March 26, 2011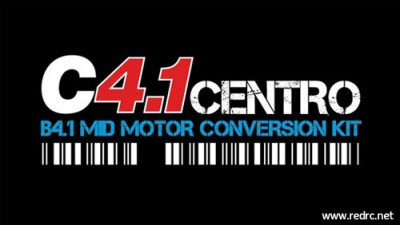 CML Distribution, UK importers for Associated among other brands, have release this teaser graphic on their site with little information other than the name and that it will be coming soon. The C4.1 Centro is obviously a mid motor conversion for the extremely popular Team Associated B4.1 but beyond that there is no information. We will bring you the details when we get them.
Source: CML [cmldistribution.co.uk]
Friday, March 25, 2011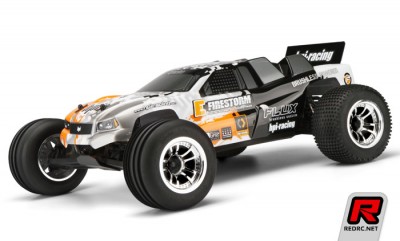 The ready-to-run E-Firestorm Flux, HPI's first-ever brushless motor equipped 2WD 1/10th scale stadium truck, is now better than ever. They've taken the proven platform and added a 2.4GHz radio system, a more powerful ESC/motor combination, waterproof electronics, an 8.4V battery pack, AA batteries for the transmitter, Split 5 chrome wheels and two fresh new paint jobs. The updated E-Firestorm Flux let's you drive in wet conditions and has a top speed of over 50 mph with on-command wheelies.
Source: HPI [hpiracing.com]
Friday, March 25, 2011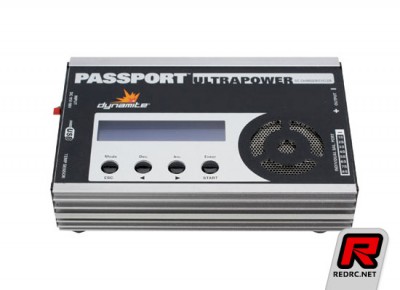 Dynamite's new Passport UltraPower 150w DC charger represents the ultimate in versatility and power. With features like 150 watts of charging power, 7-Amp charge / 5-Amp discharge rates, 1-5C charge ability, multi-chemistry compatibility and more, the Passport UltraPower 150w DC charger is perfect for intermediate to advanced RC surface enthusiasts.
Friday, March 25, 2011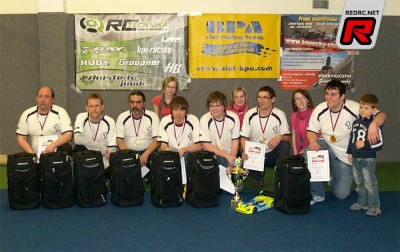 During the weekend of the 19th to 20th March was held 24hr race with 1/10 electric 2wd GT cars on carpet in sports hall in Rtyne v Podkrkonosi, Czech Republic. Cars were powered by 21,5T motors and had to use controlled LRP CPX tires. Only 4 sets of tires were allowed to use during the whole race. Eight teams with six drivers and one mechanic attended this premier year. With 5098 laps won Dodo Team & Ovci farma. Second team RC Blansko was 85 laps back and the third team RC Team Rychvald was only 17 laps behind. The winning team achieved distance more than 630 kilometers.
Friday, March 25, 2011
New from OFNA the Nexx10sc is a high performance 4×4 Short Course truck. Featuring pivot ball suspension for smooth handling characteristics, predictable drive and durability, three sealed oil filled differentials supply the traction to the all wheel drive system putting the power to the ground. The independent front and rear suspension and oil filled shocks add great stability and will help you blast through rough terrain with ease. The Nexx10SC also has new full size (2.2″/3″) short course wheels with detailed styling, while the 'Bar and Peg' tire has an aggressive feel. The full size short course body with realistic detail and fender clearance give this truck the authentic look.
View more information and images here
Friday, March 25, 2011
This weekend brings the much anticipated start to the Short Course Showdown Nation Wide Tour. The Tour, being promoted and organized by Scotty Ernst, is a 4 event tour that will bring Short Course racing to 4 different tracks across the United States. Tour date number 1 will be held at RC Excitement located in Fitchburg Massachusetts which is about 1 hour outside of Boston. Some big names racers and industry support are scheduled to participate in the event this weekend including Team Losi's drivers Mike Truhe and Richard Trujillo. From JConcepts it will be Paul 'P-Dubb' Wynn and 'Double D' Dave Duncan. Spektrum will be represented by Sonny Brown. Viper RC will be there to display and represented by Nick Malato and the latest edition to the Showdown Nation Wide Tour is one of the biggest and most well respected names in all of RC. Team Associated's newly signed Ace, Multi time National and World Champion Brian Kinwald. Brian and Team Associated have committed to all 4 tour events and it will be great to add him to the bill for the tour. The industry has embraced the Tour as we all know what Short Course racing has done to the racing world and our goal is to bring our style of events to different areas of the country. At each event the sponsors will be in attendance setting up a Manufacturers row displaying their products and being onsite to answer questions, help racers and enjoy in the fun of Short Course racing. This is a great chance for racers and spectators to interact with the sponsors and getting first hand setup advice from these top pro's.
For more information visit the official series site here.
Thursday, March 24, 2011