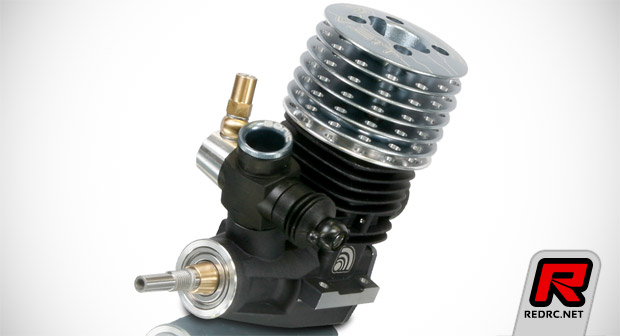 In a few days Sonic Nitro Engines will release the all new Sonic V.21T 3.5cc on-road engine which is produced by Picco Micromotori and all components have been made from the finest materials to ensure high durability and reliability. Equipped with a 7+2 ports sleeve with 'teardrop work' and a CNC machined flat piston, the engine provides great power over the entire RPM range while having a very efficient fuel consumption. The 14mm turbo crankshaft is equipped with two high density weights to improve the overall balancing and filled with a silicone insert to reduce the inertia and improve the fuel flow. The special back plate, the optimized crankcase and the "knife edged" aerodynamic connecting rod help even more to reduce turbulence inside the engine. A special turbo combustion chamber with a cooling fin and the super lightweight cooling head ensure best heat dispersion to keep the engine temperature at a moderate level. High quality Swiss ball bearings, a modern composite valve carburetor and two aluminium venturis (8mm + 9mm) complete this new high competition engine.
View more details and images here
Friday, December 2, 2011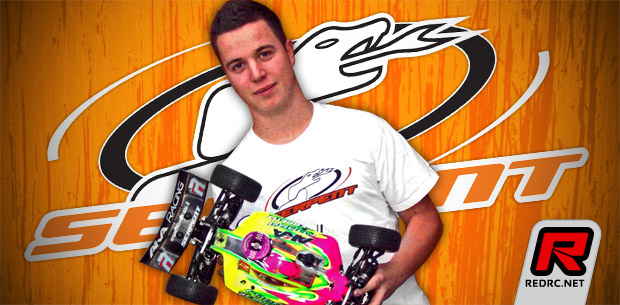 Serpent have welcomed French driver Jonathan Bacro to their international Team. The former Agama/RB driver is one of the most promising talents around, winning last year's European B Championships, and Serpent wanted to work together to help him to reach the highest international level. Having already raced the car Jonathan has shown how fast he is with his Cobra/Novarossi combo and mentioned how strong the car is. Jonathan will attend the Padova Dirt Challenge 2011 in Italy in December as well as do the Neo12 early next year.
Source: Serpent [serpent.com]
Friday, December 2, 2011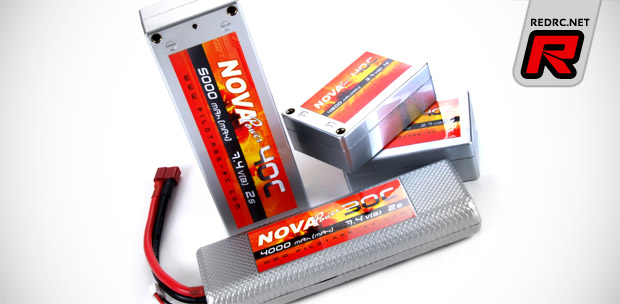 Pilotage have announced a new line up of hard case LiPo batteries for high performance model cars called Nova Line. These 30C and 40C packs are engineered to provide exceptional performance to top level competitive racers and casual hobbyists alike. The C rating of these batteries reflect the continuous current that the pack can be discharged over the course of 100 cycles, after which the pack will maintain 90% its initial capacity. The long life cycle of these batteries gives you the dependability you need while the punch that they deliver gives you the edge when you need it most.
Source: Pilotage [pilotage-rc.com]
Friday, December 2, 2011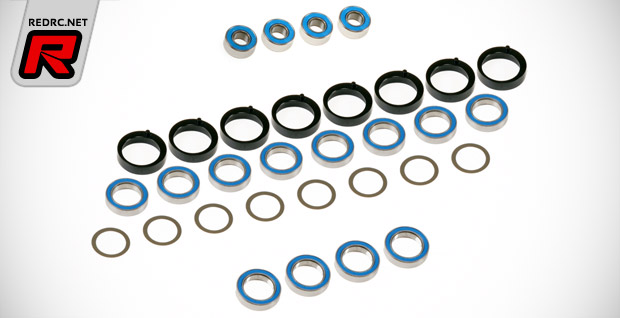 Shepherd have introduced their ceramic-eccentric set for the Velox V8. This set includes 16 ceramic ball bearings for a smoother and free drivetrain as well as increased longevity. With the eccentrics it's possible to change the position of the wheel axle giving more setup options to the user. Special 12x16x0,1mm shims are also included to fine tune the play of the wheel axle.
Source: Shepherd [team-shepherd.com]
Friday, December 2, 2011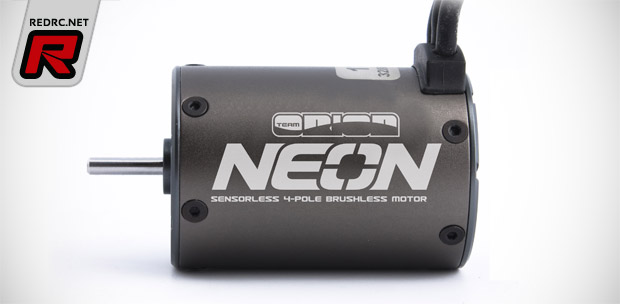 Team Orion have released their new line of Vortex Neon Brushless systems which come with all new 4-pole sensorless brushless motors. The new 4-pole design gives you maximum drivability with best efficiency and power output. Together with the Vortex R10 Sport speed controller the Neon Brushless system is the most advanced, robust and easy to use entry level brushless set Team Orion has ever made. Available in 14T, 17T and 19T versions.
Source: Team Orion [teamorion.com]
Friday, December 2, 2011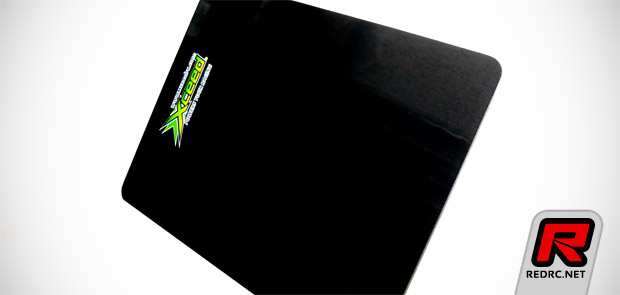 Xceed have introduced this stylish top quality carbon fibre set-up board, called the XC board. The XC board is 47cm x 37cm and 11mm thick making it a perfect size for 1/10 and 1/8 cars and will fit in most commonly used pit bags and trolleys. The set-up board is made in a "sandwich" construction, with the top and bottom in full carbon fibre and the inside a strong aluminum honeycomb structure for straightness and stability. The edges have been rounded and the sides well protected. The board is supplied in a protective cell-foam bag with Xceed livery. To be released in January.
View an image of the sleeve here
Friday, December 2, 2011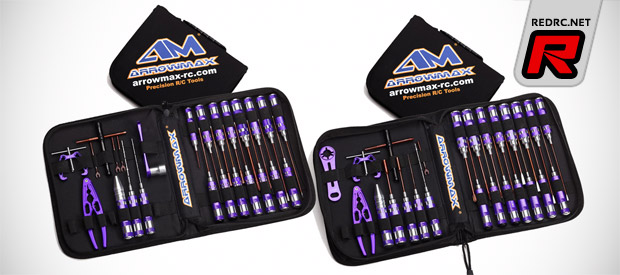 Arrowmax have released a complete range of high quality, durable tools supplied in a tool bag for a reasonable price. The basic tool set comes with the main tools you use in almost every class of RC racing such as allen, ball allen, flat head, philips, nut spinner, reamer and exhaust spring tool and you can have up to 24-28 tools per bag, to make it more complete depending on the class you run. They also have a specific set for buggy racing and if you order a full set you can have your name lasered onto the handle free of charge.
Source: Arrowmax [arrowmax-rc.com]
Friday, December 2, 2011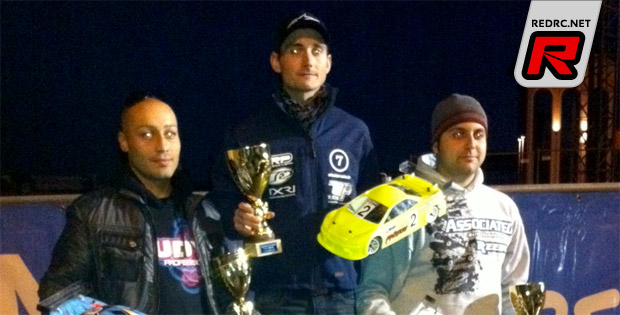 The 4th running of the Trofeo Genitin race and was held recently at the RC Raceway in Rome, Italy. Over 60 Drivers in Stock and Modified class took part and the organizer Luca Magnocavallo did a great job. Steven Weiss with his new T.O.P Photon EX (Prototype), Alessio Menicucci (Associated), Alessandro Brunelli (Serpent) and some other good drivers took part. In the first and second qualifiers in the morning, it was Steven Weiss that emerged on top in front of Alessio with his Associated. Alessio was running new tires for the final round and with Steven on old tires Alessio took the TQ by 1 second in front of Steven. Alessio got a good start in the first final with some mistakes from Steven he was able to win the leg. The same start in the second final, but Alessio made a small mistake and after 5 laps Steven was in front and was able to take the win. In the 3rd and final leg, it was the Associated driver Alessio, who made a mistake in the first corner and Steven swept into the lead and would win the leg by one lap. The runner up spot went to Diego Macchioni with Alessio Menicucci in third.
Source: TOP [top-racing.jp]
Friday, December 2, 2011