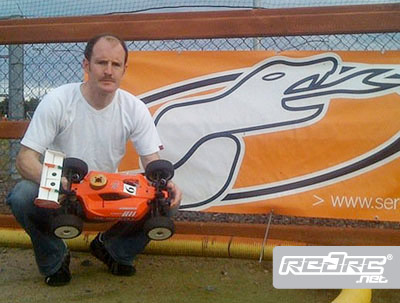 Team Serpent Ireland are delighted to announce the signing of Derek McCloskey to head their efforts in the Irish 1:8 Off Road competition scene using the new Cobra S811. A multiple champion in electric 1:10 Off Road, the experienced off and onroad racer will debut the buggy this weekend at the penultimate round of the Irish National Championships at the BADMCC track in Northern Ireland as part of his preparations for a full 2011 season campaign. Having tested the buggy at the astro turf Navan Nitro track, which hosts the sixth & final round of this year's Championship on September 5th, McCloskey was very complimentary of the new Serpent off road entry and is looking forward to getting up to full speed with the Billy Easton creation. Joining Serpent, McCloskey will run Mega engines and use Merlin fuel.
Source: Hobbies Ireland [hobbiesireland.ie]
Thursday, August 19, 2010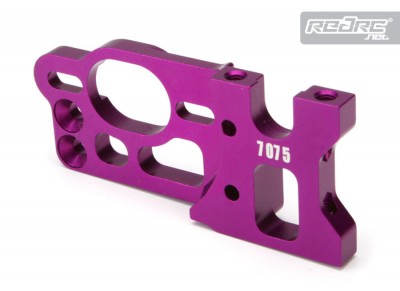 New from Hot Bodies for their TCX touring car is this optional bulkhead and motor mount set. Made from 7075 aluminium the new material used to manufacture these heavy duty parts make them a lot stronger and stiffer than the originals without adding any extra weight.
Wednesday, August 18, 2010
To clear up some rumors about the Tamiya 201 based Short Course race truck that have been going around, TRF driver Jimmy Wright decided to give us an update. The car was built using the TRF 201 buggy and has been stretched and widened to make it legal for racing under ROAR guidelines by using mostly Tamiya parts and a few from other manufacturers. The "TS-201SC" was built by Track Star RC in Winchester California to be raced, showcased and used as a test vehicle to draw interest from racers and enthusiasts alike to gauge the market for Tamiya through Track Star / Short Course HQ's efforts. This is NOT a factory built prototype or pre production truck. However upon speaking to the powers that be at Tamiya USA they are excited about this project and we will continue to race and develop the "TS-201SC" for as long as they wish us to do so. A second test bed truck is currently being built by Track Star in a little bit different configuration and plans to possibly build a third configured truck are also in the works.
Source: Tamiya [teamtrf.com]
Wednesday, August 18, 2010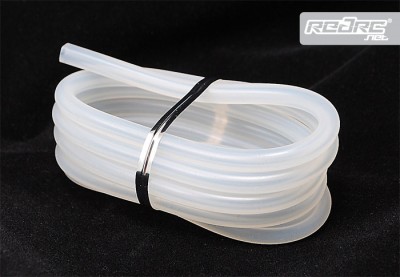 Sweep Racing have released their new and improved silicone fuel tube. Featuring a 2.6mm inner diameter, it has been made out of an extra flexible heat resistant silicone material, functioning under most demanding conditions. Sold in 100cm (39″) lengths.
Source: Sweep Racing [sweepracing.com]
Wednesday, August 18, 2010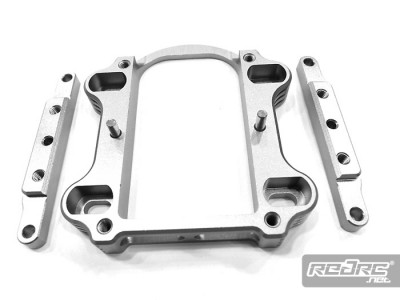 More new parts from Serpent for their S811 Cobra buggy with the release of this precision machined anodized T6 aluminium monoblock type engine mount. The lower mounts remains seated on the chassis, and only the upper bracket remains attached to the engine, for quick and easy engine mounting/removal. Precise positioning is achieved with steel bearing-pins and threaded holes. A super finish with extra cooling fins on the side. Serpent have also introduced precision machined and anodized aluminium servo posts, these lightweight parts replace the standard steel parts.
Wednesday, August 18, 2010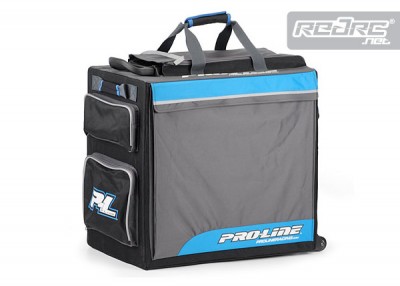 Pro-Line has released their all new pit bag. Designed with 4 easy access drawer compartments, 5 zipper pockets and a top mounted tool pouch, the pit bag is user friendly and has enough room to store all your stuff. A collapsible pull handle and smooth rolling casters make transportation a breeze. Available in very limited quantities through Pro-Line's website only.
View more images of the bag here
Wednesday, August 18, 2010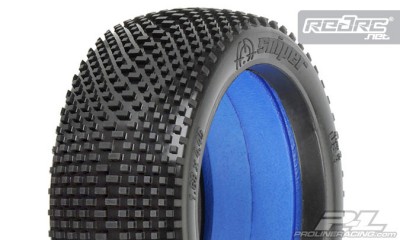 Having already seen some shots of this new tread pattern, Pro-Line have officially announced the Sniper. These 1/8 buggy tire uses the same design philosophy and technology as the Hole Shot, but scaled up to work in looser and dustier conditions. After initial testing, Pro-Line team drivers like Ryan Cavalieri and Travis Amezcua are already sold on the tire saying that the Sniper offers awesome forward traction and side bite in a variety of track conditions. The bigger pins also provide longer wear, giving you lasting traction through long A-mains. Available in M2 (Medium), M3 (Soft), M4 (Super Soft) compounds. PL have also released their all new Scrubs 2WD front buggy tire. Designed specifically for wet and dry clay tracks, the scrubs front tire offers an optimum angled bar side bite, as well as a pin design, which will make your buggy track like an arrow. Offered in our M3, MX and MC compounds to meet your entire clay track needs.
Wednesday, August 18, 2010
New for HPI Blitz owners, Pro-Line have released the Desert Rat 2.0 designed exclusively for the Blitz that maintains all the design queues required to maximize performance while keeping your SC looking sharp. Featuring bold off-road Short Course (SC) styling, it has been made made with Crystal Clear Genuine GE Lexan and comes supplied with a detail decal sheet and window mask.
View more images of the shell here
Wednesday, August 18, 2010