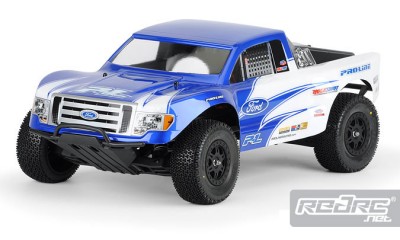 Pro-Line have introduced a number of new Short Course products starting with the new Ford F-150 race body for your Traxxas Slash, Slash 4×4 or Associated SC10. Featuring bold off-road Short Course styling with extremely pronounced fenders for an attack-like stance. For 1/16 Slash owners, Pro-Line have released the all new Desert Rat 2.0, a dedicated body designed to maximize performance and style to keep your 1/16 Slash looking good. Finally, to protect your Slash 4×4 both inside and out Pro-Line's new undertray is made from extremely durable .060 Lexan material and sports tall sides protect against dirt and debris from entering into chassis and electronics.
Click here to see the other new products
Tuesday, March 23, 2010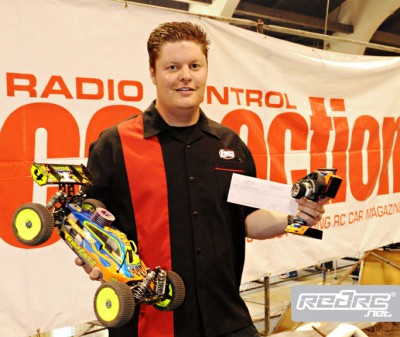 We received word that Adam Drake took the win at the RCX buggy Supercross race, that took place at the RCX show in Pomona. The Team Losi factory driver took the win with his Novarossi powered 8ight 2.0 ahead of Kyosho's Cody King in 2nd with Travis Amezcua taking 3rd spot.
Image: RCCA
Tuesday, March 23, 2010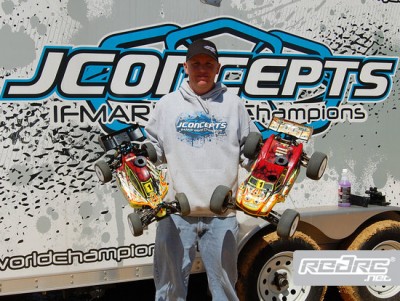 Round 5 of the Florida State off road series took place recently at B&B Hobbies in Hudson. The week leading up to the race, Florida was hit with heavy rains for several days straight and the weekend's race was certainly in question but B&B Hobbies however had no doubt that their track would be ready to go Saturday morning for the first round and they certainly didn't disappoint. After about an hour of open practice qualifying got under way. Just coming off his recent success at Motorama; JR Mitch lead the way by taking the overall TQ position in both Pro Buggy & Pro Truggy with his JConcepts equipped Rc8B and RC8T-CE. By the main events the track had taken on a nice blue-groove condition and JR took full advantage by reaching for his favorite tires, Double Dee V2 in buggy and Sevens in Truggy. Once the dust settled, JR Mitch stood on top by winning both classes in dominating fashion beating Billy Easton and Jason Ruona in buggy and Ryan Eckert and Joey Perez in truggy.
Source: JConcepts [jconcepts.net]
Tuesday, March 23, 2010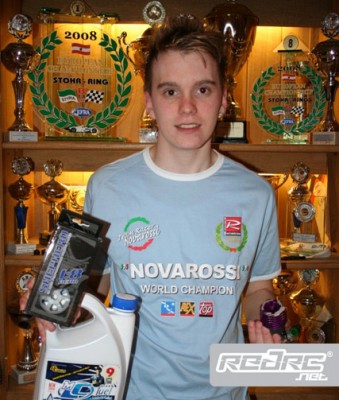 With the start of the new season getting close, talented 16-years old up and coming German driver Tobias Hepp has signed a deal to use different products distributed by Shepherd Micro Racing. Besides Novarossi engines he will also use MLC fuel by Lamberto Collari as well as Shepherd Racing Tyres in both classes, 1/10th scale on-road and 1/10th scale touring car. Tobias will race the West German Championship, the EFRA Grand Prix in Apeldoorn and Hildesheim and of course the German Championships in Rötz (1/8) and Leipzig (1/10). He had the following to say:
I am looking forward to working together with Team Shepherd and I am sure that the use of such high quality products will help to increase my performance in the upcoming season.
Source: Shepherd [team-shepherd.com]
Tuesday, March 23, 2010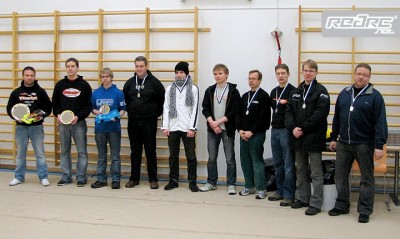 The 3rd round of the FinTrack Tour nationals was held last weekend in Kiiminki, near the city of Oulu in Northern Finland. Most of the 1/12 tops were attending, with names like Simo Ahoniemi, Teemu Saarinen, Tony Raikas, Tom Kalves, Viljami Kutvonen, Panu Vehniainen and of course championship leader Vesa Yli from the organizing club, OSPA. The venue was a big school sports hall with plenty of room for pitting and spectators. The track was a bit different from other tracks used in FinTrack series as track was 90% surrounded by tubes which is not so usual in Finland. So for 1/12 the track was ideal by being pretty technical but for touring it was a bit narrow with its 2m width.
Continue reading the report here
Tuesday, March 23, 2010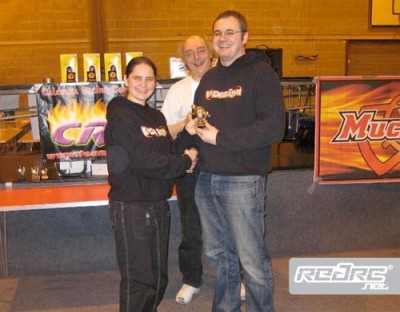 The final round of this seasons BRCA 12th scale nationals took place last weekend at the home of British 12th scale racing; Chesterfield. Going into the meeting there were 6 drivers still in contention for the stock championship, while any one of 3 could still win modified. Chris Kerswell came to the meeting on a crest of form after winning the EFRA stock Euro's 2 weeks previously and looked to be one of the favourites to take the BRCA stock championship with his GM powered V-Dezign car. Qualifying was all about 2 drivers. Andy Moore and Chris Kerswell were the class of the field with Chris's pole time being over a lap clear of 3rd place. With Mark Stiles in 5th, Andy Griffith 6th and Matt White 9th, once again V-Dezign proved to be the most popular chassis in the A final.
Continue reading the report here
Tuesday, March 23, 2010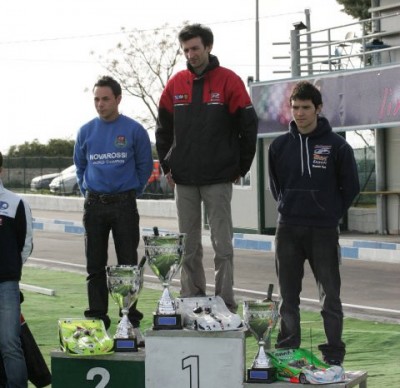 The warm up race for the 1/8th scale European Championships took place last weekend under cold weather conditions in the south of Italy at the Locorotondo track, host of this year's main event. Qualifying saw Worlds top qualifier Robert Pietsch put his Mugen on pole position ahead of new Motonica signing Walter Salemi in 2nd, with 9 time World Champion Lamberto Collari in 3rd and Dario Balestri taking the final direct qualifying spot in 4th. In the final Collari drove a flawless race while Pietsch hit trouble, as did Salemi, allowing the Kyosho driver a simple run to the win. He crossed the finish line a lap in front of Dario Balestri, who had a fast closing Andrea Cristiani only 1.5 seconds behind. Belgian Serpent driver Ilia van Gastel set the fastest lap in the final with a 15.277, 6/100s quicker than pole man Pietsch.
Click here for the final results
Tuesday, March 23, 2010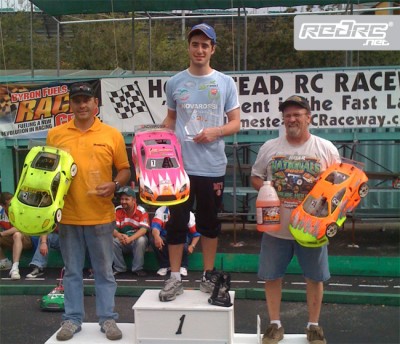 Last weekend the Homestead RC Raceway in Florida, host of next year's 1/8th World Championships, played host to the Ipanema GT Worlds. Qualifying saw Joaquin Desoto Jr dominate qualifying turning a 13 laps in 5:03, about 4 seconds ahead of 2nd place qualifier Joerg Schaedler. Desoto, driving a Novarossi powered stock OFNA DM-1 was the only driver to turn laps in the 22 sec. range. In the finals it was a close race between the Joaquin Jr and Schaedler, with Desoto leading the way. Different pit strategies and tire choices made the race interesting and exciting to watch with Joaquin going with harder tires for the final, making his car a little slower but very consistent in the long final. Good pitwork and smart driving allowed him to manage the gap to 2nd place without having to overheat the tires and he took the win by about a 12 seconds ahead of Schaedler in 2nd, with Mike Lyday taking the final step of the podium in 3rd.
Tuesday, March 23, 2010