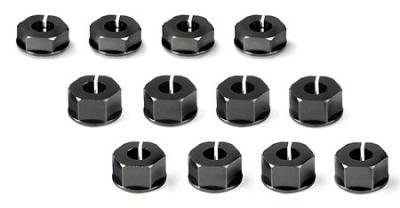 K Factory have released a new range of aluminium, clamp style, hex wheel hubs for Team Magic & Kyosho 200mm racers who want to widen or narrow the track width of their vehicle by as much as 3mm outward or 1.5mm inward. Made from the same high strength aluminium as the standard wheel hubs the only difference is the thickness, and they are now available in sets of 4 in -0.75mm, +0.75mm and +1.50mm thickness's.
Source: K Factory [kfactoryracing.com]
Wednesday, February 13, 2008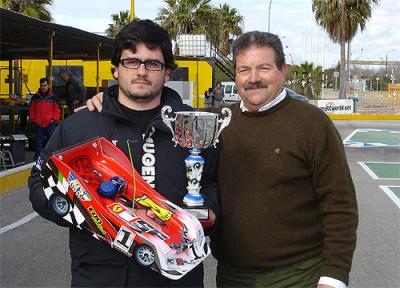 In a warm up race for the upcoming Nationals that takes place at the same venue in a fortnight, Mugen racer Nacho Lopez has dominated at the Cádiz track last weekend. The Tecrotec backed racer was using a prototype of the new Picco Evo3, which was shown last week for the first time at the Picco stand in Germany, and with it managed to TQ the event and break the lap record by 1 second on his way to the overall win of the event.
Click here for some more photos… (more…)
Wednesday, February 13, 2008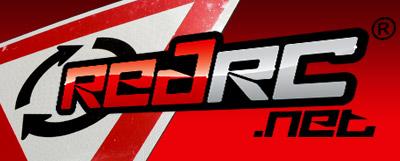 A summary of other news pieces from around the internet today in our Red RC Round-up:
> Graham Alsop wins Rd5 of CML Winter Series – Link [cmldistribution.co.uk]
> Riccardo Cavicchi wins Pistoia 1/8 buggy GP – Link [teammagic.com.tw]
> Skelding wins BRCA N.E. Indoor Regional Champs – Link [mirageracing.com]
> Report from the DMS Winter/Summer series – Link [horizonhobby.co.uk]
> Stiles shows what the M18 Pro can do – Link [mirageracing.com]
> Bloomfield & Niall take Rd4 of Panther Cup – Link [cmldistribution.co.uk]
Tuesday, February 12, 2008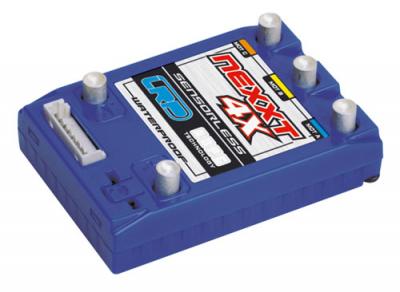 We showed you these new items from LRP last week when we were taken around their stand at the toy fair, but we now have more information on the Nexxt 4X and Vector Micro brushless motor. The revolutionary LRP software in the Nexxt 4X, super lightweight sensorless brushless and brushed speedo, provides sensored driveability even without hall sensors. Providing 8 power profiles for the finest adjustment to all classes and motors, this waterproof speedo sets new benchmarks in driveability and reliability. The handwound Vector Micro brushless 370 size motor is sensorless and sports a slotless design as well as featuring sintered neodymium magnets and oversized ball bearings.
Click here for features and see the Vector Micro… (more…)
Tuesday, February 12, 2008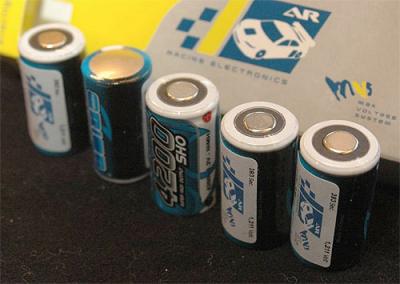 AR Racing Electronics from Denmark have been in contact to promote their new line of tested and matched cells. Sold in matched packs of 4, 5 and 6 cells, the company has been set up by an electrical technician who has been racing EP competition touring cars for many years. The company have just released their first cells made from the all new Team Orion 4200 SHO EU2008. AR Racing Electronics are currently looking for European agents, so if you are interested then contact them at the link below.
Source: AR Racing [arracing.dk]
Tuesday, February 12, 2008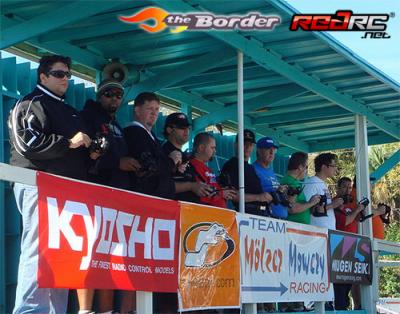 We are currently running about half a day late with our reports from the Winternats due to the time difference, with Tuesday's qualifying now underway here is the practice report from Monday. Again the weather was very nice, at least for us Europeans, and in the 1/8th scale it seems that Kyosho racer Chris Tosolini is setting the pace with young Vincent Jackson also very quick as is Italian veteran Marco Vanni. In the 1/10th class there is more people battling at the front with the top qualifying spot looking to be between Jilles Groskamp, Ralph Burch, Mark Green and last years winner Paolo Morganti. This was the final day for the drivers to perfect their setup and will now head into qualifying with 2 rounds of heats for everyone on Tuesday. We hope to continue to bring you more pictures from the track, and a brief report, tomorrow. Thanks to The Border for sending us the information.
Click here to see all the photos… (more…)
Tuesday, February 12, 2008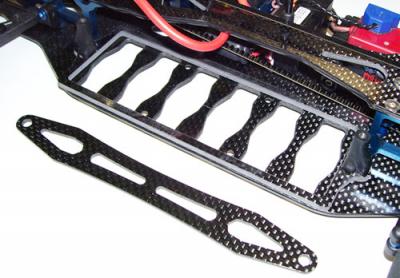 Diggity Designs in the US have released 2 new items for the popular Team Associated TC5 190mm touring car. Starting with this conversion to enable your car to accept popular LiPo packs, such as the Team Orion and Peak 3200 and 4800 packs as well as the Team Checkpoint 5400 pack, the set includes a lower plate that is screwed to the chassis plate and which stops the pack from moving around. Two plastic towers and a top plate are also included in the set. Also for the TC5 are a pair of 6 degree, blue anodised, aluminium caster blocks that are sold both separately or in a set, with the set coming complete with both left and right blocks as well as delrin bushings.
Click more to see the other products… (more…)
Tuesday, February 12, 2008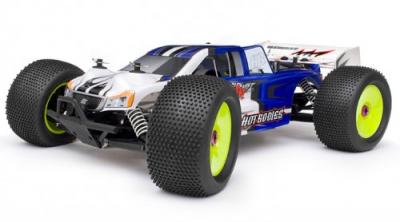 Hot Bodies have announced that the Lightning Stadium 2 Pro will soon be available as a Ready-to-Run kit. The Lightning Stadium 2 Pro RTR will feature nearly all the same features as the loaded Pro version, plus you get a 4.6 Power House engine equipped with Jump Start system, reliable HPI TF-1 radio gear, high-torque steering servo, painted body shell (available in blue or red) and a load of top racing features as standard.
Click here to see more pictures… (more…)
Tuesday, February 12, 2008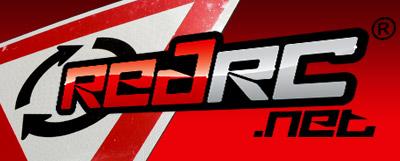 A summary of other news pieces from around the internet today in our Red RC Round-up:
> Jerome Sartel dominates Euro Indoor race – Link [neobuggy.net]
> HoBao preview the Hyper Mini Truggy ST – Link [hobao-racing.com]
> The Losi 8ight of Yannick Aigoin – Link [rcmag.com]
> The Mugen MBX5-R of Renaud Savoya – Link [rcmag.com]
> The Xray XB8 of Jérome Sartel – Link [rcmag.com]
Monday, February 11, 2008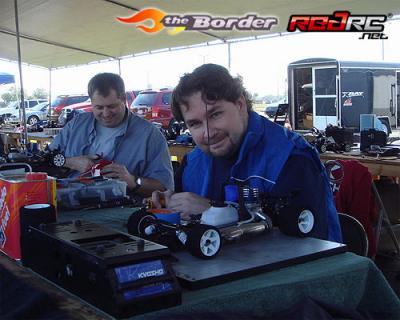 This years annual Winternats held at the Ft Myers track in Florida, is currently underway with a lot of the racers arriving on Sunday before the week of the event to get some practice in on this extremely tight and unforgiving track. Our site sponsors The Border are present with Michel Nijman racing and supporting Jilles Groskamp, and with the time left over will be sending us some photos and updates from the track. Here are the pictures from Sunday's practice day which saw nice weather with temperatures around 26 degrees Celcius, perfect conditions for racing. As you can see from the photos, a lot of the Europeans are already at the track including multiple winner Michael Salven, who is contesting 2 classes, the Baldes brothers Jorg and Uwe and top Austrians Gerhard Kandelhart and Daniel Tomaschko. Also present racing for the first time with Motonica is new signing Josh Cyrul and new team mate Ron Atomic, who has also just been announced as a KO Propo racer. We hope to bring some more pictures and reports during the week as we get them.
Click more to see the photos… (more…)
Monday, February 11, 2008