October 27, 2006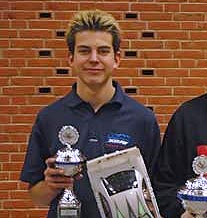 Xray have a report on their site from team driver Martin Lissau concerning his first race with their new T2007. Driving the car for the first time at the event, Martin ended the race in second position.
The big battle was between Steen Graversen, Jonas Kaerup, and myself. It was very very close, with the top 3 cars separated by only 2 seconds in qualification.
You can read Martin's full race report here.
Souce: Xray [teamxray.com] Image: RaceRC [racerc.dk]
---