October 26, 2006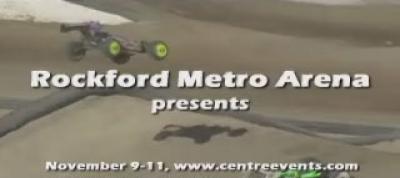 You can view the Video with this link
I wanted to report on this earlier but decided i should leave it for a quieter day. Well that day has come. This video is a TV advertisement from the guys at the RC Pro Series over in the US. It will be shown on Regional TV and it promotes the upcoming Nitro Off Road finals that are being held at the Rockford Metro Arena in Illinois on November 6th – 12th (altough the video says 9th to 11th?).
The TV ads start on October 23rd on WIFR 23 on the Morning Show, during the Letterman Show and during According to Jim. WIFR will be doing a Monster Truck giveaway from Losi as well as tickets to the event. Myself and one of the Team Losi guys will be on the Morning Show monday November 6th to talk about the event and show off some cars.
This is one well promoted event as they also have a radio advertising campaign in place, leading up to event.
Check out the RC Pro Series website for more info.
---