November 20, 2006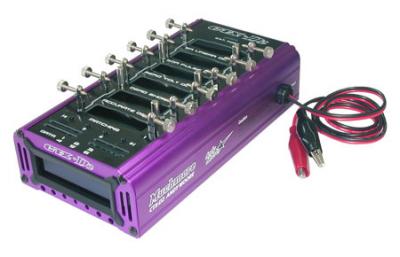 You gotta love this stuff from Much More, no matter how boring a function they perform, in this case discharging, you just want to have it. The original version of this CTX-D2 discharger and cell matcher was cool enough looking in black but this Andy Moore limited edition version with purple anodising, black background LCD and special edition logo will send your work bench into bling overdrive (if blue is more your colour you can get the Marc Rheinard version). For those of you that actually care what it does before you buy it here are its main functions:
1. 6 single cells can be discharged.
2. Much more accurate discharging rate and voltage reading.
3. A heat sink is attached to resistors for stability.
4. High RPM dual ball bearing fans for cool operation.
5. Perfect protection system against reverse polarity.
6. 5 polarity guide posts to ensure battery pack is inserted correctly.
7. Provides perfect communications with new PC interface.
Should be available by the end of the year.
Source: Much More [much-more.co.kr]
---