November 8, 2006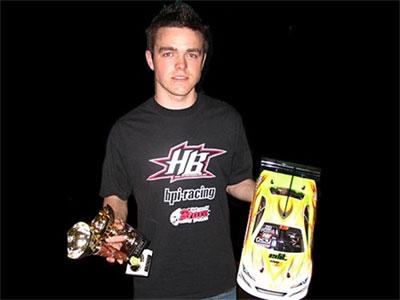 Hot Bodies racer Olly Jefferies has taken FTD and the win at round 1 of the CML Carpet Masters held last weekend. Olly recently switched to Hot Bodies and had considerable success so far, taking FTD at every event raced along with winning round 1 of the Carpet Thrashnals and now this win. It is all seen as preparation for the GP Carpet World Cup, held in Geneva at the end of November, which Olly is planning on attending.
Since getting my Cyclone I have been concentrating on carpet racing in preparation for the forthcoming GP Carpet World Cup in Geneva at the end of the month, the car feels really good on carpet and easy to tune, I am also feeling more comfortable with every meeting with the new car and really looking forward to the Geneva meeting.
You can read the full report here.
Source: Hot Bodies [hbeurope.com]
---