November 8, 2006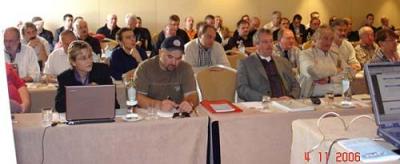 As we are now all aware, the European Governing body EFRA, had their annual get together last weekend in Brussels, Belgium. At this meeting the much talked about 5 cell ruling, that i mentioned in my previous posts, was brought in. But changes took place for IC Track classes too, changes that seemed to have slipped under most peoples radars.
Read more…
1/10th 200mm
When reading through the AGM minutes (PDF) of the 1/10th IC Track, something immediately comes to our attention. In section 5.5 page 4, you will note that the 26mm restriction on front tyre width has been removed and been increased to 30mm. This is now the same as in the rear, which brings it in line with ROAR who already have this rule in place in the US for a while, but hasn't seen many people utilise it due to traction role issues.
Wheel width (including tyre bead) and
Tyre width (across side walls):
Front: ( Delete 26.00) 30.00
Rear: 30.00
1/8th scale circuit
In 1/8th scale I saw a list of the major changes on the BRCA site, and here are the two most significant.
The maximum width of a body-shell is 267mm on top of the wing and stiffeners in the side of the body are not allowed. (This was implemented because it was felt that drivers were specifically putting in stiffeners to widen the lower part of the body and they could not come up with an effective way to control this.
The rim must not exceed 54.00mm + 1.00 mm tolerance diameter
The removal of side stiffeners, again is a pretty major rule change for the class and will result in heavier, stiffer bodies as they try to compensate for the removal of these strengtheners.
Image: EFRA [efra.se] Tip: _cyclops_
---