November 20, 2006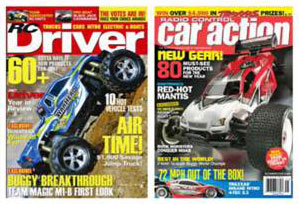 We were sent an e-mail today, in which contained a statement from US magazine RC Driver that essentially accuses leading US magazine Radio Control Car Action of copying the styling of their magazine and was therefore unfairly trying to confuse potential buyers into buying RCCA. The single design element in question that they claim RC Car Action has effectively stolen from them is the red block at the top of the page in which the magazines name is displayed.
Read more…
Now i dont know about you but thats a bit of a long shot from RC Driver to claim that RCCA has copied you. If you even look at it you can see that the RC Driver mast head is a rectangle with straight lower edge whilst on RCCA it has a rounded edge. The magazine logotypes are completely different and the fonts used on both front pages are also very different. Whats I find actually worse, is to go bitching about it to advertisers, readers and resellers, if you want to stand out produce better content, or in RCCAs case any content to go between the adverts that make up 90% of their magazine, present it better and sell harder.
With this in mind, we are disappointed by a major competitor's recent decision to copy a key cover design element of RC DRIVER. It seems our unique approach has resonated with an even greater audience than we imagined! As gratifying as this unexpected vote of confidence in our presentation is, we feel a certain amount of frustration on our own behalf as well as on yours. Imitation is said to be the best form of flattery but, unfortunately, in this case we feel it does a disservice to our consumers and ultimately to you.
You can download the release here and accompanying file here (PDF).
---