November 13, 2006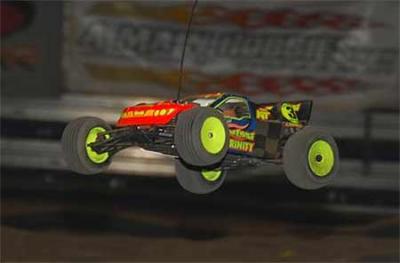 Yeh i know what your thinking 'more RC Pro final news!', well yeh it seems not much else happened last weekend so you gotta work with what you've got. So what we do have is a video from the big event which shows the super sweet track and the awesome setting, its a shame that no one turned up to watch it seems.
You can view the video here.
You can also view some images of the event here.
You can view the final Pro Buggy results after the jump…
1. Jared Tebo – 125 laps/1:00:17.247 – Jammin/O'Donnell
2. Adam Drake – 125 laps/1:00:33.411 – Losi/Drake
3. Taylor James – 121 laps/1:00:12.357 – Jammin/OS
4. Chad Bradley – 119 laps/1:00:07.091 – Jammin/OS
5. Kyle Skidmore – 119 laps/1:00:28.350 – TTR/OS
6. Andy Smolnik – 119 laps/1:00:31.752 – CEN/OPS
7. Matt Gosch – 117 laps/59:59.702 – Jammin/WERKS
8. Ryan Maifield – 116 laps/1:00:09.519 – TTR/LRP
9. Ryan Lutz – 112 laps/1:00:07.480 – Kyosho
10. Allen Horne – 112 laps/1:00:08.515 –
11. Richard Saxton – 108 laps/1:00:15.014 – TTR/O'Donnell
12. Quincy Hughes – 88 laps/45:29.031
13. Jason Branham – 86 laps/44:49.726 – XRAY
14. Cody King – 56 laps/35:23.775 – Kyosho/Orion
15. Josh Wheeler – 2 laps/36.740 – XRAY/Werks
Source: RC Tech [rctech.net]
---