December 19, 2006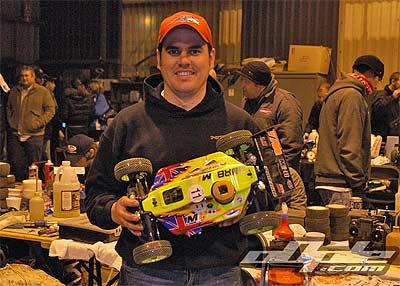 Last weekend the much hyped Team Magic M1B 1/8th scale buggy made its race debut at the Neo Invitational event in the hands of British Champion David Crompton. Whilst testing was limited with the car before the event David adapted well and got the car into a semi final position only to suffer bad luck with electrical problems.
David tested the car in the Semi final warm up (10mins) and found that the changes he had done made the car feel easier to drive when driven hard, but at the start of the semi final David had electrical problems which sent the car flat out into the wall and broke the car. It was impossible to fix in the 5 mins the race director gave him so David was offered to drive a friends car, which is not in the rules but after asking all the drivers in his final no one objected so David was able to race while his pit crew fixed his M1-B ready for the Main final. David finished 4th in his semi which put him 11th on the grid. They managed to get the M1-B to the start line, but little did they know that due to the heavy impact with the wall it had damaged the steering servo and cracked the fuel tank so David retired after 6 mins.
Read the full report from David here.
Source: Nitro-Models [nitro-models.co.uk] Image: oOple [oople.com]
---