December 7, 2006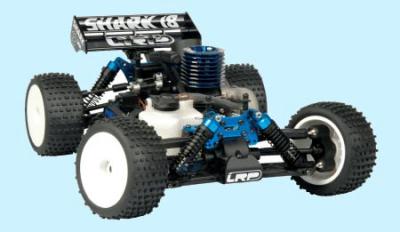 We were a little slow off the mark with this one, mostly because it seemed a bit dull to start off, another tiny gas powered RTR that goes on all terrain blah blah blah. That was before i saw the video of this thing going….50km/h of muck shredding coolness is how i would sum it up. It is supposedly 1/18th in scale, but its a monster truck so it has the proportions of a 1/16th scale and it rips. It's powered by 1.2ccm LRP motor, is shaft driven 4wd, has pivot ball front suspension and is basically a mini racer. If you want it you will have to wait until the 22nd of December, so perhaps Santa can just about manage to get you one.
With a top-speed of 50 km/h and a 1.2ccm high performance engine, this little race monster truck is conquering every parking lot or racetrack! The all new LRP SHARK-18 RMT combines the most popular features of the R/C Car world: compact dimensions, great offroad performance and nitro power = perfect 1/18 drive feeling!
Check out the video here and the product page here.
Source: LRP [lrp-electronic.de]
---