December 14, 2006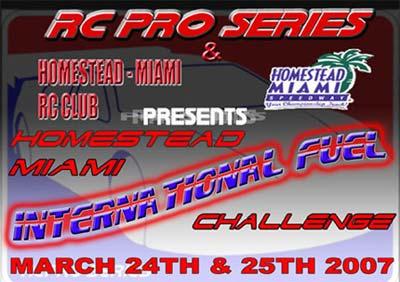 We got notification of an event for the RC Pro Series that takes place in March at the Homestead Miami Speedway in Florida. This is at the real Indycar track and what is cool about this event, besides it being open to all racers, is that it will take place during the actual Indycar event that is run at this track. So as well as getting to race your own car you get a great side show too.
Hit more for the full details…
What: RC Pro Homestead Miami International Fuel Challenge
When: 24th – 25th March 2007
Where: Homestead, Miami, Florida
More:
Onroad guys get your cars ready!

RC Pro and Homestead Miami RC Club in conjunction with Homestead-Miami Speedway will be hosting The "Homestead-Miami International Nitro Challenge".

This event will be at Homestead Speedway on March 24th & 25th DURING the Indy Car event!
This event is open to ALL racers. Classes will be 1/8 Expert, 1/8 Intermediate, Expert Sedan and Intermediate Sedan. There is a possibility of another class being added that and the format will be announced in the coming weeks!

This IS a points race but anyone can score points at this event even the International drivers and it will count toward the National Championship!

The track will be setup on the midway and will be designed by Art Carbonell. Manufacturer display booths will be available and pitting will be under the grandstand. More info and entry flyer coming soon. Ads are being finished for RC Car and Xtreme RC Magazines now.

You can view a flyer of the event here.
---