December 19, 2006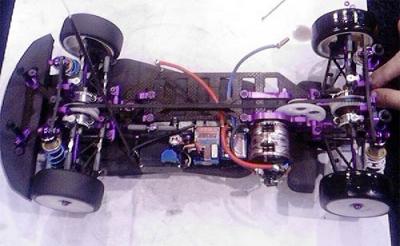 Yet more new touring cars, this time from British manufacturer Schumacher who are working hard on their new 190mm touring car. The Mi3 has been doing the rounds at various tracks in prototype stage in order to test its response to various track conditions and of course when you go racing your picture will get taken. Little is known except what one can see in the image and that is that it's dual belt drive as one would expect from a modern touring car, it seems to be extremely low with the center axles mounted higher than the blocks and the most noticeable thing is how narrow the chassis plate is.
UPDATE: You can view 3 more large images of the car here, here and here.
Schumacher weren't so happy that photos of their new baby were put on RC Tech and so posted this reply…
Official Mi3 Response
As many of you have seen we are indeed working on a new sedan. The Mi3 has been in development for some time and is currently making the rounds with our top drivers for testing. The car seen in the pics is a prototype and substantial details have already been changed. There are A LOT of innovative features on the Mi3 that never before seen on any other touring car. Schumacher R&D really out did themselves (and everyone else). This is why we were so adamant about maintaining security and controlling the release of images. We really appreciate the quick response from the online community of Schumacher drivers in respecting out need to maintain secrecy for the time being. I can honestly tell you that everyone at Schumacher is chomping at the bit to tell everyone what we have come up with. We are not trying to keep you in the dark. We do have plans for a proper press release for the Mi3. I assure everyone that the wait for more Mi3 information will not be a long one.
Expect to see it officially announced in January and to hit the shelves in March.
Source: RC Tech [rctech.net] Image: Info RC [info-rc.net]
---