December 12, 2006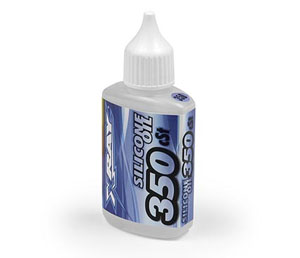 Xray have released their new line of Premium silicone oils and if the release is to be believed the new bottle that they come in should give you the advantage you need over your competitor, at least off the track. Never before have i seen a simple bottle and label sport so many features and advantages:
The square shape of the bottle makes it super easy to squeeze and prevents it from rolling off your workbench, and the slim nozzle makes filling easy and prevents excessive oil from being squeezed out. The cap tightens snuggly and its positive seal prevents leakage. The back of the bottle has a small viewport that allows you to see the oil level inside the bottle.
Is it just me or does this sound like pretty much every other bottle on the market? Of course the cap tightens snuggly to prevent leakage otherwise there would be no point in having one. We will give Xray credit for the clearly marked and rather attractive labels, but at the end of the day its a bottle of silicone oil, if you want them they come in 22 different thicknesses.
Source: Xray [teamxray.com]
---