January 22, 2007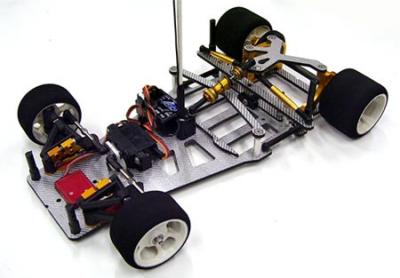 Diggity Designs have released official information on their new 3D12 and CD12 as well as some nice pictures. Last week we showed you the 3D12, so in the picture above you can see the prototype CD12 (the released car will be black metal and carbon), which allows the cells to be mounted sideways whilst the 3D12 allows for centrally mounted cells.
The new rear pivot is ultra light and easy to replace when/if broken. It uses a milled nylon 6/6 block and a TC4 shock bottom ballcup together with low profile hex ball. Both versions utilize the new ballcup pivot with CRC one-piece side links and rear spring design wich makes this the hottest pivot set-up available and only found here at Diggity Designs!
Check out the images of the cars here and the full information here.
Source: Diggity Designs [diggitydesigns.com]
---