January 31, 2007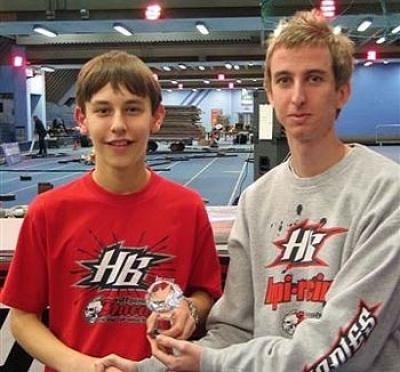 Last weekend saw the final round of the 5 round British Indoor Winter Series, held once more at the Don Valley Stadium. After only qualifying 4th the Hot Bodies driver Elliot Harper had a tough battle with Xray racer Ben Cosgrave and eventually managed to pull out a gap and chase after the leader Guy Thornton who shortly after crashed out, allowing Harper to take the win in Modified class and the overall title.
However, half way down the straight the leaders car came to a stop – it was all I could do to miss both his car and the marshal attempting to retrieve it. I just squeezed under his foot as he stepped back! By then, I knew I had a clear run in for the remaining few laps to secure the win on the day. This is how the race closed and I was very relieved to finish the series on a high note!
You can read the full report and lots of pictures from the BIWS here.
Source: Mirage Racing [mirageracing.com]
---