January 30, 2007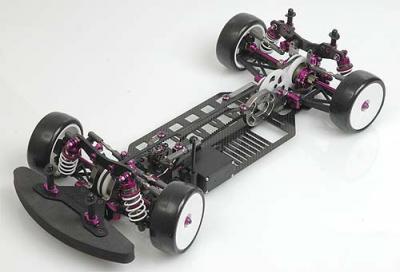 After many spy shots of the new 190mm touring car from Schumacher and much talk about it, the British company has finally released official images of the new Mi3. Schumacher appear to have taken their re entry into the top of the competition scene very seriously and alongside employing some big name drivers have made a very nice car which will be in the shops at the end of March.
The Schumacher Mi3 is the first next generation touring car. It will set new standards for 4WD electric touring car design. Featuring a host of design innovations and a unique ultra modern look the Mi3 will be the car to beat at race tracks around the world and the benchmark all new touring cars will be compared to.
Hit more for the full specs…
– Ultra low top deck design for lower centre of gravity.
– 2mm Aerospace carbon fibre chassis and top deck.
– Efficient transmission with twin Kevlar belts and precision CNC pulleys.
– Alloy eccentric adjusters for optimum belt tension.
– Easy diff height adjustment to allow changes in drive shaft plunge. This can be used to increase or decrease traction.
– Industry first static layshaft with ultra low rotating mass gear pulley assembly.
– Quick release diffs – Just 2 screws!!
– Super easy to work on design.
– Designed optimised for 4, 5, 6 cell and LiPo battery packs.
– Symmetrical chassis layout with few screws minimises tweak.
– Ultra smooth Nickel-Teflon plated threaded alloy shock absorbers for extreme smoothness and durability.
– Purple alloy CV drive shafts with hard anodised axles and low friction blades.
– Stiff 3mm shock towers with optimised shock positions.
– Lightweight machined diff pulley, Tungsten Carbide diff balls, aerospace thrust bearing and fixed trilobe diff washers.
– New heavy duty front spool with CNC pulley.
– Twin pivot block design allows infinite adjustment of roll centres, toe-in, anti-squat, and track width on front and rear.
– New twin axis inner camber links for infinite camber link height and length adjustment.
– Fully adjustable steering including Velocity Ratio, Ackermann Angle and Ackerman Rate.
– Low C of G anti roll bars.
– Speed secret parts available to fine tune to all track conditions.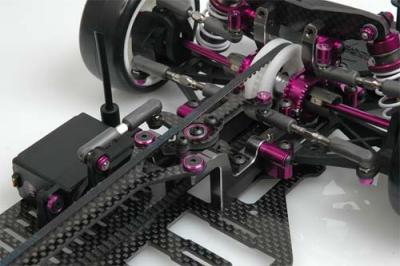 You can view more photos here.
Source: Schumacher [racing-cars.com]
---