February 11, 2007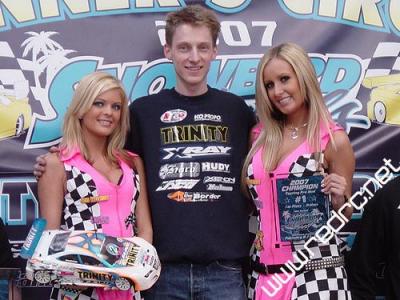 All the on road racing at this years Snowbirds have been done and in the Touring Pro Mod category it was Xray driver Jilles Groskamp who won the event in dominating style after early leader Mike Dumas, driving for Losi, crashed out allowing Jilles to take the lead where he was never challenged for the rest of the race. Behind him fellow Xray racer LeMieux lost time after clipping a pipe allowing Tosolini, driving for Corally, to get past and despite Paul fighting back Chris was able to hold him off to take the runner up spot with LeMieux settling for the final podium spot.
In the other Pro mod category, 1/12th GTP it was German Corally racer Marc Fisher that dominated the event to win it with ease ahead of Mike Dumas in 2nd with Walter Henderson back in 3rd. In 19T Foam Travis Schreven won from the front spot on the grid ahead of Juho Levanen and Paul LeMieux whilst in 19T Rubber class, Martin Hudy converted his pole position into a win, finishing in front of Brandon Melton and Jason Ertrachter in 2nd and 3rd respectively.
UPDATE: Received some pics from our sponsor and Jilles sponsor, The Border.
To view all the A-main results click here…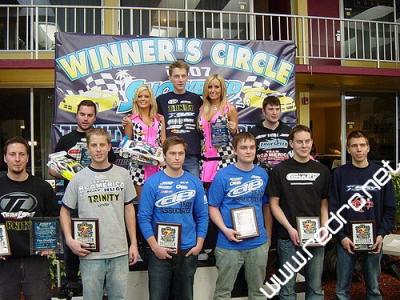 Touring Pro Mod
1. Jilles Groskamp
2. Chris Tosolini
3. Paul Lemiuex
4. Mike Dumas
5. Teemu Leino
6. Simo Ahoniemi
7. Bobby Flack
8. Barry Baker
9. Joel Myrberg
10. Juho Levanen
Touring 19T Rubber
1. Martin Hudy
2. Brandon Melton
3. Jason Ertrachter
4. Mike Haynes
5. Dave Bowser
6. Sean Carmen
7. David Croy
8. Walter Cosico
9. Tony Fiorella
10. Shad Galante
Touring 19T Foam
1. Travis Schreven
2. Juho Levanen
3. Paul LeMieux
4. Atsushi Hara
5. Jilles Groskamp
6. Chris Tosolini
7. Billy Easton
8. Mike Dumas
9. Bobby Flack
10. Jeff Cuffs
Touring Stock Foam
1. Larry Fairtrace
2. Jason Schreffler
3. Mo Denton
4. Jarrod Langlois
5. Jeff Cuffs
6. Robbie Dodge
7. Justin Lessard
8. Travis Schreven
9. Rick Monahan
10. Jim Herrmann
Touring Stock Rubber
1. Jason Ertrachter
2. Brandon Melton
3. Tim Caporal
4. Dennis Storti
5. Dave Bowser
6. Tony Fiorella
7. John Tag
8. Larry Fairtrace
9. Sean Carmen
10. Shad Galante
1/12th GTP Modified
1. Marc Fischer
2. Mike Dumas
3. Walter Henderson
4. Chris Tosolini
5. Mike Blackstock
6. Simo Ahoniemi
7. Eric Desrosiers
8. Billy Easton
9. Bobby Flack
10. Jilles Groskamp
1/12th GTP Stock
1. Tom Firsching
2. Mark Smyka
3. Paul Ciccarello
4. Eric Anderson
5. Jeff Cuffs
6. Jarrod Langlois
7. Joe Trandell
8. Donny Lia
9. Andrew Ellis
10. Jason Schreffler
---