February 6, 2007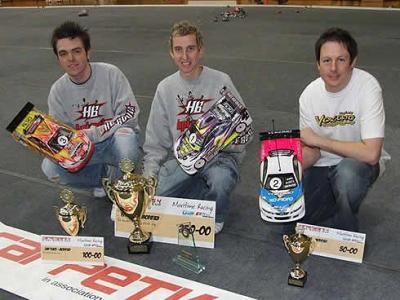 World Champion Andy Moore has won this years Carpet Wars 2 Day World Cup, formerly known as the Vega Cup, held at the Black Lion Leisure complex in Gillingham. Andy managed to put his HB Cyclone on the pole position after qualifying, followed closely by Yokomo racer Chris Grainger who had struggled on this track previously, but managed to pull it together for the big event. In the main event Andy Moore won the first two finals with Chris taking two 3rd places heading into the last final.
Final three saw a train of cars behind Andy Moore as everyone circulated in grid order, the racing was close and then got a little to close for Chris as he tapped the back of Andy, the race director had no option but to give Chris a stop and go penalty, by the time Chris was back on track he was down the order and his result left him third over the three legs.
You can read the full race report here. You can also get the full report from round 4 of the Carpet Wars that took place the weekend previous here.
Source: CML [cmldistribution.co.uk]
---