February 28, 2007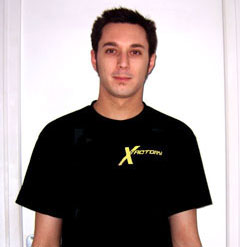 X-Factory have announced that top French off road racer Antoine Rossetti has joined their team for the 2007 season. Due to drive the X-5 in this years Nationals, Antoine who finished in the top 10 at last years French Nationals, leaves Team Losi for whom he raced last year, and he seems pretty excited about the upcoming season.
The X–5 appeals to me because it's different compared to the other cars because of its design. Thus it's unconventional, and I like to drive different, to be apart! They were really thinking when they came up with this car. Because I know the Losi car so well, it will be easy to Faite Le Calcul. I'll be running the X–6 at this year's Nationals, but my focus will be on the X–5 and 4WD.
You can read more about Antoine, who seems to have a pretty interesting life, here.
Source: X-Factory [4wdrc.com]
---