February 18, 2007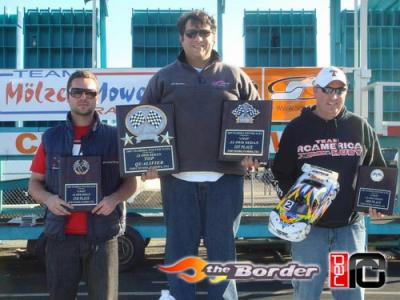 The 2007 Florida Winternats is in the bag and it has produced some very exciting racing, none more so than the A-mains which were packed with talented racers and the best machinery. In the 1/10th scale A-main, the class with the most big names and most varied manufacturers, Paolo Morganti could easily convert his pole position into a much deserved win. The Serpent 720 racer could pull away from his pole position starting spot to win the race 6 laps ahead of 2nd placed racer, Chris Tosolini, driving for Kyosho. The final podium step went to Ralph Burch driving the Xray NT1, who finished only 3 seconds down on 2nd place Tosolini. Danny Horta and Martin Hudy had a close race for 4th with the Serpent driver getting the position by 1 seconds from the Xray racer after 45 minutes racing. It was worth mentioning that Jilles Groskamp managed to win every final from the H-main to the B-main, only to be disqualified after his car failed scrutiny stopping him from bumping up into the A-main.
In the 1/8th scale class it was Chris Tosolini, driving a Kyosho Evolva, that took the win, moving up 1 place from his grid spot to power his way to a 1 lap advantage in the end over 2nd place Rick V, who driving a Mugen MRX4-R had managed to bump up from the B-main after a difficult qualifying. An interesting thing to note was that while everyone else in the final had changed their tyres mid race Chris had left it until the 43rd minute of the race to change his tyres and ensure he was over the weight limit when his car went into race scrutiny. The final step of the podium went to Kyosho racer and pole position sitter Josh Cyrul who ran into some problems and had dropped back to 3rd spot finishing 8 laps clear of 4th placed finisher, Italys Marco Vanni driving a Mugen. Morganti and Salven were out early and this left Scotty Gray to uphold honours for Serpent but he then tangled with last years winner Mike Swauger and Kyoshos Joel Johnson causing damage to all 3 cars and effectively ending their races.
Red RC and The-Border wish to thank the race organisers and fellow racers for making this years event another action packed, well run and enjoyable event.
Click here to view the final A-main results for each class as well as some more images…
1/8th A-Main Final Results
1. Chris Tosolini – 201L 45:05.70 (Kyosho Evolva)
2. Rick V – 200L 45:10.96 (Mugen MRX4R)
3. Josh Cyrul – 198L 45:15.33 (Kyosho Evolva)
4. Marco Vanni – 190L 45:08.89 (Mugen MRX4-R)
5. Joel Johnson – 151L 34:51.94 (Kyosho Evolva)
6. Vincent Jackson – 144L 38:20.15 (Mugen MRX4R)
7. Scotty Gray – 67L 16:34.65 (Serpent 960)
8. Mike Swauger – 60L 14:37.37 (Mugen MRX4R)
9. Michael Salven – 42L 11:36.92 (Serpent 960)
10. Paolo Morganti – 14L 2:59.82 (Serpent 960)
1/10th A-Main Final Results
1. Paolo Morganti – 185L 45:10.29 (Serpent 720)
2. Chris Tosolini – 179L 45:01.65 (Kyosho RRR)
3. Ralph Burch – 179L 45:04.48 (Xray NT1)
4. Danny Horta – 176L 45:01.99 (Serpent 720)
5. Martin Hudy – 176L 45:02.91 (Xray NT1)
6. Martin Christensen – 175L 45:16.46 (Xray NT1)
7. Jared Scott – 175L 45:17.40 (Mugen MTX4)
8. Paul LeMieux – 174L 45:04.86 (Xray NT1)
9. Ron Atomic – 163L 45:04.70 (Kyosho RRR)
10. Jamie Corrado – 157L 45:03.69 (Mugen MTX4)
11. Andrew Duperrouzel – 150L 45:07.79 (Mugen MTX4)
12. Josh Cyrul – 118L 30:11.21 (Kyosho RRR)
You can view the full results from all finals as well as lap times here.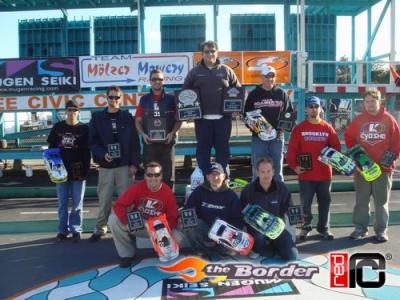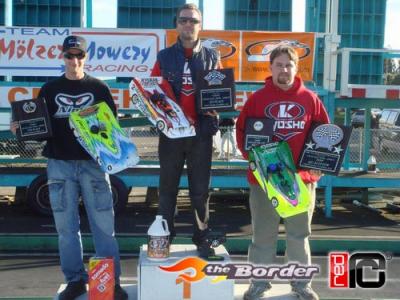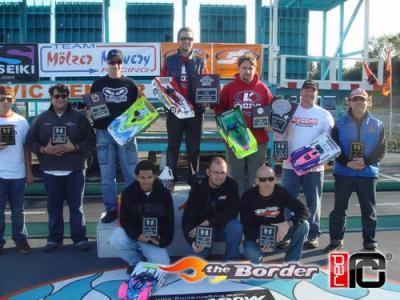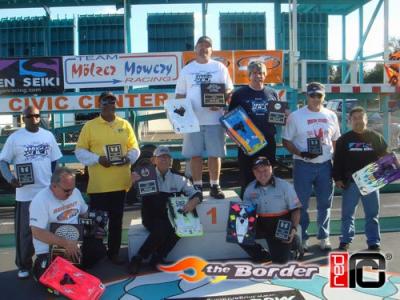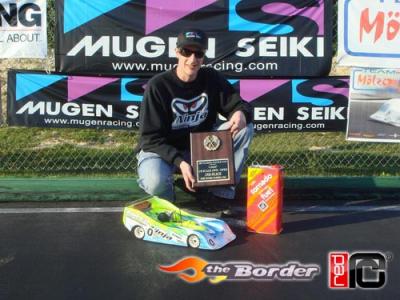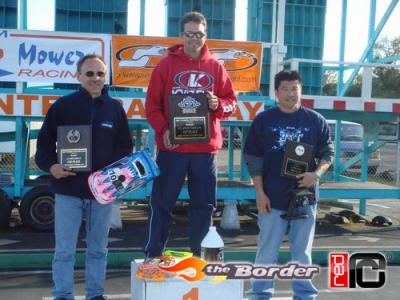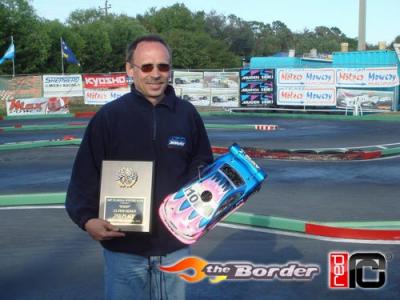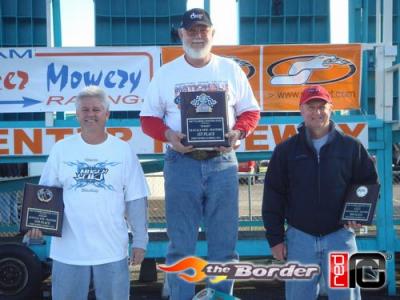 Images: The-Border [the-border.com]
---