February 18, 2007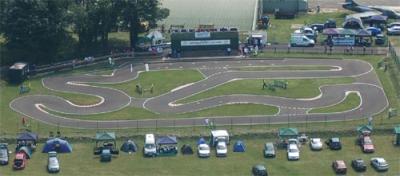 We received a mail from the race organisers at the Cotswold Model Car Club asking us to plug their upcoming Handy Models Grand Prix and we were happy to oblige, after all thats what we're here for. The Grand Prix will take place on the 17th and 18th of March on their fast looking new track and is open to Stock, 19T and Modified Electric touring, Gas foam and rubber as well as 1/5th bikes. It should be a good event and a good chance for gas and electric racers to mingle and see each others racing class up close.
Click here to find out more information…
On the 17th and 18th of March at Cotswold MCC (Kemble Airfield), the Cotswold club will be holding their 'Handy Models Grand Prix'. Qualifying will start at 12noon on the Saturday and 9am again Sunday. Depending on the numbers they hope to have 5 rounds of qualifying and 2 finals for electric (one longer final for the nitro cars). Camping is available trackside for £5 per night per pitch. This would be a great oportunity to get a base set-up for the BRCA Nationals later on in the year (track will be closed all week to everyone before the BRCA nats) so you can get a little bit of a head start. To get an entry form go to the Cotswold MCC website.
To find out more you can visit their website here or download their entry form here (.doc).
---