February 7, 2007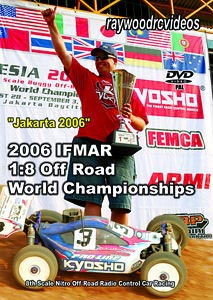 So Ray Woods dropped us a mail last night telling us that his new DVD covering the 1/8th Buggy World Championships from Jakarta Indonesia was now available. Ray does extensive coverage of this race including background news, interviews with the top drivers and of course multi camera race action.
The Official DVD of the 2006 GP Off Road World's from Jakarta is OUT NOW. (Part# RWP038) Many racers there said this was THE BEST World's ever run, wait to see the professional marshals, talk about dedicated! Oh, the racing? What an incredible battle with drama aplenty. You've heard about it, now see what really happened with 6 cameras to catch all the dirt kicking action.
You can check out a preview here and buy the DVD here.
---