February 1, 2007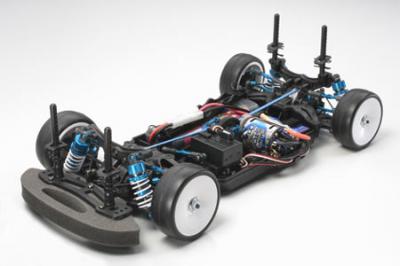 Tamiya have released some details about their upcoming electric chassis, the TAO5-R. Based on the TAO5, the new R version is a specially-tuned race version kit loaded with option parts for the circuit, and it is packed full of options a list of which you can see below.
To view the full specs of the car click more…
– All-new aluminum center plate, blue anodized aluminum spur gear holder, and carbon fiber damper stays reinforce the chassis while reducing weight.
– Impressive list of included option and spare parts:
51000 High Torque Servo Saver (Black)
51065 TRF415 Suspension Mount (A)
51068 TRF415 Suspension Mount (D)
53539 5.5mm Aluminum Spacer Set
53640 5mm Aluminum Bolt Nut (Blue)
53642 5mm Aluminum Ball Connector (Blue)
53644 Aluminum Stabilizer End (Blue)
53685 TRF415 Front Bridge Suspension Mount (A)
53823 Clamp Type Aluminum Wheel Hub (5mm thick)
53836 48mm Swing Shafts for Assembly Universal Shaft Set
53849 TA05 High Precision Diff Joint
53857 04 GP Spur Gear 105T (TA05)
53869 5mm Aluminum Short Ball Nut (Blue)
53871 48mm Lightweight Rear Swing Shafts (Blue)
53874 TA05 High Precision Center Pulley Bushing
53894 TA05 Carbon Reinforced A Parts
53895 TA05 Carbon Reinforced K Parts
53897 TA05 Aramid Drive Belt (Blue)
53899 Reversible Lightweight Suspension Set
53918 TRF Damper Low-Friction V Parts
53935 TA05 Wide Pitch Diff Pulley
– TRF Dampers (Blue), Damper Springs (White), Front/Rear Stabilizers, and Aluminum Turnbuckle Shaft (Blue) are also included in this assembly kit.
– R/C system, ESC, battery, body, motor, tires, and pinion gears are sold separately.
Source: Tamiya [tamiyausa.com]
---