March 13, 2007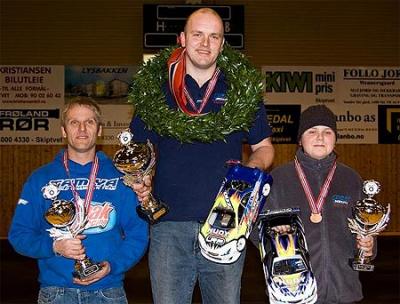 Last weekend saw the Norwegian Nationals take place on a large indoor track organised by the Spydeberg Motorklubb. In 19T it was young 13 year old Xray driver Adrian Berntsen who won 4 of the 5 qualifying rounds to take the TQ spot. In the race Adrien managed to carry forward his qualifying pace to win 2 finals to take the National title, despite huge pressure from fellow Xray racer Helge Johannessen who ended up 2nd with Tamiya racer Morten Bremsrud in 3rd. In the Modified class it Helge Johannessen managed to win all the qualfiying rounds to take the TQ spot ahead of Tamiya racer Eirik Andreassen and Adrian Bernsten. In the race it was even closer with Helge taking the win in final 1 with Eirik in 2nd while in final 2 these results were reversed meaning it all came down to the last final.
So in the third final Eirik and I went off with only 0.1sec between us. But I drove safely, and felt that I had full control from the start. After 2 minutes, Eirik's car broke down, and I secured the win.
Read the full report here.
Source: Xray [teamxray.com]
---