March 15, 2007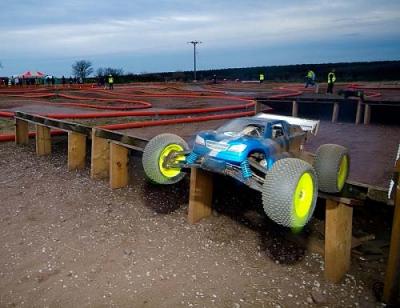 Last weekend saw the GRP Dirt Challenge race take place at the Deerdale Off Road club with 110 entries split between buggy and truggy. In the buggy class it was Bruce Thompson that took the pole position ahead of Kevin Brunsden and Simon Smith, whilst in the truggy class it was Kevin Brunsden that took to the TQ spot ahead of James Helliwell and Bruce Knight in 2nd and 3rd respectively.
In buggy Simon Smith took the early lead and battled with Bruce until the first round of pitsops. Kevin Brunsden had a terrible start with an engine cut and he was chasing back through the field. Some frantic racing and about 10 minutes later Kevin had moved into the lead and took the chequered flag from Simon Smith and Bruce Thompson.
Read more…Â 
In truggy Kevin took the early lead in the final and never looked back; he was comfortably faster than the rest and by the end of the final he was nearly a lap up on the rest of the field. James Helliwell was fast throughout the final and had a good race with Mark Knight until Mark had a problem around 8-9 minutes in which took him out of contention of a podium place. Disaster struck for Kevin on the last lap with a technical problem which allowed James to unlap himself and take the victory on the last lap!
Source: Mirage [mirageracing.com]
---