March 12, 2007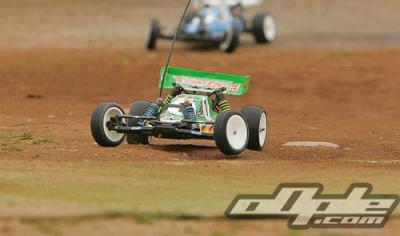 Last weekend saw the running of the delayed final round of the Midlands Astro Masters Series at one of the country's premiere buggy tracks, Kidderminster. In the 4wd class it was TTech racer Tom Yardy that took the pole position and proceeded to lead from the start only to roll on lap 2, dropping him back into the pack and allowing Richard Barton to take the lead. Tom then started to fight back, managing to get back up to the sharp end of the field and eventually regaining the lead only to roll again in the closing moments leaving Barton to take the win ahead of Yardy, with Matt Dodd, 5 seconds back, in 3rd.
In the 2wd class it was more close and exciting racing with Phil Sleigh leading off from the pole position only to be caught after a small mistake by the chasing pair of Lee Martin and Tony Truman. The latter gaining the lead in the closing stages only to go wide in a corner which allowed Phil back to the front and to take the win by 0.3 of a second ahead of Truman with Martin in 3rd.
Read the full report with lots of pictures here.
Source: oOple [oople.com]
---